The annually anticipated event—the Grammy Awards, 65th edition—took place last week, and this year's event was nothing short of… emotion-evoking. From the red-carpet frenzy to the striking looks to the amazing performances, the highly attended guest list, the latest couples, the shady Grammy moments (side eye Trevor Noah, Adele), and let's not forget the randomness that was Blac Chyna (yes, we had to), this year's show was very much Grammy-esque.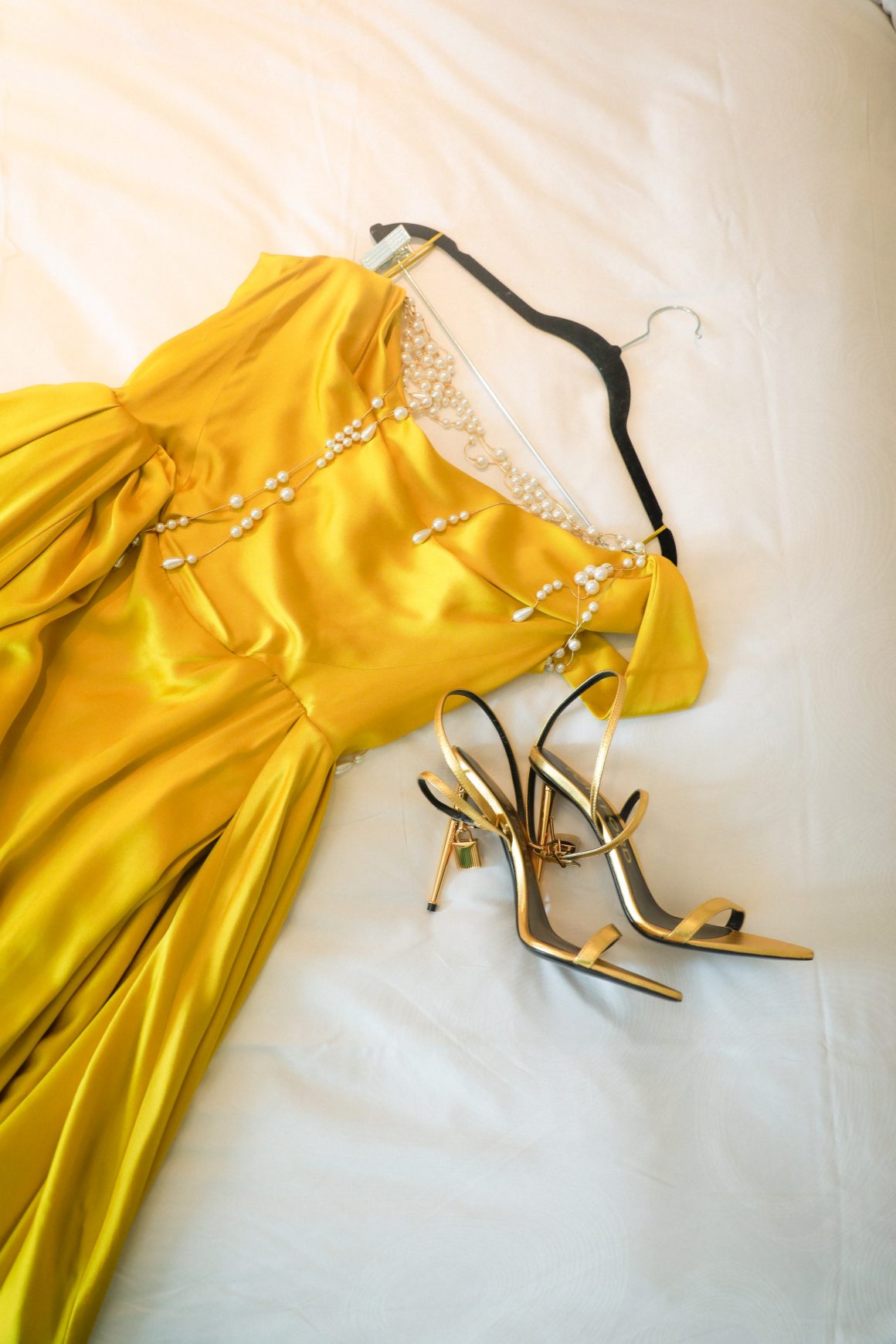 The international stars weren't left out this year, especially not Nigerian-born global star Temilade Openiyi, who goes by the stage name "Tems," who attended her first Grammy event not just as an attendee but as a nominee for multiple awards and a Grammy award winner. Whew!
The leading vibe won the award category for 'Best Melodic Rap Performance and chose to mark this moment in a custom Vivienne Westwood gold ensemble with pearl appliqué detailing. The look turned a lot of heads and made it to best dressed on many lists, including Teen Vogue, which described it as "stunning" (duh!). But of course, it's Vivienne Westwood custom couture, honey!
Moving forward, let's dive into why Tems made the right choice by going for the designer. Presumably, Tems isn't the biggest fashion aficionado and chose the dress solely based on honouring the eponymous brand in light of its founder, Dame Vivienne Westwood's recent passing.
"There were other options, but I just thought it was so special," Tems tells Vogue of the dress, which was completed two weeks before the ceremony. "I really wanted to wear Vivienne." However, it was a serendipitous moment, and here's why: The British namesake brand, Vivienne Westwood, draws its major aesthetic from her homeland, Britain. Anna Wintour says it best in her tribute to the late designer: "She was a provocateur, and one with a deep understanding of what made her homeland tick: that peculiarly British blend of history, class, sex, romanticism, and tradition, which she worked up into the most magical and imaginative of clothes." She had a peculiar endearment for the 18th century. We saw proof of this in her early years, where she played with A LOT of tartan, bold prints, crinoline, fur, frills, long stockings, plaid—oh, lots of plaid, kilts, big hair, and her iconic corsets. If we've lost you here, think Bridgerton, but with a bigger budget, and Dame Vivienne handling wardrobe. Get it now? Okay, let's continue. This was post her punk era, of course. Her iconic corset, first introduced in the 1970s, especially garnered a cult following as she was unofficially crowned the 'Queen of Corsets.
Over the years, for her couture services, she would stay true to her forever inspiration by incorporating the elements into her designs, effortlessly marrying historical traces with an ultramodern touch as she evolved in her work. Important elements in the designer's couture work include form-fitting, waist-accentuating, flowy, sinuous fabrics that flatter just about any silhouette—an undoubtedly magical, made-to-measure bespoke experience. This was the magic we all saw on Tems. Vivienne Westwood was indeed the brand for the job.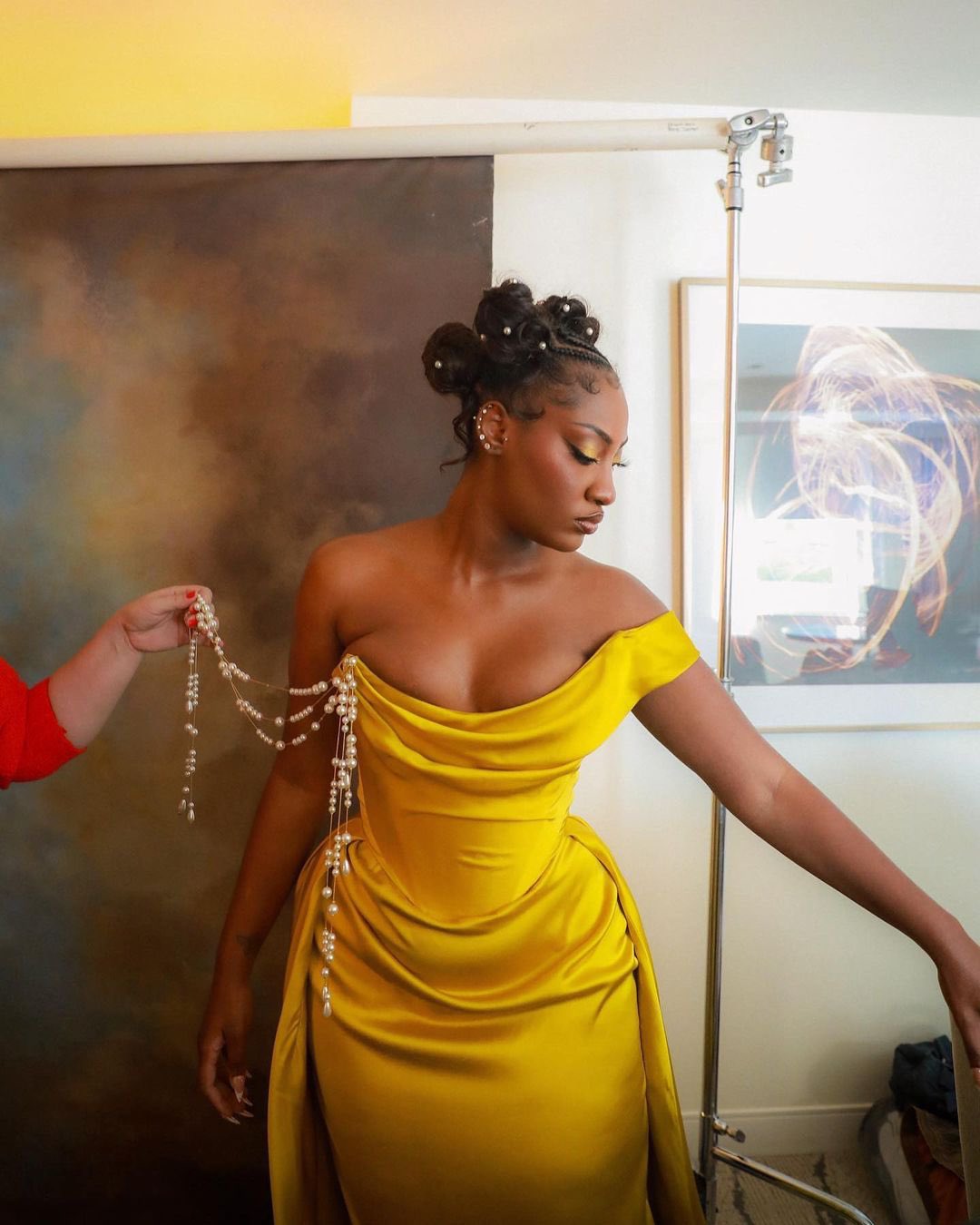 Back to Tems, the singer/songwriter has an inclination to dance between her masculinity and femininity when it comes to her style. We've all seen the matching baggy pants and oversized t-shirts, and so on. Favourably, she chose to lean into her feminine side for this milestone moment, and all we can say is thank you, Tems. Worn with her characteristic poise, the look was crowned with the perfect skin-like face beat, the most gorgeous pearl-detailed updo, and coveted Tom Ford matching heels, all outfitting to result in the singer's preferred chill but sexy vibe. Of course, the icing on the cake was her exuding an almost palpable confidence. We love a moment where the designer and her muse understand the assignment. Great call, Tems, and to the Vivienne Westwood team, exceptional work as always.