During my birthday week, I felt a strong urge to treat myself to a solo lunch to celebrate surviving another year in this country. And so, on a Monday, when many establishments in Lagos are typically closed, I combed through Google and watched several TikTok reviews to find the perfect place to eat. Eventually, I settled on GRÄS as my restaurant of choice.
GRÄS Lagos is an upscale restaurant that commenced operations in June. It is situated in the heart of Victoria Island, Lagos, on Adeola Odeku Street. It might be overlooked if you're searching for a visible signboard along the street, but it is in the same building as Mikano Motors, which is hard to miss. As other businesses are in the same building, parking spaces might be scarce during regular work hours. You can easily reach the restaurant by taking the elevators from the ground floor. Security personnel and a hostess are stationed near the elevators to guide you to the upper floors.
Reservations are not required but are highly recommended. These can be made online or by calling the phone numbers on their Instagram page. I didn't make a reservation in advance. When I inquired with the hostess about walking in, she mentioned that the restaurant has a minimum spending requirement of ₦40,000 per individual.
Upon exiting the elevators, guests are met with a vintage Rolls Royce parked in the lobby, gentle music playing in the backdrop and an opulent atmosphere. Every corner is impeccably decorated and exquisitely furnished, from the indoor and outdoor dining areas to the restrooms. The restaurant boasts a captivating ambience that is perfect for capturing Instagram-worthy photos.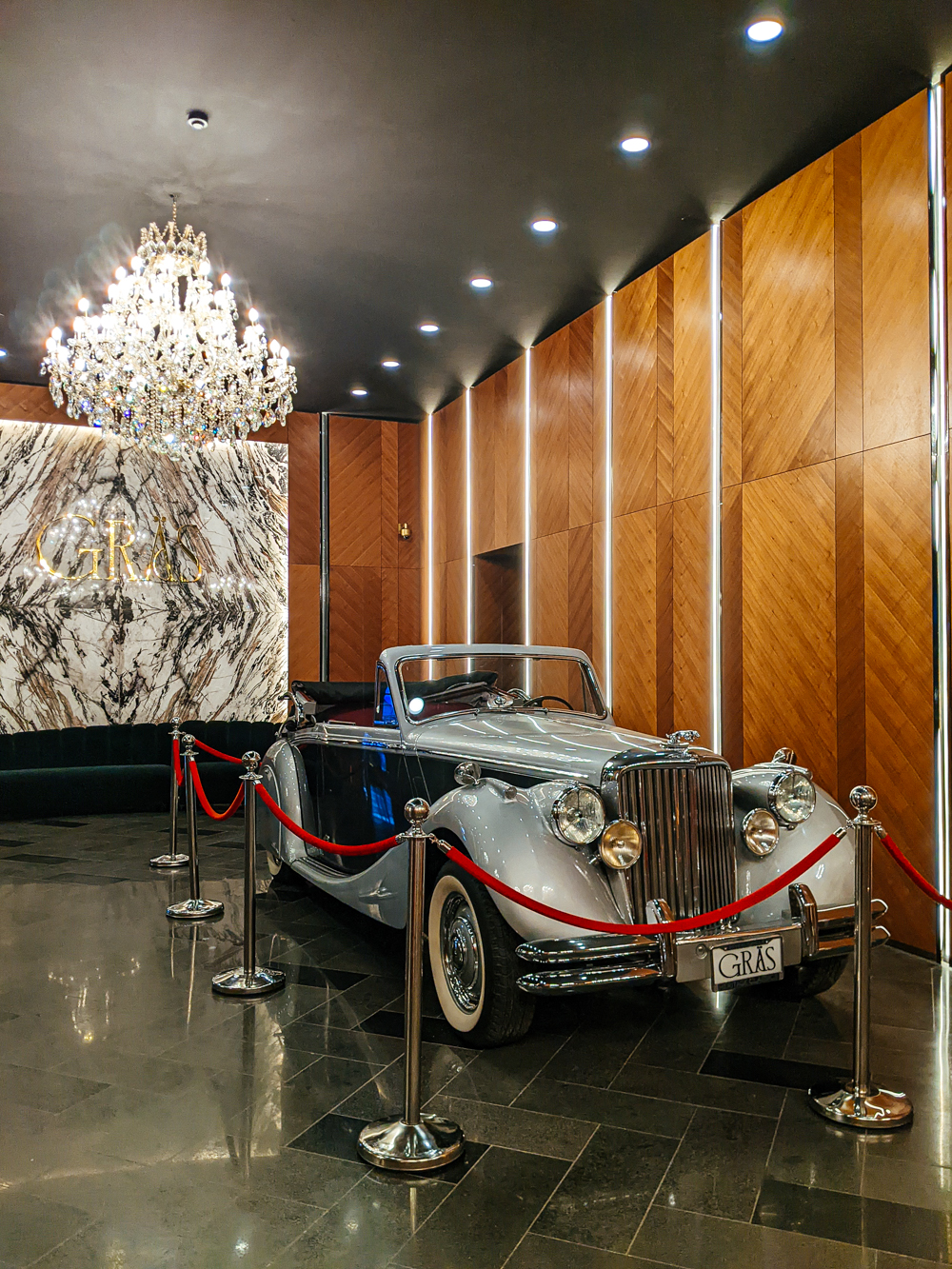 Service
I provided my personal information – name and phone number – to the hostesses at the reception, opted to sit indoors, and was promptly directed to a seating area. I arrived around 4:35 PM, and few customers were present, although more people started to show up around an hour later.
In under five minutes, a waitress came to take my order. Unfortunately, the starter I initially wanted – the 'Burrata' – ran out the day before, but the waitress informed me of this on the spot, showing that the floor and kitchen staff were in sync. Everything else I ordered was available. My food was delivered within a reasonable timeframe and was served at the appropriate temperature.
The staff were polite, attentive, and accommodating; I was able to capture images and videos without any disturbance from them. They efficiently addressed my inquiries regarding food and beverage options and directions to the restroom. My water glass was kept topped up at all times, and when I requested for my leftovers to be packed up, this was done quickly and delivered to my table along with my bill.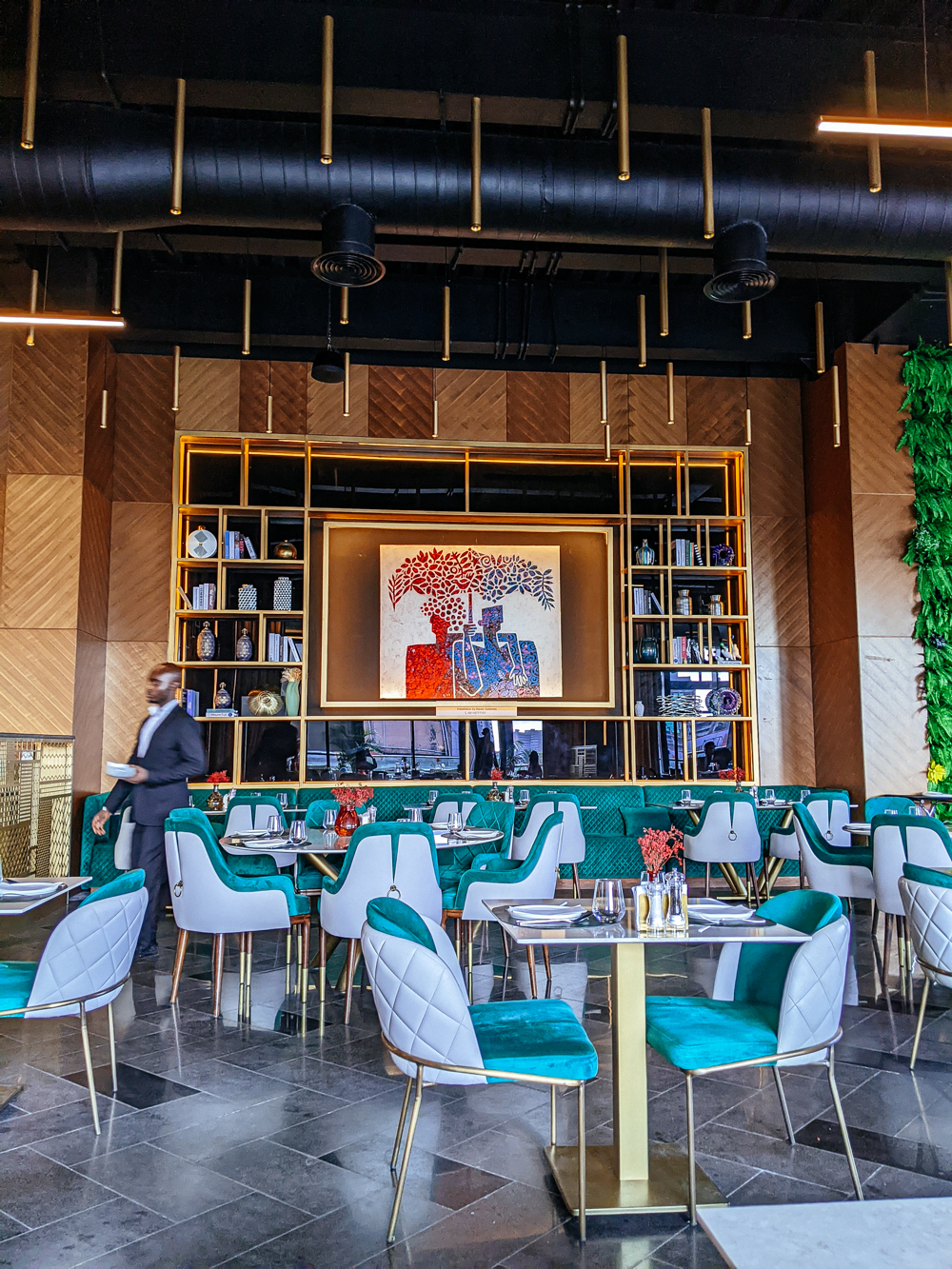 Food & Beverage
After placing my orders, I received a basket of complimentary sliced flatbread and a pesto dip. It was a welcome sight, as I was hungry. In addition to this, I had a bottle of room-temperature water; this was served with a slice of lemon.
My replacement starter, the 'Chicken Taquitos', came shortly after. The taquitos strongly resembled spring rolls – rather than rolled tacos – with a thicker wrap. Crunchy, savoury, and spicy, these were a delight to munch on.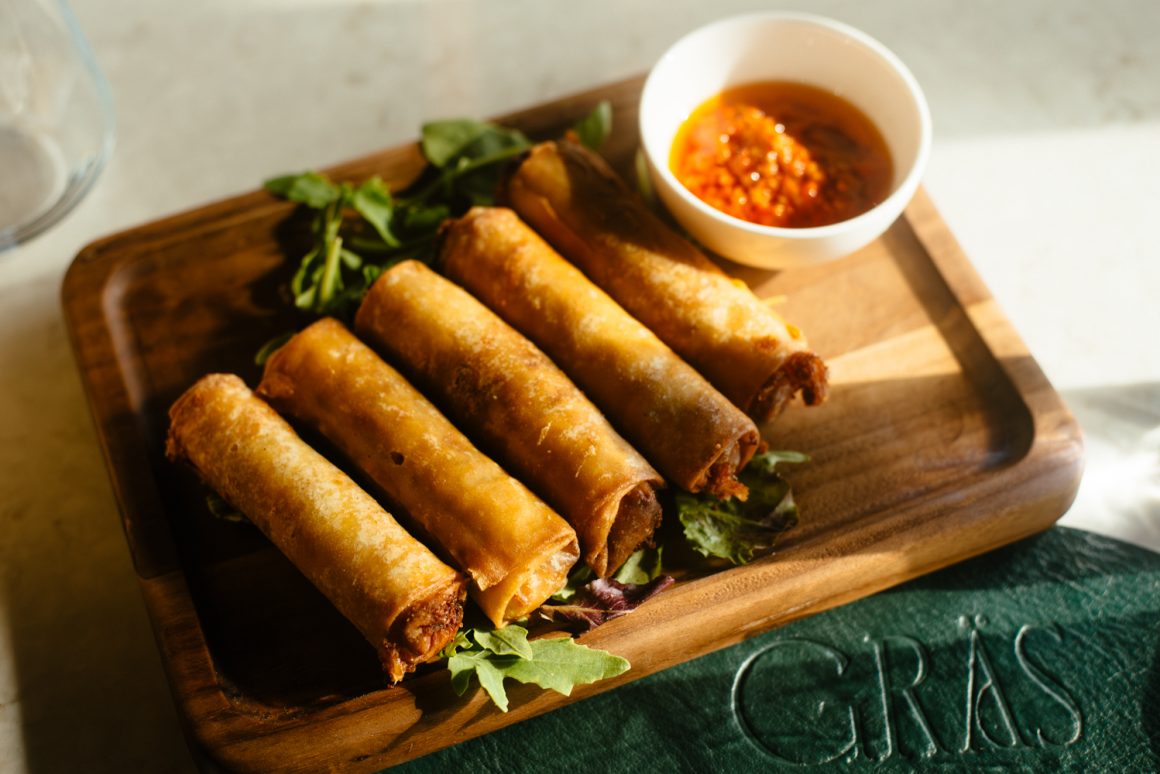 This was followed by my main course, the 'Sea Bass Filet'—the star of the show. My eyes rolled back involuntarily as I took the first bite of the fish. It was good! The creamy lemon capri sauce on the side honestly wasn't needed for the fish. Or the vegetables. I just used it because of my zero-waste policy. Nevertheless, it paired well with both and rounded up the dish perfectly.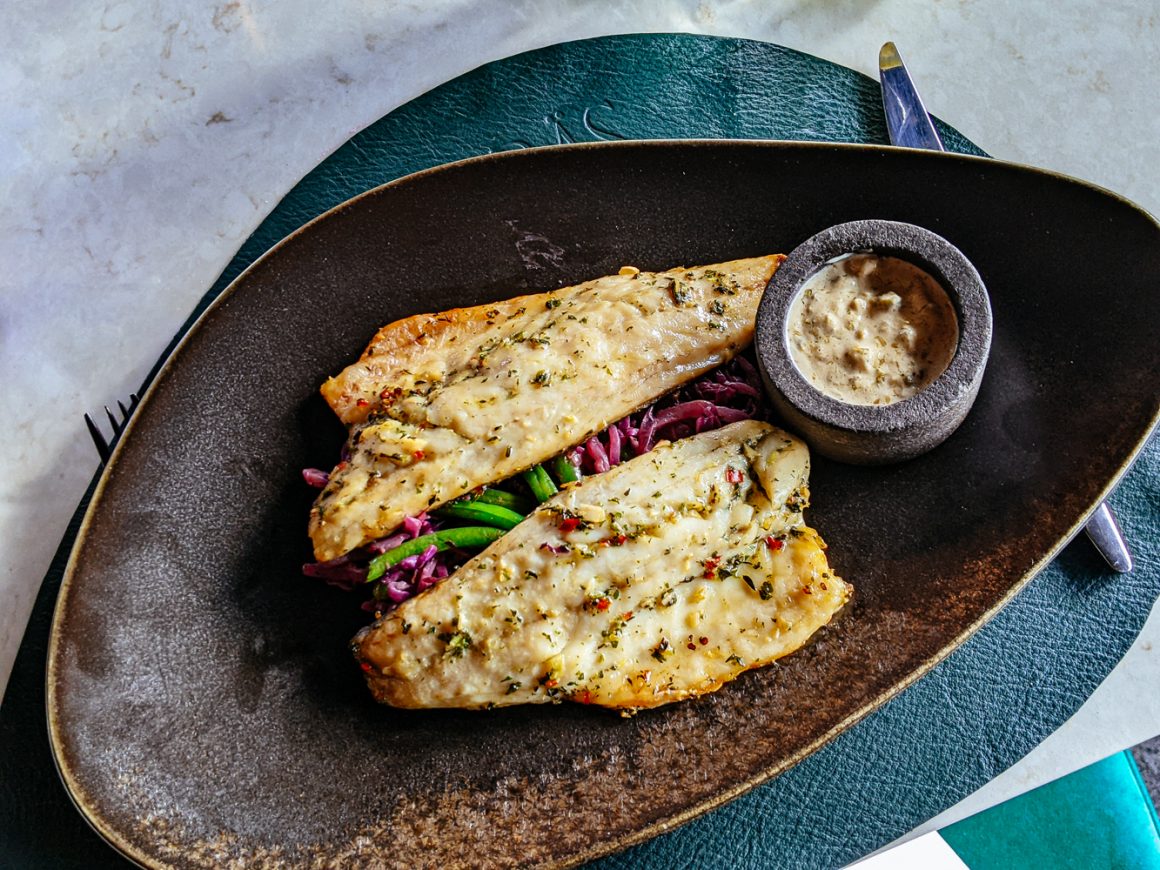 I tend to go for restaurants' signature cocktails, so I chose the "Adriatic Sea" cocktail, a rum and tequila-based drink with strawberry, coconut, and blackberry. It was served in a glass with decorative feet and a tail that doubled as a straw. The taste was pleasant, with a balanced sweetness and not an overwhelming amount of alcohol.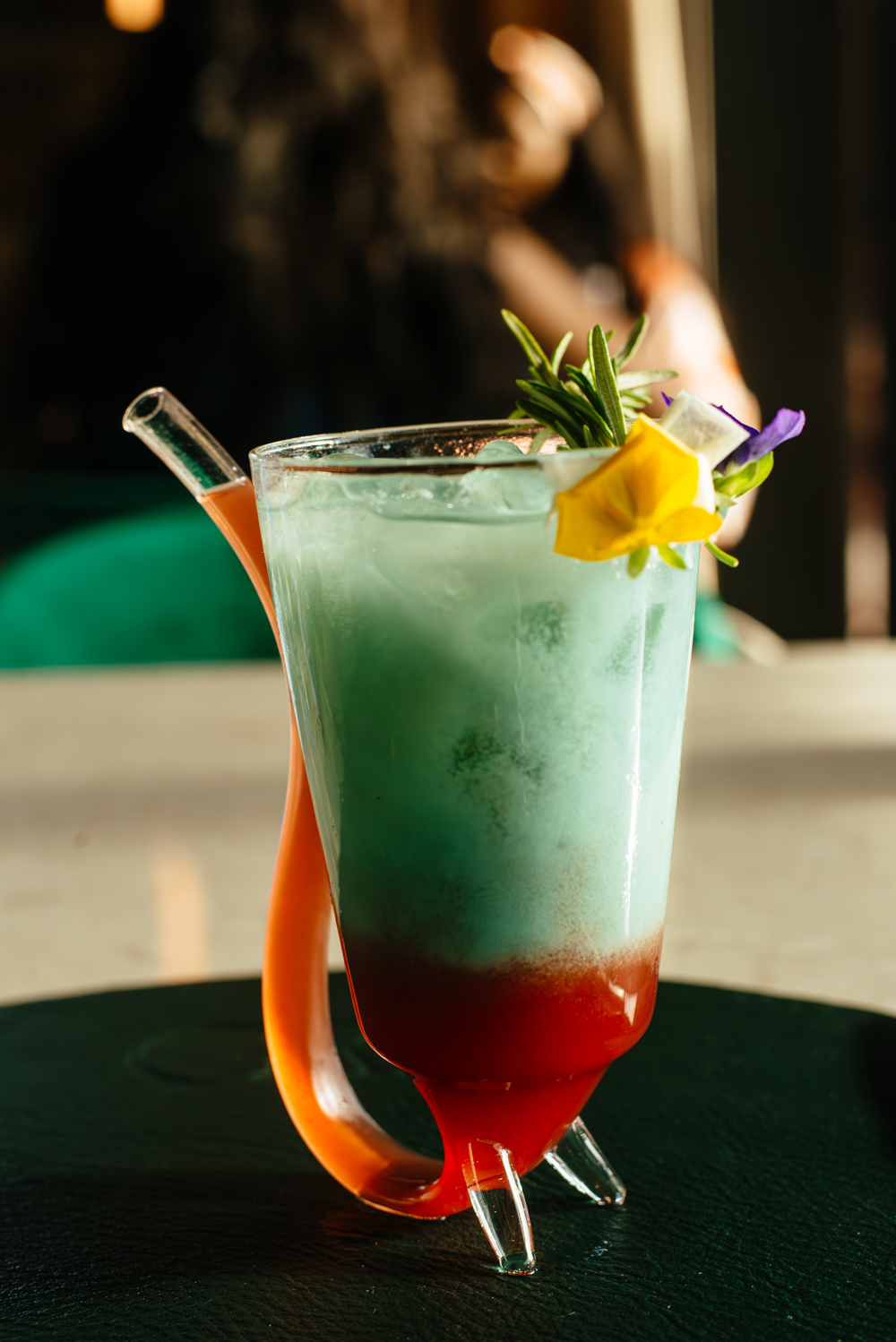 I did find it a bit odd that I wasn't offered a coaster for my drink. Especially as the plate my entrée was served in took up all the space on the placemat, and my glass ended up sweating all over the table. Then again, I was too engrossed in my food to ask for one.
If there's one thing I cannot resist on a dessert menu, it's crème brulée. I did not bother considering any other option and did not regret my choice. Garnished with desiccated coconut, a raspberry – they could've added one or two extra raspberries, just saying – and a wafer, this was a luscious treat and the ideal way to conclude my meal.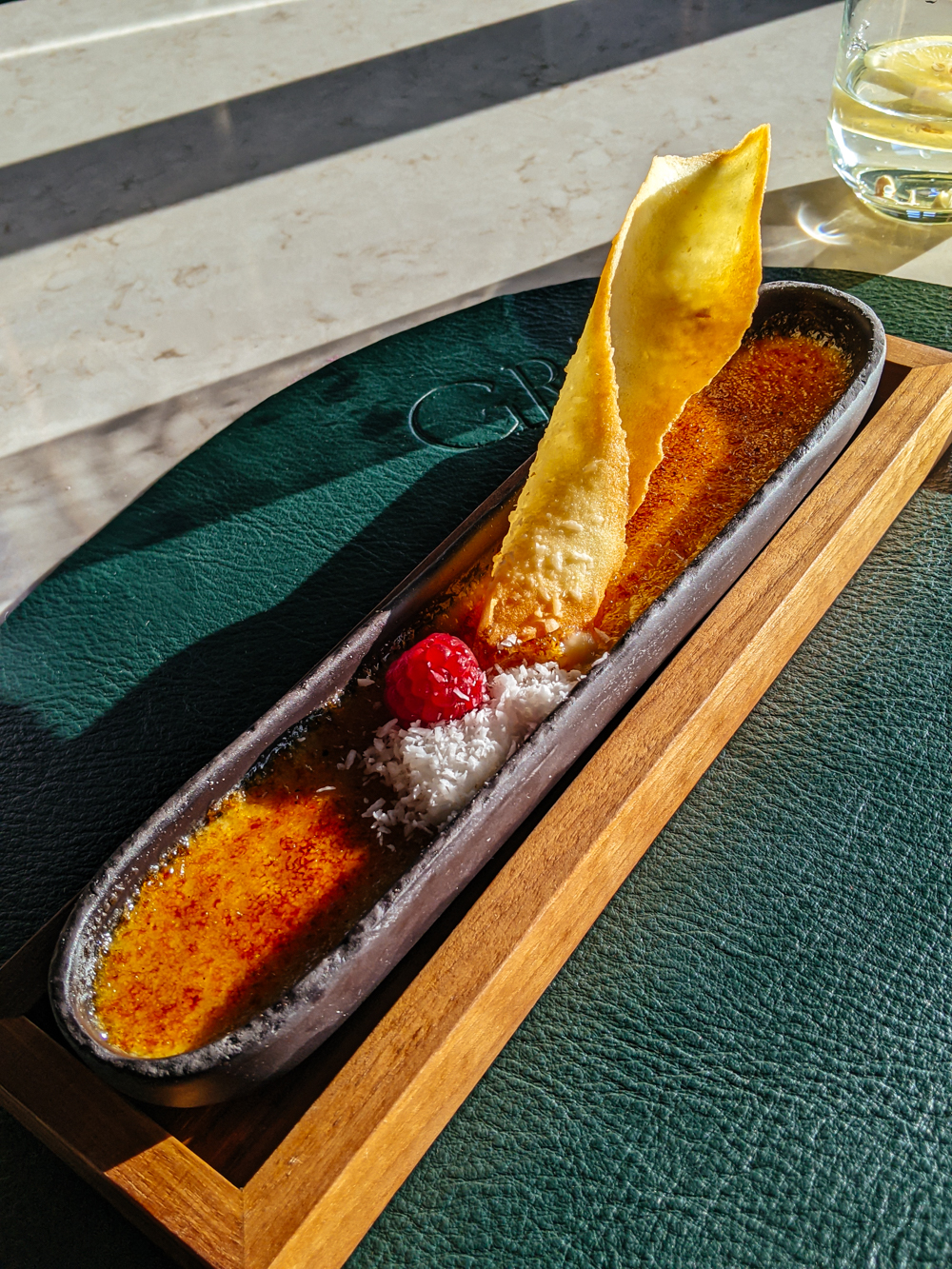 Overall Thoughts
My dining experience at GRÄS was enjoyable. The menu presented various culinary options – including African, Italian, Nigerian, European, and Mediterranean cuisine – and a diverse and carefully chosen range of beverages.
Compared to other restaurants in the same category in Lagos, the prices of the dishes I chose were reasonable. However, there are a few pricey options available on the menu, and items that I did not believe were worth the price they were being sold for. The portions are decent, and a few meals – my starter and main, for example – have enough quantity for sharing between two individuals. Menu prices exclude a 7.5% V.A.T. charge, 5% Lagos consumption tax and 5% service charge.
Considering the current economic situation, GRÄS may not be suitable for everyone due to its minimum spending requirement of ₦40,000. I would highly recommend it for romantic dates or special occasions.
---
Location: 65 Adeola Odeku Street, Victoria Island, Lagos.
Opening Hours: Mondays 6:00 PM – 12:00 AM || Tuesdays – Sundays 12:00 PM – 12:00 AM.
*During this visit, their opening hours were from 12 PM to 12 AM, seven days a week. Their Monday hours were later adjusted to 6 PM to 12 AM.
* originally published on OROXELLAR