Believe!
Fashion designer Huddaya Fadoul-Abacha started designing at the early age of 17 for her family and friends. Even though she did not initially study Fashion & Design, after her first degree in Biology from University of Abuja and completing her NYSC programme, Huddaya knew the regimented medical field or 9-5 work atmosphere wasn't her calling. She took a leap of faith and decided to pursue her passion and first love!   
She established HUDDAYA clothing label in 2012 and hasn't looked back ever since. Over the years, the Abuja based brand has been pushing boundaries and without a doubt is fast becoming a force to reckon with. Her recent collection at the just past Arise Fashion Week in Dubai was a real eye-opener where her outfits spoke volumes about less need to reveal more skin while still maintaining a large dose of sex appeal. This made her designs appeal to a much wider range of women because at any age, being able to remain sultry and alluring without revealing much is a major feat in itself.
FUNKE BABS-KUFEJI had a conversation with the creative about modesty, sustainability and the importance of such representation in the fashion industry.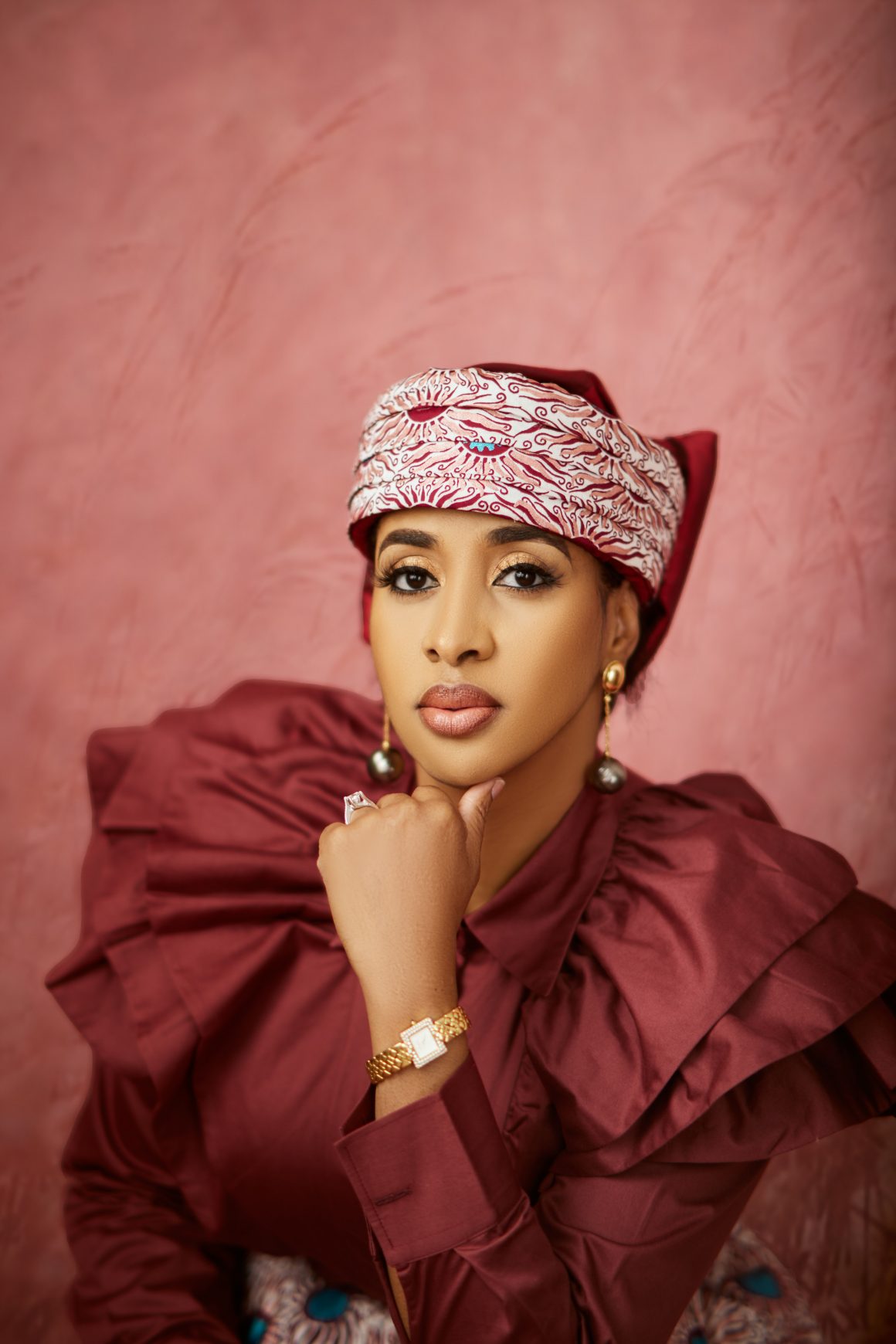 When did you decide to pursue Fashion Design as career and what steps did you take to achieve this?
I've always been a fashion designer at heart. I have designed for my mum, sisters and friends since I was 17yrs old. After my NYSC, I knew I wasn't cut out for a regimented life, so in 2011, l started taking orders from home. When it got overwhelming, I opened my first fashion house in 2012, and it's been a dream come true since then.
What is your favourite part of being a designer?
I would say the process of bringing an inspiration to life. Also, fabrics of different textures and prints bring me joy. I love the feel of fabrics – it helps me design and brings my inspiration to life. But honestly, I love every part from designing to finishing, to fittings seeing the joy on clients faces and all.
I am blessed to do what I love, and I try not to take this for granted.
Your brand Hudayya launched in 2012 and today, it's a top tier brand. How will you describe your journey of growth so far?
I feel there is still much room for growth with the brand bursting out of Abuja to gain visibility and recognition in Nigeria and Africa.
But I definitely still aspire to make Hudayya Bride and Hudayya Woman a top African brand to be recognized far beyond our shores; in the Middle East and Europe etc.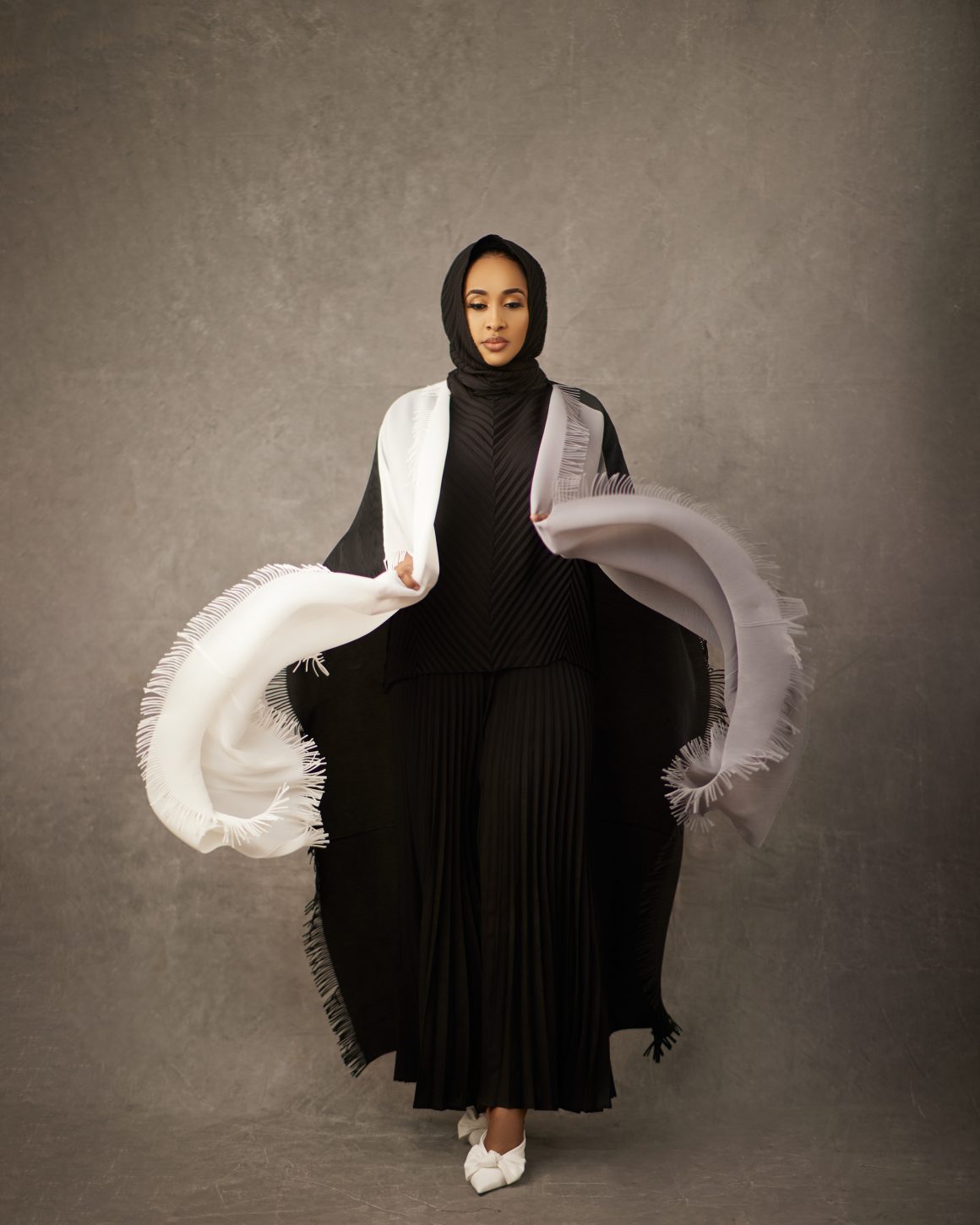 You are a bridal and occasion designer who branched into ready-to-wear fashion (RTW). How were you able to make the transition, and why did you decide to go into RTW?
It wasn't actually a transition. It came very naturally to me because clients wanted to wear simple casual clothes I had designed for myself to be wearing to work. Their requests transitioned to buying more sample fabrics and producing a couple of extra pieces before I finally decided that I needed to start a separate brand dedicated solely to ready to wear garments.
The Hudayya Fashion brand, you say, is for the modern yet modest woman. What is your definition of modest fashion?
Modest fashion to me is looking trendy and elegant without having to expose so much skin, and over the years, I think I've found the right balance for my brand.
Can your designs evolve into more mainstream sexy, risqué designs?
I definitely categorize myself as a contemporary modest fashion designer because I design with myself in mind and then I try to picture people that are close to me, clients with different body types in these designs as well before I give it a go. Due to my heritage and faith, I doubt I will deviate from the modest modern path I have chosen to pursue  when it comes to my designs. Also, there are enough brands out there that cater to mainstream sexy and risqué.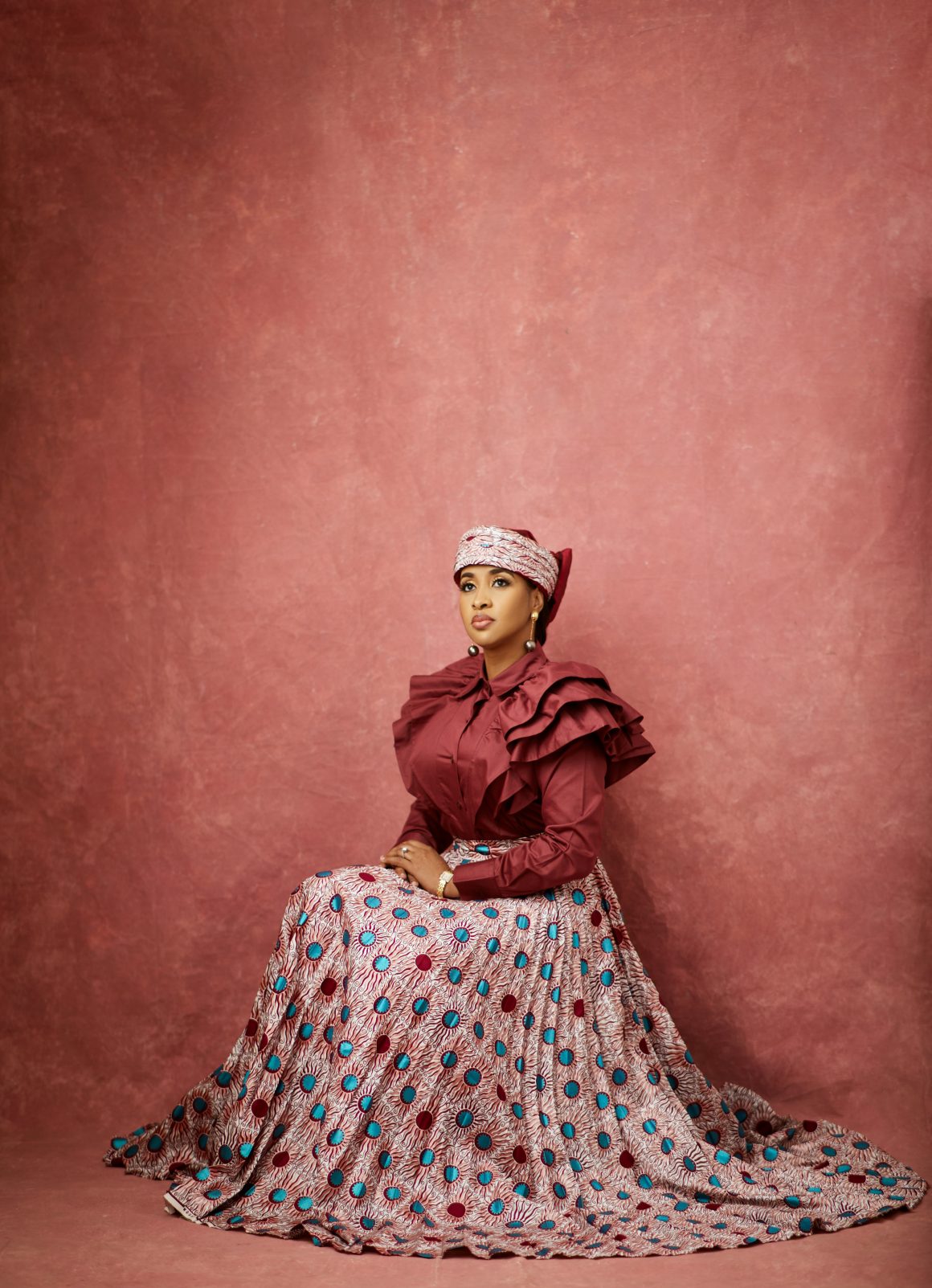 In recent times, modest fashion is gaining as much popularity as sexy, sultry designs. Why do you think this is happening?
Modest fashion is becoming a booming global market, in my opinion, perhaps because of social media. We all open social media apps and see skin everywhere because many women follow the trend of sexy and sultry and showing off skin. It's nice to see that women are trying to differentiate themselves from the mainstream pushed on social media, irrespective of heritage and faith. As more socialites in society show that you can dress modest and look classy and elegant, the more this style of fashion will gain popularity.
Being from the North and Muslim, will you say these two aspects of your life influence your creative process?
I am not just a Nigerian designer but a Northern Nigerian Arab designer. Heritage and faith play a significant role in my creative process when designing ready-to-wear garments, and I believe in staying true to my roots. However, this does not stop me from cutting a neckline low or shorten a long skirt to suit a client's personal preference. So the 21st-century sexy woman who wants to show some skin can wear my design because of its versatility when it comes to restyling. That way, my signature is on every piece. That is the brand identity I relish on.
How has your business been able to navigate during this Covid pandemic?
Covid taught me that I don't need to physically be at the store to be able to create and deliver unique pieces. The bespoke side of my business suffered a bit because of no contact with clients. That was when the RTW side of the business really started booming. The pandemic made me design with comfort in mind. As everyone stayed at home, I noticed that women wanted to look good at home and be comfortable. This meant the focus during 2020 was strictly on kaftans and kimono sets. The following year saw a gradual change back to more dressy outfits as women started stepping out again for work, events and day to day errands. It's just been two years of adapting to the needs and desires of women. As we gradually exit these pandemic years, I am excited to design more dressy outfits.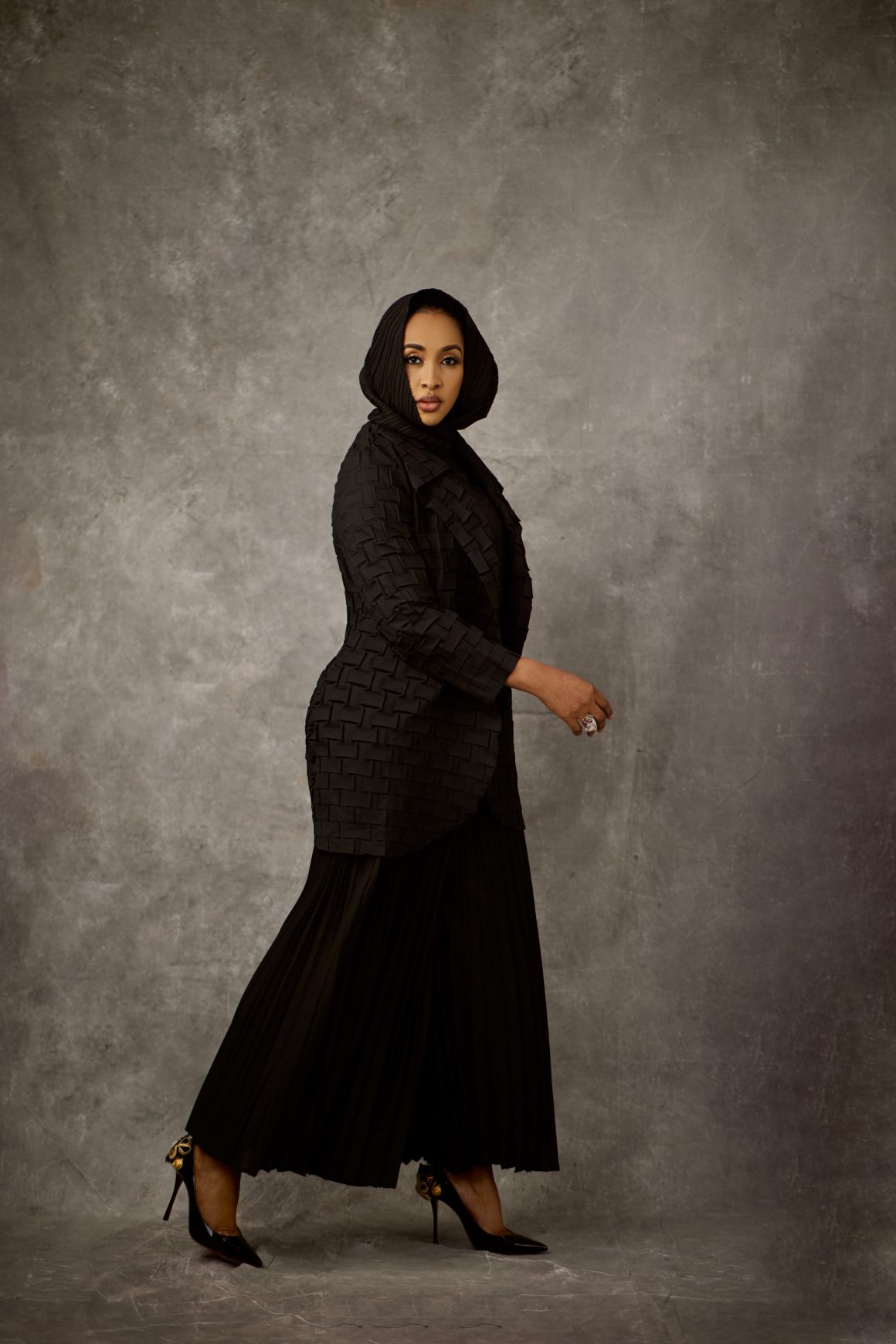 You recently featured in your first Arise Fashion Week show in Dubai. What was your experience, and how did it feel having Naomi Campbell walk down the runway and take the last bow with you?
Honestly, I think I am still processing Naomi Campbell opening the show in our design. It was so unexpected that I wished I could re-live the moment from when we found out Naomi would select a design to wear on the runway to the actual moment Naomi arrived and was ready to walk. Wow!
And the joy of seeing my family and friends who came all the way to Dubai to support me, I'm nothing short but thankful to have been a part of the show.
How has being a part of the event impacted your brand?
First, I'd like to thank the organizers of Arise Fashion Week for including Hudayya Woman in this edition. The brand has gained so much visibility and recognition from the moment the brand was featured on the platform with Naomi Campbell in our design.
My confidence in my brand has skyrocketed due to how well received my pieces were and has opened new doors for us, most especially in the Middle East, as the fashion show was held in Dubai.
What was the inspiration behind the collection you presented at the show?
I wanted to show variety: the casual yet classy day-to-day outfits that can be dressed up or down and the more glamorous outfits in gunmetal grey that can be worn for an occasion or even daily by the glamorous fashionistas. To close the show, I decided to design a wedding dress because the name Hudayya always has and will always be associated with bridals wears, considering the ready to wear sister brand Hudayya Woman came later.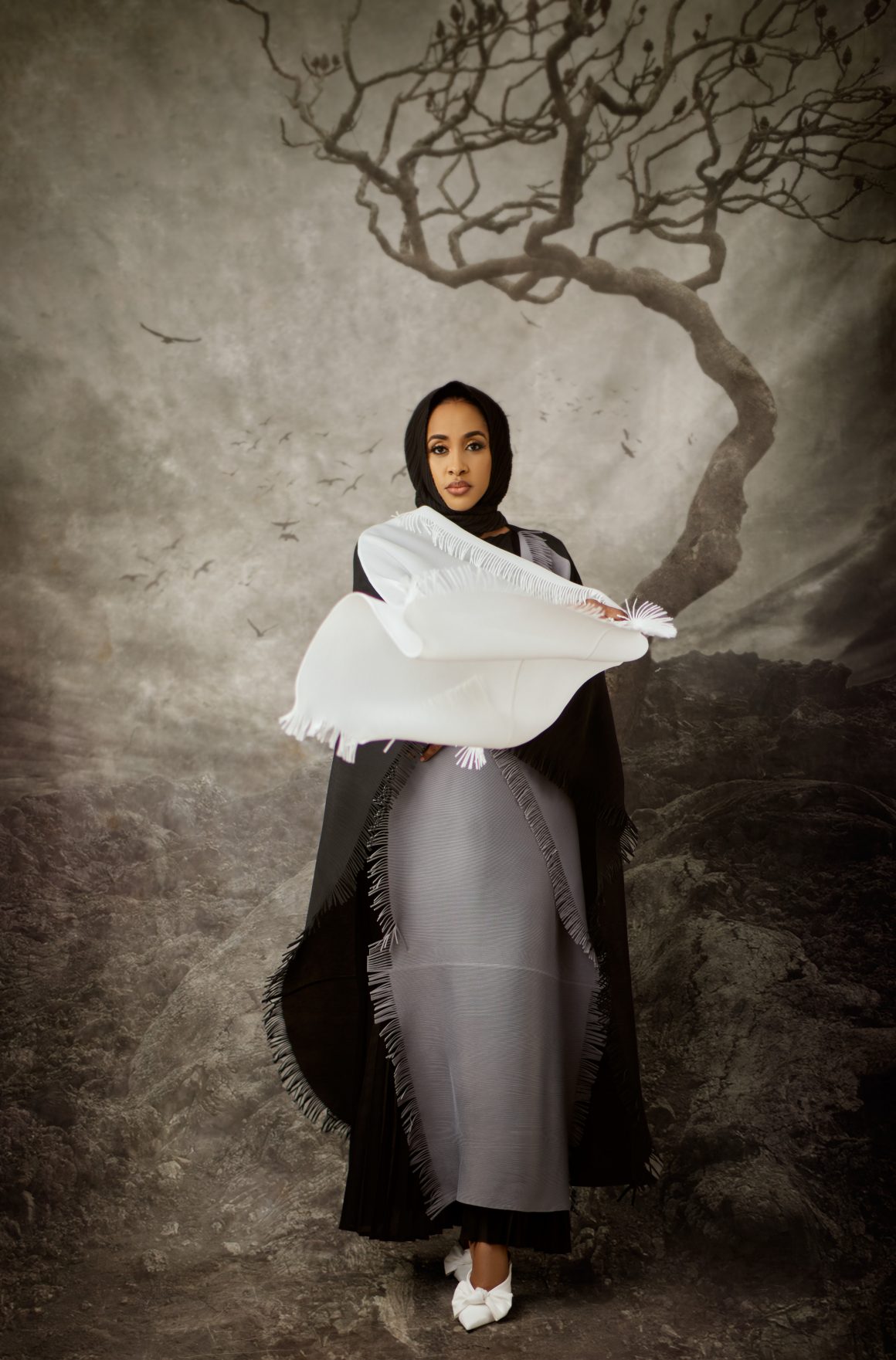 You own a fashion Academy. Tell us more about that and what students stand to gain from enrolling in your academy?
In pursuing your dreams, you have to know and have the basic knowledge of what you're getting into. My school is designed to equip future designers with all they need to start a successful fashion business. We connect our students with vendors and agents and offer mentorship for as long as they need to thrive in their businesses.
What makes this Academy stand out?
What makes my academy different is how passionate I am about the school, teaching and being a mentor. I've carefully handpicked the best teachers in pattern making, cutting, sewing, sketching and work with the best photographers, videographers, venues for runway shows and photoshoots for their graduation projects to give them visibility and a step in the right direction.
I also don't take too many students; I believe in quality over quantity.
What role do you think social media plays in fashion today?
Social media is the biggest tool at fashion's disposal at the moment. It's the biggest platform in the world. If used correctly, it can skyrocket any brand to its peak.
There's so much pressure for designers to come out with better collections season after season. What advice would you give to young designers just starting and hoping to make it in the industry?
They say the reward for hard work is more hard work. Even if you make it to the top in the industry, there's more pressure on you than the upcoming designers to come up with new innovative designs.
So my advice to the young ones is that the easiest way to make a mark for yourself is to stay true to your niche, brand identity and don't be tempted to look at what others are doing to measure your growth and where you should be. Focus on you. Give yourself realistic goals to achieve and make sure you excel at these goals. That way, you know you are growing at your own pace, not at any other person pace.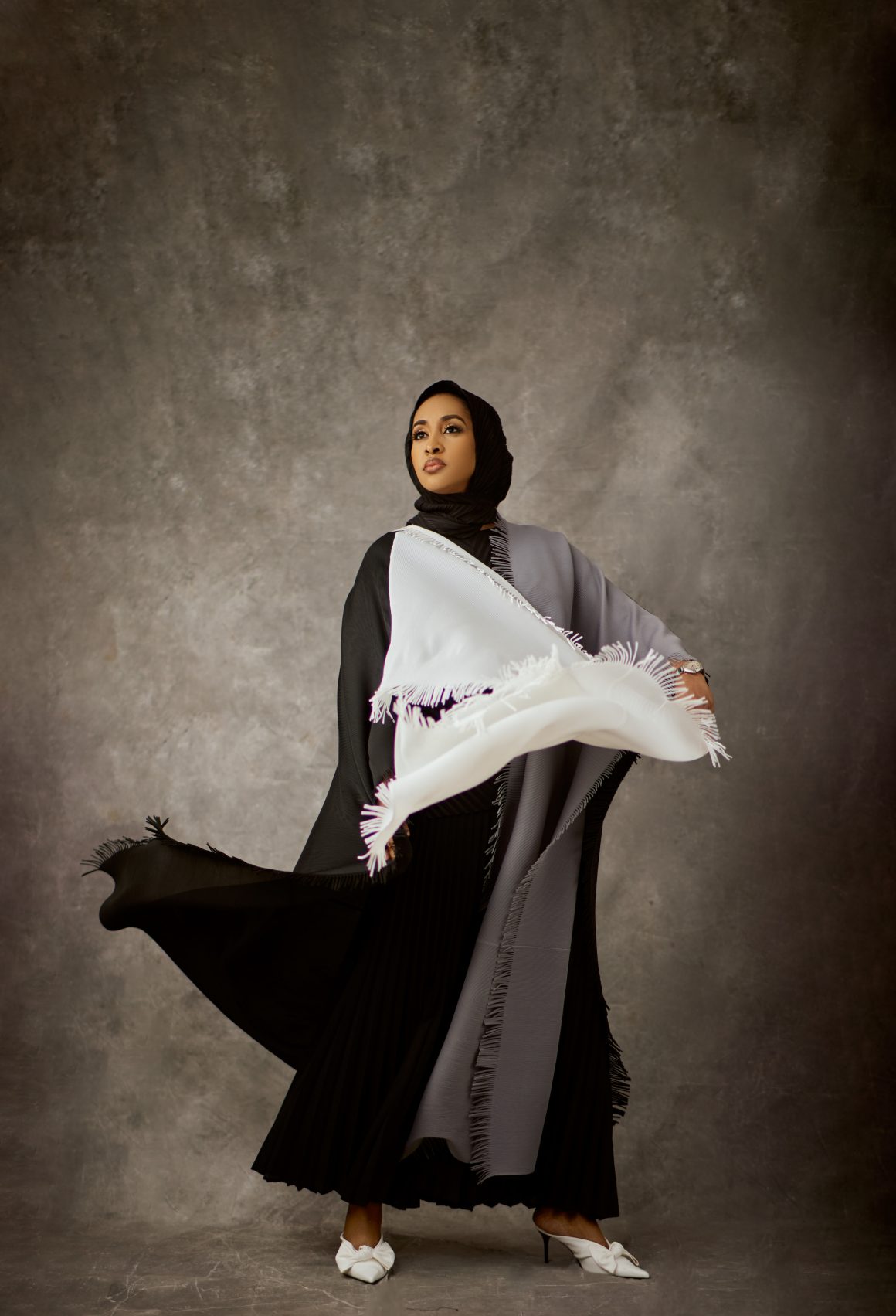 You are a wife, a mother, designer and a teacher. How do you balance it all?
Wok /life balance is a myth. It's a struggle. I can't say I have it together 100%, but I have a supportive family and husband who understands and supplements. I have an amazing, capable team (my Hudayya family) who help run the business smoothly.
Trust me; you cant do it all. Just make sure you have a support system (family and friends ), have a team you trust, invest in training your staff, have a system and process that works well enough for you because nothing in life is truly perfect.
Who are your fashion role models?
Sheikha Moza Bint Nasser. She's the epitome of grace, modesty yet fashionable and trendy.
Also, Anna Wintour who stays consistent, timeless and relevant.
Where do you see the Hudayya brand in the next five years?
I will like to see the Hudayya brand in major stores across the globe and major global online fashion stores.
What do you say to young girls who want to start a modest brand or line like yours?
Start by getting the basic knowledge (Fashion school or internship in a reputable fashion house).
Know your reasons for starting the business and have passion for it because you'll need a lot of passion to get through the ups and downs of the business.
It's time demanding, so before you find your balance, be ready to put in the work, time, and soul.
Start small, grow and expand with your client base.
Don't be carried away by the glamorous part of it and social media. Nobody shows the struggles and bad days, but we all go through them. Don't use social media and other businesses to gauge your success.