One of the advantages of preparing these at home is the level of control you have over the ingredients used, resulting in a healthier alternative to the store-bought kind. This recipe is fairly simple and direct, although it requires time and effort.
Feel free to play around with spices and herbs like chilli powder, garlic powder, rosemary, or grated Parmesan cheese for added flavour. The latter should be sprinkled over the crisps right after they leave the oven.
It's very important to keep an eye on the potatoes once they're in the oven. The cooking time may differ based on the thickness of your slices.
Store any leftovers in an airtight container to maintain their crispiness. They should stay fresh for a few days, but they are best enjoyed immediately.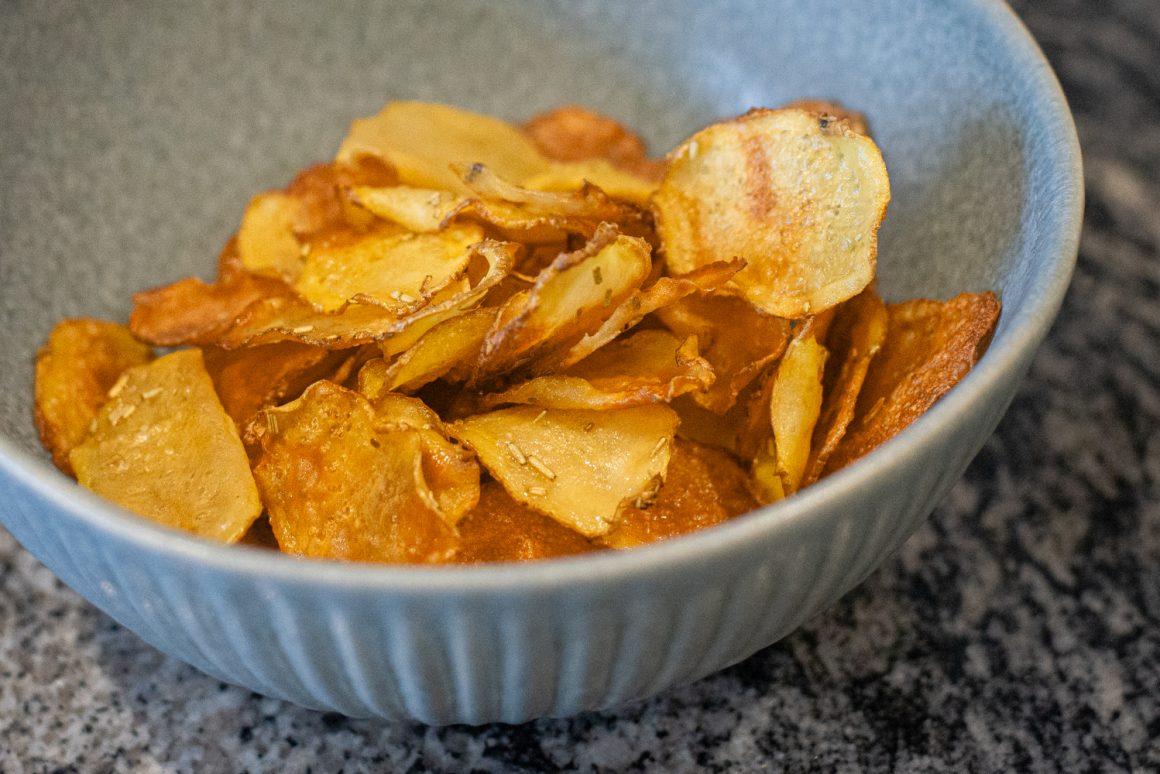 Oven-Baked Potato Crisps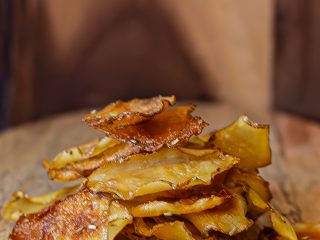 5 small irish potatoes
1 tbsp cooking oil*
3/4 tsp salt**
1/2 cup vinegar***
seasoning (optional)****
Preheat your oven to 375°F (190°C) and line two oven trays with parchment paper.

 Wash the potatoes thoroughly, removing any dirt or impurities. You can either peel them or leave the skin intact for added nutritional value and texture.

Slice the potatoes into thin, even rounds using a sharp knife or a mandoline. Aim for uniform thickness to ensure even baking.

OPTIONAL STEPS

–       To add some tang to your crisps, transfer the slices to a bowl, immerse in vinegar, and leave to rest for 15-30 minutes, depending on your preference. A longer time will yield a more robust vinegar flavour.

–       Drain the potatoes, lay slices flat, and pat to dry.

In a large bowl, toss the slices with olive oil, salt and seasonings – if using – until they are evenly coated.

Arrange the potato slices in a single layer on the prepared parchment paper, ensuring they don't overlap.

Put the trays in the oven and cook for 8 minutes. Take them out to turn them over. Cook for an additional 5 minutes or until the chips become crispy. Monitor them closely towards the end to avoid overcooking. Remove any chips that appear to be fully cooked or on the verge of burning.

Once baked, remove the baking sheet from the oven and let the crisps cool for a few minutes. They will continue to crisp up as they cool down.

Transfer the homemade potato crisps to a serving bowl or plate, and they're ready to be enjoyed! Serve them as a standalone snack or pair them with your favourite dips.
* I used olive oil
** Optional: sea salt flakes
*** I used apple cider vinegar
**** I used dried rosemary