The Africa Magic Viewer's Choice Awards is no doubt a big night. The biggest Award show in Africa, the biggest stage – with the biggest hosts – and not forgetting the biggest looks. These looks come from the biggest stylists. With everyone's eyes fixated on the red carpet, attendees come dressed to impress in some of the best and boldest styles Africa has to offer. Getting called upon as a stylist to carry through a jaw-dropping look for the red carpet holds a certain level of significance. Now, imagine getting tapped to be the official stylist for the co-host – THE Bonang Matheba. Starting in fashion circa 2012, this seemed far-fetched for Adedamola Adeyemi.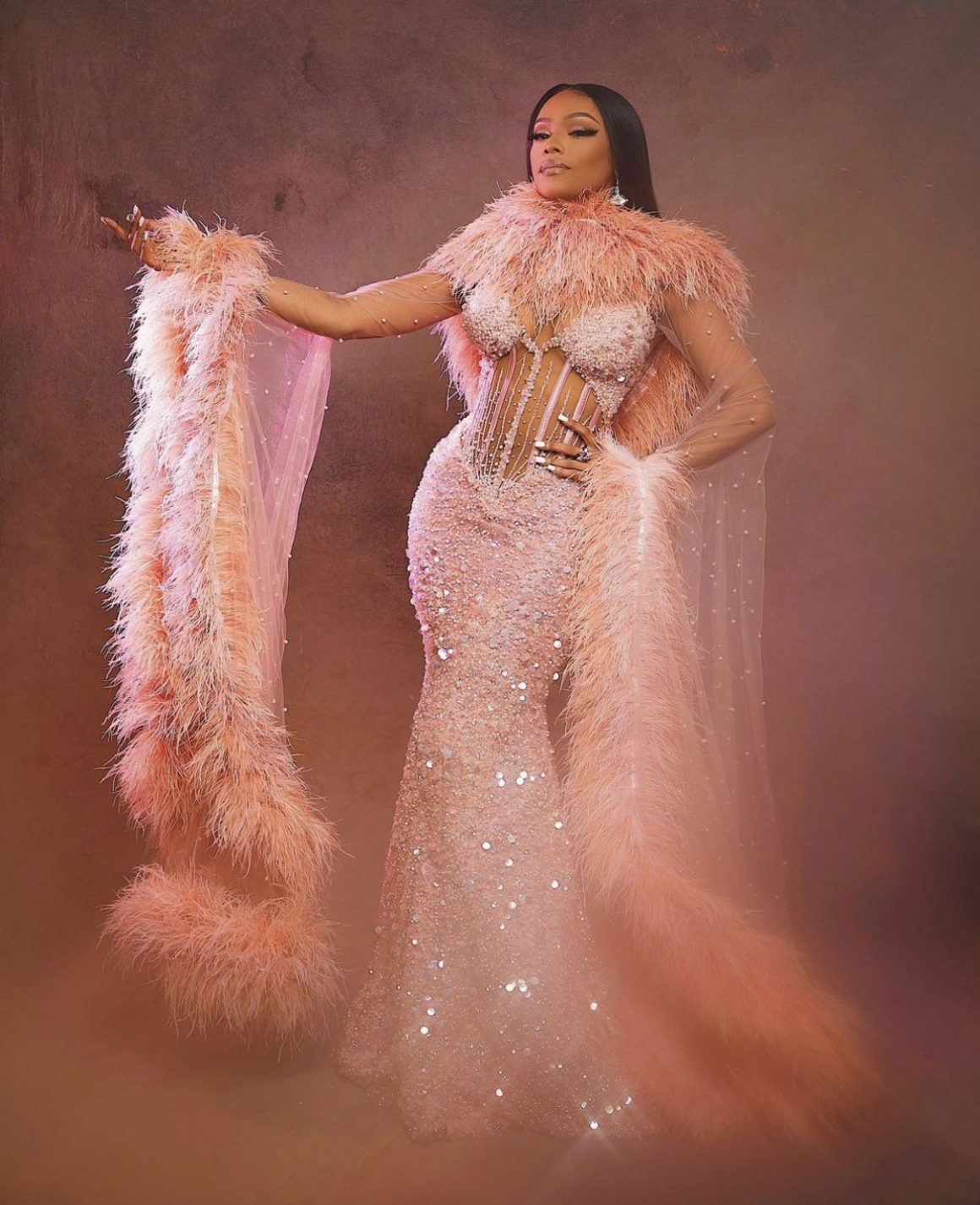 "I'd always had a thing for fashion, but I never had the slightest idea that I could have a career in fashion, until Arise Fashion Week in 2012", Adedamola says to me on his balcony as I ask how he got into fashion in the first place. He continues; "Being the first Fashion Week in Nigeria, there was so much buzz about it. So much buzz they put out a roll call asking for volunteers" – "We were over like 300", he quickly adds. "Initially, I wasn't picked, but I really wanted to be a part of it. My burning desire made me reach out to Veronica Odeka who ended up giving me the job." "This opportunity connected me with Bolaji Animashaun, who I ended up interning with" – "I can't stress the importance of interning." He looks up at me with a profound look when I give him an agreeing nod.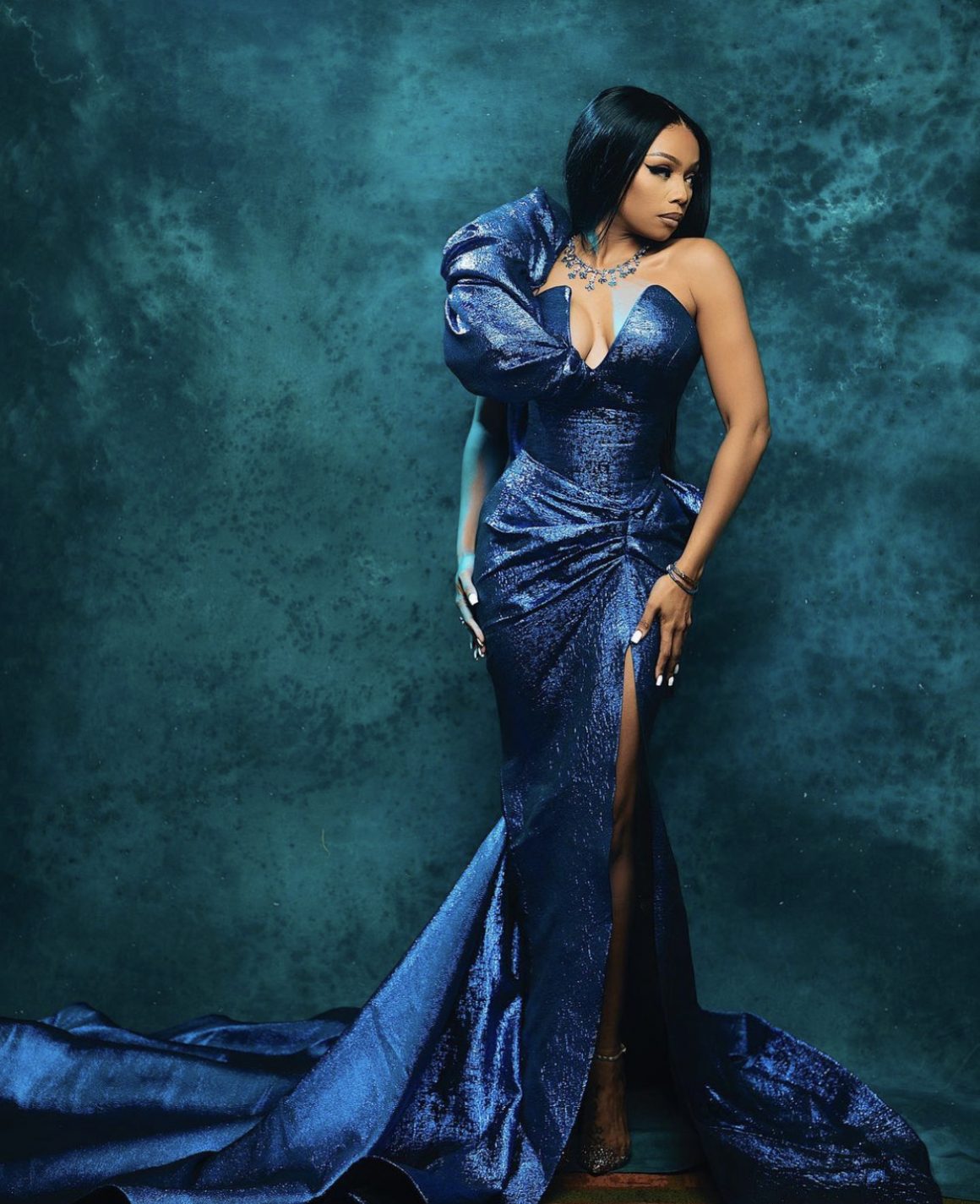 This internship and his love for film and storytelling led him to fashion for film. "I didn't set out to be a fashion stylist; I wanted to be Costume Designer – which I did focus on." "How then did you end up being arguably the hottest stylist at the moment", I ask. He gives me a modest smile before he answers, "I just noticed whenever I'm on a set or project, I do a decent enough job that the stars always want me to style them personally. I can probably say all my styling clients have come from the strength of my work on these projects." In the world of fashion – or any other industry for that matter – you're only as good as your last job. For Adedamola, working on major movie sets like "Ayinla", "Phases", and "Skinny Girl in Transit", plus his work with a long clientele list of satisfied superstars speaks for him. With names like Toke Makinwa, Simi, Sharon Ooja, Taymesan, Bisola Aiyeola, Adesua Etomi, and Erica co-signing on our work, it's only a matter of time before you are styling the biggest hosts on the biggest awards.
"I met Bonang through a referral – A friend of mine referred me to her. We had a brief chat and just one shoot, from there she told me I was styling her for the AMVCA's." Taking a chance on Adedamola obviously meant a lot to him I could tell from the expressions he had on his face. "Funny enough someone had already reached out to her asking to style her and she said no." Without any prior meeting or knowledge of Adedamola, she went with her gut and "good vibes". The result? Four astonishing outfits on everyone's lips and every best-dressed list. "Up until now, this has been my biggest platform – I mean the whole of Africa will be watching. I've been having such a good run, and this was literally make or break. In my head, If I had messed this up everyone would think I'm a fluke. They'll think all my previous success was gimmicks and I was running on vibes. To the Glory of God, we killed it!"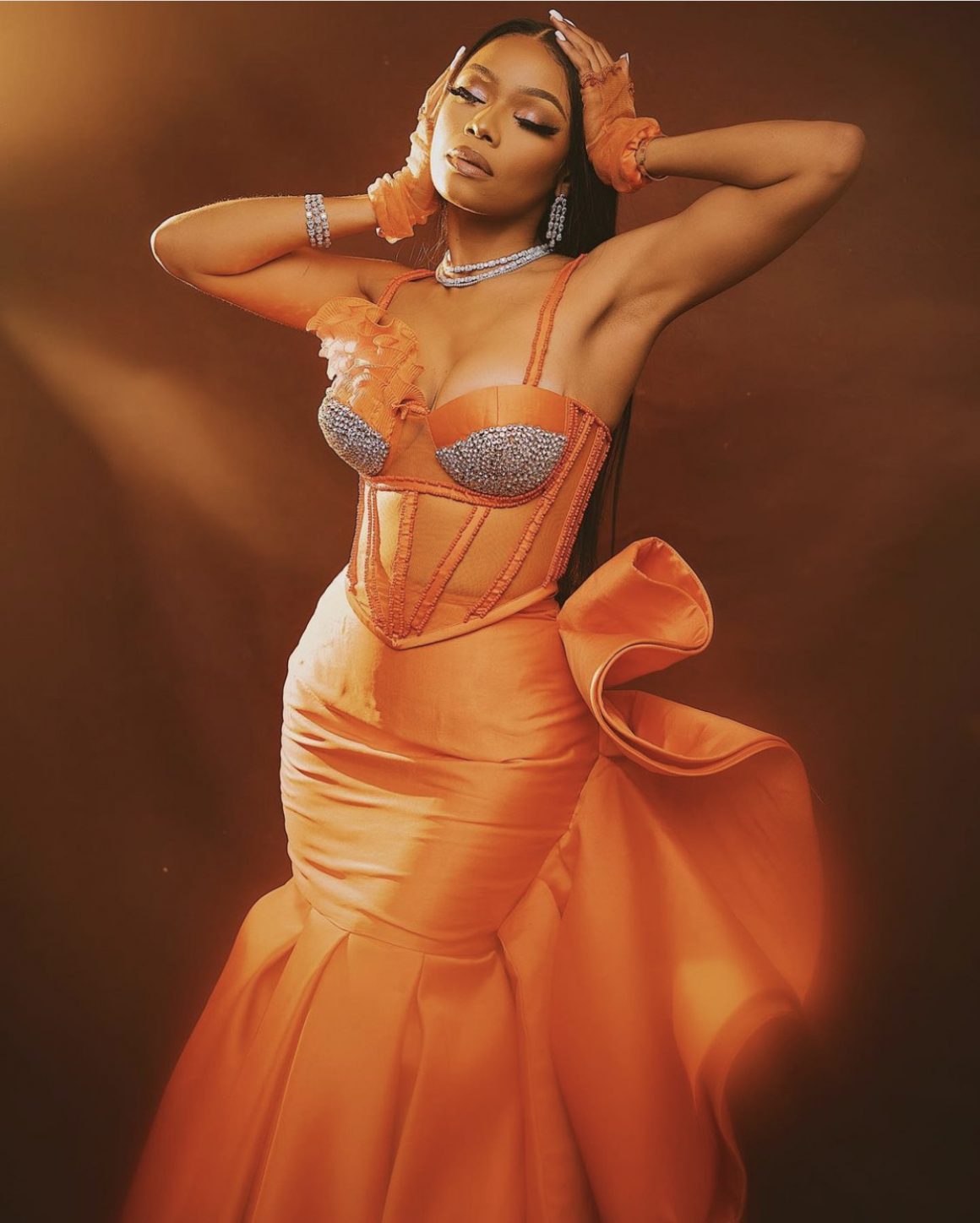 So much curiosity in my expression I ask; "Do you have a favourite look?" A huge sigh and Adedamola says exactly what I was expecting; "The First Look. That look is so special to me…" I cut him off mid-sentence; "That look is everything!" After a huge smile, he continues; "it's special to be because the designer of the dress – Sheye Oladejo – had bought the fabric for her wedding and had been sitting on it for years – waiting for the perfect moment to do something with it. For her to give me that fabric for Bonang, was so so special." So special that when he showed me a reaction video of seeing the dress for the first time, it was truly a moment. "That dress gave me excess, gave me glamour, and Bonang is one of the most glamourous women in Africa."
Adedamola credits the outcome of such a stunning dress as the birth child of a solid relationship with the designer. "We've been working together now for a hot minute and her level of craftmanship is out of the world. The moment I got the call, I knew there was no way Sheye Oladejo wouldn't be involved. We sat down for about four hours going through looks, trying to find inspiration, and we knew deep down that once we got the look we would know – we will feel it." "We considered some looks, to be honest, there were nice, but they were not the one. The moment we arrived at the one, we know it was the one." Sitting in the audience at the Award show, watching Bonang Matheba walk out in her first look of the night, it was truly the one.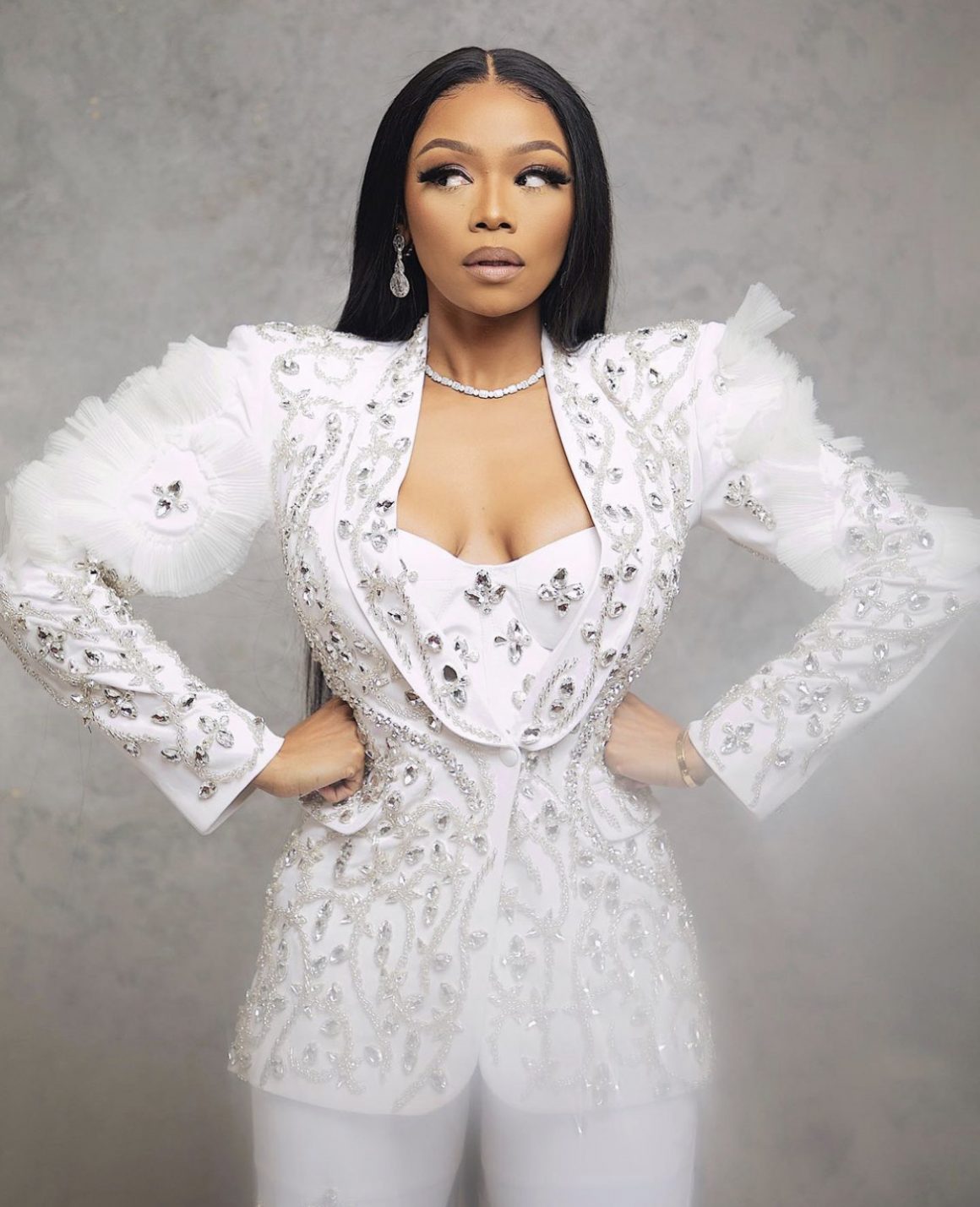 "I love putting my clients in outfits anyone around the world can wear – Even Beyonce could have worn the second look. House of Dova has to take credit for the second look – She came up with the inspiration. I told her what I wanted, and I got exactly that!" He gesticulates a lot with his hands as he tries to drive home his point. "I wanted volume, I wanted excess and I got what I wanted. The crazy thing: at the first fitting, the dress didn't have the train at the bottom. However, Bonang wanted it to be longer, to be bigger, and even have more volume. The fabric was even done, but we were able to finesse it."
At some point during the AMVCA's I find myself backstage staring seductively at the stunning Bonang Matheba in an Orange 2-piece. In my head, it was Chris de Burgh singing "Lady in Orange" instead – she looked every single ounce of breathtaking in a number by 2207 by Tolu Bally. "What was so special about this look for me was Tolu Bally. She is one designer that has always supported me, always looked out for me. Regardless of whatever it is, whenever I call her, she would always come through for me – and I called her two days before." He reads the shock on my face and we both burst into laughter. "Two days!" I exclaim. "It was very last minute. I called her and told her I was stuck with styling Bonang. She told me to stop by, I did and showed her what I had in mind. We tweaked a few things, and Tolu did what Tolu does – Beautiful madness." Fun Fact that you probably didn't notice; the outfit is a 2-piece, not a dress. I only know this now because Adedamola told me – I thought so too!
For the final look, Bonang served at the all-white AMVCA after-party in a bedazzled suit that was supposed to be on the stage. "That look was actually supposed to be on stage, we didn't just have enough time." For Ademolola, he always knew he wanted to put Bonang in a suit for the awards, and the Sevon Dejana Brand was just the perfect fit. "In Nigeria, we really have quality suit designers. We have a bunch of designers that make suits, but Sevon Dejana is in a different realm on his own. I feel he's so underrated, so underappreciated, because he's top-notch! And I'm glad he's finally getting his flowers now. I had even already reached out to a different designer, but last minute I changed my mind and I'm so glad I did. He was patient, listened to me and did exactly what I wanted."
"When I was in the process of getting the looks together, I knew what I wanted. There was never a time I sent Bonang a look that she complained. I sent four looks and she said yes to all of them – No back and forth. Of course, there is no "I" in team, Adedamola is full of praise for the glam team: The photographer (Chuchu Ojekwe) to the Make-Up Artist (Joyce Jacob Beauty) to the Hair Stylist (Adigwe Callistus Obinna Jr.). "It's one thing to have a beautiful outfit, but perfect hair, perfect makeup and on-point photography, that's the perfect juice."
When Bonang changes her Instagram profile photo to a look you styled, or photographed, you know you've done great work.
Creating 11 looks in total on the night – All stunning looks on other notable celebrities – Adedamola Adeyemi is one name you should know.