Every 8th of March is known the world over as International Women's Day – a day set aside to celebrate women for their essence, love and services to the cultural, political and socioeconomic sector. All over the world, the voices of women are being heard – they are doing great things, leaving phenomenal footprints and raising the standard against discrimination, stereotypes and bias.
This year, the theme for International Women's Day is 'breaking the bias' and it is a direct action for equality. It has become necessary, because bias against women is unacceptable. We all need to take action to break this. We still have a long way to go to dismantle bias of any kind related to gender, race, class and ability.
In this engrossing encounter, Azuka Ogujiuba, in the light of her Coffee table book project titled Adire Arewa, chronicles remarkable and distinguished women: Toyin Saraki, Nike Davies Okundaye, Gbemi Shasore, Ekua Akinsanya, Joke Bakare, Kavita Chellaram, Ego Boyo and Ifeoma Monye who over time, have carved a niche for themselves in their various professional sectors and contributed to the growth of women and their development in their communities. They shared their opinion on the place and growth of women in the world, ways to conquer the bias and stereotype. Going further, they share their opinion and views on the IWD how it impacts women.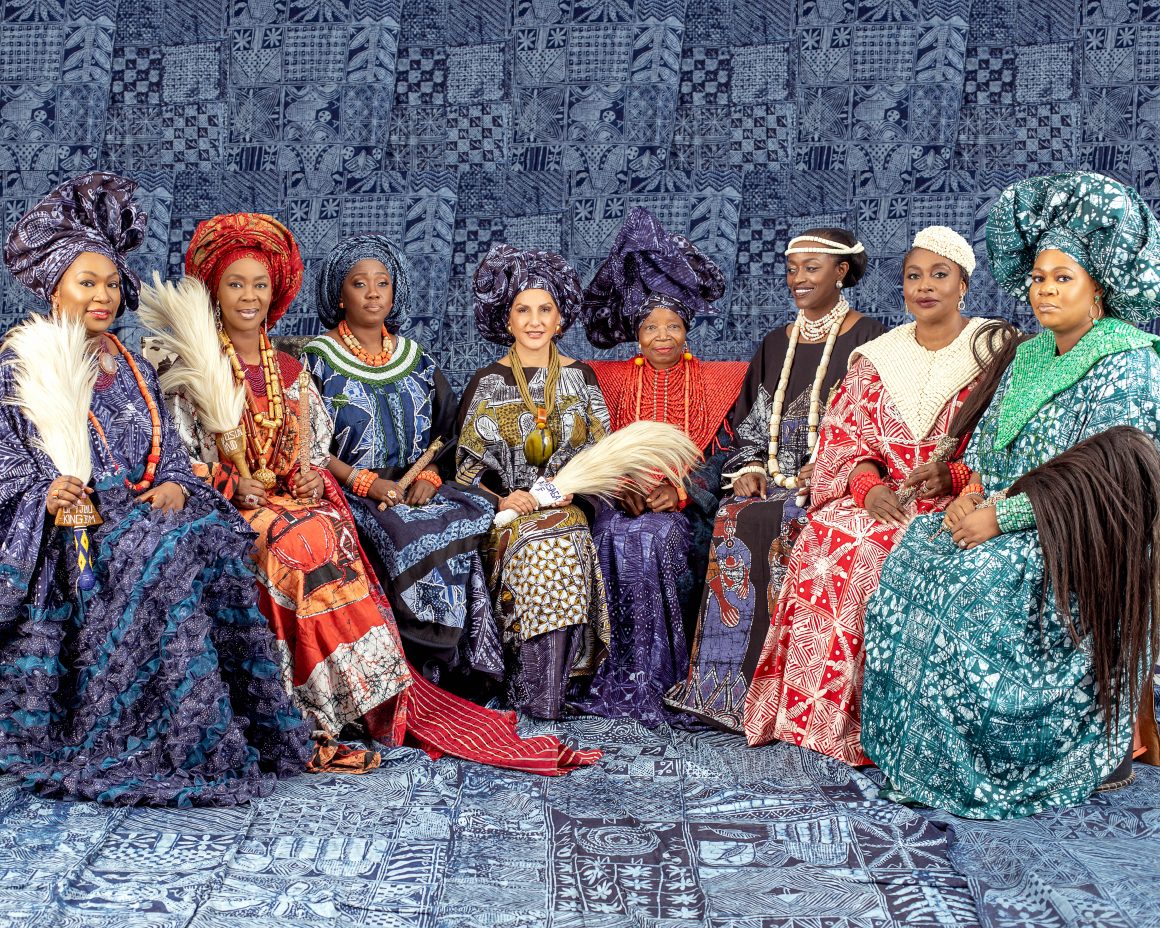 NIKE OKUNDAYE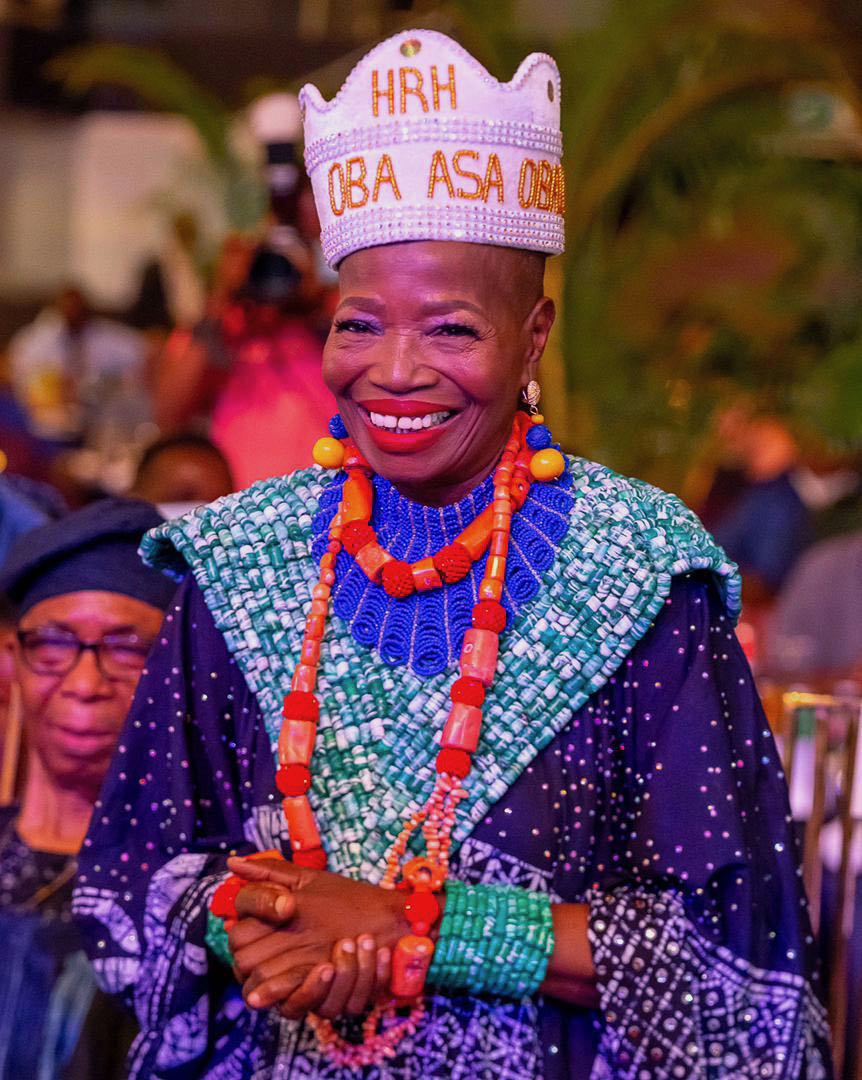 Chief. Mrs. Nike Okundaye is the Managing Director/ CEO, Nike Art Gallery, a foremost Art gallery in Lagos state. She was born on 23rd May 1951. Fondly called Mummy Nike, she wears a smile at all times and leads a very accommodating life. A renowned batik and Adire textile maker, she is the first female Nigerian woman to own an art center. Over the years, Mummy Nike has taught the making of the Nigerian traditional textile to audiences in Europe and the United States. In 1968, she had her first solo exhibition at the Goethe Institute, Lagos. She owns and directs four art centers, and in them, they offer free training to over 1500 young artists in visual, musical and performing arts, compromising more than 7,000 artworks.
Mummy Nike is one of the few Nigerian women who has featured on CNN international's 'Africa's Voices' which hosts some of the very notable and engaging personalities from the African continent, exploring their lives and passions. Her paintings have also gained international recognition some of which are permanently featured at the Smithsonian Museum. Her work is also part of the collection of the Gallery of Africa Art, the British Library in London and at Johfrim Art and Design Studio.
What is your take on International Women's Day and what impact do you think this has had on women of today?
Internationally Women's Day is a day that has brought a lot of women together, fostering unity among women. They have come together as one family with one voice and one nation. It doesn't matter if you are old or young, we are all women and we bring good news to the community. Women control the household. Women are very powerful – they are kept aside for love. It is our time and we should let the world know that this is our day by coming together and speaking with one voice, speaking to each other without hatred, working together as one family, be our sister's keeper just like men are their brother's keeper. Women should come to the light. We should have a female Governor in Nigeria, it is long overdue. There should be more female Ministers and even a female President in Nigeria. This is our time – that is the impact we should come together and make as mothers.
I have to thank you, Azuka Ogujiuba and the organizers for making it possible for women to have a voice in the society because our voice is our power.
KAVITA CHELLARAM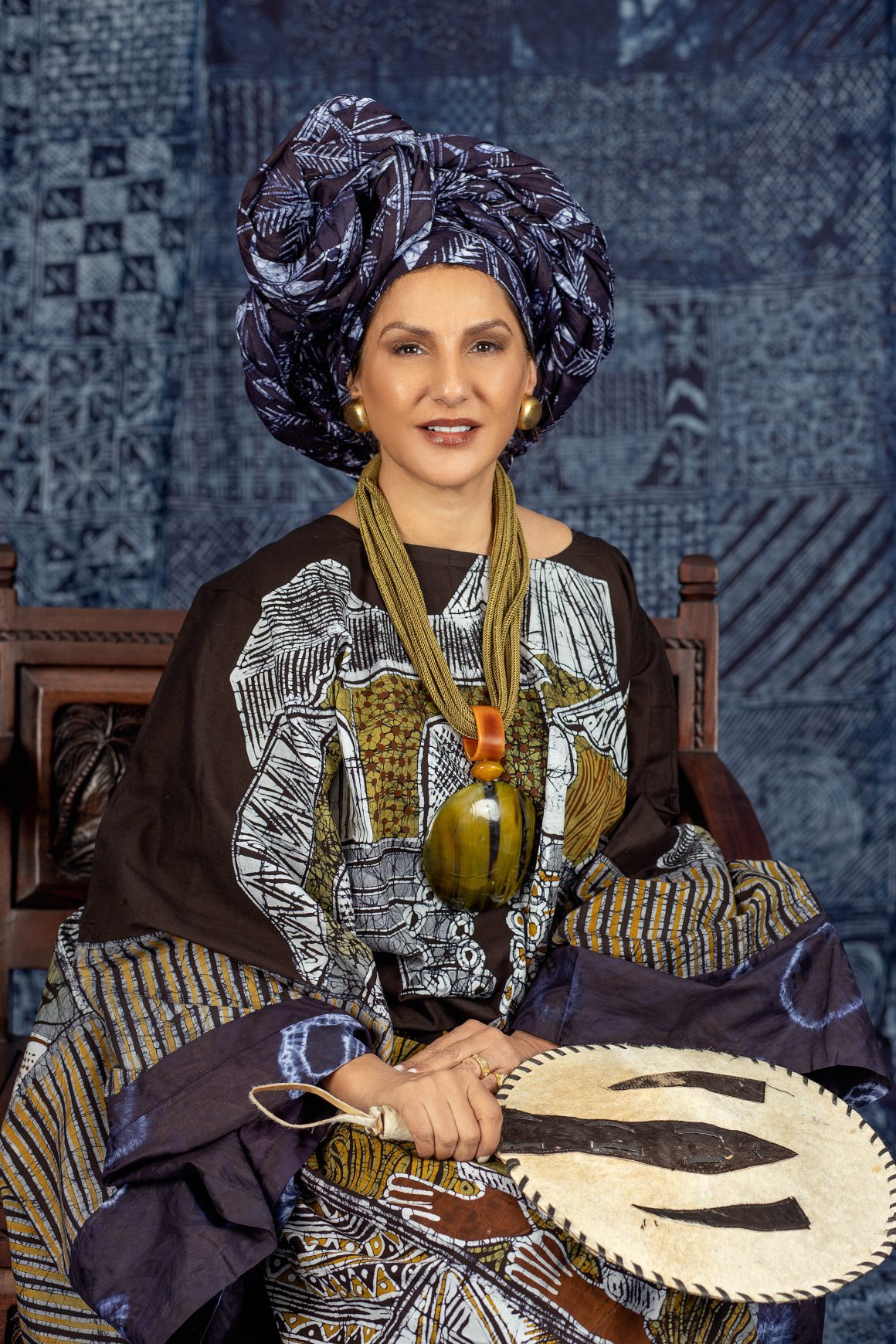 Kavita Chellaram is an art collector and founder of kó Artspace and Arthouse Contemporary in Lagos, Nigeria. She has been a major force in developing the modern and contemporary art market in Nigeria. Her exhibitions and projects over the years, have contributed to the global recognition of numerous modern African masters. In 2015, Chellaram founded the Arthouse Foundation, a non-profit artist residency programme in Lagos which has organized over thirty artist residencies. She is a member of the African Acquisition Committee of the Tate Modern.
What is your take on International Women's Day and what impact do you think this has had on women of today?
International Women's Day is a global day highlighting the impacts and achievements of women around the world. According to the United Nations, the day also marks a call to action for accelerating women's equality. I believe that this year's edition calls for deep reflection on how far we have come since the advent of this celebration. The International Women's Day has occurred for well over a century with the first gathering held in 1911, and has been gaining momentum. Women's empowerment and promotion of women's rights have emerged as part of the global movement.
There have been opportunities for economic participation, and access to basic and higher education, primary health care, political representation amongst others. While I acknowledge that a lot still needs to be done, I could not help but reflect on the progress that is being made so far due to the significant activity that is witnessed annually on March 8th, worldwide.
A closer look into the art sector in the last decades, there have been an emergence of female pioneers who are championing the arts and whose work tackle gender disparity, patriarchy, rules that easily binds women on what to do and how to do it. More recently, research and attention has been drawn to some of the earliest women artists including Ladi Kwali, Afi Ekong, Clara Etso Ugbodaga Ngu, and Nike Davies Okundaye. Their contributions to the art sector are getting local and global attention.
I can't help but outline, just a few to start with, Nigerian contemporary female artists who are contributing their voices to the ever resounding alarm for gender equality in our society- Ndidi Dike, Peju Layiwola, Peju Alatise, China Uwatse, Marcia Kure, Ranti Bam, Wura Natasha Ogunji and Ngozi-Omeje Ezema, Araba Opoku, Yadichima Kalu, Nnena Okore and so on. Female curators and gallerist are gaining influence- including myself, Maria Varnava, Sandra Mbanefo Obiago, Sinmidele Adesanya, Adenrele Sonariwo, Jumoke Sanwo, amongst others, and art writers including Bukola Oyebode, Roli O'tsemaye Afinotan and Jareh Das.
As we celebrate the International Women's Day 2022 with the theme "Gender Equality Today for a Sustainable Tomorrow", we are encouraged to continue to support women in all spheres, and recognize the contribution of women and girls around the world, who are leading the charge on climate change adaptation, mitigation, and response, to build a more sustainable future for all.
EGO BOYO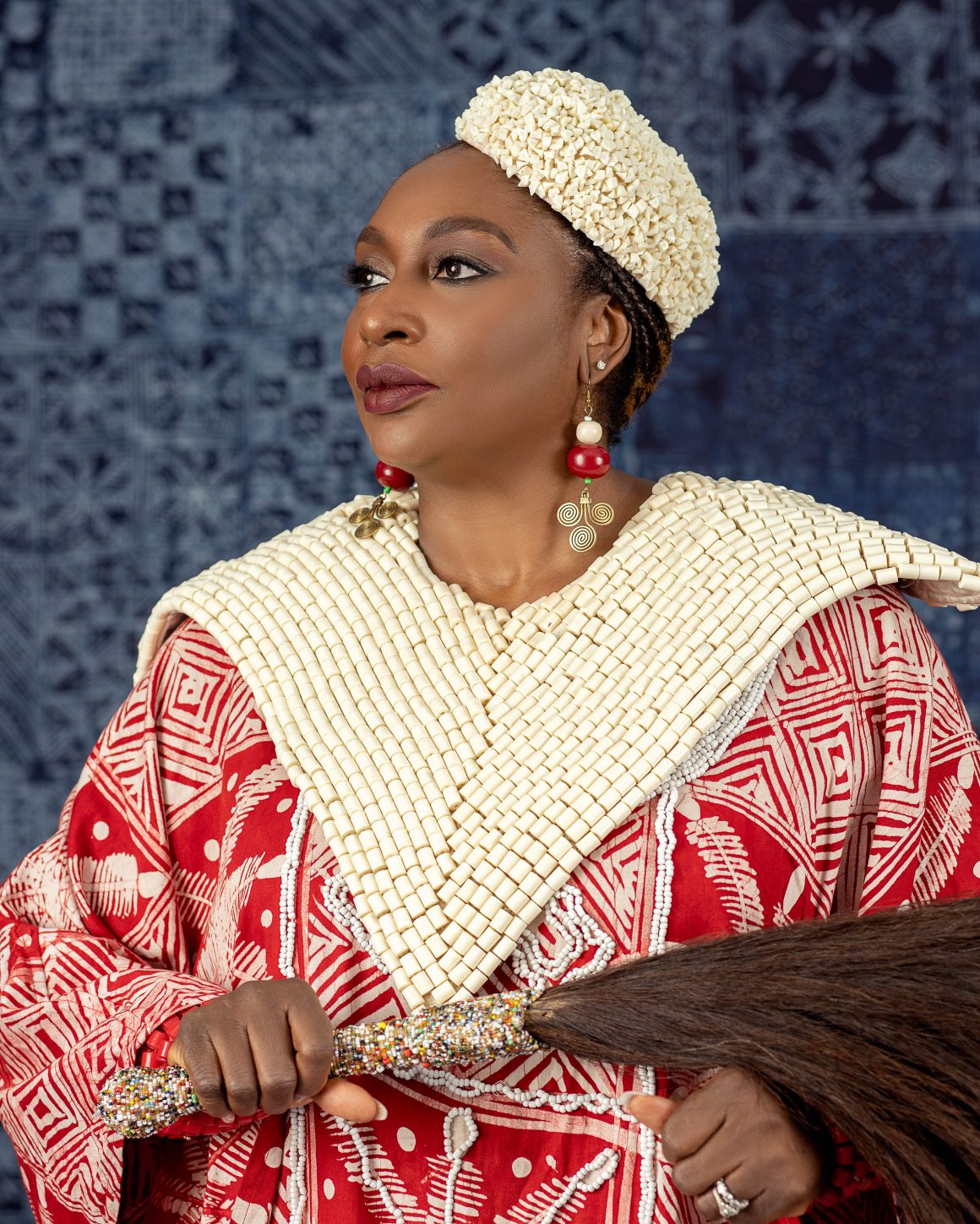 Nwakaego 'Ego' Boyo is a Nigerian Actor, Producer and Executive Producer. She is Founder & Managing Director of Temple Productions and Temple Media. Ego has over 30 years experience and expertise producing and consulting on Film and premium Media content in Nigeria. She made her professional debut in 1991 on the National Television Authority in the soap opera Checkmate and as a Producer in 1996 with the critically acclaimed Film Violated. Ego has since produced several award winning Films.
Boyo has diverse creative interests and is the Chair of the Advisory board of the Lagos Fringe Theatre Festival, a multi disciplinary Festival which runs annually in Nigeria and encompasses the full spectrum of artistic diversities. She is also Founder and Trustee of Tempio Media Advicacy Foundation, a non-profit which was set up to support multiple charities through media advocacy. She is on the board of the Mirabel Centre Lagos, the first SARC in Nigeria.
Ego is a member of the board of Directors of Lagos Preparatory and Secondary School, a British curriculum school in ikoyi, Lagos. She is also a member of the Nigerian Oscar Selection committee, an organization charged with selecting Nigerian Films to represent the country in the international Film Category at the Academy awards.
She is a member of IWS and served as it's 60th President (2017). IWS is a charitable organization that supports women and children. She was on the advisory board of the Oando Foundation for a time.
Boyo continues to support many artistic endeavours and mentors film professionals and young women who are interested in career in Film and entertainment.
She is married to Omamofe Boyo the DGCE Oando Plc and they are blessed with three children.
What is your take on International Women's Day and what impact do you think this has had on women of today?
International Women's Day is a call to action. It's a day to continue the push for gender equality. A day to remember and appreciate how far we have come, and celebrate our achievements as women, and to renew our charge to support and uplift one another.
It is also a day to acknowledge that while so much has been achieved, there are still many challenges women face in society, at home and at work.
I believe it is extremely important to mark the day, to seize the opportunity to aggregate all the conversations we've been having around equality and bias, and amplify them once again.
When you consider the fact that the Nigerian House of Representatives voted NO to all the gender based proposals put before them for constitutional amendment, then you realize that a great deal of work still needs to be done.
We must continue the protest and focus on activism to secure a more equitable future for the next generation. The fight for gender equality is a fight for decency, a fight both women and men must fight together. As women we will continue to advocate equality for ourselves, our mothers, sisters, and daughters, and men have those too; wives, mothers, sisters and daughters.
And until the advocacy becomes a joint effort, equality may continue to elude us.
IFEOMA MONYE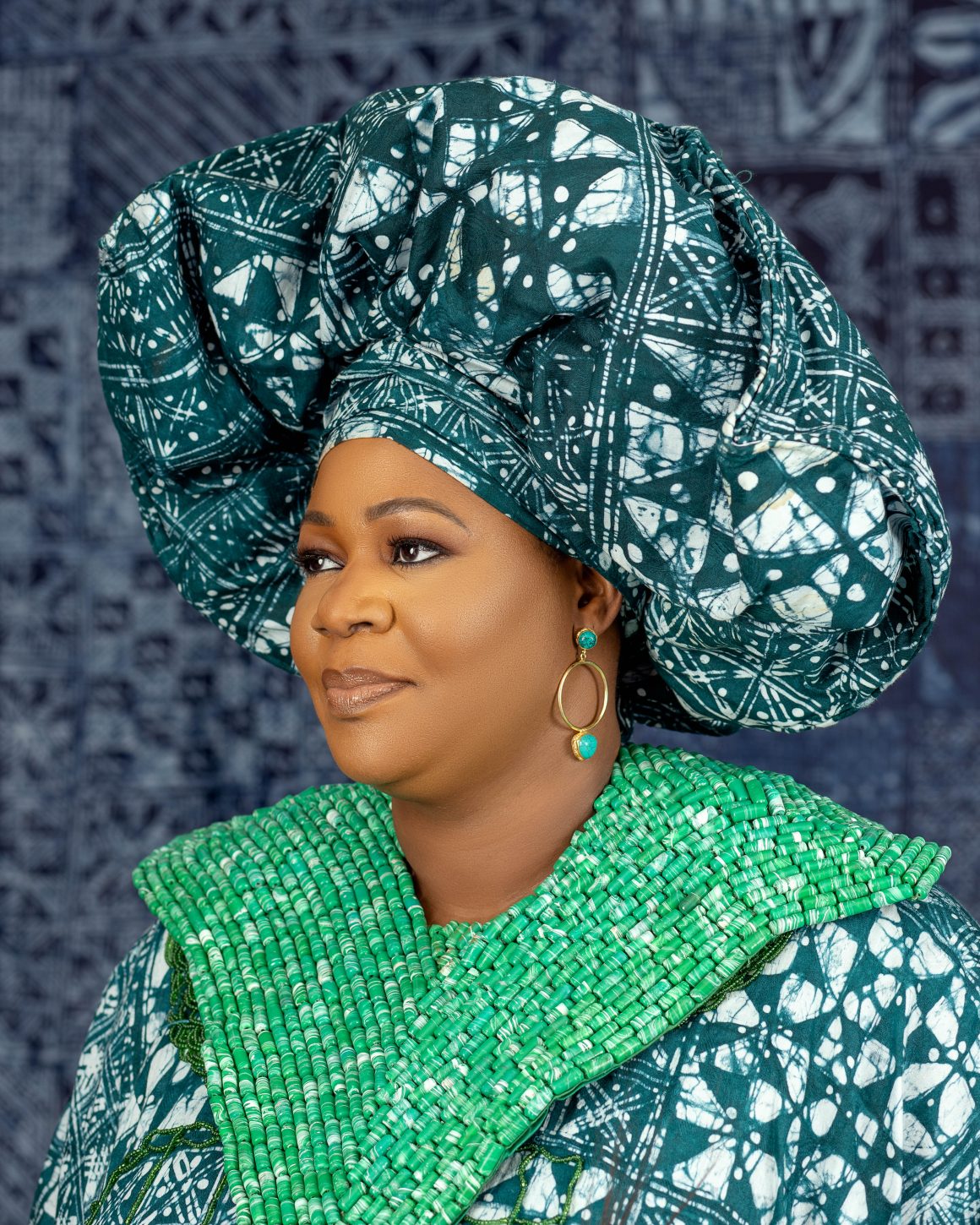 Ifeoma is a seasoned strategist, project executioner, and operations management specialist. As a certified Wealth Manager, Prince2, and MSP practitioner, she has successfully planned and managed numerous projects and programs in the UK, US, and Nigeria in various sectors.
She is an expert at guiding individuals and organizations in articulating their visions, building efficient processes and systems to drive optimal performance by providing them with the necessary tools to build sustainable institutions and legacies.
Ifeoma is a Partner at Ciuci Consulting – an operations management consulting firm and also the CO-CEO of the Lufodo Group. She is passionate about the holistic wellness of women. Her desire to in supporting the modern professional woman to be her most authentic self, led her to establish 'The Pretty Balancing Act', a platform to support professional women in having both a happy home and a successful career. Ifeoma is currently the President of International Women's Society, Nigeria (IWS).
What is your take on International
Women's Day and what impact do you think this has had on women of today?
International Women's Day is an important day because it celebrates women, our achievements, and the issues we face. Celebrating IWD over the years, has built the confidence of the average woman; brought more women to limelight; inspired a lot more women to be and do better; and ultimately enhanced socio-economic development. It is always a fantastic idea to celebrate women and all that we represent!
IWD continues to bring to the fore various issues that concern women, creating awareness and in various cases, leading to transformation. We still have a long way to go in gender equity and recognizing the value that women bring, but that will continue to change as we have more conversations and challenge the status quo.
The Nigerian National Assembly on Tuesday 1st March, voted against the Gender Bills. This is a major blow and shows how much work there is to be done for gender equity.
With the numerous challenges facing the world today, 2022 is the perfect year to break the bias against women.
EKUA AKINSANYA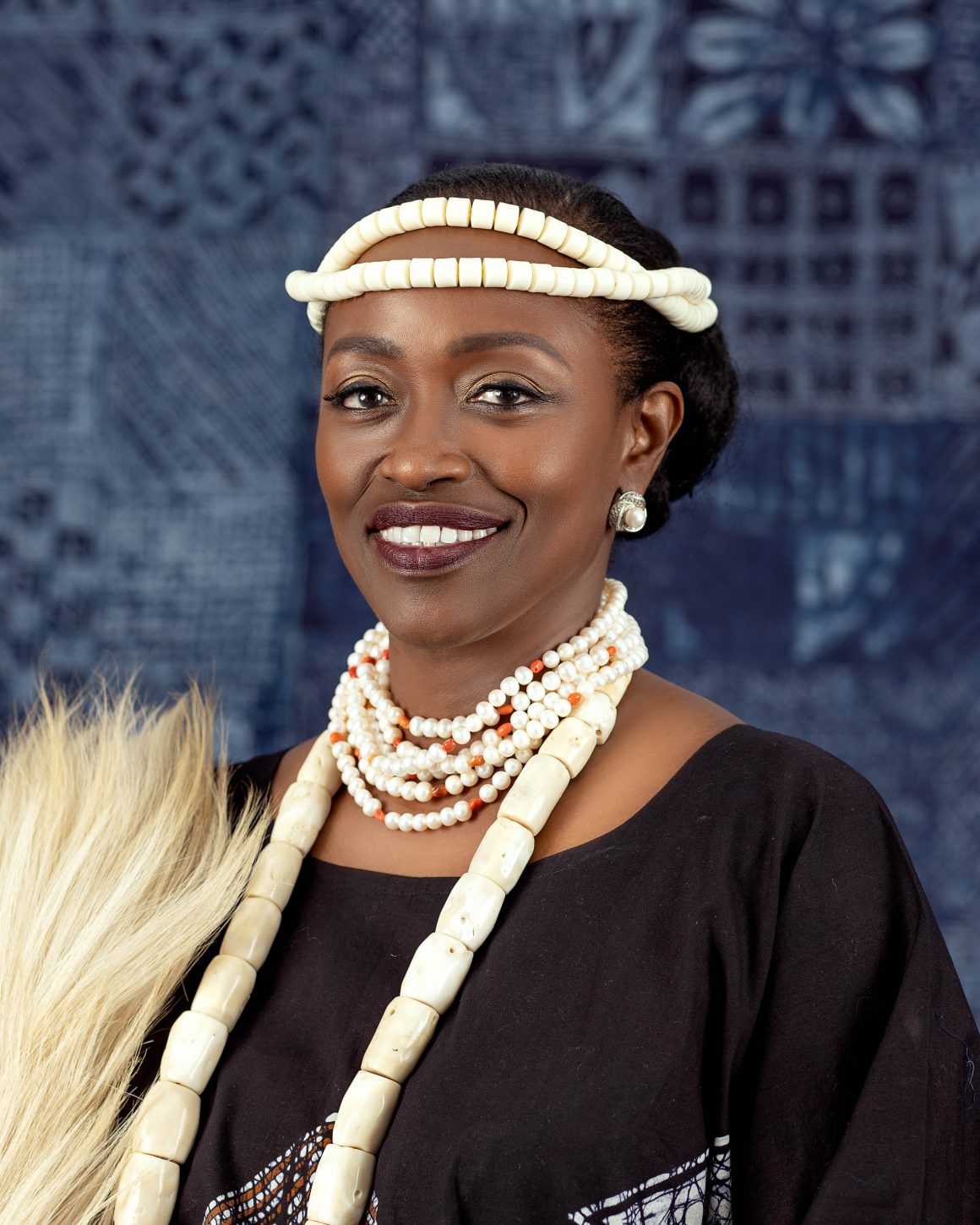 Ekua Akinsanya is a lawyer, chartered administrator and educationist. She is the founder of Greenwood House School a nursery and primary school in Ikoyi as well as VPDA ( Vocational and Professional Development Academy). She is the world Vice President of the Olave Baden Powell Society. She is the Chairman of the Interior Designers Association of Nig and past President and trustee of both the International Womens Society (IWS) and the Association of International School Educators in Nigeria (AISEN) and sits on many boards. As you can tell she is a woman of many parts. In 2010 she authored a book "Celebrating Fashion Today" to raise money for orphans.
What is your take on International Women's Day and what impact do you think is has had on women of today?
International Womens Day for me is a day where women's achievements in all sectors are celebrated. It is a time to reflect on how far we have come, acknowledge where we are and look ahead to all the things we can achieve. It is a day to amplify women's voices in contexts that they are not usually heard. Of course it is a time to call for gender parity and equal representation on Boards and as CEOs of companies, for women who are just as skilled and qualified as the men in those positions. In Nigeria as we approach elections the theme of this year's IWD " Beyond Bias" is so relevant as I demand to see a woman as the President, Vice-President, as Governors and get more seats in the Senate and the House of Reps. The constitution must therefore be amended to accommodate this. We have witnessed many excellent world leaders like Angela Merkle who have proven beyond a doubt that women are more than capable to run a country successfully.
On the impact of IWD, I will speak specifically on the impact made by the Olave Baden Powell Society where I am Vice President. OBPS raises funds and supports WAGGGS (World Association of Girl Guides and Girl Scouts). From our IWD campaign last year, we were able to support their mission to service 152 countries, 10 million girls in five regions. We also worked to strengthen member organizations from Australia to Zimbabwe to Nigeria, advocate for Girls rights, amplify their voices and sponsor leadership programs and experiences which build girls' characters.
One particular innovation was the launch of the first WAGGGS online game http://www.listentogirls.wagggs.org which amplified 26,000 girl's voices and let us reach 32,000 people. IWD therefore is a pivotal date in the women's rights movement. You can get more information about OBPS The Olave Baden-Powell Society
Today I celebrate all my friends in this shoot – inspirational women who have created a niche for themselves and are hugely successful in each of their fields. I also celebrate Chief Nike Okudaye who had graciously hosted us today. You will agree with me that she is a very strong force on the Art scene in Nigeria. Happy International Womens Day to all the hardworking strong women out there and those who aspire to achieve more than them
GBEMISOLA SHASORE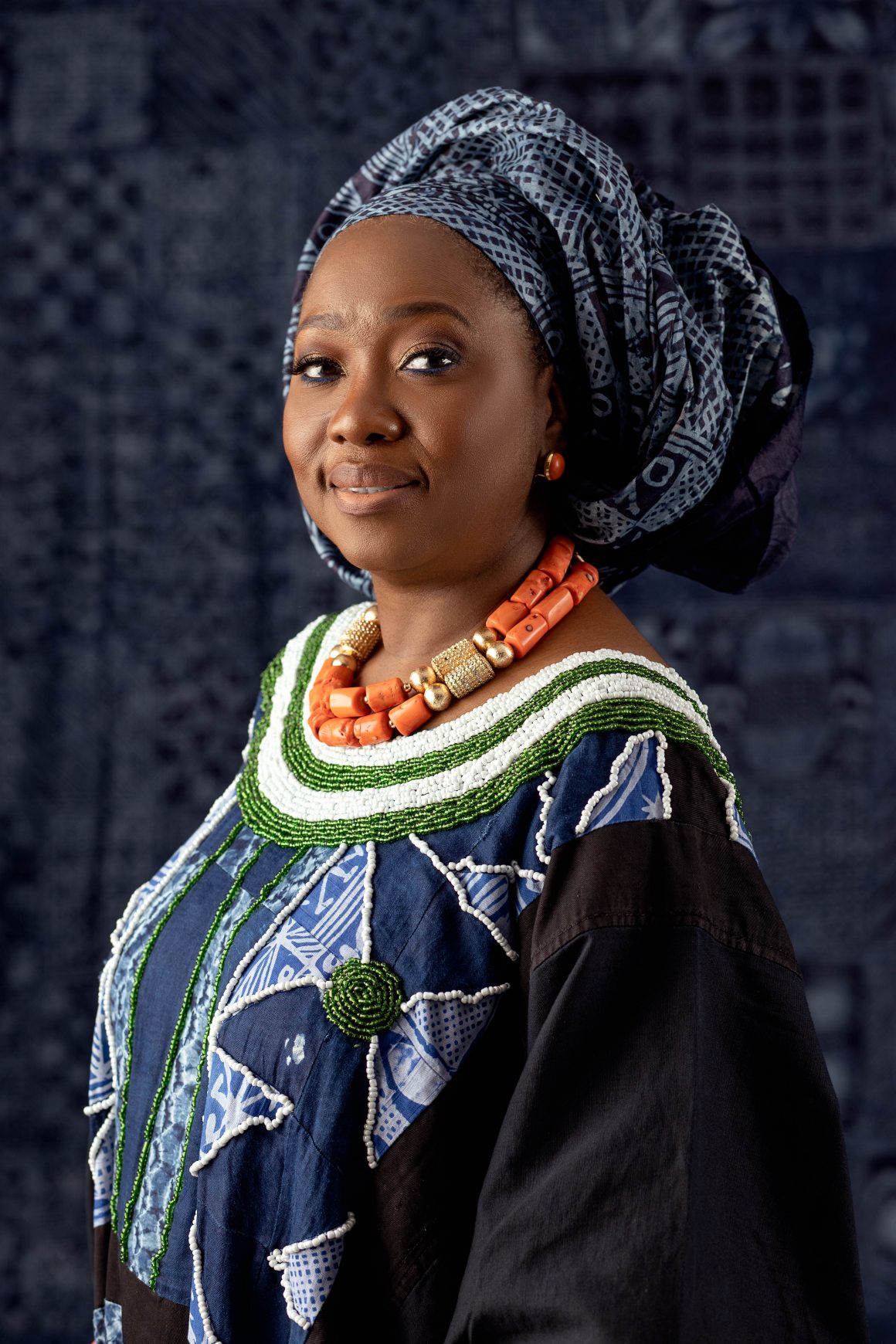 Gbemisola Shasore is a Nigerian women's and children's right advocate. She is also founder and executive publisher at Quramo Publishing, an independent publishing company based in Lagos, Nigeria. She authored the book In Her Own Right published by Quramo Publishing in 2015 and other books. In 2017 she took up an initiative called The Quramo Writers Prize, which aims to encourage and stimulate a new community of writers providing an opportunity for otherwise unexposed talent to achieve publishing recognition. And more recently, she co-founded Quramo Productions; makers of The Journey of an African Colony, a documentary film, currently making global rounds on Netflix.
Gbemisola Shasore has been an active member of the international Women's Society (IWS) for about 30 years. She was the society's 50th President, Life Member and current Trustee. During her tenure as President, the society set up the IWS Ijebu Home for Social Services, which caters to children who have been abandoned and continues to serve on the Executive Committee of the IWS.
Gbemisola is married and blessed with wonderful children.
What is your take on International Women's Day and what impact do you think this has had on women of today?
International Women's Day has grown more meaningful to a lot of women over the years. It's a day women look forward to celebating for so many reasons. In Celebrating womanhood we continue to discover how we are the custodian of our laws and value systems. We are a bridge between generations because we pass from the old to the new and as we fight to take our place in the society, the 8th of March is a day we get energized and galvanised to go the whole year through doing the things we know will take the human race forward in the most productive manner.
It's impact today give women a sense of solidarity, it gives us the collective support we need to forge on and break the bias!
TOYIN OJORA SARAKI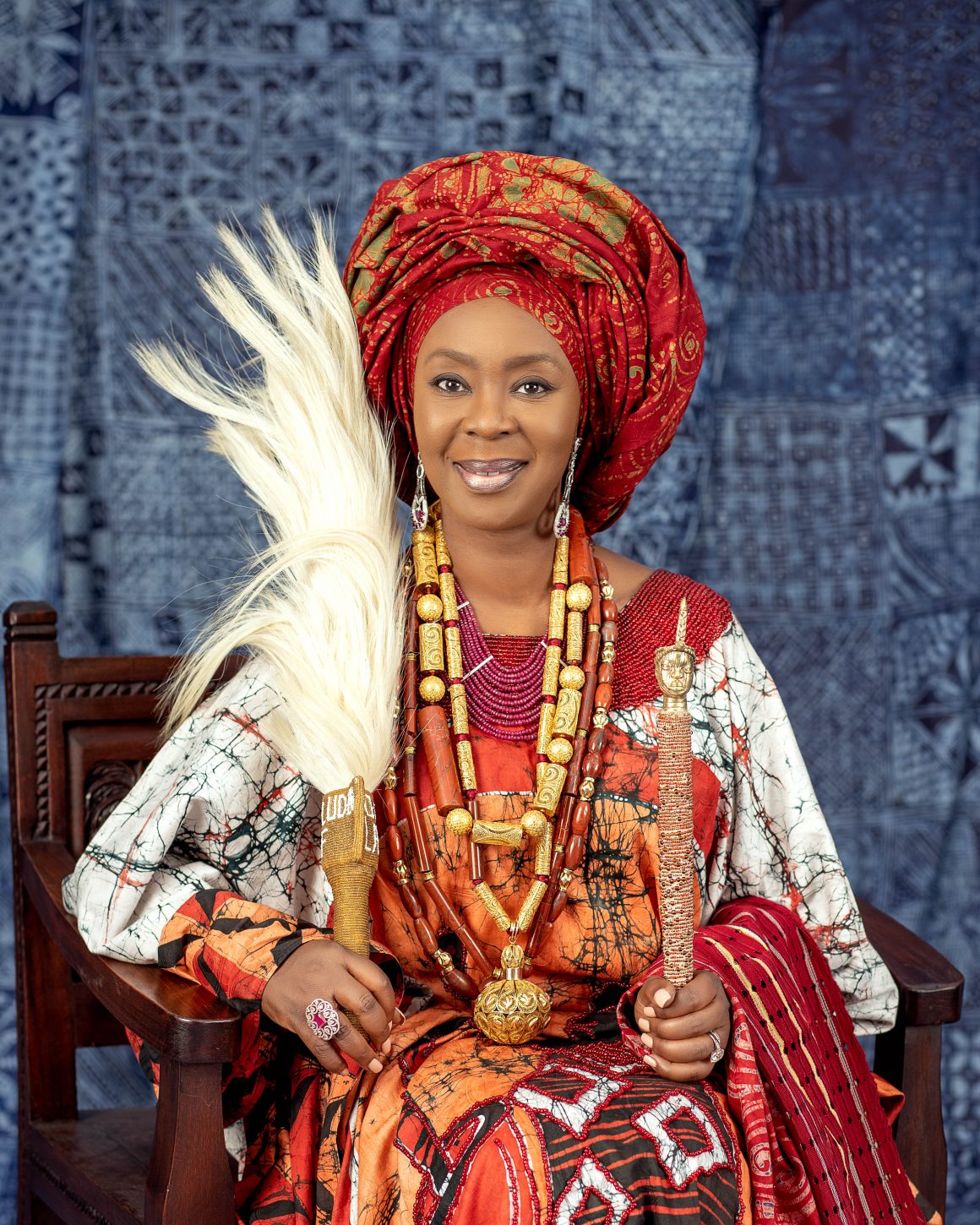 As Founder-President of The Wellbeing Foundation Africa (WBFA) Her Excellency Toyin Saraki is a Nigerian leader, advocate and philanthropist for maternal, newborn, child and adolescent health, as well as socio-economic empowerment. Through WBFA and her Global Health advocacy, H.E Mrs Saraki has worked with a broad range of partners that include the UNFPA, UNHCR, Medela, Nutrition International, Johnson and Johnson, the Nigeria Federal Ministry of Health, and the organized private sector. H.E Mrs Saraki has demonstrated leadership, over two decades, on the advancement of women's and children's health through community health workers and midwives.
She was appointed Inaugural Global Goodwill Ambassador to the International Confederation of Midwives in 2014, taking on the responsibility of advocating for the improved recognition of the roles, rights and remuneration of the midwifery profession, globally. She is Save the Children's Newborn Health Champion for Nigeria; and is a Global Champion for the White Ribbon Alliance for Safe Motherhood. She is also a member of the International Steering Committee of the International Conference on Population and Development, and serves as Special Adviser to the Independent Advisory Group of the WHO Regional Office for Africa. She was recently appointed the inaugural WHO Foundation Ambassador for Global Health.
As a firm believer of midwife-centred maternity care, the WBFA's flagship antenatal and postnatal
MamaCare, Emergency Obstetrics and Newborn Care Skills Improvement, Alive and Thrive Infant Nutrition, and WASH programs are delivered through a team of 74 midwives across 655 health care facilities in Nigeria. WBFA implements and applies a 360 continuum of care model with policies informed by successive Sustainable Development Goals (SDG) Three, Five, and Six respectively.
H.E Mrs Saraki is married to Dr. Abubakar Bukola Saraki, 13th Senate President of the Federal Republic of Nigeria and Former Governor of Kwara State (2003-2011), and they have been blessed with four children.
What is your take on International Women's Day and what impact do you think this has had on women of today?
International Women's Day is a day to celebrate the roles, values and contributions of women, and by extension girls, to our collective lives, communities, nations and humanity, worldwide.
IWD is also a day where citizens of every country can advocate for, and work towards a gender equal world. A world free of bias, stereotypes and discrimination. A world that is diverse, equitable, and inclusive. A world where difference is valued and celebrated. On International Women's Day, we are reminded that together, we can surge towards women's equality.
Collectively we have worked for decades to raise awareness to break the destructive binds of bias against the rise of women and girls to celebrate women's achievements, increase visibility, call out inequality and take actions for equality.
The annual global celebration has impacted upon building workplaces where women can thrive, elevating the visibility of women creatives, forging women empowerment worldwide and women's equality in technological fields, empowering women's choices and leadership in global health, and celebrating the women that are moving key resources and millions of other women and girls, our female gender, towards beneficial change.
As a Pioneer Member and Steering Council Member of both the UN Women's African Women Leaders Network Initiative, and the ICPD25 International Conference on Population and Development, I aspire for my, and my Wellbeing Foundation Africa's impact to accelerate working together for Gender Equality, alongside our mission to end preventable deaths in childbearing women, their newborns and their children, namely:
– Women's Political Participation
– Women's Economic Empowerment
– Women Peace And Security and Humanitarian Action
– Ending Violence Against Women and Girls
My WBFA's Women Girls and Gender Development Targets launched in 2019, advocated for gender and generational equality, the status of women, children and families in Africa, and improved resources and support. Our women, girls, and gender development policy goals are integrated across programmatic interventions for every woman, child and adolescent, to progress the rights and rise of every woman and girl to agency, autonomy, safe spaces and leadership, in attaining the UN Resolution 1325 on women, peace and security.
Enacting gender sensitive legislation and domestication of international conventions, statutes and promotion of women participation in politics and governance in Nigeria is on the front burner of gender equality and the empowerment of all women and girls for a just and fair society.
That being said, I am astonished and disheartened that on the 1st of March, on the International Day Of Zero Discrimination, in this 27th year after the Beijing Declaration, a majority of the elected Members of the House of Representatives and Senate, of the 9th Session of Nigeria's National Assembly, loudly and wholly voted a shocking no to four gender-sensitive bills proffered within the review of 68 amendments to the 1999 Constitution.
The rejected amendments to our constitution include:
A bill to provide 111 special seats for women in the National and State Houses of Assembly – Rejected
A bill to expand of the scope of citizenship by registration – Rejected
A bill for Affirmative Action for women in political party administration and leadership – Rejected
A bill to reserve a quota for women (on political appointments) – Rejected
Thus, as I write this note in celebration of a readily accessible and available framework for socio-economic change and development, Nigeria's lawmakers – elected and therefore empowered in representative capacity solely to protect and uphold the rights and dignities of the Nigerian people – have once again, cemented another painful setback for us, our mothers, grandmothers, daughters and grand-daughters, our uncommonly productive women and girls.
The denial of passage of these bills illustrate the palpable opposition to opening the space for women's participation in everyday politics, governance and in the exercise of our rights and power – yet we must and will rise again to gather our collective power to step across this gender precipice to stronger safer grounds, galvanise our voices, and brace ourselves, beyond protest, to wage the war for affirmative action. For our motherland Nigeria belongs to all of us and we will not be reduced by a fleeting few, but storm forward in our fight for what is already ours. Equity, and Equality now.
This International Women's Day, let's be powered by the collective efforts, as our joint actions and shared ownership for driving gender parity is what makes International Women's Day impactful.
Gloria Steinem, world-renowned feminist, journalist and activist once explained "The story of women's struggle for equality belongs to no single feminist nor to any one organization but to the collective efforts of all who care about human rights." We must all make International Women's Day our day and do what we can to truly make a positive difference for women.
JOKE BAKARE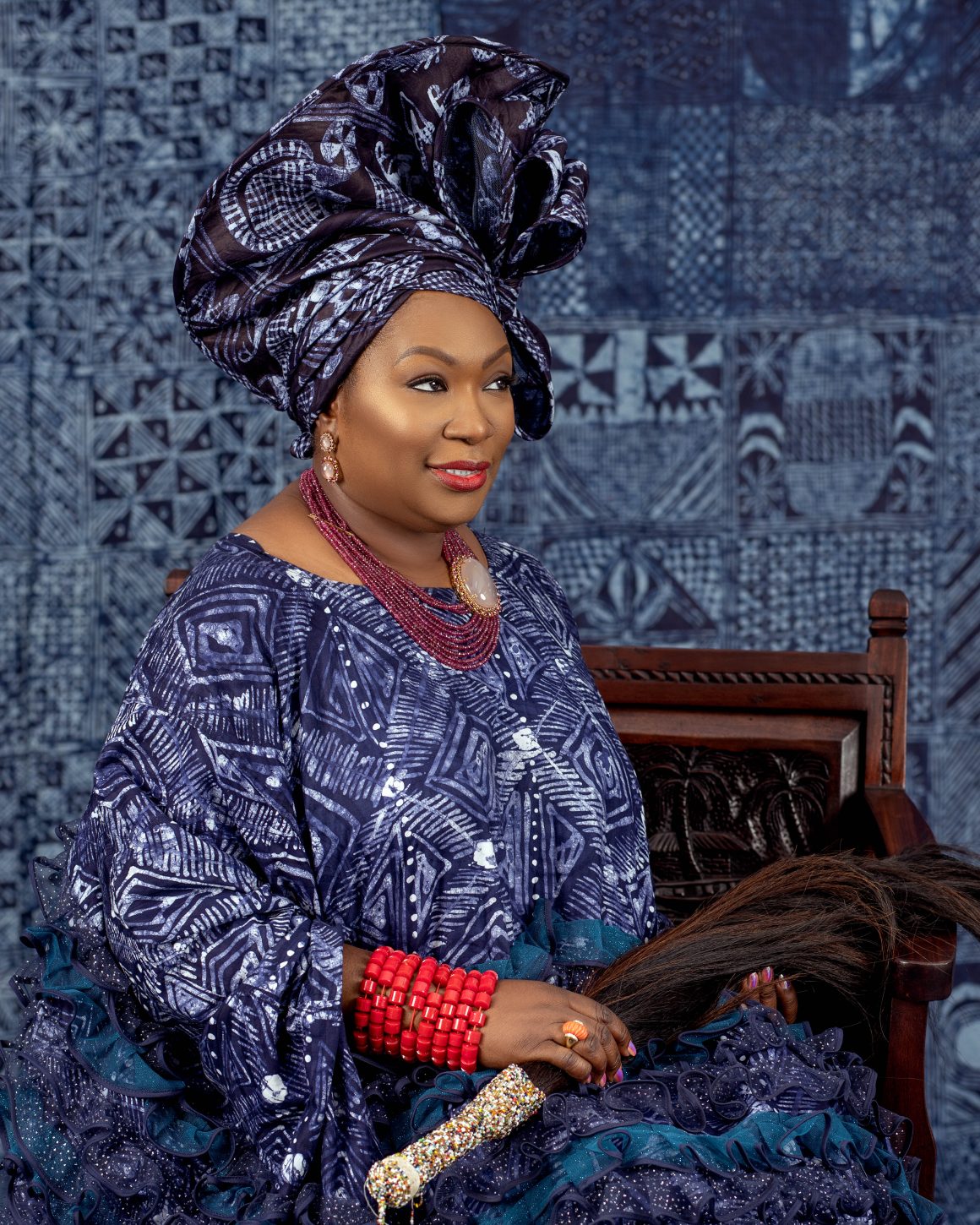 Joke Bakare is one of Nigeria's eminent pharmacists whose contribution to the growth and development of the pharmacy profession nationwide is worthy of acknowledgement.
In 1993, Pharmacist Joke Bakare founded Medplus, a pharmacy-led health and beauty retail chain.
She pioneered the chain pharmacy concept in Nigeria, and has built an organization patronized for genuine and trustworthy products, while providing a superior service experience.
Today, Medplus is credited as one of the most innovative sources of health and beauty products, with over 70 outlets nationwide.
A registered pharmacist, with an eye for product and trends, Joke brings extensive experience in retail operations and management and oversees all aspects of the company's business, including strategic direction and initiatives. The Medplus success story is a testament to her intuition and extraordinary entrepreneurial skills.
Today, Medplus is not just a drug dispensing retail store but a total wellness partner.
Pharmacist Bakare is committed to revolutionizing the healthcare sector and there is no wavering in her tenacious commitment to delivering holistic healthcare to consumers and Nigerians.
She believes that the current policies regulating the practice of the profession needs to be routinely modified in conformance with emerging market realities most especially to stimulate growth as there are still several segment of the population that are underserved with regards to health access.
What is your take on International women's day and what Impact do you think this has had on Women of today?
Today we are celebrating the great achievements and the meaningful contributions women have had all over the world, but it didn't start this way. It started with clamoring for equity, protest for long work hours, low pay, lack of voting rights, and we have made significant changes, because some women took a stand some decades ago. If you look at the word today, we can see the significance of what they started.
Women are breaking the glass ceiling, making political decisions, influencing world economies. We still have work to do, but it's a far cry from when it started, and that in itself is the impact, March 8th is having on women today.