The Title of the Yeye OOdua holds an important place in the history of the Yoruba race. From time immemorial, reputable women of proven integrity have been chosen as Yeye Oodua of the source — Queen Mother of the House of Oduduwa, thereby shouldering responsibility as the mother of kings and one of the custodians of the Yoruba race globally. There is no doubt that the crown fits Erelu Kuti IV of Lagos, Her Royal Highness, Erelu Abiola Dosunmu, a woman born into royalty and still is royalty. She has used her privileges to impact her community, the Yoruba race, and the entire world positively. Let's not forget to mention her contributions to promoting education, women's rights, peace, culture, and others too numerous to mention.
In this interview with Azuka Ogujiuba, the monarch who has put a lot of effort towards unifying and propagating the Yoruba culture talks about the significance of her titles and her plans for the Yoruba people as she ascends the throne.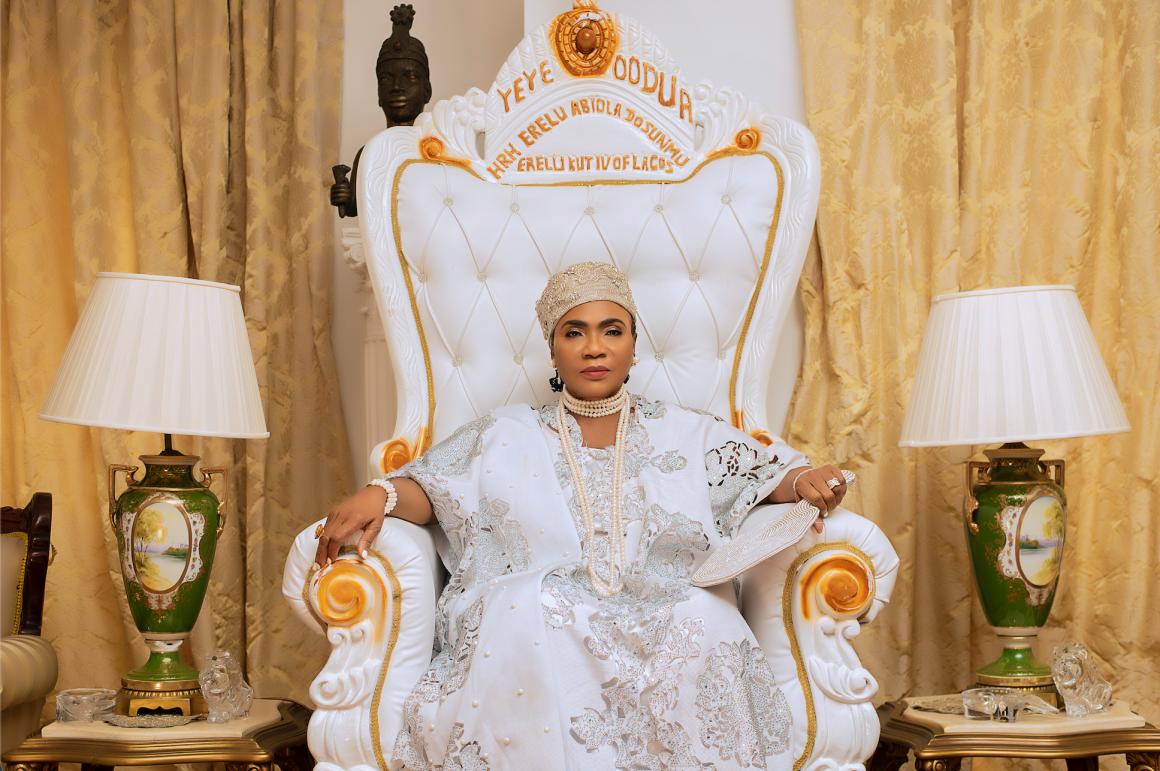 Tell me a bit about your younger days and the influence it has had on the woman you are today.
You know I come from royalty. My mum was from royalty and then married my father, who is the Prince of Lagos, so our upbringing was very disciplined. So this has always been my life. It is the grace of God the way he made me; I think God gave me a disposition that prepared me to accept the norm of my birth. Even if you're not royalty, the norm of the old days of a Yoruba family is that you have to be appropriately trained.
The name of the family is imperative, and when you are royalty, it is even worse, so you are taught to observe a certain level of decorum in everything you do. You couldn't step out of line; you couldn't do what your mates did; you had to be above board. The nature god gave me is inquisitive; I love people and want to know. I want to learn, so it wasn't difficult for me to imbibe some of these qualities, so it's prepared me for the roles that I now found and entrusted to me in the course of life.
Also, congratulations again on your recent title, 'Yeye Oodua' represent? What are some of the responsibilities that come with it?
Thank you, my dear. I consider my new title great honour and a huge responsibility, and I pray that God will assist me in achieving it because, for a long time, my role as the 'Erelu Kuti' of Lagos has made me the mother of kings. But now, with the new title, it is much more significant because I have a greater platform to perform the same role as the mother of kings and the 'Yeye Oodua of The Source' of the Yoruba race, mother of crown heads of the Yoruba race. It is an enormous responsibility, and it is beyond Africa because the Yoruba race spreads all over the world. We have them in Haiti, Brazil, Cuba, and the Caribbean. So, the responsibility now is to take up the mantle, to add value to these territories and add value to the core Yoruba race of Nigeria, and one can't do that in isolation. It means that the whole country and community will benefit from these values that one is expected to add to the lives of the people of the race. It's daunting, but with the grace of God, one would give it a good run—I would do my best to make it work. I thank God that the imperial majesty deemed me fit to accord me this honour, opportunity, and responsibility. I shall do my best to the best of my ability to live up to his trust and confidence in me.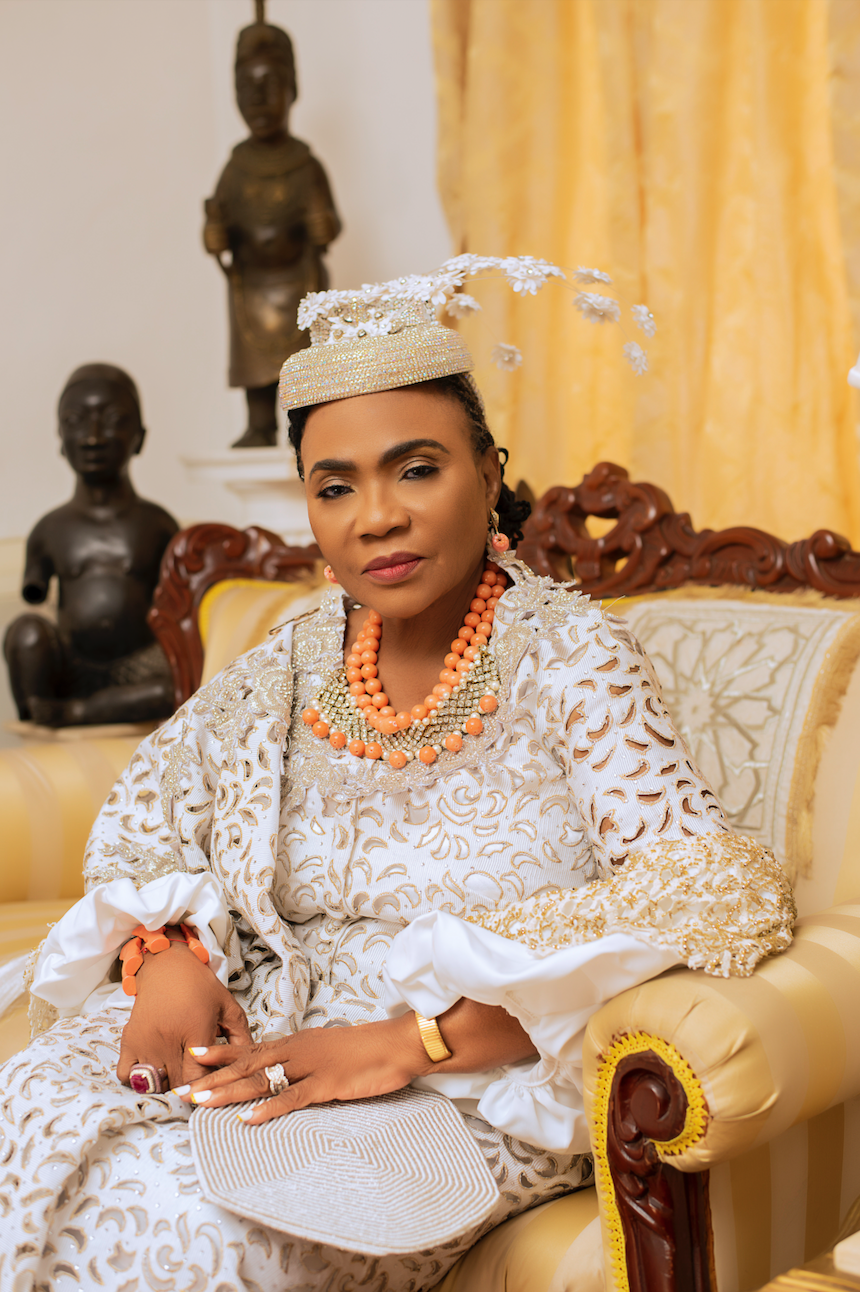 Who was the last woman who held this position before you?
This position was held by a wonderful woman, the wife of our late sage, Chief Obafemi Awolowo, Chief. Mrs H.I. D. Awolowo
It was a very colourful coronation ceremony indeed. How long did it take you to plan and execute?
Kabiyesi told me about it first last Christmas, and at that time, we had planned to start the coronation process by March because it takes a long time. But due to some unforeseen circumstances, we couldn't. All these preparations must have taken about two to three months. I am a very meticulous person, and for every aspect, group, and committee that put the coronation together, I was on top of it to be sure that everything worked like clockwork. I never leave things to chance because we are all humans, I may have a thought or an idea of how I want things to be, and the interpreter may have a different concept. As a result, I had to be there to monitor how my concepts were being interpreted, so I guess that was one of the reasons why it came out the way I wanted it to be, but it didn't take longer than three months to put all that together.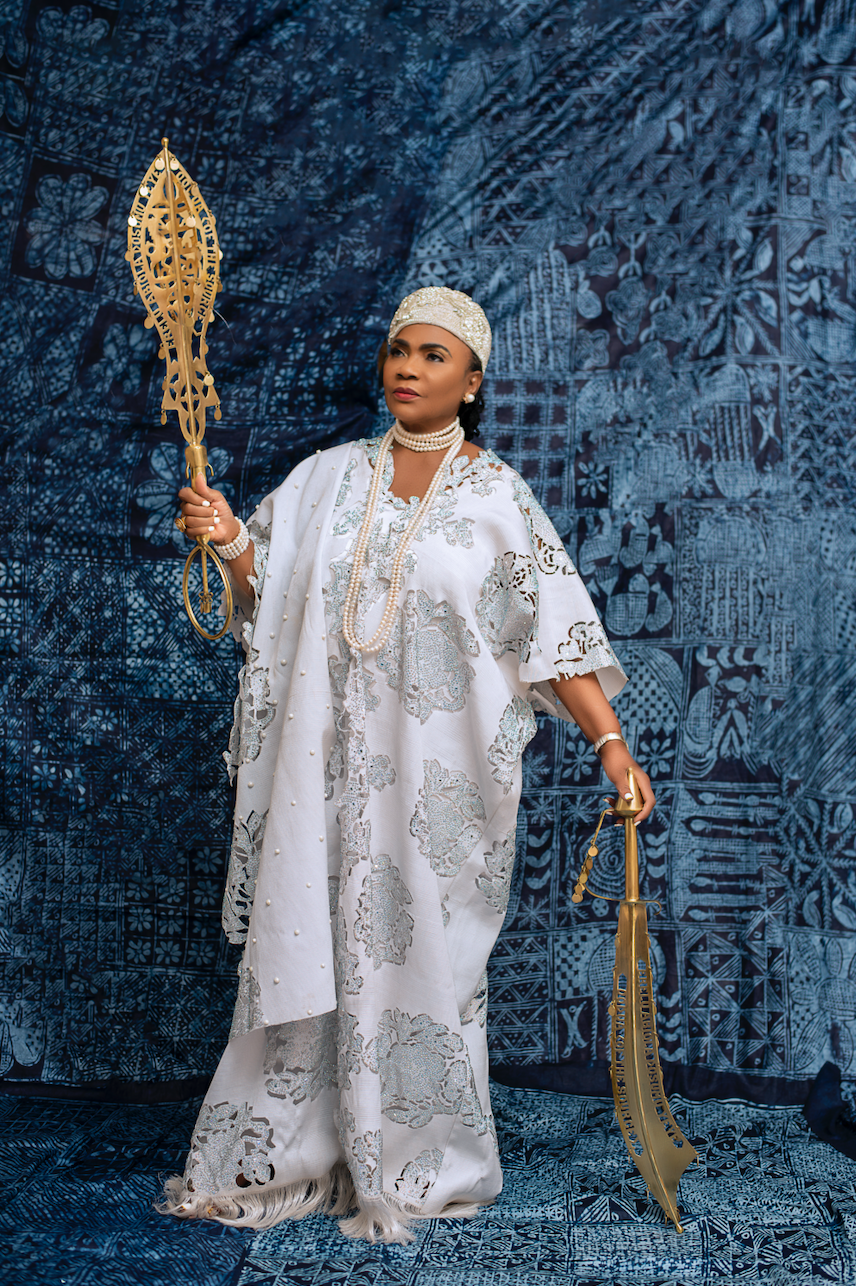 Why did you opt for the water signature at the coronation?
I am from Isale Eko, and our main signature is water, and I also live by the water, so I always like to have water around. That was my concept, and I commend the event planner for being able to achieve it—she did an excellent job. She interpreted everything perfectly even though she had only a few days to plan because some other events happened in the hall before our event.
I am curious. You are a practising Christian. How do you combine your religious faith with the responsibilities of tradition?
Why should I not be able to combine? All religions are the same. They all praise. We have just one almighty God. Eledumare, the supreme being. And the Catholic faith that I practice also teaches the same thing. The almighty God who is good, kind and benevolent enough to send us his son. To come and salvage us and bring us back to him from sin back to the favour of the almighty God. I am sure my grandmother from my mother's side, a devout Muslim who went to hajj in those days, also believed this. I grew up at her feet watching her every Friday with at least 50 women all sit down together, commune together, eat together and pray and sing to the almighty God and, interceding, you know, so for me, that is my understanding of religion. Our religion is the fear and the worship of the almighty God. You have intercessors like in the Catholic church; when we kneel in front of a statue, we're not worshipping it. It just conjures the image of that intercessor that we believe is enjoying the favour of the almighty God. We are saying, please intercede for us to the almighty God for us to be favoured, and you have it in every religion too, so I am not confused about my religion or who I am.
You are always dressed in white. Does this hold any significance for you?
It is something that I love. As a child, people who knew me said it was my favourite colour. White and yellow have always been my best choice.
But also, my taking to white has to do with my title. I was told that the first Erelu always wore white. So I decided to do the same but style it in a practicable way. But on special occasions, especially when we have a coronation of a King, I will wear something spectacular or make use of some beads, corals, you know, those are some colours.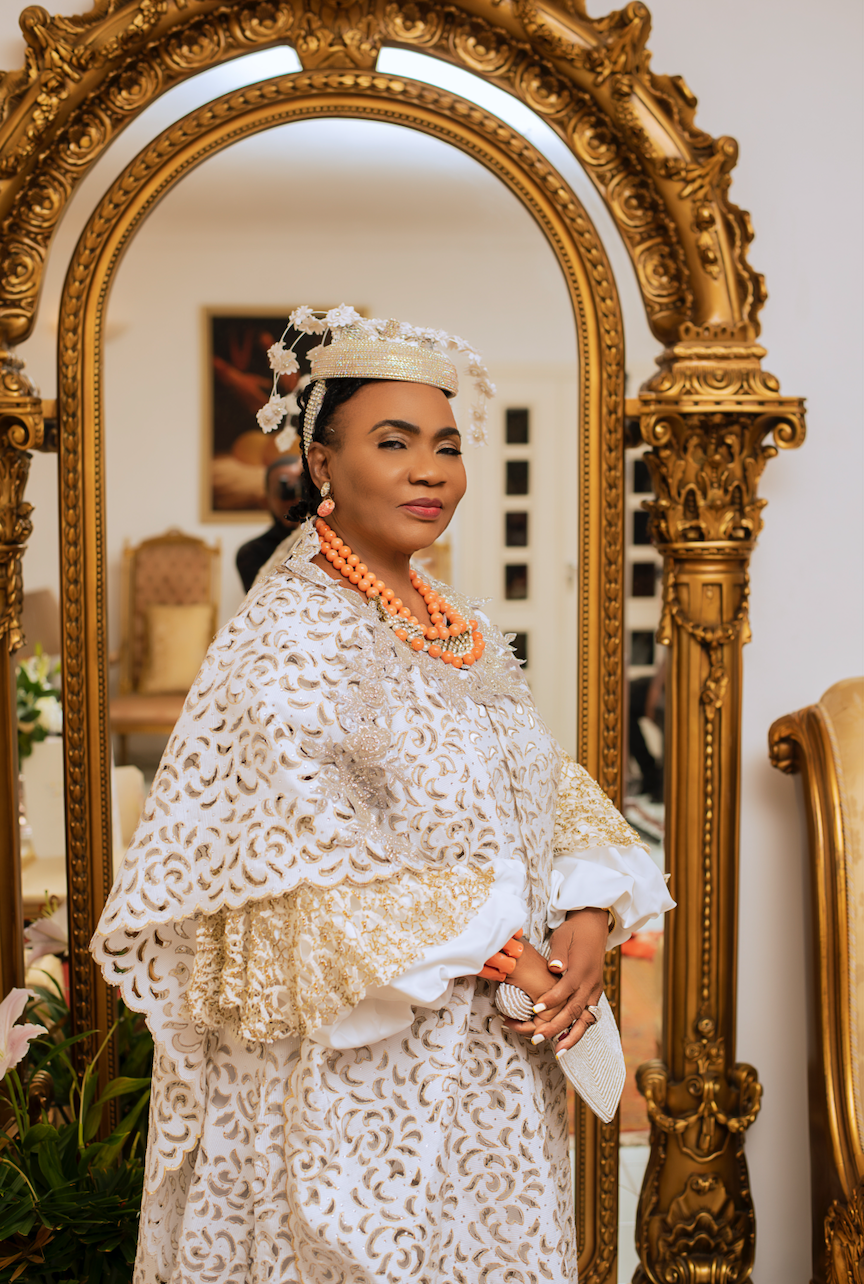 So you don't find it boring having a wardrobe full of clothes in just one colour?
Not at all. I find it quite exciting and quite interesting. I realise that I have to vary it; even if it is one colour, I need to change the style and how it is adorned. I need to have variety. So that keeps me on my toes. I have to keep coming up with new ideas and a new concept of white. I hope to keep the people looking at me interested enough, not finding it boring, you know, so I interpret it in so many different ways.
Do you have any woman who has influenced you in any way?
You know, I have a retinue of strong women in my family that I have unconsciously emulated. I believe that a woman can do whatever she wants to do. She must be fearless and not intimidated by anyone because she can achieve like anyone. Aside from my family, as I grew, there were other women I admired. But those who formed me into what I am today are the women in my family, starting from my grandmother and mother, who were equally strong in their achievements. My aunt was a principal of a school in Benin where her husband worked as a medical doctor. I grew up amongst very strong independent women who have all made a strong impact on my life.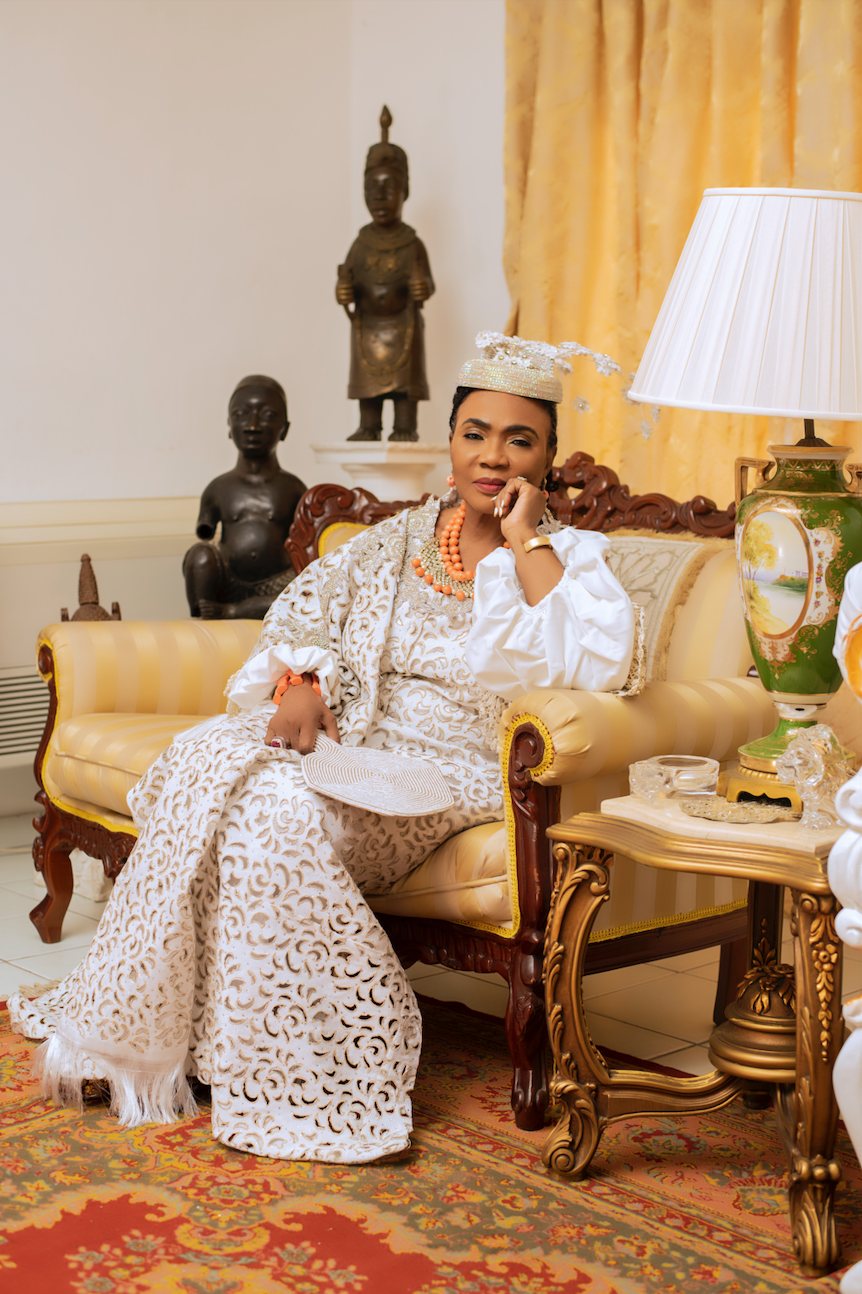 So what keeps you busy these days?
I have always been doing what I know how to do best—enhancing the lives of the less privileged. I am more or less in semi-retirement. I was groping in the dark about what I would want to focus on at this point with reduced energy. Then this recognition came—giving me a new platform, like a rebirth in my love for my people, because with this title, I can add value to the economy. I can go around the Yoruba race to attract investment into the polity and devote my energy to conflict resolution, which abounds here. I have done that in the past, but I now have a bigger platform. With it, I can continue with reconciliation, enlightenment on peaceful coexistence and energising other people to add value to the lives of the deprived.
What are your prayers and wishes for yourself as you assume a new position?
To be a woman well endowed by the Lord and appreciative of the graces of God that she enjoys or has enjoyed. I want to use this medium to plead that we learn to love one another and do the good we can now because we may never have an opportunity again. You know, do the best in everything you do, anywhere you find yourself,