When Folake Akindele decided to go into fashion, it was simply because she needed to do something productive to while away time. ''I needed to do something during the 13 months of holiday in my first and second year of law school in Abuja. " she says. Little did she know that this hobby would someday blossom into a full-blown career and fashion empire where she would sit atop as one of Nigeria's most successful fashion designers. Twenty-four years later, she has, through a cocktail of creativity, hard work, and entrepreneurial skill, created a brand that has, alongside others, helped place Nigeria on the global fashion scene. This right here is the Tiffany Amber story. A timeless brand that exudes a strong sense of femininity with a distinctly African attitude.
Recently she launched a first-of-its-kind experiential flagship store, The Tiffany Amber Gardens setting a standard for luxury fashion retail in the country. Alongside this was the Tiffany Amber Heritage collection presentation, with each piece reminding guests why the brand has over time, become a prolific success. At this point, it is safe to say that Folake Akindele is a moving train that doesn't intend to stop anytime soon. In this interview, she speaks to Konye Chelsea Nwabogor on what has kept her going and what more we are to expect from the Tiffany Amber brand.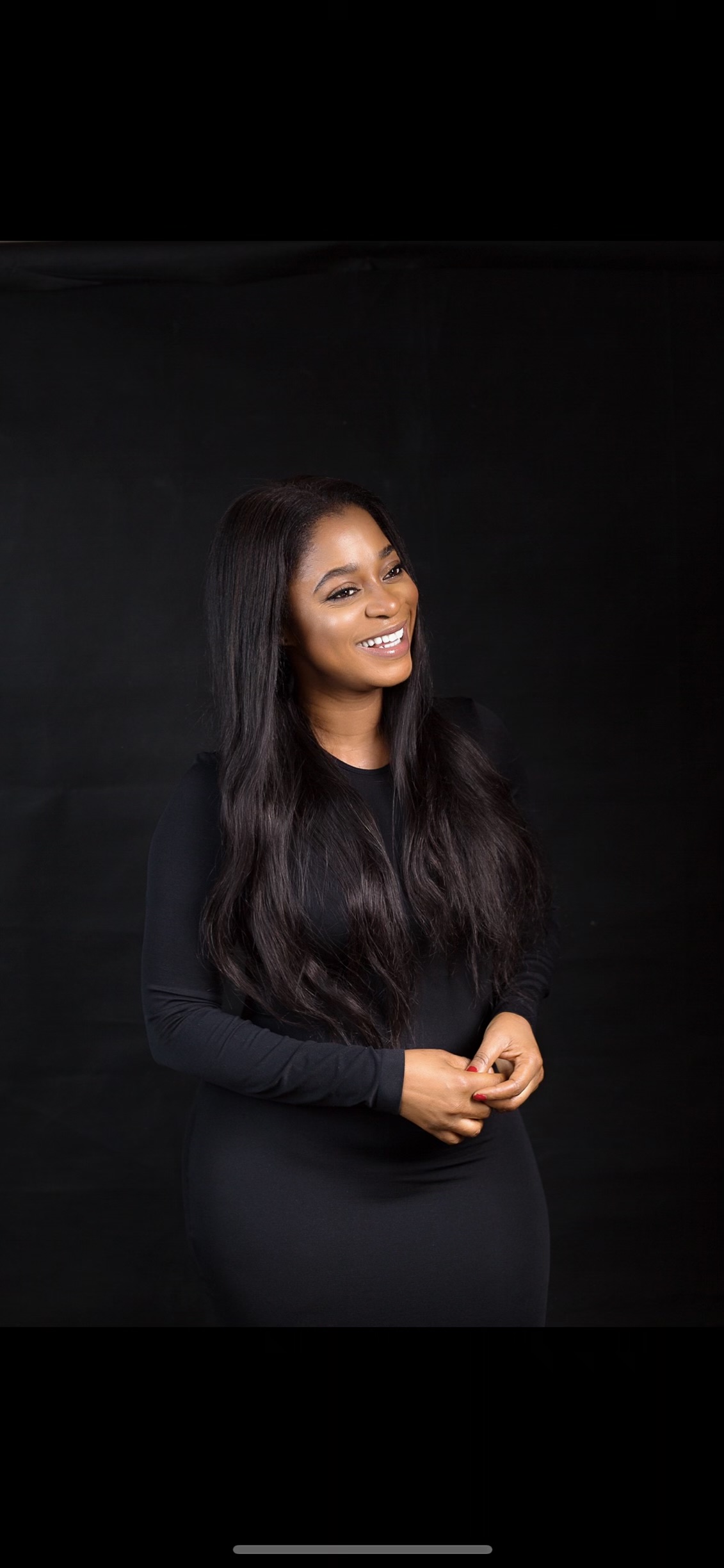 Congratulations on your recent show and the launch of Tiffany Amber Gardens. Twenty-four years in the Nigerian Fashion industry definitely isn't a walk in the park. What has kept you going?
I am an eternal optimist with an inborn drive to succeed. People who are driven to succeed never really sit on their laurels; they are constantly building and creating. It has been a long journey, challenging and rewarding. Moments of triumph and moments on the precipice of throwing in the towel. Charting and navigating a course that had no blueprint was definitely very daunting, but I chose to take full advantage of the huge possibilities that came with it, which has now become
the Tiffany Amber story.
Let's take it back a bit. When did you know you wanted to be a designer?
I don't think I planned to be a designer or planned not to be a designer. I grew into becoming a designer. I had a 13-month holiday between my first and second year of law school and wanted to use my time productively. That time was spent producing my first-ever fashion show where Tiffany Amber was born. I haven't looked back since then. I used to ask myself, what is it about fashion that I like so much? Then I realised it is not about what I like; it is about wanting to succeed in anything I do, whether in fashion or any other aspect of life.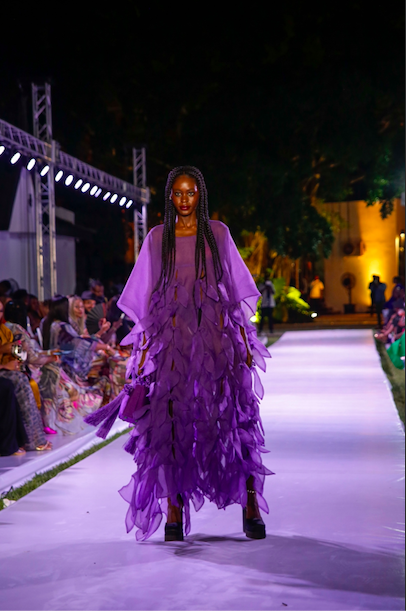 What are some of your earliest memories of you trying to build the Tiffany Amber brand?
I will have to say my very first Fashion show at Flamingo restaurant held on November 28, 1998. Back then, people went to Fashion shows for fun, and so I knew I had to make it fun and also be able to market the pieces. My models were my friends or friends of friends. They sang and danced on the runway; it was a fun show with emphasis on the clothes. It was a huge success which we followed up with a pop-up store at Mega Plaza. I featured 365 pieces that sold out in 3 days. From there, it became very clear to me that there was a huge gap for ready-to-wear in Nigeria that was made in Nigeria by a Nigerian and Tiffany Amber was going to be a pioneer. At the time, I hid Tiffany Amber from my father, of blessed memories, for five years. I could not muster the courage to tell him that with my law degree and Masters in Petroleum Law, I wanted to be a Fashion Designer. Fortunately, I had the full support of my mother, who was and continues to be the wind beneath my wings.
Back then, it was somewhat a taboo to come from a particular background and become a fashion designer or a tailor, as my father used to call it. I remember him introducing me to his friends, saying remember my daughter who studied petroleum law … well, she's a tailor now… and I would laugh and say Nooooooo, daddy, I'm a fashion designer… you can imagine the pride I had when in the years to come, I was named on the Forbes 20 Power Women list in Africa… I was like, "Dad, a tailor made it on the Forbes Power Women's list…imagine that. As God would have it, he ultimately became one of my biggest fan and supporter; it made me wish I had told him about it earlier than I did.
Your passion and flair for fashion is evident – you didn't start off with any formal training and, at the time, described yourself as "self-taught". In what ways has this helped liberate your creativity and set you apart from your peers?
Initially, this was difficult for me because not having formal training made growth slower, but then I've always had a predilection for colours, textures, and art coupled with a creative soul. As the brand grew, I improved my craft, strengthening my style and design awareness. The pieces from time reflected my learning process. There's a visible transition of design, look and feel as I began to find the Tiffany Amber DNA. This DNA I now define as fashion exuding timeless chic in a space of undeniable glamour in a truly authentic African way.
To succeed in fashion, you need a combination of talent and hard work but more slanted towards handwork. Many designers may have much greater talent than I do but may not have a powerful drive. They may not work as hard; they may not have the focus or the desire. To a great extent, I think I have a fair balance of creativity, hard work and a business mind and depending on the season, one plays a greater role over the other, and in some seasons, the three of them have to play together.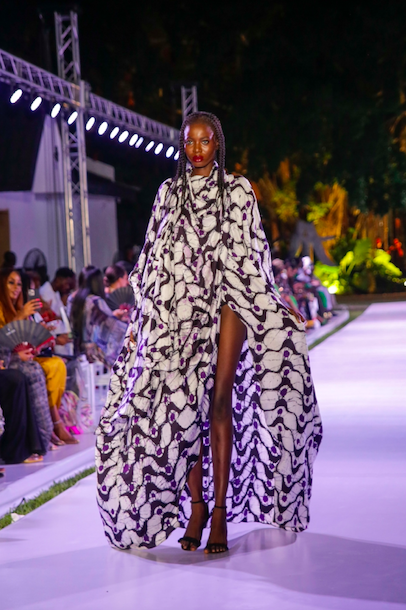 On the launch of your personalised flagship store – Tiffany Amber Gardens. This points to the importance of your customers enjoying a luxury "experience" beyond the top-quality and beautiful pieces they purchase. How would you define the "luxury experience" for a consumer?
It's difficult to describe the luxury experience because I don't think there is one definition of what luxury means to everybody. I can only create what I consider luxury in the Tiffany Amber Universe and then share it with the world. For me, luxury is serenity; luxury is peace; luxury is the freedom to get lost in your own mental space, and luxury is ease. If you find any of these to be luxury, you will definitely feel at home at Tiffany Amber Gardens.
Looking back at 24 years of incredible work, how do you feel your brand has changed or evolved?
My creative drive is quite obsessive. Perfectionism is almost an illness for me. The older I get, the more I realise there is no such thing as perfection, and sometimes you have to know when to reel it in.
No matter what season it is or how much I explore, I keep reinventing the brand repeatedly without straying too far away from its DNA.
What was your inspiration for the Heritage collection?
When people ask me who or what inspires me for any collection, the women always come to mind. Usually, stylish and iconic women who live in the real world with a real career, a real job, and a life story. It is about their individuality, which is why such a vast range of women come into Tiffany Amber and can connect with our pieces. Life in general also inspires me, I go by the mood of the world. It is important for Fashion Designers to be in the world, to look at art, read magazines, watch television, and even junk television. You have to know where culture Is today to react to it, be contemporary, and respond to it.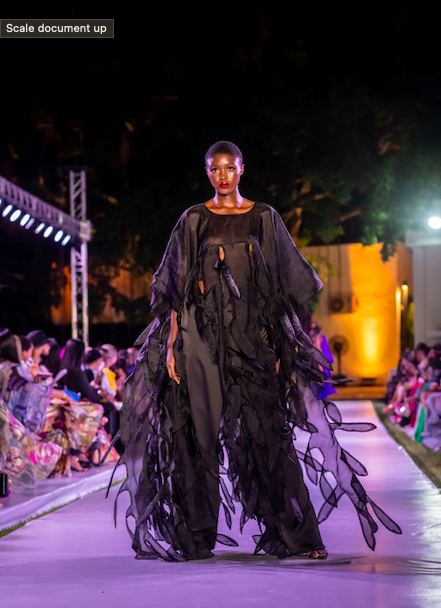 What story are you telling about the women who wear your designs?
The Tiffany Amber designs embodies a multitude of women who are classic yet youthful, vibrant yet sophisticated, and sexy yet demure. They are women of cultures who are confident with themselves, women aspiring to be more and leaders in their fields of expertise. Women who travel the world but feel at home when dressed in Tiffany Amber. These women continue to be my primary source of inspiration. I am always keen to be in tune with the next level of what they want and need.
One of the biggest compliments I have received is that "Tiffany Amber knows what women want to wear even before they know it".
Your designs have such a strong sense of femininity. From the silhouettes to the fabrics and soft designs that still feel empowering and strong. How vital is it for a fashion brand to exude originality to stand out in a fiercely competitive market?
Any business that involves image is all about perception. What one person considers original can hugely differ from what another person considers original. That is to say, who I am is not as important as who you think I am. Marketing always has a key role to play because you end up throwing a lot of money out of the window and pray that it lands in the right place so it can walk back through your door. This would explain why a fashion brand would spend millions year in year out on marketing as a way of entering the mind of their consumers and hitting the emotional spot to make them desire whatever it is they are creating. At Tiffany Amber, we are guided by a unique DNA design that exudes an innate sense of glamour and an unfailing eye for timeless chic with a distinctly African attitude.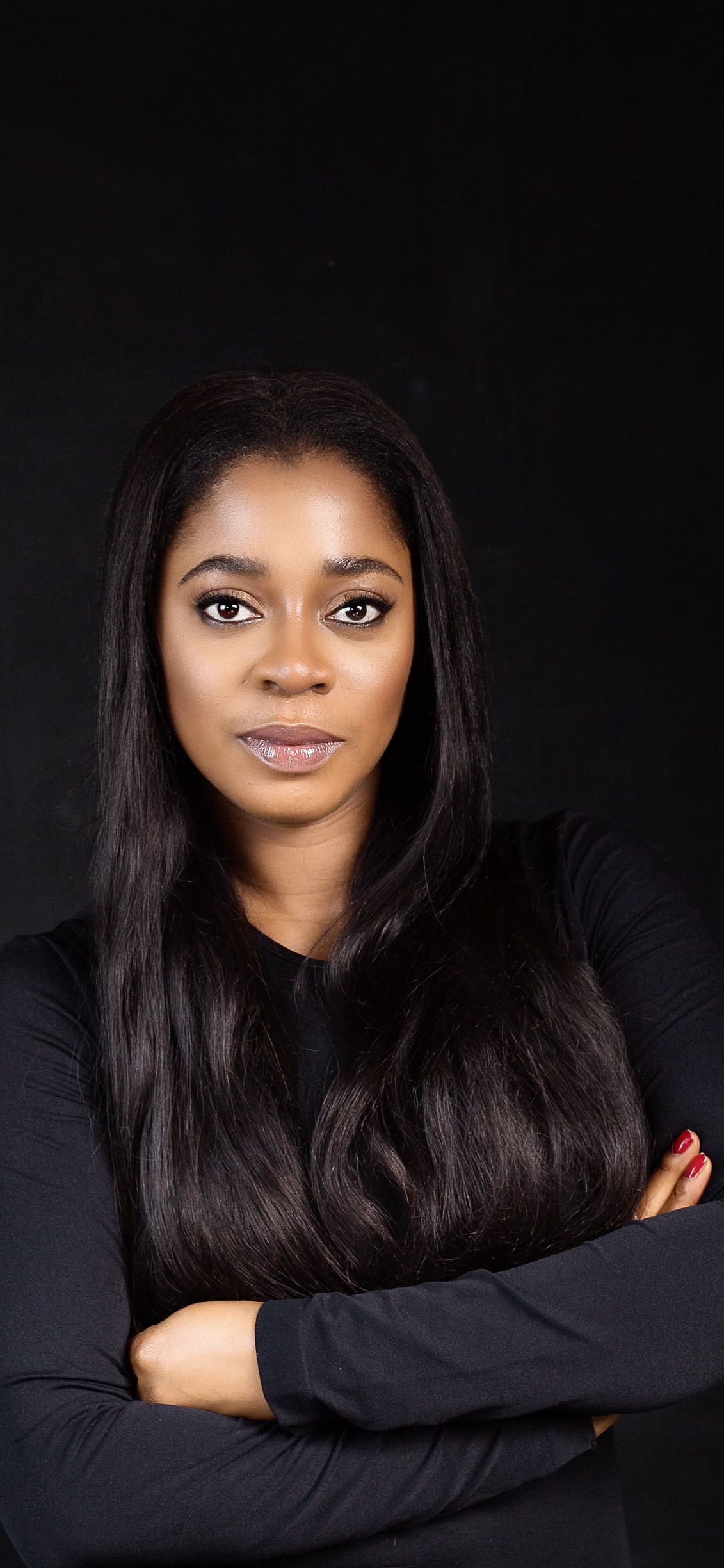 With what we all saw on Sunday, it is fair to say you have set a standard. How do you hope this impacts the fashion space in Nigeria?
I hope it inspires the younger generation of designers that they can achieve what they put their minds to with a lot of handwork and focus.
For the first few years, it was just a business but as I started to dream, I saw the opportunities and the business exponentially grew. So dream and dream big. As we all know, if your dreams don't scare you, they're not big enough. I'm still dreaming, so help me God!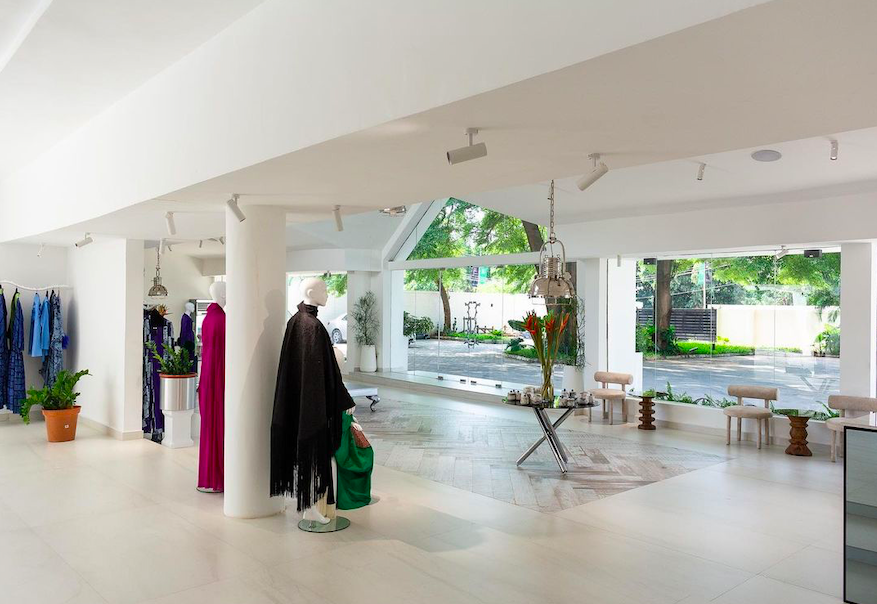 Let's also talk about the Nigerian Fashion industry. What one aspect do you find troubling and would, if given a chance, permanently change for the better?
For me, it would definitely be production. Creativity is only half the work to get the fashion industry going. The fashion industry is not where it could be today because the average Nigerian has yet to experience what Nigerian fashion entrepreneurs can do, from the high-end to the mid-end to the low-end brands. I believe it's because of production. Take music, for instance; when an artist comes out with a song, the whole world can immediately hear that song because of the distribution channels. It's so easy for it to become a hit; you stream it and download it…… there are endless possibilities for the music industry. However, for fashion, it is far from it. You come up with a design that can potentially do so well, but it is truncated at the production level. Investment in Human capital and training of apprentices with global industry standards would go a long way—also, easier accessibility to raw materials. The best way to probably do this is backward integration which might be slow initially but ultimately most sustainable.
What would you like the Tiffany Amber brand to accomplish in the next ten years?
The life of the Tiffany Amber brand has been cocooned thus far. Everything I've done for the brand and everything that has happened to it has brought it to this moment. Now it is a butterfly, a beautiful kaleidoscope of discipline, commitment, resilience, undeniable passion and love for the art. I believe we are at the start of a new journey; imagine a butterfly that has been flying for ten years. It would have touched ground almost everywhere and shared its beauty with everyone.