If you're a fan of beautiful home decor, gorgeous make-up, and fun TikTok videos, then you need to know about Omoehi, the daughter of renowned interior designer Ify Ighodalo. Inspired by her mother's creativity and talent, Omoehi followed in her footsteps and pursued a career in interior design. She founded Icora Home, a design brand specialising in creating fresh, modern spaces that reflect her clients' unique personalities.
But Omoehi's talents don't stop there. In addition to her work in interior design, she has also created her own beauty brand, Mohini Beauty. From lipsticks to eyeshadows, Mohini Beauty is about empowering women to feel confident and beautiful in their skin. The brand features a range of make-up products designed to enhance natural beauty and bring out the best in every individual. And if that wasn't enough, Omoehi is on her way to becoming a TikTok sensation, with thousands of followers tuning in to watch her fun and creative videos. It seems like a lot, but Omoehi handles it gracefully and wins on all ends. Today she speaks to THISDAY Style about walking in her mother's footsteps and how her numerous hats complement each other.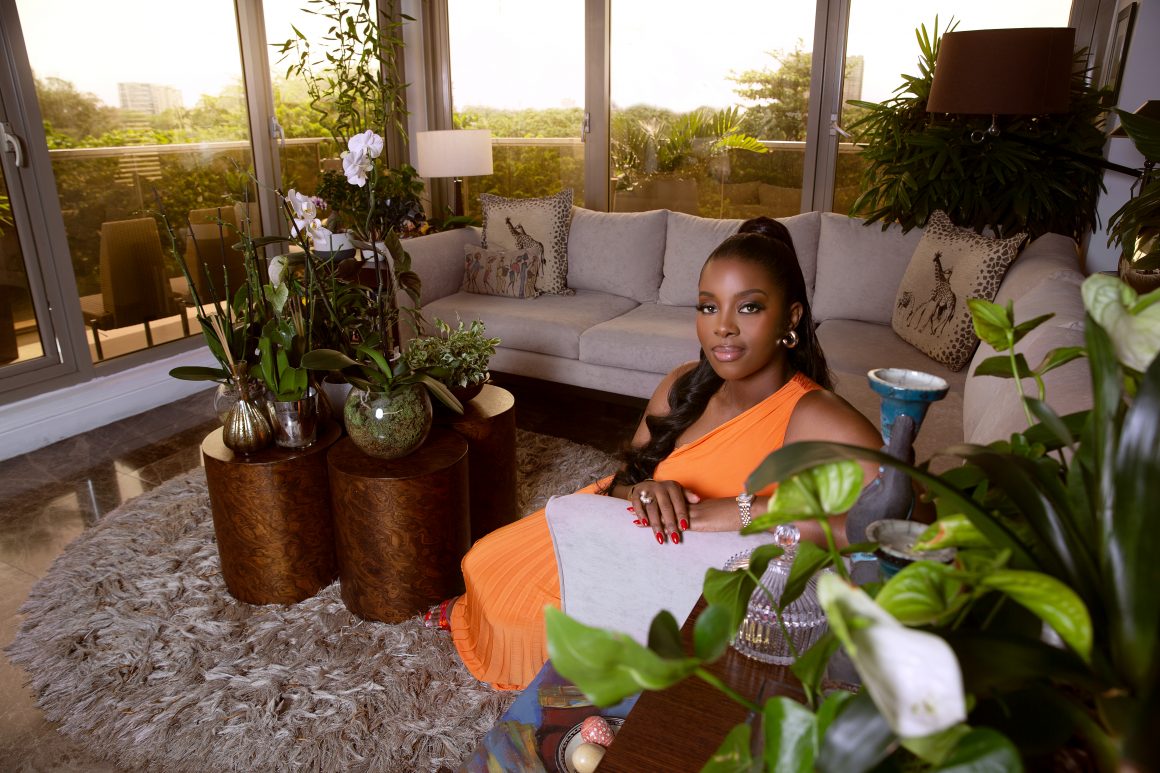 It feels good to do something my mum has done so well. I was a bit hesitant before, but I'm happy to be walking in her footsteps, and it is a good opportunity for me to honour her and build upon the work that she has done in the past 30+ years while also forging my path and leaving my mark on the industry.
Please tell us a bit about yourself, your journey as an interior designer, and following in your mother's footsteps with your brand, Icora Home.
I studied Sociology at university, which is entirely different from everything I do now. I used to have a hair company, which I started in boarding school. I made wigs for myself, and people kept asking me to make them for them, so I decided to start charging for the service. I would say I've always seen myself as creative; I've wanted to be a fashion designer, hairstylist, make-up artist, photographer, and a lot of other things, and because I know I can do anything I set my mind to, I have tried everything, or worked with people who do these things. I never thought I'd be an interior designer because, being an only child, I've wanted to make my mark separate from my parents and not be in their shadow, but we make plans, and God laughs, tbh. I moved back to Nigeria at the end of 2018, and before I started NYSC, I was working with my mum, doing a bit of everything, and I guess just being present, and seeing how things worked, made me a bit more interested in the business. Icora was born at the end of 2019, after I finished NYSC and opened my salon (which I designed myself). My dad has tried and still tries to get me to take over my mum's business and be her succession plan, but I'm just so adamant about doing something of my own, so I'm fighting it, but I'll probably cave. Icora was brought under DO.II, to bring a more modern, fresh, and new perspective to the company and attract a younger crowd.
How would you define your unique style and approach to interior design?
I would say my style is 'contemporary minimalist'. I'm inspired by wabi-sabi design. I love neutrals, but not without a pop of colour. I like spaces to be captivating but simple, so I like to play with different shapes, colours, materials and textures.
You also own a beauty brand called Mohini. How does it complement your work as an interior designer and content creator?
Referring to myself as a content creator is something I haven't done yet because I'm just having fun on TikTok, but being a 'content creator' complements my brand and not the other way around. It helps drive sales, build community by fostering engagement, and helps with brand visibility overall. It works because my content is very beauty, fashion, and lifestyle-based, so nothing is forced.
As a content creator, how do you use different platforms to showcase your work and connect with your audience? Which platform is your favourite?
TikTok is definitely my favourite platform because it just feels safer; I don't know why. I've only recently started showcasing my work a lot more on my social media because I'm so shy (crazy, I know). I've probably posted about Icora once on TikTok, and I actually got some clients from it, but for Mohini, I guess it's much easier because I do a lot of GRWM (get ready with me) videos, which include getting my make-up done, so I show the products I use, and I use almost all Mohini Beauty. Instagram is such a scary place to me; I can't explain it. I have more followers there, but I hardly post anything or even show much of my personality on Instagram; it's just easier on TikTok.
How do you manage your time between being an interior designer, content creator and running your beauty brand, Mohini?
It's a struggle, and I don't think I'm managing it as effectively as possible, but I get things done, and that's the goal. I stay organised as much as I can, and I'm learning how to delegate to get more things done. I split my itinerary into an order of priority, and the business making me the most money goes first, lol. Content creation is more of a hobby to me; I'm not making that much from it right now, so I focus on it whenever I feel like it.
Let's talk about Mohini. What makes it unique? Where can we get it, and what particular product should we be looking out for?
I got tired of seeing make-up artists take up most of the beauty space in Nigeria, and I wanted a brand for the everyday beauty consumer by one of them. Mohini is unique because it is a beauty brand emanating from a place of self-discovery, liberation, and expression as opposed to a system that exalts a limited and exclusive definition of beauty. You can shop online on our website – www.mohinibeautyco.com – or come into the store on Akin Adesola Street. Our bestsellers are our blushes and lipglosses, and I believe everyone needs at least one of those Mohini items in their make-up bag.
How do you use social media and other platforms to promote your beauty brand and connect with your audience?
I mostly use TikTok to promote my beauty brand because it's the easiest (for me). I used to make vlogs and mini make-up tutorials, but I saw more engagement when I started doing full-on videos, getting ready for events, talking, etc. I use a lot of Mohini beauty products in the videos, so people see how the products work, they can ask me questions (if they feel like it), and most times, it leads to sales, which is great! TikTok feels like a big group chat, so sharing things is easy on there, and the algorithm is crazy; you never know which video is going to blow up or not.
How do you balance your creative vision with the practical aspects of running a business for Icora Home and Mohini Beauty?
I'm very goal-oriented, so I always use the goals I have defined for both businesses to ensure that all aspects of my business align with my goals. Also, having people on my team that are professionals in their different fields, and have strengths in places that I don't, is important to me because I only know some things. I constantly ask for help from people who are in the same field (with Icora, I'm lucky to have my mum), and I am always open to feedback from people, customers, experts, and employees so that I can identify where I need to improve, and make better business decisions.
How do you feel about carrying on your mother's legacy in the field of interior design, and what lessons have you learned from her?
It feels good to do something my mum has done so well. I was a bit hesitant before, but I'm happy to be walking in her footsteps, and it is a good opportunity for me to honour her and build upon the work that she has done in the past 30+ years while also forging my path and leaving my mark on the industry. My mum works very hard, and seeing her keep going, especially when faced with difficulties beyond her control, is inspiring. I've learned not to be stuck in my ways and to adapt. I do not like doing things without planning, and when things go wrong, I want to pull my hair out, but I've learned not to let it get to me and figure a way around it. I've also learned to persevere and build a strong network.
What are your future goals and aspirations as an interior designer, content creator, and beauty brand owner?
As an interior designer, it's just to keep building a solid portfolio, work on larger projects, and expand my client base. I also want to go to school and get a certificate in interior design; I still have a lot to learn. As a content creator, I guess to keep building my following and get to the point where I can start monetising a lot of my content and working with brands. As a beauty brand owner, I want to develop more products that my customers want and need, keep building our community, and expand our distribution to reach our customers outside of Nigeria. I would also love to be stocked by a few UK and US retailers.
---