Still Standing!
Olorogun Oskar Ibru is the first son of the late business Mogul Olorogun Michael Ibru. Oskar heads most of the companies under the Ibru Organization. The Organization, established in 1956, became one of the largest conglomerates in Nigeria. By 1990 it had between 9,000 and 11,000 employees. By 2009, the Ibru Organization was a multi-billion dollar business with interests that include shipping, agriculture, aviation, banking, marine and oil and gas.
Although not born with a silver spoon from birth, from a young age, Oskar grew up amidst wealth as a privileged child. But this in no way made him sheltered. From a family whose feet are firmly planted on the ground, Oskar's background ensured humility and respect for people was the watchword in their home. This explains why he has friends from all works of life and of different ages. A very amiable man, Oskar has maintained his sense of humor and joviality till date.
For someone who seems to have everything at his fingertips, Oskar has had his own share of challenges. Like the phrase says, 'The rich also cry'.
Fortunately, he has been able to overcome life's hard knocks and is still standing. One of the said challenges was his recent spell with the dreaded Covid virus which had him incapacitated for seven weeks! He was in a coma for three weeks and spent another four weeks in treatment. Many did not think he would survive but Oskar is a 'cat with nine lives' and is in no hurry to go anywhere anytime soon. He spent an afternoon with EXECUTIVE EDITOR Style, RUTH OSIME talking about his journey to hell and back and how the experience has changed him as a person. Oskar is married to an American named Wanda and they are blessed with three children,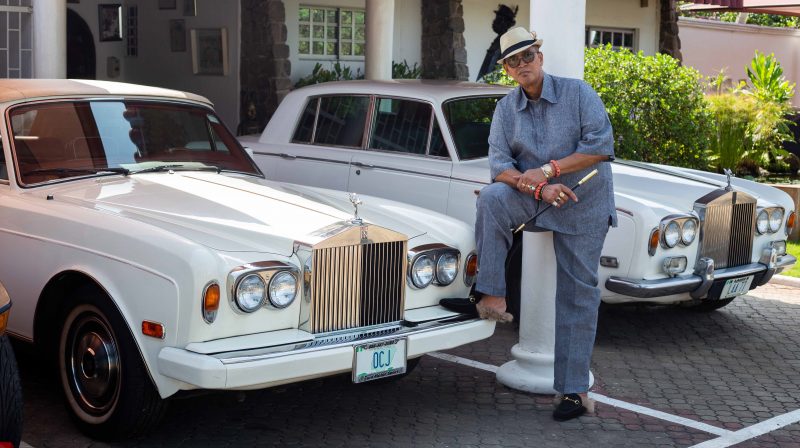 You are one of those people refer to as being born with a silver spoon. Looking back at your youth, what  type of measures did your parents take to instill discipline in you?
My parents were very grounded people. Humility is the watch word of the Ibrus and right from youth, we were always told to be careful how we behave and what we do with ourselves because we have a name to protect. However, the silver spoon wasn't quite so silver. Actually, it was more bronze than silver because I was born in No 6 Moshalashi street, Shomolu. When my father started the Fish business with my mom, he built a bigger house for us and that when the silver started coming.
How old were you at that time?
My father started business in 1956, I was born in 1958. From 1958-63, we moved to Ikeja and when the war started in 1966, we moved to Apapa and from there, I went on to school in England.
What do you miss most about your childhood that is conspicuously  missing in today's times?
There is a lot of things we could do in our time. Things are very dull now, people are sitting in front of a television playing with these computers and phones. Even in meetings, people are on their phones. In our days, we used to play ludo, football, make kites from newspapers glued together with chewing gum or eba! We were very ingenious having fun and playing around. We were happy bunch of people, we would roll tires on the road or dance in rain. We were always busy. My mother taught us to cook and at a very young age, we starting assisting her in the kitchen. But now, there is no interaction. We talk through the computer which is rather depressing.
Do you also miss the freedom you had in your youth compared to today's times where safety isn't guaranteed anymore?
We had no fence in our house in Shomolu, it was more of a compound than a house where about 60 people lived. My parents and I were on top floor, the penthouse, the middle floor had my grand parents and all their siblings and then a whole bunch of cousins from Delta were on the bottom floor. So it was really fun living together as one big family and even the employees became members of the family too.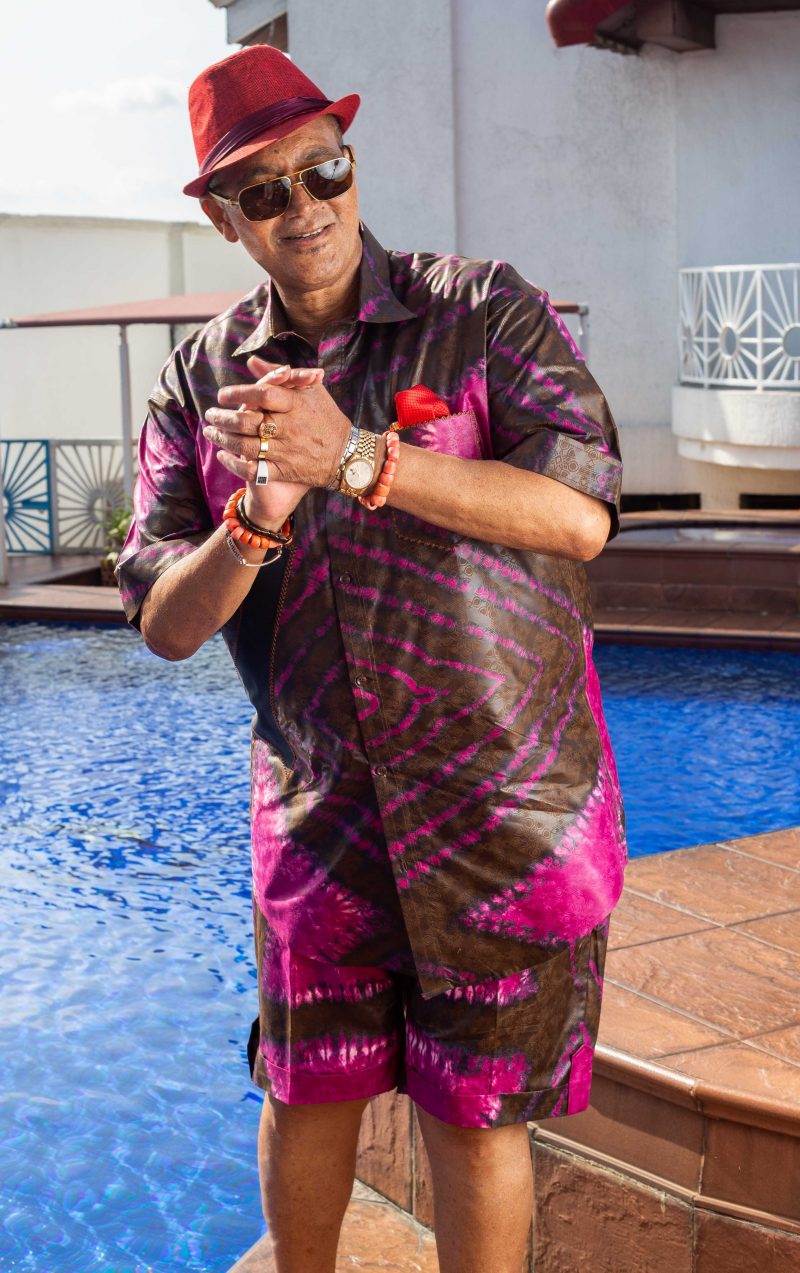 How did you celebrate the festive periods?
Firstly Uncle Phillip, my father's immediate brother made sure we all spent Christmas at his house in ikeja, we came from all angles and there was no discrimination in terms of relationship with wives because we were one big family.
Are you the oldest of all the grand children?
I have an elder sister Christiana. I am the alpha male of the family.
Who played the most pivotal role in making you the man that you are today?
My mother influenced me a lot in her behavior and style of life. She welcomed everybody as the door was always open. You can barely visit our house and not eat. She was so much fun and full of laughter but also a disciplinarian. Once in awhile, I got a good whipping if I misbehaved.
Do you think such disciplinary actions is missing in today's parenting?
I know it's missing which is terrible! The way some kids talk to their parents, if my son mistakenly talks to me like that, I don't think we will be together anymore. I try to bring up my children the way my parents brought me up. There is certain amount of discipline and fun but mostly, I want them to enjoy their lives. I try to do for my kids what I wanted to do at their age that I couldn't do so I am passing the wish I had onto them.
So sometimes you draw the line?
I am lucky with my son. His effort is E but his result is A! Sometimes my wife gets mad at me but what can I do?  He's blessed that way even if I have to say so myself.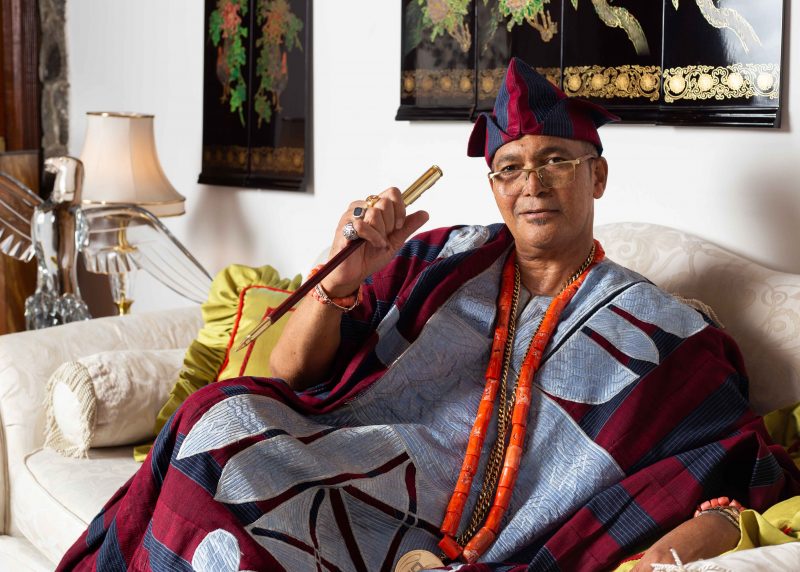 Now with the way things are in falling apart in Nigeria
with both the rich and poor feeling the pinch, a popular Pastor recently suggested everyone have a plan B because of the seemingly impending doom ahead of us. What is your take on that statement?
First of all, plan B shouldn't exist in terms of survival. If plan A doesn't work how do you know plan B will work? It's a difficult thing for me to abandon all the people I know here and only come home when they die. You just have to keep moving and try your best to make your own surroundings as pleasant as possible and anybody you can assist, feel free if you can afford it, not only in money but also in relationships. I like people a lot.
One can say you are a cat with nine lives as you have experienced near death situations in the past. Before the last incident you had, tell us about some similar situations you've had in the past?
Because we had many businesses all around the country I preferred traveling by road and got to stop in different places to know what is going on in the country as interaction with people is very important to me. During that period, I had several bad experiences. There was an incident where I travelled from Port Harcourt to Benin Republic without eating. When I got home, I just sat down and slumped! When I woke up, I found myself in the hospital. Several near misses have happened other times too and each time, I come back stronger. But l have come to accept that I need to stop all the traveling now.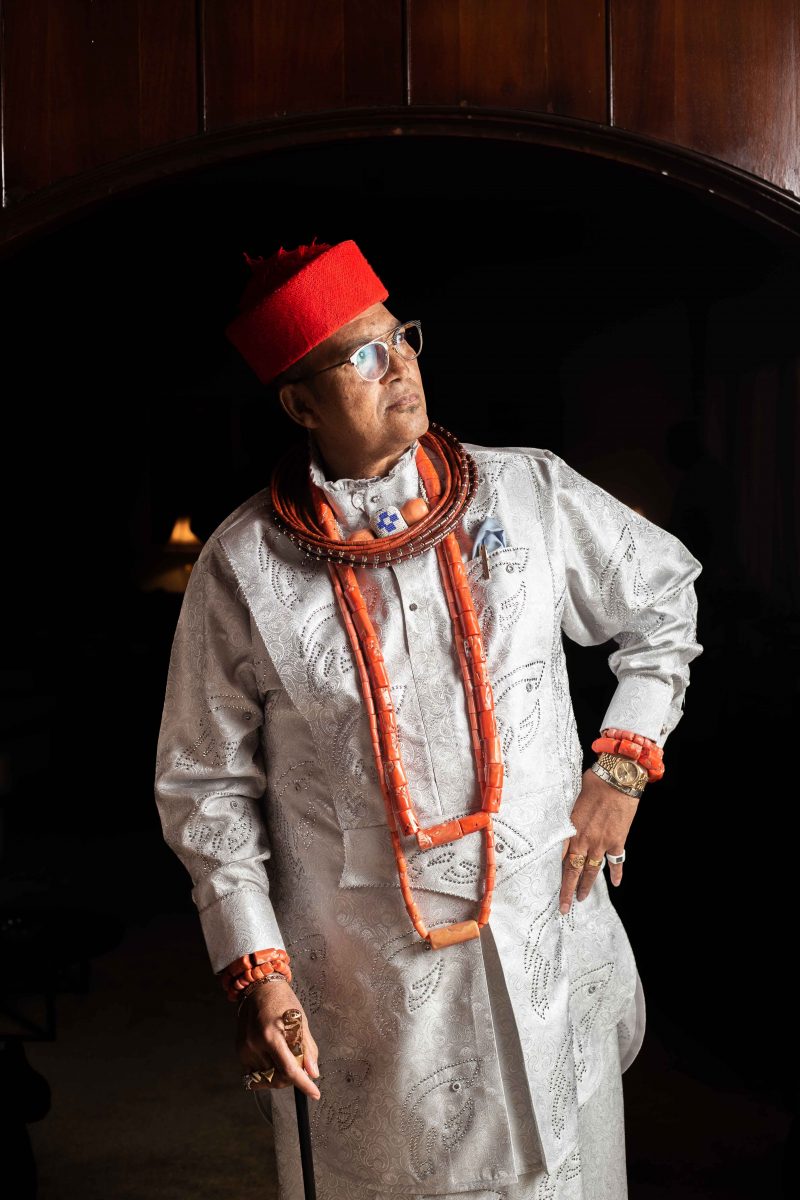 Let's talk about your most recent incident where you caught Covid. How did you catch it and when did it become serious?
It's in the air, I didn't get it within the house. Like I said, I like being around people. When it first happened, I knew something was wrong immediately because I kept getting tired when I walked. It got to the point where they were carrying a chair to follow me around and that was when l decided to take the test and it was positive.
The first time I tested positive, I was immediately given drugs and I went home. After five days, I was okay. Then it hit me the second time after seven days. This time around, I couldn't breathe and was taken to the hospital at Ikeja. Within a few minutes of my arrival, I went into coma for almost three weeks and all I felt was pain. I was placed on oxygen and even at that, it felt worse.
You were unconscious for three and spent four more weeks in recovery. Were you masked all through the seven weeks in the hospital?
I was using the oxygen mask, I wasn't on the ventilator. The last four weeks I ate very well.
You had a room with two beds, you said one person you shared the room with didn't survive. Was this during your four week recovery period?
Yes. During this time, I also heard about other people that had died too. The day I came in was the day my brother Bolu Akin-Olugbade came out dead. And seven weeks and three days later, another brother, Kiti Rhodes died too. It was terrible. I was shocked and I have reached out to their families.
How has this incident changed you as a person? What are the things you did a lot of but you now do less of ?
First of all, I don't like going out as much as I used to before, I try to get earlier sleep. I try not to put myself on any unnecessary extra-curricular activities. I think am godlier now although I have always been a good Christian to the best of my knowledge.
When you came out did your family narrate their trauma while you were gravely ill?
Oh yes! My wife went through hell. She didn't have to tell me herself. People did. Also, two of my friends weren't at rest with my condition too. My son was very strong. He was there every day. Also, my brothers had to get me medicines from Ghana because the medicine needed at that point in time wasn't available. They initially went to Cameron, Benin Republic before they found it in Ghana.
You once dabbled into politics, are you still interested in venturing into that again and if not, what are the things you want to do now, more than ever, to make a positive impact especially after your near death experience?
I will never run for any position again, I feel I am too big to be a Commissioner, and I am a little bit too old to be a Governor because it's a lot of work. You have to know the people and definitely I am not running for President, but I am still a politician. I remain a leader and things are not done without my knowledge in my own constituency. I am from Ughelli North. As an Urobo man, I know things about the Urobos. I am involved in them, just not running for any position.
Are you involved in any charitable ventures?
Of course! I just finished giving out malaria treatment packs to people both here in Apapa where my businesses are and also in Delta in my village. Once you test malaria positive you can treat yourself with the pack, the instructions are there and they are for those who can't afford it otherwise. During Covid, I gave out a whole lot of food, I personally supervised the distribution because if I had picked one person to distribute, all these things worth millions will not get to the people as it should.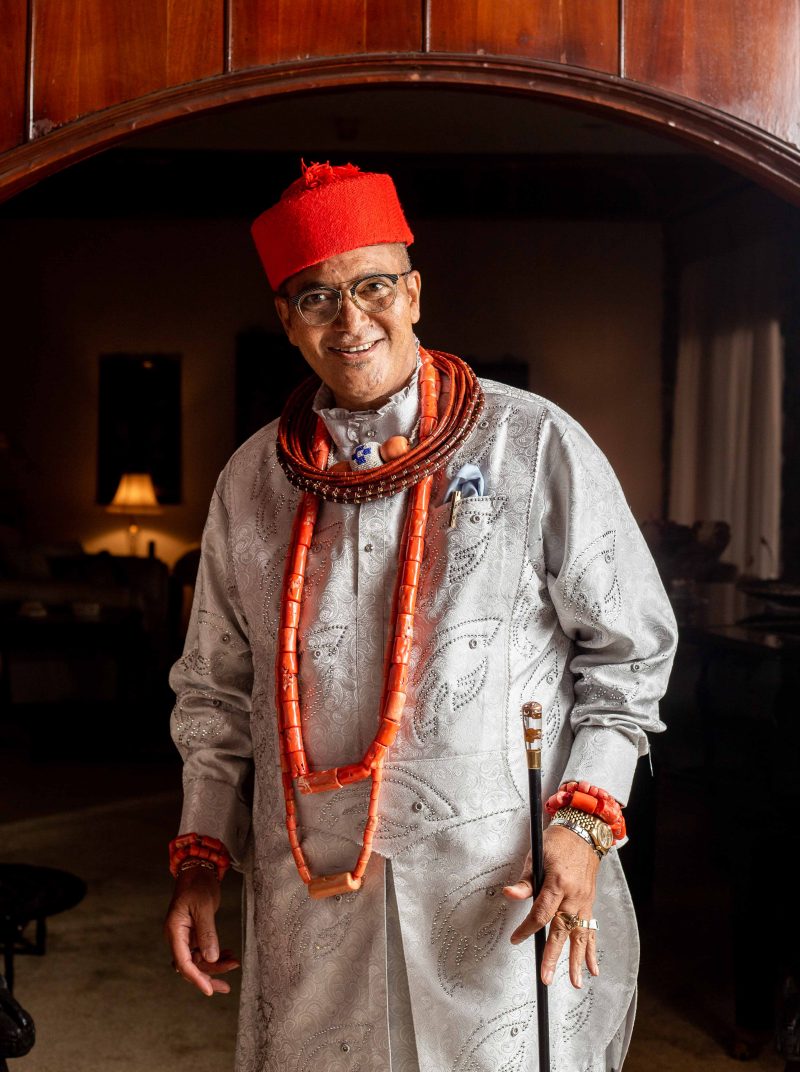 Some people who have experienced covid especially as severe as yours, have had side effects. Do you have any of those?
No I don't. At first I had slight problem breathing but within one or two weeks, it was all gone.
You've been married to Wanda your wife for over 30years. What do you find most endearing about her?
She has always been a sweetheart I can't say anything less than that. She is a very disciplined person and has been the one there to discipline me. She has been blending very well, she is very strong, she works very hard. She has a tea room in Oniru, a botanical garden, an event center in Delta. She is also working on a hotel attaching it to the center. She has an NGO called Pathways. It's like a school where they are taught how to make a bed, catering services, how to dress, speak and behave to people. It's more like tourism plan as she intends to make more people visit Nigeria. The students are between the ages of 18-30. When they are done learning, they get a certificate with her stamp which enables them get a job. She is indeed a hard worker.
Tell us more about your near death experience, you spoke about how you went to another realm whilst incapacitated. 
Yes I did but it wasn't my first time. This one was just a very conspicuous one as I really remember everything that happened. I had actually 'crossed over' even though I don't know how it happened. I remember it was very difficult getting there. I arrived at a very  classy airport. As l was stepping into the hall, I looked to my left (front) and I saw my Aunty Grace who had passed a couple of years back. There has been a slight rift between us while she was alive and I wasn't very happy with her. So I was a bit disappointed when I saw her. I was actually about to hide from her when something told me God won't be happy if I did so I let go of my grudge. Just as I was about to go to her, I turned to my left again (back) and saw my father coming towards me very angry look on his face. He looked so young like a 40 year old man while my aunt looked 22 and was very beautiful.  When I asked him why he was angry, he said I shouldn't be there and that I should get back to where I came from. It was more or less like he has spoken to God and it had been agreed between them that I should go back. My dad wanted me to back and work for God and also there were things he was supposed to do and he wanted me to go back and complete it. While he was yelling at me, Aunty Grace who was there, became my savior and told my dad to calm down assuring him I will go back. I then turned to my right and saw my elder brother who has also passed on. He was a little bit grumpy and I don't know why because we never spoke in this trance. On my return, unlike the difficulty I faced when going, coming back was very easy! I just slipped through the realm and got back.
How many times have you had this experience and how is this one different from the others?
Three or four times. Each time was different. One or two was not just clear at all but I knew I was somewhere else but I didn't die.In this last one I didn't get to see Jesus, it seemed my Aunty Grace was trying to fill out the form for me to get on transit and return but I heard from her and my father that just on the other side, were my mother and two grand mothers.
Did these experiences feel so real?
Yes, It was so real that I felt it happened and I still feel same way even weeks after. And because it had happened to me before, it's as if it is getting clearer with time.
Was it the time you came out from the hospital you found out about the death of Bolu and Kiti?
Yes almost immediately I got to know. There was someone I shared a room also with who made it and he kept me going. His wasn't as severe as mine.
How did he keep you going?
Well he was always talking and there was a night I had a seizure and I was told he helped out. Even though I wasn't responding to him, he kept talking to me, his name is Dolapo. We have been friends since my school days and he was there with me for several weeks before I was moved to another hospital.
Did you do any thanksgiving when you came out?
I haven't done one yet. I am waiting for the appropriate time. Firstly I want to be sure I am perfectly healthy and secondly because of the covid situation and the social distancing. I don't want to risk lives until the time is right.
Have you thought of doing something that will not necessarily involve crowds but just to show gratitude to God?
Yes that will be before my wife travels which is anytime now.
How have kept up with the exercises?
I still do my physiotherapy, I swim every day, I play tennis and do my exercises.
What are your plans for the next couple of years, your retirement plans?
Thankfully I have already built my own house in the village even though I am actually supposed to move to my father's house but I really don't see that happening this time. My father built 19 rooms for his 17 children and just in case, included two other rooms. Everybody wants their room so I have to maintain the house and let everyone have access to their rooms. I have already built my own house because I know that when I go, my son will be in his own house already. I am trying my best to see if I can relocate fully back home. The longest I have been able to stay away was last year when the covid started, for six months. Before that, I was visiting weekly and I love it at home. That is a retirement place I have made for myself. Even as at now, I don't go work up every morning. People come to me now.
Within the next two years, when I will be 65, I will retire to my village finally. I also have a beautiful resort and home in Ghana and in Benin Republic so I can visit there more often than America. My kids are all back so what am I looking for? It's a beautiful resort, I have different animals there.
Yes, as I get older, I get closer and enjoy nature more. I am also building a 'museum' called 'ogua' in my language.  It's like a meeting hall. I don't want it built by my son. If I have meetings, it will be held there and that is where I intend been buried along with my sweetheart.
I want to live till 104 years. My dad died at 86 while my grandmother was 97 so I am very positive about living longer on earth.