We are at a time where women are no longer asking for opportunities but calling their shots and claiming their seats on the table of success. And even when society mirrors their achievements or downplays their hard work, they keep evolving and setting new records.
Thus, women are more vocal now, than ever, about being who they are with no apologies. They are owning their stories and writing their scripts when it comes to making their marks in the sands of time. It's again in this light, that we have featured these young amazons who are Nollywood's New Generation.
Sharon Ooja, Lillian Onyinye Afegbai, Nancy Isime, Lisa Omorodion, Erica Nlededim, Maryam Ado Muhammad-Booth, Ini Dima-Okojie, Bimbo Ademoye, Beverly Osu and Linda Osifo grace our pages in this edition as they tell us about their chosen careers, how more women should participate in Politics, their challenges as artistes and of course, their achievements amongst other issues.
With the images in this edition, these elegant women have used fashion as a tool to express themselves, their brands, personalities and how limitless their dreams and goals truly are. AZUKA OGUJIUBA reports…
Sharon Ooja
In what ways can young filmmakers leverage the existence of Netflix in Nigeria?
Platforms such as Netflix that stream all over the world are extremely beneficial to young filmmakers. And it being in Nigeria creates a huge platform to help showcase young filmmakers to a wider audience and range. More people get to see their work and it helps them earn forex from the popularity of their work. It creates international relationships that help put Nollywood on the map, so it's something young filmmakers should latch on to especially now that the world is almost digital-based.
 If given the opportunity to be Nigerian President, what are the two laws you will implement immediately?
One of the laws I'll create will be to temporarily ban large scale importation of textiles to help promote the textile industry in the country and also some food products because the large scale importation of fabrics and textiles have weakened the local textile industries. After all, we can't compete with the likes of the western world in terms of production. But if we are forced to wear our local textiles, more job opportunities will be created and it will help increase our export and the same applies to food.
America's Vice President, Kamala Harris is the first and highest-ranking female official in U.S history. Do you think this is possible in Nigeria seeing how our political space is male-dominated?
I feel like it's a matter of time as Nigerians are getting more educated and more open to women doing more and also as the world is becoming smaller. I feel more women are beginning to participate in the political space and are also now more aware of the current situation thanks to the digital age information at our fingertip. With the emergence of strong powerful women like Obi Ezekwesili, a former VP of the World Bank (African Region), co-founder and founding director of Transparency International, co-founder of the #BringBackOurGirls movement and who has also served twice as Federal Minister here in the country, more Nigerian women are being encouraged in the political space and when the right female candidate emergences, Nigerians will vote.
In general, what do you think is lacking in Nollywood and how should it be addressed?
Firstly, in my opinion, Nollywood requires more support generally from the government, especially in the area of distribution. I strongly believe NTA should be the number one commissioner of Nollywood projects. And with everything going on in the country such as tribalism and lack of employment, such projects can be used to create jobs and also used as social tools for sensitization of our national orientation to promote one Nigeria. Specific television programming will go a long way to unite the country through Nollywood. This is just me pointing out one of many.
Skinny Girl in Transit is one of your biggest millstones in acting. How did you feel when you got one of the lead roles in the web series? 
I was super excited and grateful for the chance to show my skills and I'm grateful for that show because it's the reason people know me today.
If you were not an actress what will you have become? 
I would have been a teacher. I love kids. I love sharing my knowledge. I enjoy imparting knowledge. I still intend to open up a school in future. It might be my retirement plan. My acting career was inspired by my mum. She was also in the entertainment industry and fully supports me.
You are vocal and passionate about the girl child, are you involved in any projects to help curtail the numerous cases of child abuse, trafficking and foster girl child education especially in the Northern part of the country?
Poverty promotes human trafficking. My passion project apart from using my voice via conferences and through the movies I act is to create a skill acquisition program (a summer camp for uneducated young women) which will happen during the summer for young uneducated females mostly in rural areas to teach trades and skills that help them earn a living while also making sure they get educated. Skills like cooking, sewing, acting, and hairdressing. This would also serve to discourage parents that allow their children to be sold with the dream or hopes of a better future. Women are the heartbeats of every nation. You train them and you keep the nation alive and healthy. This project of mine extensively extends to the North where I grew up in. I'm very much aware of the little ills that slip through our cultures which is why I'm making sure that this program extends to the parents also.
Who is the one actor in the world you dream to act alongside someday?
Nicole Kidman! She's so amazing and her acting has so much depth.
How did you meet the producer of Men's Club, Tola Odunsi and get a role in the TV series?
I was cast in his film from Lagos, which extended to create a working relationship as he presently manages me now. He owns Urban Vision, the management Company that manages me hence my being cast in the series.
What has been your most embarrassing moment as an actress?
I was filming a project and in the scene, I was supposed to sleep and I truly started sleeping and snoring. Even when the Director said 'cut' I was super fast asleep and they thought I was in character but eventually had to tap me to wake me up!
Afegbai Onyinye Lilian
You won Viewers Choice Awards at the 2018 AMVCA. How did that milestone shape your career as an actor and filmmaker?
Winning an award with the AMVCA's was a milestone in my career. It was an honour to be recognized for my work by an industry that I am proud of. It made me realize that hard work, consistency and dedication can help you realize your dreams and that there are no limits to what anyone can achieve.
Your first film debut was when you produced "Bound" in 2018. What was the most challenging aspect of that project, more so a first-timer?
My win in 2018 motivated me to continue to strive in my path as a filmmaker. Filmmaking is something I am passionate about and I cannot wait to show the world that there is a place for young female filmmakers like me.
"Bound" was the first movie I produced, and as with any movie, there were challenges. The language barrier was complex, as the movie was written in 60% Igbo and 40% English.
Amongst other challenges, I was faced with obvious stereotypes that exist in our society and industry.
I am proud to have conquered them to bring BOUND to life.
You also launched a lingerie line called "Lilly's Secret" in 2019. What has the reception been like and do you have plans to expand the brand to including clothing?
Lilly's Secret has been amazing since its inception. It's amazing to see a dream become a reality. We are doing so well as a brand and we are more than elated to satisfy the needs of our customers. In terms of expanding into clothing, though our niche is swimsuits, lingerie and activewear, we are open to exploring the opportunity to expand our brand.
Who is your kind of man and would you marry a man you are richer than?
I like successful men. I've always dreamed of being a power couple with a partner who is equally vested in his career. For now, though, I am more focused on my career, mental health and personal growth so that I can be a great woman to a great man.
If you had the opportunity to become Nigeria's first female President, what are the two laws you will implement immediately?
If I was president for just a day, I'll push for a higher minimum wage for the average Nigerian. The second policy I would implement is to put in stronger punishments to those guilty of Domestic and Sexual Violence. The lack of severe punishments on the perpetrators of rape and gender-based violence is the reason why rape is still prevailing in our society, silencing women and children to a lifetime of torment.
If you were the Actors Guild of Nigeria's President, what would be your main focus as regards the challenges facing Nollywood today?
If I were president of the Actors Guild of Nigeria (AGN), My two main goals would be ;
Firstly to reform Nollywood and secondly to unify the industry. Nollywood has such great potential.
Who is the one actor you wish to star in a film with someday?
I love Viola Davis. I love that you can tell she shows up for her Job 101%. Watching her movies increases my drive to become better at my craft. She inspires me and I love her for that.
What's your guilty pleasure?
Binging on Korean movies all day. Their movies are as relatable as ours. I sometimes try to learn some words in the language.
Nancy Isime
Which role have you found most challenging throughout your career?
Every role comes with its unique challenges, but one role that comes to mind when this question is asked is my role in "Disguise". I had to act as a man and boy! It was an exciting few weeks. This role also earned me quite some nominations and award wins. I got nominated at a Festival in Amsterdam for this role.
 It's been months since your show, "Nancy Isime Show" started airing. What has the reception been like and what's the vision behind it?
Thank you for asking. It's been amazing, to say the least! TNIS continues to receive great reception and I couldn't even be more thankful. More and more homes across Africa have trusted and welcomed us into their homes and it's mind-blowing!
The Nancy Isime show was birthed from my love for Talk shows as a host as well as for premium Television content. I thought about creating a platform where our own Stars can feel at home and express themselves without fear of judgment and I'm grateful that's what it's been and even more.
We just wrapped Season 2 and are currently counting down to the Season 3 premiere on Television.
If you had the opportunity to become Nigeria's first female President. What are the two laws you will implement immediately?
They'll be laws protecting the girl child and women at large against Rape, Abuse e.t.c
We don't have enough of them. It should be death penalties for these crimes, quickly too. Nobody gets the chance to buy off the case or even influence the case. You mess with a woman who can't protect herself, you die! Simple.
What do you think Nollywood is lacking and how best can the issue be tackled? 
One thing that is important in every industry is Structure. While there is some form of a structure at the moment, I think it can be built upon and strengthened, especially financially.
Nollywood actors deserve the world for not only are they constantly entertaining millions of people around the world, but they are also putting Nigeria on the world map.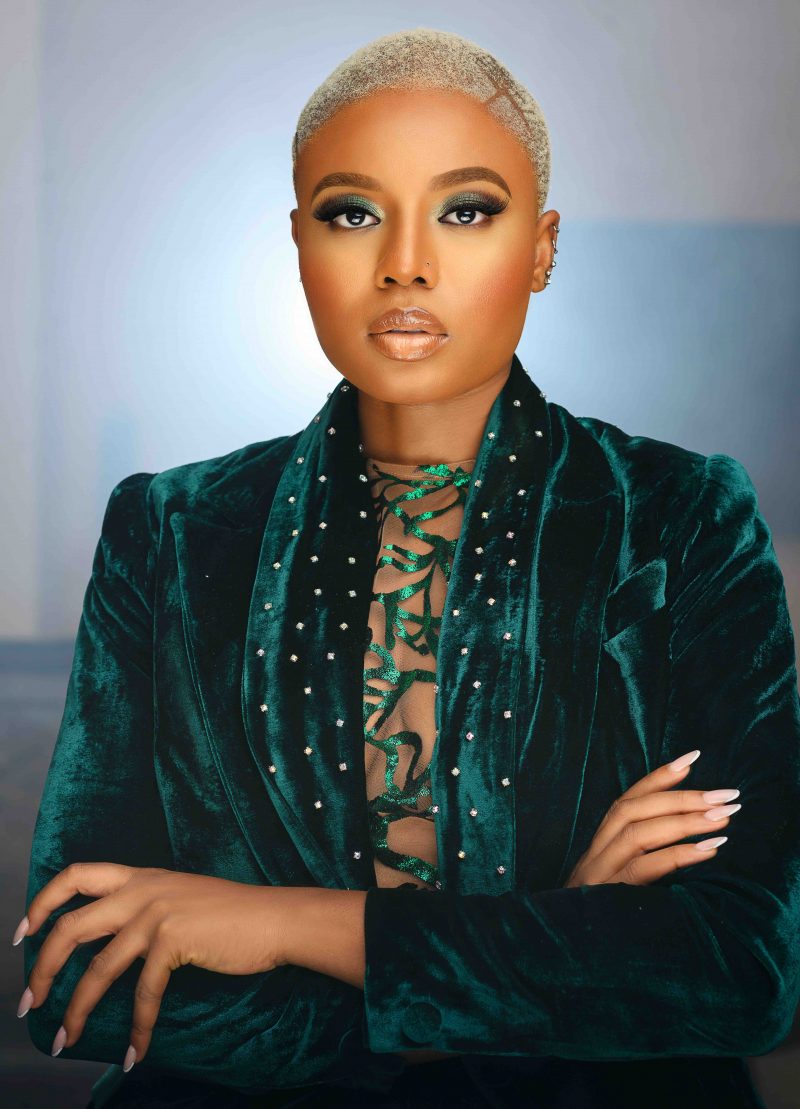 Being the producer of your Talkshow, do you see yourself becoming a Film Producer or Director sometime in the future?
As a creative, I'm always happy to contribute to the entertainment industry in ways I'm capable of.
Do I see myself being a film producer and Director? Sure! I'm just not sure what the time is right now. So, at the right time? Under the right circumstances? Yes!
You've acted along with Ramsey Noah and also had him directly with you in the sequel of Living in Bondage. What was that like?
Phenomenal!!! Uncle Ramsey like I like to tease-call him. He has such a brilliant mind! Being in his company alone is a privilege, top that with acting alongside him in at least two movies, getting directed by him and even interviewing him.
BLOWN! 
Who is the one actor you dream to star in a film with someday?
Channing Tatum. Long time crush! He's managed to hold that position since I first saw him in Step Up, such a sexy man! *wink* Great Actor too!
Who is your kind of man?
A man who lets me be Me, completely and unhindered. Honestly! A man who supports me 100%, who is my number 1 fan/cheerleader and wants me to succeed genuinely because with or without him, I'm going to succeed. It'll just be nice to know my Man is in my corner and on the same page as me and not low key and jealous. A man who has found himself, who is whole, genuinely happy and who is at peace with himself. A man who takes care of himself, who is self-aware and loves himself!
A man who is hungry for success, ambitious and a relentless sincere hard worker. A man who is in search of a Partner, not a subordinate or doormat.
He doesn't have to be the most good looking man in the world, but he must like to look, feel, and smell nice. He must be kind to everyone. Kind but firm with strict boundaries.
Would you marry a man you are richer than?
Of course! Keyword "Richer" meaning we're both rich. I probably just have more money and assets, which isn't a gender thing. Anybody can have more. If the Love is genuine, this doesn't even matter. If I end up with my dream man as stated above, this shouldn't be a problem. I believe our patriarchal society is responsible for this idea of a man being compulsorily richer than his wife. Unnecessary pressure if you ask me. As long as 'money dey ground', who cares whether it's from a man or woman. Please! However, we both must have our own and are capable of taking care of ourselves and basic needs so we don't end up being burdens to each other. That just puts too much stress on the relationship, and in the long run, breaks it.
 Is there anything else you are currently working on that you would want to share?
There are a couple of projects in the works that I can't wait for everyone to see. In the due time, they'll be revealed. Thank you so much for asking.
Lisa Omorodion
With over 50 films under your sleeves as an actor, which role would you say has been your most challenging so far?
My most challenging role so far is in the film "The Legends of Abike"(not yet released). I played the role of a village girl and it was unlike anything I have ever done. I felt like a fish out of water and had to embody the character of a poor village girl. I was stripped bare (physically and emotionally). It was very challenging, but I am grateful it took me out of my comfort zone. Watch out for "Legends of Abike" coming soon on Iroko TV.
What necessitated your studio Film Village and how can Nollywood in general, benefit from such a huge investment?
Filmmaking in Nollywood is daunting. There are so many challenges- funding, distribution, location scouting and so many more. We do not have studios like those in Hollywood where we can build different types of sets, locations, shoot our movies and other filmmaking processes. Scouting for the right locations and building sets are a huge problem. My company Platinum Studio set up a Film Village for Nollywood films.
Platinum Apartment is a place where creatives and filmmakers can shoot their films in a conducive and comfortable atmosphere, where different locations and sets can be built to suit the filmmakers choice and purpose. It is an estate of eight duplexes located in Lekki Phase one, and each house has a theme. This is to help streamline the filmmaking process and make it an enjoyable experience for creatives.
Platinum Apartment started operations in December 2020, and we hope to do a big launch sometime this year. This has been an age-long dream and I am glad I am finally living it.
What has been the lowest point in your life?
This is very emotional for me. The lowest point in my life was when my big brother died in 2018. This shattered my world and left me with so many unanswered questions to date. My family is a close-knit one and It is so heartbreaking to lose a loved one. It is a nightmare I wish I could undo. I take each day as it comes, and he is always in my heart.
Who is Lisa Omorodion and what do you plan to achieve with all your charity activities?
I am the fifth child of Prince Dr H.H. Omorodion- the Odunaoba of Benin Kingdom, and Barrister Chief Philomena Omorodion. I was born in London. I am an Actor, Producer, and Founder of Platinum Studios. I am also an Executive Director of my family's Oil and Gas company.
Lisa Omorodion is a woman who is charting her life's course on her own rules and terms and wants to inspire women all over the world to be excellent and be the best versions of themselves. I am the definition of 'Black Girl Magic'.
Philanthropy is a huge part of my life and that of my family. It is one of the character traits my parents instilled in me. I have always done giveaways on my social media handles and given donations to different charitable organisations. The Covid-19 pandemic highlighted for me the dire needs of the vulnerable and under-served communities which has made me more determined to do more charity work. I encourage everyone to give of themselves, their resources, talents, skills and network. You can volunteer, donate money and food, use your network to raise funds, create awareness, the list is endless. Make sure you are contributing in your own way, to make the world a better place.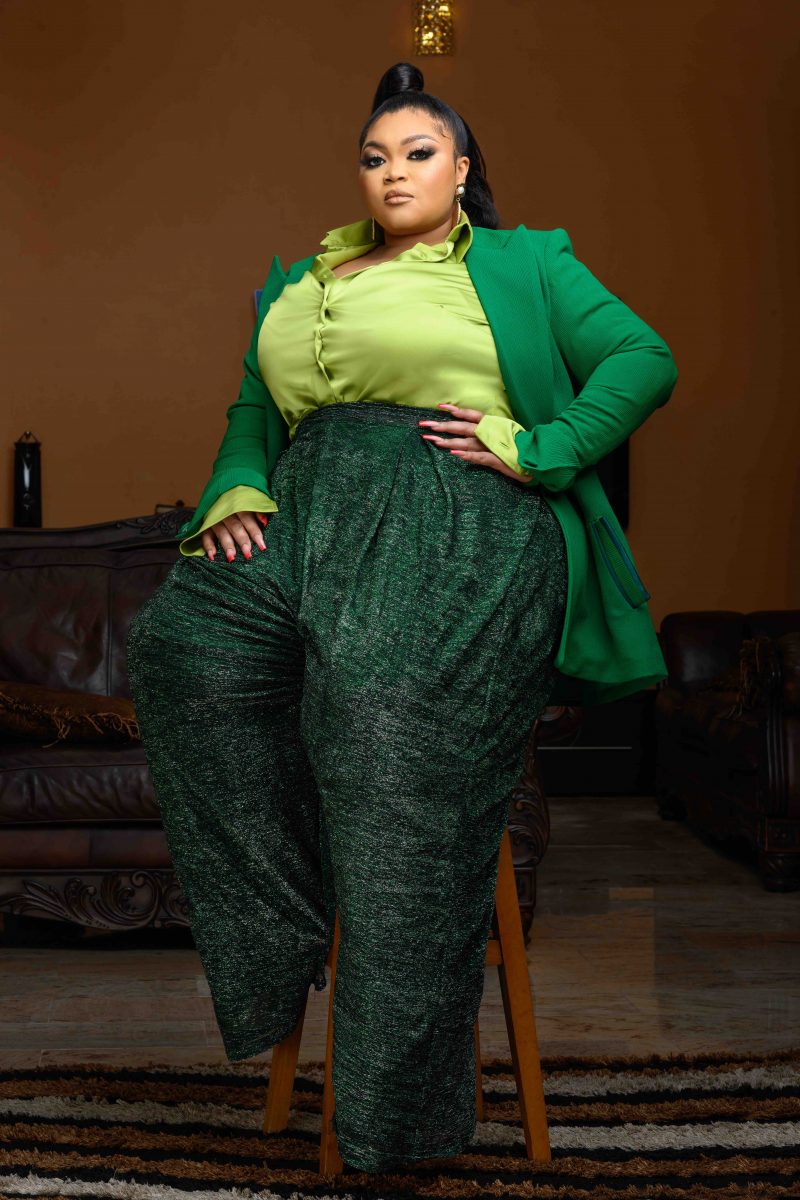 Oil and gas is one line of business that needs so much time and attention. How do you juggle being an actor, model, as well as being an executive in your family oil company, Hemsor Oil?
I have also added the Chief Executive Officer of Platinum Studios. It can sometimes be a tough juggling act, but I am grateful for grace. I love wearing the different hats I have been given it keeps me on my toes, and get me a little bit closer to realizing all my dreams.
Learning the nitty-gritty of the family business was very important to my parents. They made me understand the value of serving, and understanding the business from the ground up, before leading. My father always says"Leadership is about service", and stresses the importance of a good name.
In my role as an Executive Director at my family's oil and gas industry, I oversee daily Operations (Depot logistics, Staff performance, Revenue), and Develop and Direct organizational culture and strategy.
You produced your first film, "First Cut" when you were barely 20-years of age. Tell us how that experience shaped you as a filmmaker and actor.
It was one of the toughest periods of my life. I was in over my head because I had no experience of any sort in the film industry. The process taught me about patience, resilience, hard work, and betting on oneself. It shaped my journey as a filmmaker with the belief that "nothing is impossible." Producing my first film "First Cut" validated my dreams, and pushed me to do better every day.
You are a woman who has her own money, would you marry a man you are richer than?
True love is hard to find these days. Money should not be the basis of love, but I want the man I eventually settle down with, to have his own money. I want him to want me for me, and not need me because of money. I want to be a rich wife and also a rich man's wife.
Who is your kind of man?
Tall, Dark, Handsome and all the works. My ideal man is someone with good character, God-fearing, smart, successful, sexy, and besotted with me.
You are also a Plus-size model, what advice would you give young girls with body issues?
I love my curves and all, but I also maintain a healthy lifestyle. There is so much body shaming and body bullying nowadays. I would advise young girls to be themselves, embrace their curves and bodies, and be the best in any chosen field or profession. It is hard, but they should renew their minds and be confident in themselves. They should always hype themselves and put their best foot forward. I always make sure I look good, take amazing pictures, post them on social media and ignore the trolls. People will always talk no matter how skinny or curvy you are. Let them talk, it only means you are interesting.
Who is that one actor you dream to star in a film with someday?
My dream actor in Nollywood would be Genevieve Nnaji. She is the quintessential actor, director and producer. I mean who does not love Genevieve?
Meryl Streep is also my all-time favourite, starring with her in a film would be a dream come true.
Erica Nlewedim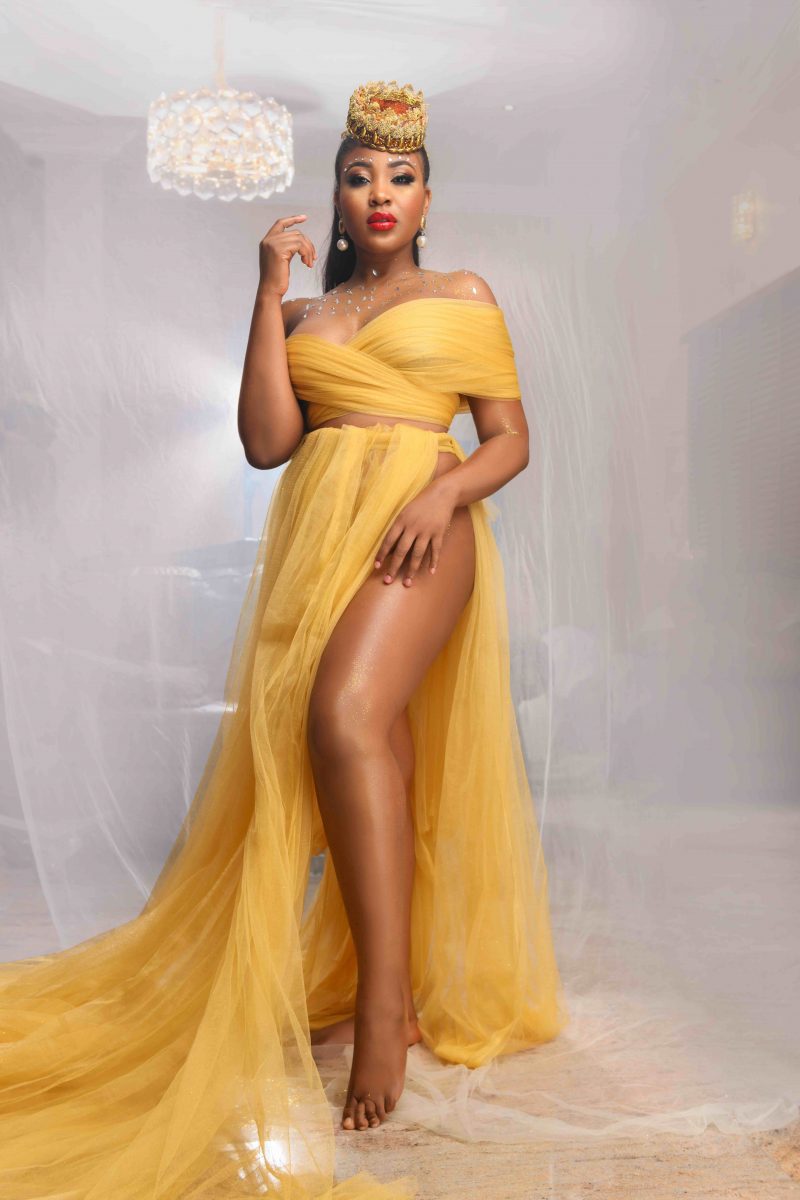 You graduated from Met Film School after which you produced your first short film. Do you have any plans to take further acting training in future and has the training impact your craft?
Yes I have plans of further training but in movie production and directing, my training in Filmschool abroad helped me sharpen my natural skills as an actor, I'm able to fully immerse myself in every character I choose to play, it's also opened doors for me to get lead roles in big-budget movies because movie makers have more faith in you when you have formal training in acting.
You did an amazing job with your self-produced short film. Would you venture into directing in the long run?
Thank you so much, yes I definitely will venture into directing in the nearest future. It's something I have found myself enjoying which is surprising because I have only ever imagined myself in front of the camera and not behind the scenes.
Which role has been your most challenging so far and why?
Playing the role of Tomi in my latest movie, Devil In Agbada. This time, I had to dig deep as an actor and express so many raw emotions. I can't wait for you to see my performance when it comes out in the cinemas 2nd of July. You will be highly entertained.
Not many know about the Erica Nlewedim's Foundation. Tell us about its vision. 
The foundation was set up when I was up and coming with very little means to help but I had the vision to help lots of people like me with big dreams and very little opportunity to achieve them. Fortunately, I have been able to help quite a number of people and the goal is to help as many people as possible with skill acquisition, support for small businesses, health care for the needy, education for the less privileged children and help for single mothers.
We learnt you are about to launch a skincare line. How do you intend to break into an already congested market?
Yes, I'm about to launch my skincare line called Star Girl Skin. I'm so excited as it's a real passion of mine. I believe people should look good in their natural state and that will further enhance beauty when fully glammed up. Star Girl Skin is here to give you flawless skin, by making sure your skin is beautiful, polished and blemish-free! The product will solve all the skin problems with the advantage of a luxurious and enjoyable feeling without breaking the bank!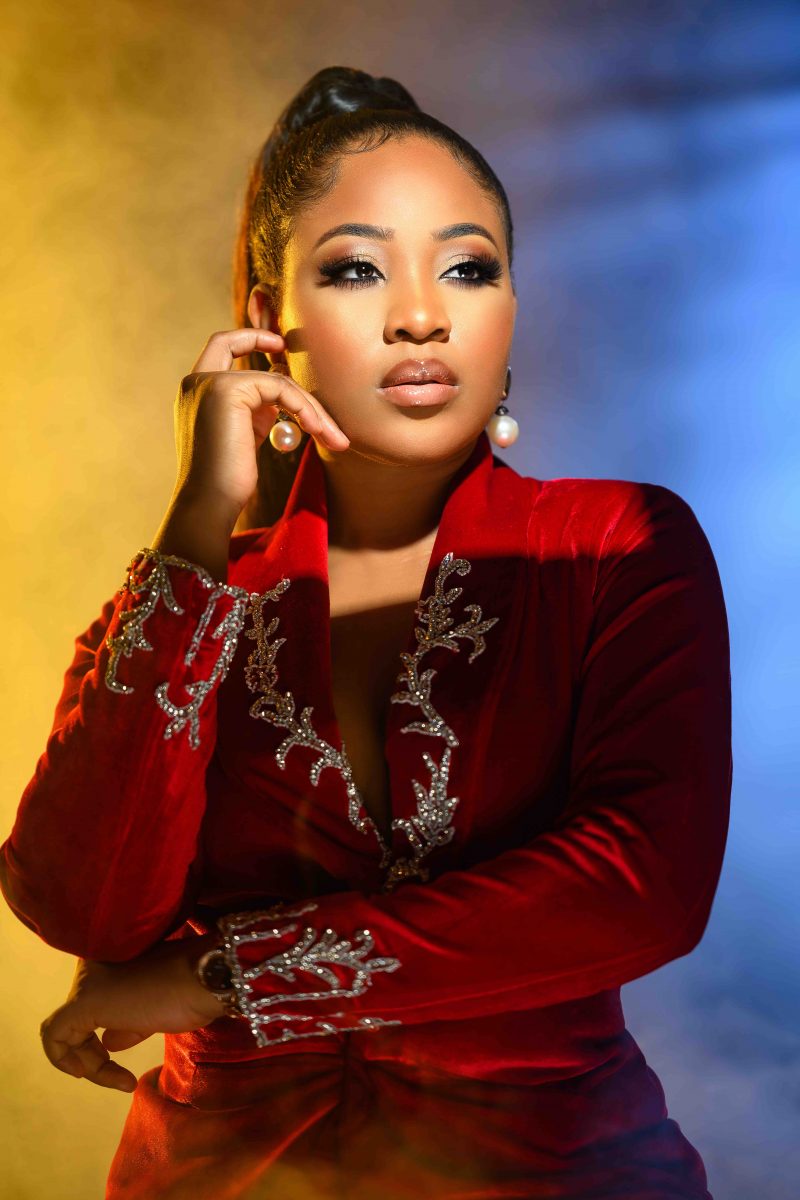 Again, you recently announced your upcoming reality show, "Inside Life With Erica" which is going to be the first of its kind on MTV Base. How did it come about and what should we expect?
My reality show came about from my fans asking for more than just social media posts and movies because they had grown so used to seeing my daily life in the BBN house and I agree that they should get a glimpse to understand me better and keep up with my journey as a star. Expect premium entertainment, expect more of me in every area of my life.
Who is your kind of man?
My kind of man is God-fearing, a real respecter of women, a genuinely kind man, a masculine man, a leader, romantic, handsome, a very intelligent man and a very successful man.
Would you date or marry a man you are richer than?
I would date and marry a man who's my type of man and my type of man is successful, even if I'm temporarily richer than him, l know he would become richer over time.
Who is the one actor in the world you will love to act with?
Halle Berry and Scarlet Johansson because they inspire me and I really admire them as actresses.
What fond and sad memories do you have from BBN and if another opportunity arose, will you go again?
I remember I used to imagine and try to guess what was happening on the outside, l also remember the times we used to cook and eat together, our games and I really loved winning tasks. I wouldn't go back because I would miss everything happening on the outside too much!
Maryam Ado Muhammad-Booth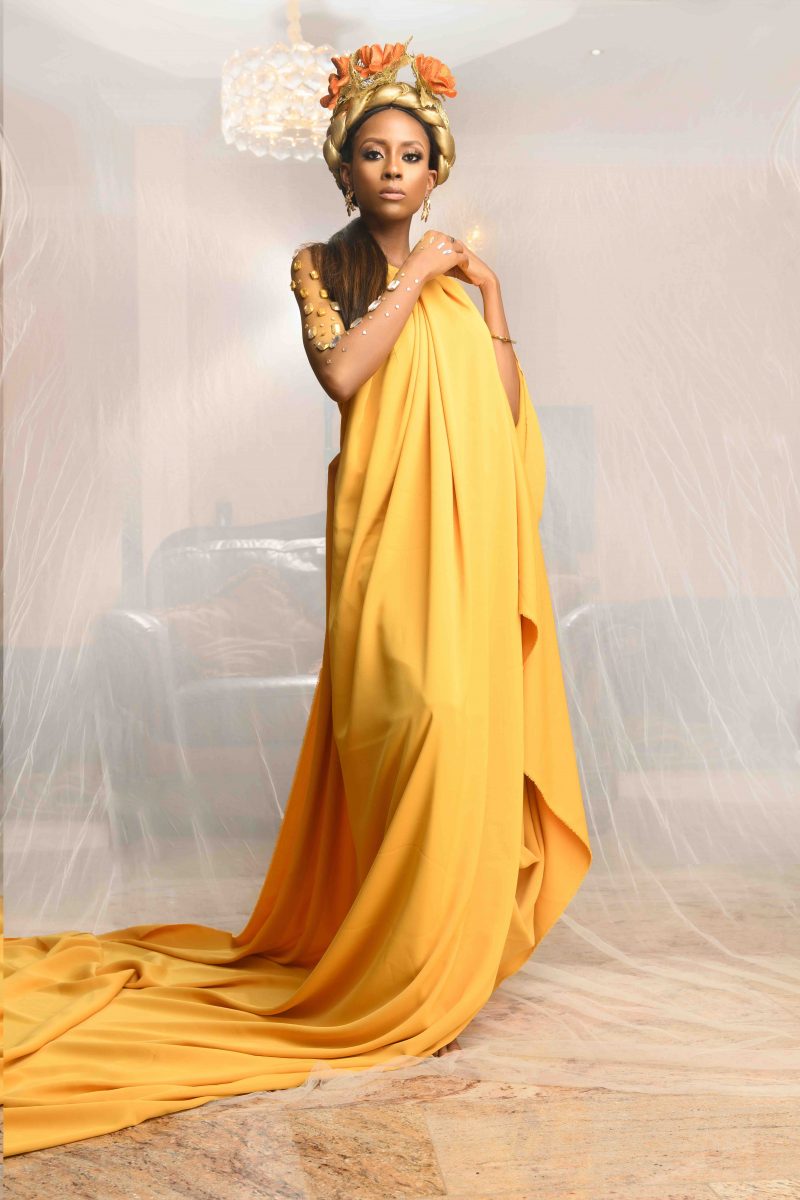 You came from a family of renowned actors as your mother, Zainab is a veteran Kannywood actor and your brother is also a successful actor. Would you mind your kids taking after you as well?
You have said it all, it runs in the family, so I wouldn't mind if my kids choose this line of work. I will try my best to be supportive as my mother was to me.
Have the three of you starred in the same film? If yes, how did it feel acting alongside your family?
Yes we have, and it was amazing, it was just like our day to day activities at home, so it felt very comfortable and relaxing.
What role is off limit for you being a Muslim and much so, coming from where Sheria law is pretty much in effect?
Any role that involves nudity is off limit and coming into intimate contact with the opposite sex is also off-limits.
If you had the opportunity to become the Governor of Kano State, what are the two laws you will like to change or implement immediately and why?
Though politics is not my strong field, one thing I am sure of and wish for is for the Kano state government to be more involved in the entertainment business in terms of sponsorship and financial assistance to meet the audience demand in our movies.
You have a Diploma in Mass Communication from Bayero University and further went to Mantissa College/Victoria University, Switzerland where you obtained another Diploma in Business Administration. Do you have plans to take some acting courses as well?
I did take some acting courses and I am willing to push further in terms of my acting career because it is what I love doing and intend to keep doing.
What has been your biggest challenge as an actor?
Criticism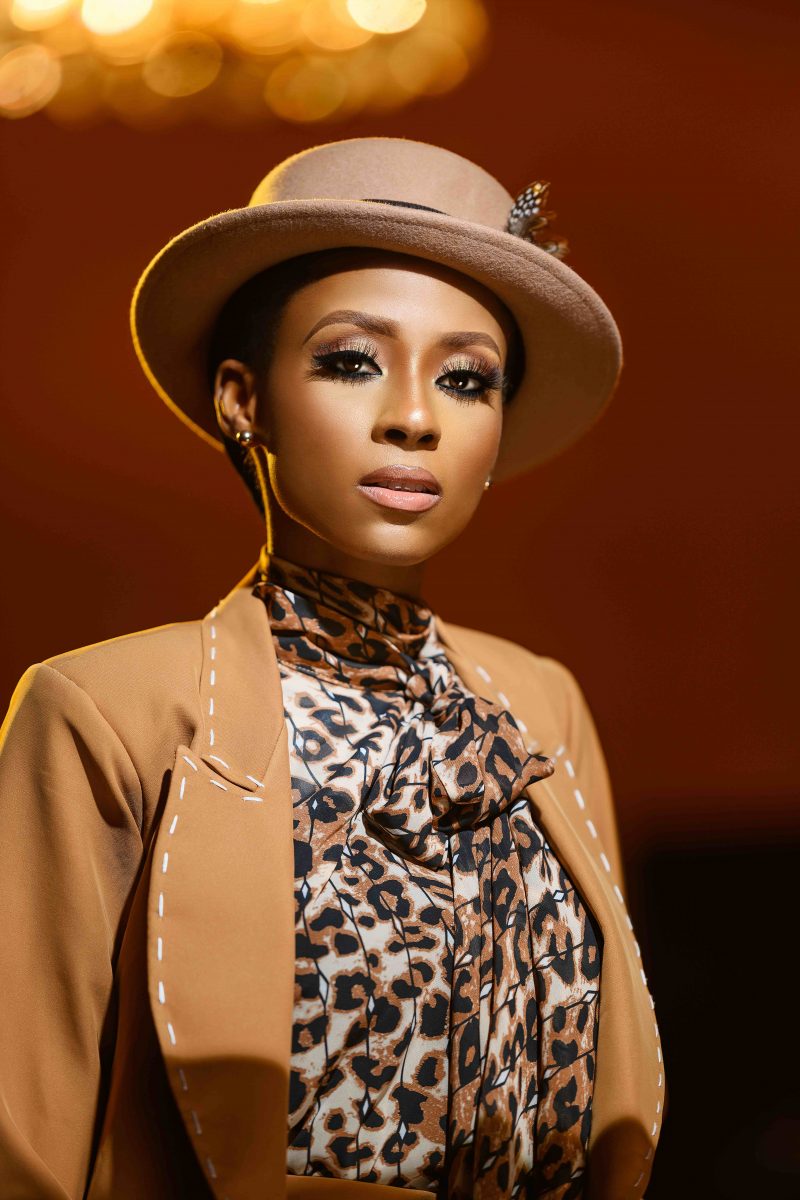 Being an influential person from the Northern part of the country, what's the one thing you wish Nigerians knew or understood better about the North, perhaps fuelled by misconception?
All I want is the whole world and Nigerians, to stop generalising the whole Northern Nigeria as a terror faction, we are indeed peaceful people.
Who is the one actor you wish to star in a movie with?
Tyler Perry. Growing up, I've always been a fan of his movies/lifestyle as a world-renowned producer, director, actor, screenwriter, playwright, author, songwriter, entrepreneur, and philanthropist. I see him as a role model and have the zeal to accomplish something similar to his achievement.
What effort are you making towards ensuring that the girl child is well educated in Northern Nigeria?
We as celebrities sometimes underrate the power and influence we have on our fans and followers. I have pushed through and try to achieve a lot in my life because I know a lot of young girls out there will love to follow in my footsteps. I will always encourage and support women education in the north in my little way. Education is powerful and every woman deserves to get such privilege.
Who is your kind of man and when are you looking at getting hitched?
Humble and trustworthy. And by the grace of God, when the time is right, it will definitely happen.
Ini Dima-Okojie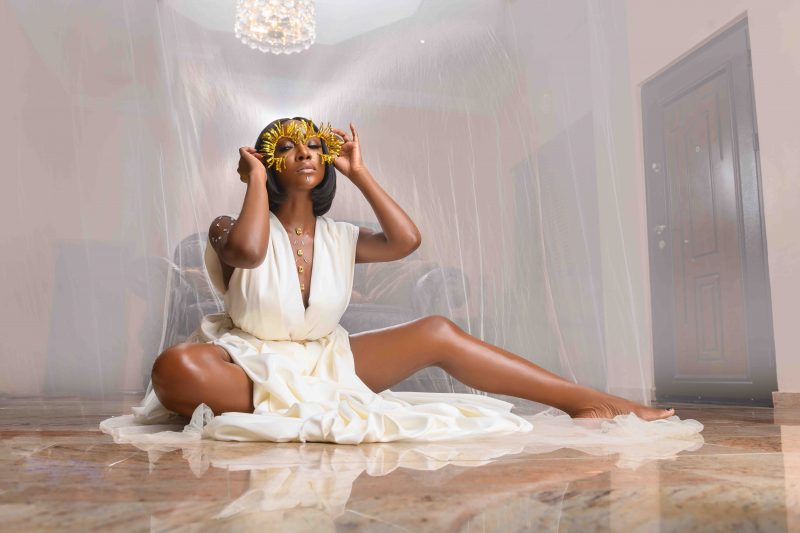 You are known for bringing different characters to life and we understand how demanding that is for creatives. Take us through the process of losing your identity to that of a character. 
When it comes to storytelling, I see myself as a vessel. I see it as my responsibility to immerse myself completely into the character physically, emotionally and mentally. It's no easy feat by any means, but this is what I have to do to truly give an honest and authentic performance.
The first thing I do is go over the entire script a couple of times. Then I break down the script and start my character development. I create a biography for my character. I try to understand things about this person beyond what is provided in the script. I think about every aspect of her life to the smallest detail. This part of my character development is very crucial because this is where she starts to come alive and become a real human being to me. I need to get to a point where I truly have the characters' memories and feel like I've lived that life. The next thing I do is analyze every single relationship that the character has in detail, parents, friends, the whole nine yards.
The most important thing for me is to understand WHY. Why the character thinks the way she does
Why she reacts the way she does and so on. Once I understand the WHY, Then I'm ready.
What's also captivating about you is how invested you are in your craft. You even spend your personal savings just to bring characters to life. We heard how you once had to hire a Yoruba tutor for a role and in another movie, North West, you did the same to learn Hausa just to ensure you give life to your character. Do you also take some acting courses?
For me, what I do doesn't feel like a job. It feels like a responsibility. It feels bigger than me. So it is very important to me that I do whatever I need to do to deliver my part. So whether it is getting a tutor, a fitness trainer, going off social media to get mentally and emotionally ready, l do what l need to do. These are some of the things I've done and will do more in a heartbeat to prepare myself for whatever the role demands of me. For courses, I've been to two different film schools for intensive courses and I am still very open to taking more in acting and directing.
I think that the importance of formal training can't be over-emphasized.
How has acting shaped your reality, any impact at all?
Acting has shaped my reality in so many ways.
It has expanded my wealth of knowledge. By taking on diverse characters that I have to research, I've learnt so many new things. Acting has also made me more empathetic. There is a rule in acting; 'never judge your character'. Playing different people from different perspectives has taught me not to be so quick to judge people especially when I'm not wearing the same shoes. Acting has also exposed me to so many life experiences that otherwise I probably wouldn't have experienced.
 Being one who likes diversity and challenging roles, which role would you consider off-limits?
While it's important for me to continue to take roles that push me out of my comfort zone, a role that will be off-limits is anything that completely crosses the boundaries for me mentally, emotionally or physically and makes me feel unsafe. It's not preconceived in my mind right now, I would only know when I see the material.
Your journey towards conquering fibroid did not only create more awareness but also started a conversation on how prevalent it is among women. Is there a misconception you wish people understood better about the condition?
Even though it was a vulnerable period in my life, it was very important for me to share my experience majorly for two reasons. One, I knew that there were a lot of women out there dealing with the same issue, and they would hopefully draw strength from it. Secondly, there is a stigma around having fibroids and this causes women with the condition to feel ashamed and stay silent. The biggest misconception is the assumption that having fibroids equates to being infertile. Fibroids is nothing to be ashamed of and is much more prevalent than we care to admit.
I hope to one day create a community that spreads more awareness about fibroids and also create a safe place for women who have or have had it, share and draw strength from each other.
Seeing how rich your thought process is, is directing films a path you would like to tread in the future?
I gave a bit of a hint earlier. Yes!! I would definitely love to direct one day. I feel like I have a point of view and I would love to share that with the world.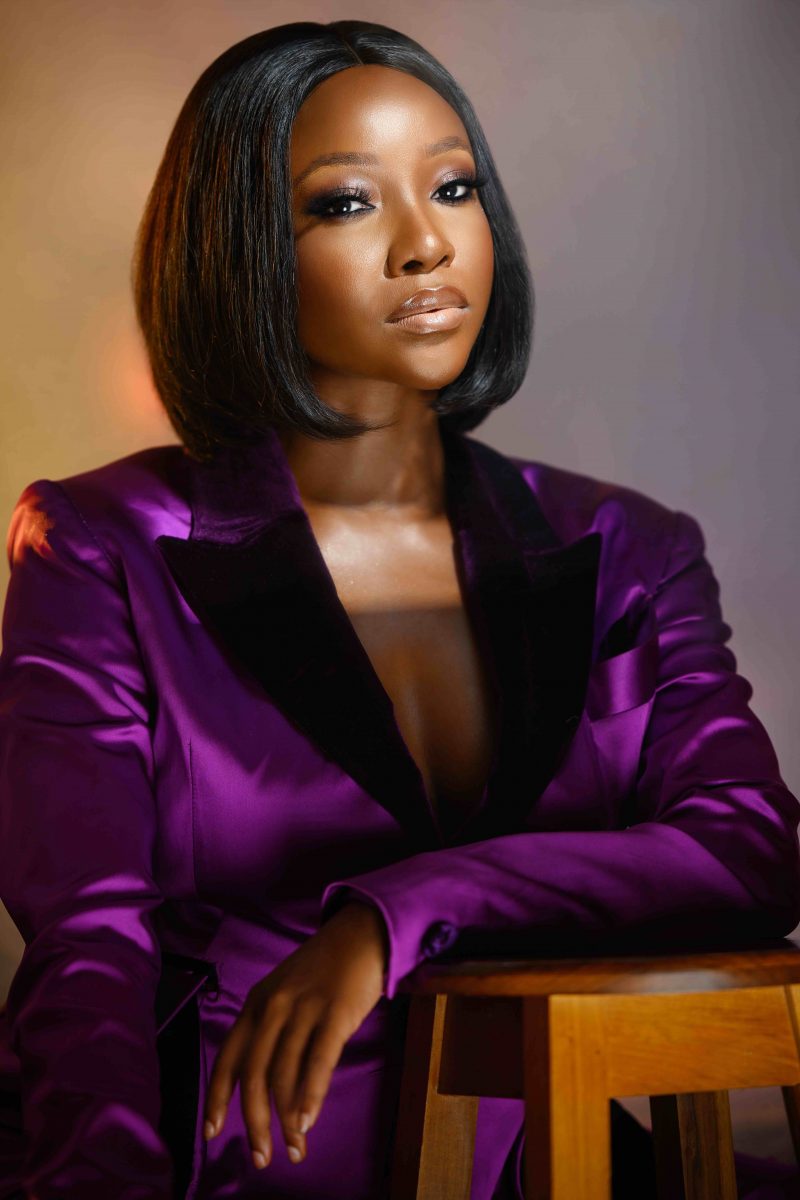 You are low profile when it comes to your relationships. Tell us what your kind of man is.
My kind of man is someone that shares similar values with me. Somebody that is kind, compassionate, ambitious and understands compromise. He must be all about me for sure (laughter) and most importantly, a man that has a heart for God.
Would you marry someone you are financially more stable than?
Marriage for me represents a partnership. I think the most important thing is finding someone who values building together.
What are your views about sexual abuse and domestic violence and if you were the Chief Judge of the Federation, what will be punishment meted to an offender?
I think sexual abuse and domestic violence are absolutely unacceptable, to say the least.
I don't think any woman or man should ever have to go through that. I hope for a society where systems are put in place for the victims of such violence to be able to speak up freely without being shamed or blamed. If I were the CJ of the Federation, I would ensure that the case is thoroughly investigated. That a safe environment is created for the victims to be properly listened to and the perpetrators are brought to justice to the full extent of the law.
Who is that one actor you dream to work with someday?
This is a long list. I don't think I can pick only one actor. But to name a few, I'll love to work with
Bimbo Akintola, Sam Dede, Meryl Streep, Charlize Theron, Danny Day-Lewis, Timothee Chalamet.
Bimbo Ademoye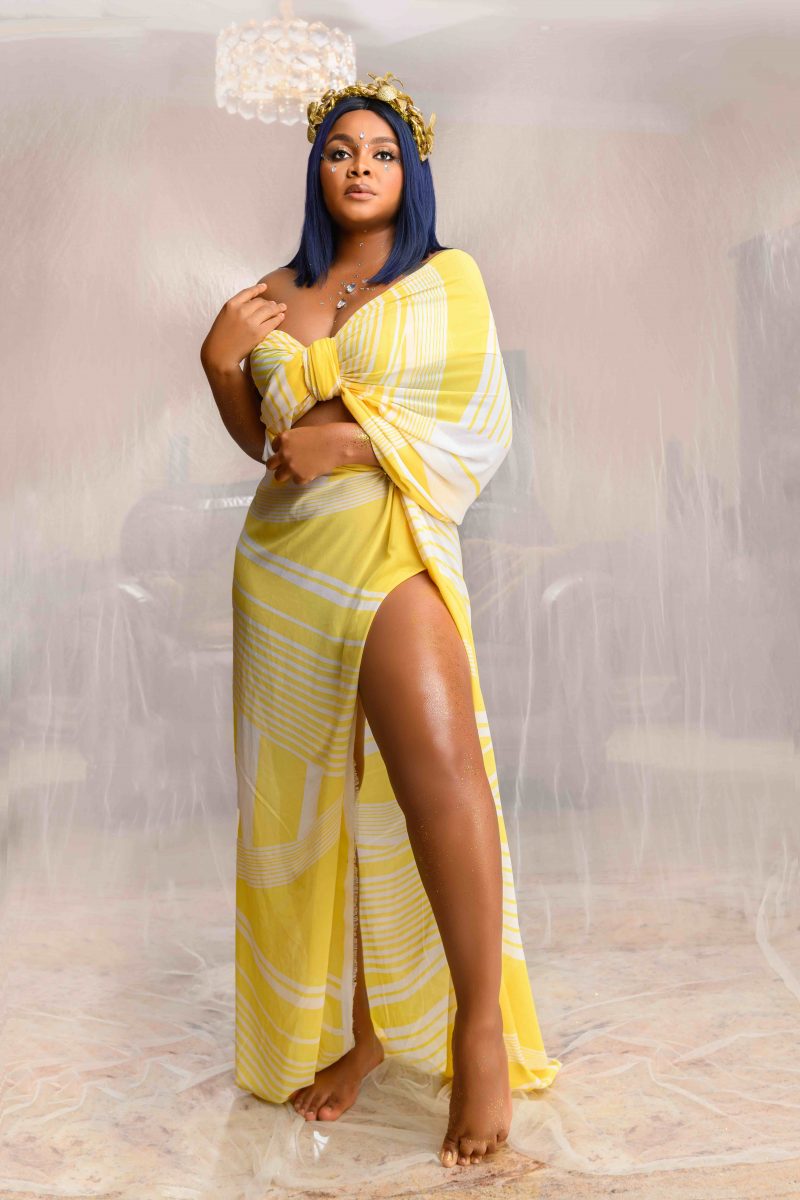 While female actors in Nollywood work so hard to write their names in the sands of time, unfortunately, most of their achievements are often, wrongly or rightly, linked to "sugar daddies". As one actress who never stops working, what do you feel about this tainted perception?
My work speaks for itself, so does my work ethics and I say this with all humility. I'm always on people's screen 5-6 times a week, which in itself, indicates, I'm ALWAYS working. So if people decide to attribute my success to sugar daddies, that's their issue to deal with, not mine to worry about.
If you had the opportunity to head the Actors Guild of Nigeria, what are the first two laws you would like to implement for the betterment of the industry?
The first would be to always pay upcoming actors or extras as the industry would call it. Most times, they get cheated or get paid next to nothing simply because the so-called producers think they're doing them a favour. The second would be to set donations aside for actor's well being in case of any future hazard. The rate at which those who we watched growing up and worshipped on our TV screen are dying simply because they couldn't afford a certain type of hospital bill is alarming.
What's your long term goal as an actor?
To always remain relevant and churn out good movies that would be seen and appreciated for as long as I can.
Netflix is now in Nigeria. How do you think we can get more actors and filmmakers to leverage the opportunity for the growth of the industry?
I was going to say no comment due to the greed of some Nigerians and knowing how they could most likely ruin chances, but I'd hope and pray that
we take this opportunity very seriously and put out beautiful contents that would further advertise Nollywood on the map.
With over twenty films under your sleeve, what role has been your most challenging so far?
 That would be my role in the most recent movie "Breaded Life" directed by Buodun Stephen. I played a woman from Badagry, so I had to learn the accent and some of their dialects. I was scared because I didn't want to offend the Egun tribe by not getting it right, but eventually, they said I did get it right. Hallelujah.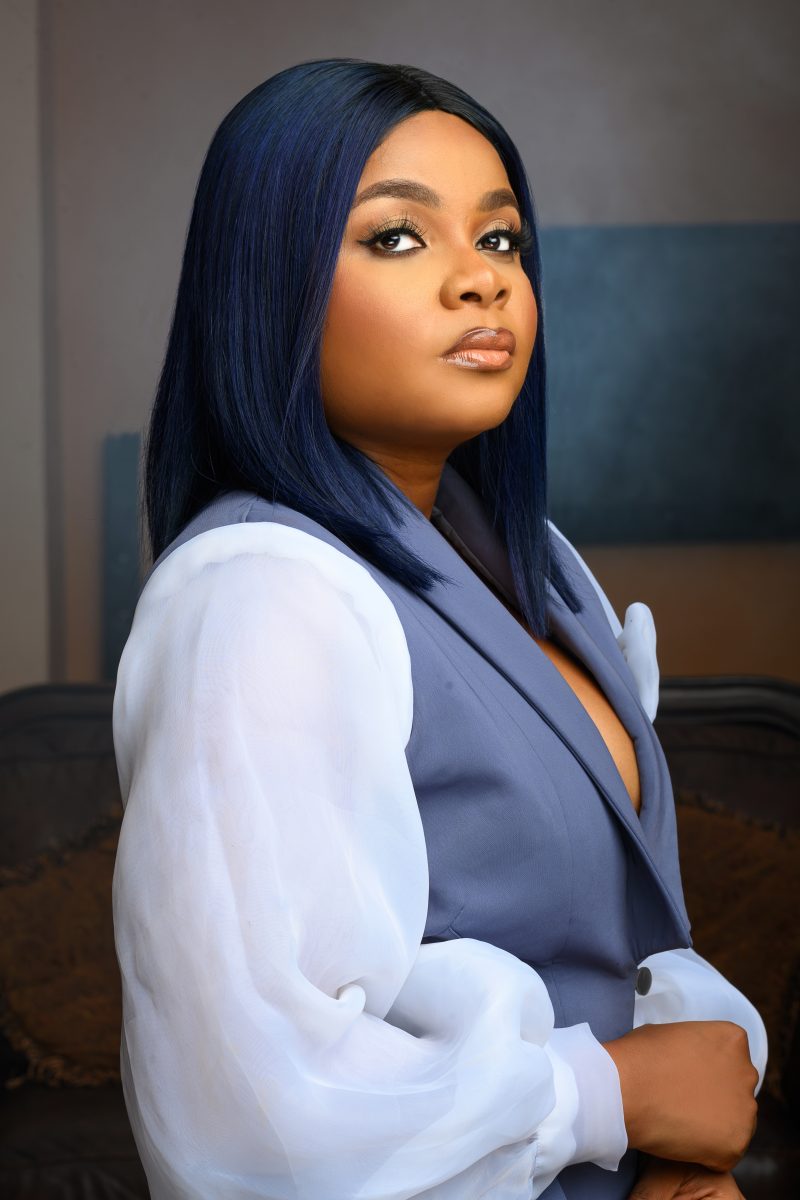 Who is your kind of man?
Someone who would love and respect me as I would him. FYI, I'm a hopeless romantic!
Would you marry a man you are richer than?
Absolutely, without thinking twice if he's everything I want.
Who is that one actor you dream to star in a film with someday?
Denzel Washington. Because he's Denzel Mr amazing Washington!
Any plans to go into directing sometime in the future? 
Maybe in the nearest future. But I'm definitely not in a rush.
How has interpreting different characters shaped your views about life?
In so many ways, it lets me see the lives people live from a different perspective. And I'm thankful to be able to live those lives for some days or even weeks. And I am still getting paid for it! (Laughter)
 Beverly Osu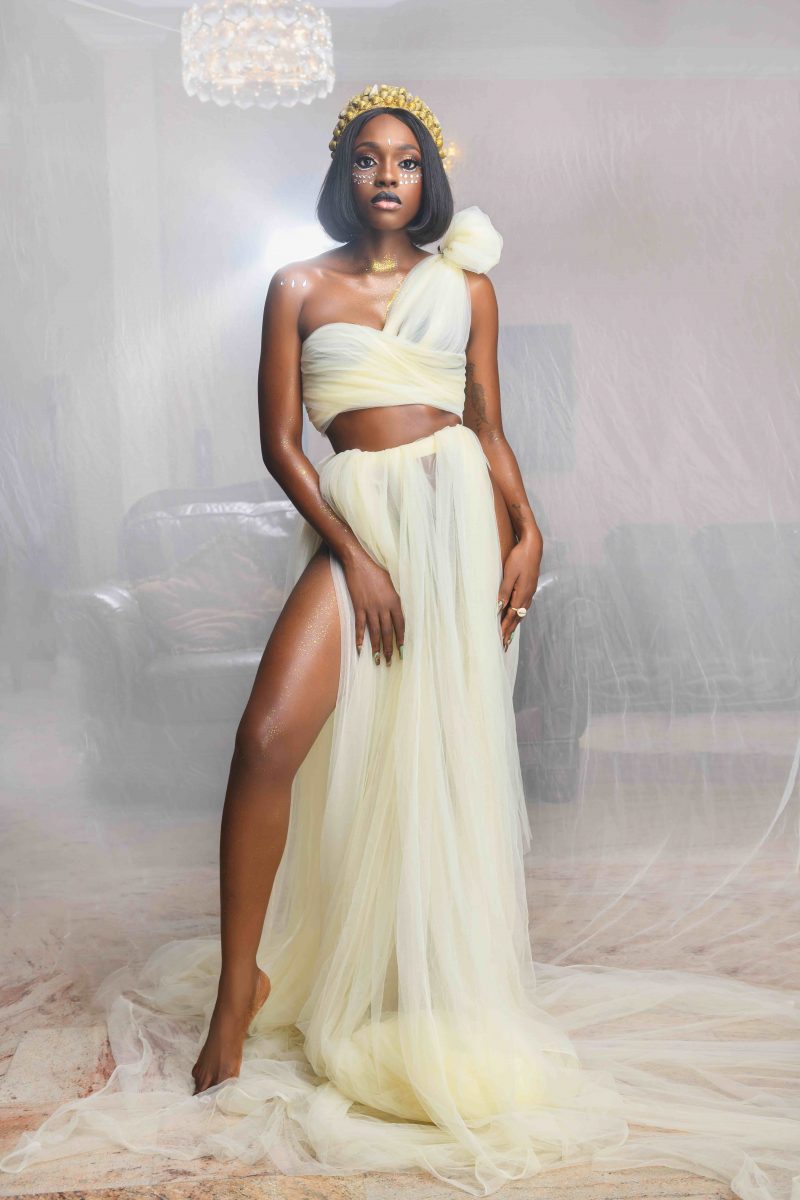 You've been on the screen for over a decade now and you've had your ups and downs as an actress and a model. As a professional actress if you ever get offered a huge amount of money to go nude in a movie will you oblige?
Nollywood is currently gentrifying and I have always put reality over vanity in my craft delivery. This goes beyond just being offered a huge amount of money. There are different factors to consider before accepting any role in general. I'll love to feel a sense of meaning and purpose.
You were once a housemate in Big Brother, what fond and sad memories do you have of those days and if another opportunity emerges will you go again? 
Now I look back to eight years ago, "2013" was a good discovery curve for me, being in the BBA HOUSE, meeting and learning from other Africans about the vast cultures and similarities we Africans share, made me fall deeply in love with Africa. My only sad memories were how badly Nigerians treated me but like I said, I learn from everything. Even if it took a toll on me, it made me discover my strengths and the love from other African countries, it's expanded my mindset and my vision beyond the African continent. If I have to go back for BBA, I will do it over and over again because right now, I'm the sweetest version of who I was eight years ago. A BBA HOLIDAY won't be bad. Maybe this time around, I will experience what it feels like to be up for eviction.
What has been the most rewarding part of being an actor for you?
The best part of being an actor is that I get to earn a living doing what I've always known I was meant to do. I enjoy the collaborative experience of everyone in the cast, crew, and production team working towards a common goal. There's something magical about it that never gets old for me, I feel like I'm part of a functional creative machine. I enjoy my craft. It's almost an out-of-body experience in which I'm completely taken over by a character, releasing all self-control and becoming a vessel. I get to see a little of what it's like to be someone else, someone who responds to things differently than I would myself, someone who finds themselves in a situation in which I may never find myself. I'm in it for a lifetime, with no retirement plans. It keeps getting better.
What do you think is lacking in Nollywood and how can we address it?
Nollywood has progressed beautifully over the years. I am proud of the evolution being televised and documented. In the movie making business, a lot of Nollywood actors are stereotyped. We have filmmakers who decide who you're or how marketable you are forgetting that we actors are vessels and to interpret a character, we ought to be fluid if not what's the point? Your character should be enjoyed, explored and devised.
We can't be enslaved in the craft that projects freedom.
If you had the opportunity to be Nigeria's first female President, what are the two laws you would love to implement immediately?
Firstly, if I may say this, would be that Nigeria is moving in the right step as a nation, trusting a woman to run and be elected. The first law will be to undo any law that pushes the patriarchal underlining laws that limit women and subject them to be subpar to men, such laws as freedom of choice in regards to pregnancy etc. The second law would be to let everyone who is born of a place feel connected to it regardless of your tribe, running for office etc. I don't see different tribes, I see One Nigeria.
Also if I may add, can we bring back studying the proper history of our great nation, not to dwell on what has transpired but to know your past, because the past explains to me how I got here but the future is up to me.
Would you consider going behind the scenes sometime in the future, say directing?
It's inevitable. I'm part of a Creativity system. I'm a storyteller. I do this already in other artistic areas of my life. So it's only a matter of time.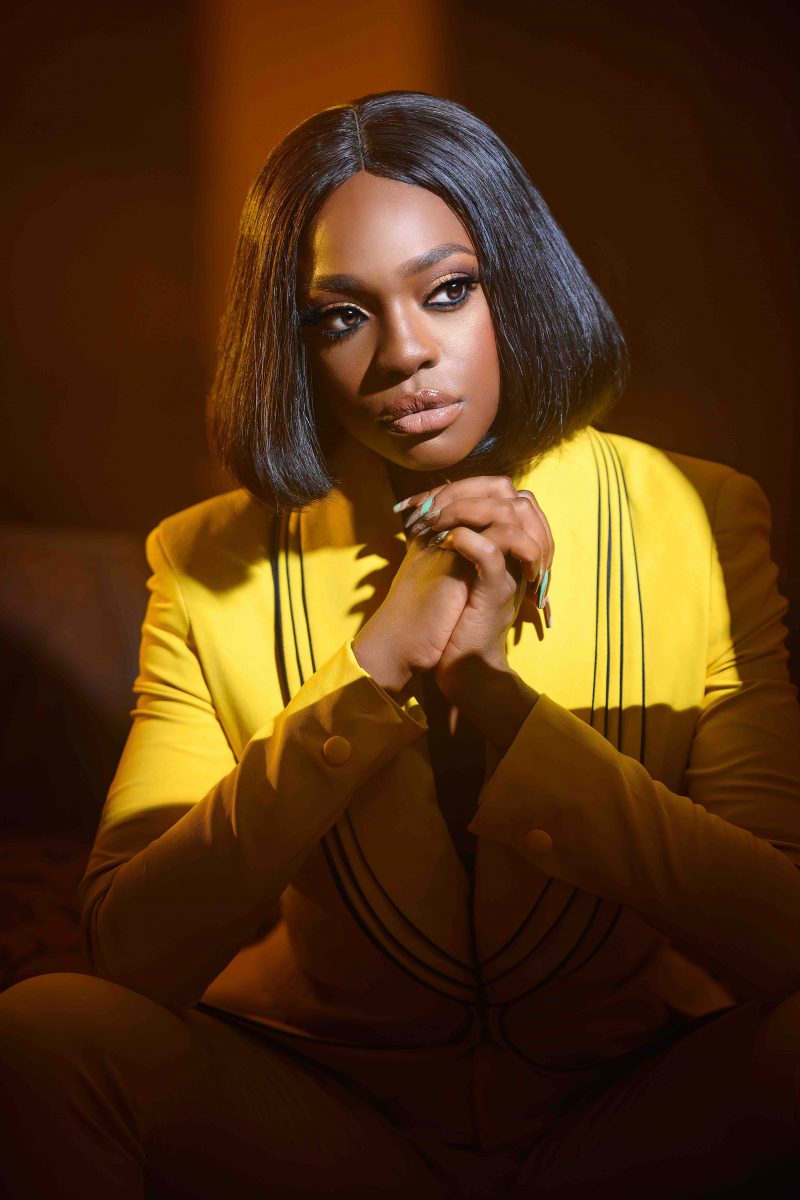 Who is that one actor in the world you dream to star in a film with?
I have a long list of actors I will love to work with and I keep ticking out and adding over time. The likes of Halle Berry, Taraji, Teyana Taylor, Will Smith. I can go on and on. Viola Davis is one brilliant actor I would love to work with, not only because of the way she inhabits her roles but also a whole lot of fans point out our similarities and honestly it would be an honour in my lifetime.
What's your vision as an actor?
My Vision is limitless, As an actor, I want to explore my being to its fullest potential, it is still a fight every single day. I don't live for the applause. I live for my soul's fulfilment, improving my productivity and feeling a sense of fulfilment.
Who is your kind of man?
A man that can stand with my brothers and won't feel intimidated (Laughter…being the only girl).
My kind of man is a man that knows God, not in the sense that he has to be a prayer warrior or bible thumper but someone who loves God because that's the only way you'll love yourself and when you love yourself, you will love me just as much if not more.
I can't give out too much information on this because I don't want a man to fake it like he is the one for me. I have to be careful these days because Manipulation can also feel like love. I am done with the deceit.
Body enhancement and Liposuction are trending now. What's your take on it and would you undergo it yourself?
If you want it, get it. Get that mummy makeover ladies! Personally, I don't need it.
Linda Osifo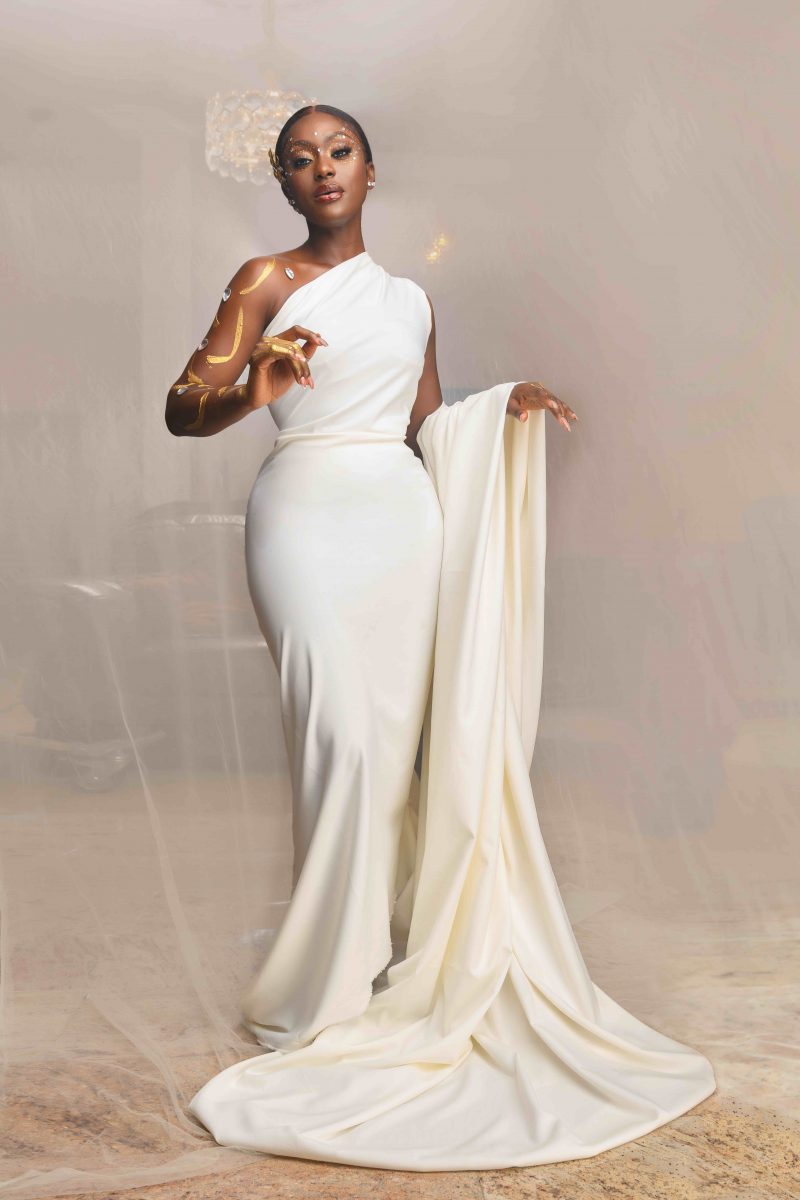 You've been acting for a while now, what would you say has been the most rewarding aspect of being an actor for you?
I got into acting professionally when I decided to relocate to Nigeria from Canada in 2013. At first, there wasn't anything I could possibly see or sense out that felt rewarding from such a decision at that time. But as time passed, and as I grew in my career, I gradually started to see the most rewarding aspect of my profession which is the influence and the impact I've had on many individuals who are aspiring to be just like me or take a similar path like I did.
You recently made your video vixen debut in one of 2Baba's much talked about music video, "Target You". Are you looking forward to making more music video appearances?
Firstly, it was such an honour working with the legendary Tuface Idibia aka 2Baba. I was in the studio with my friend Annie Idibia when I first heard the song in 2019 while it was still being produced.
Immediately I heard it, I grew a strong attachment with the lyrics and I said humorously, "This will be my favourite song in the album whenever it comes out". Fast forward to 2020, the album 'Warriors' came out and I was so excited to go find my favourite song "Target You". I played it non-stop! I received a call middle of that year from 2Baba and his team for me to be the lead female in the music video that they couldn't think of anyone else who loved and fit the song more than I did. It was definitely a memorable one for me, I would never forget it.
I'm looking forward to making more memorable music video appearances.
Your LAO Foundation aims to eradicate poverty and illiteracy in Nigeria. Tell us about your activities and the steps the Foundation is taking towards realizing its goal.
The Love and Oneness (LAO) foundation was found in 2018. We aim to eradicate poverty and illiteracy within Nigeria. In 2020, the foundation provided multiple desktops installed with various E-learning activities and data in the homes of boys orphanage. We believe that if these children have learning activities that stimulate their brain cells, it's one step closer to what we want to achieve. In various orphanages, we also do monthly donation supplies of raw foods such as rice, beans, cassava flakes, vegetable oil, noodles and more. The main goal is a very long term one. It is to expand our outreach and have more of these initiatives taking places annually in multiple orphanages across Nigeria. And to expand the awareness of the foundation to receive more support and assistance as we progress.
In your opinion, how can young filmmakers in Nigeria leverage the existence of Netflix to boost the economy, create more jobs as well as earn a decent living?
For me, it's all about my skill set. The best leverage one can have is the ability to create on a level that appeals to global audiences, exactly like Netflix does. If they have the required skill and they play at the required level, they can receive adequate investment in their art, which in return, translates to investment in the entertainment sector which provides jobs and can boost the economy.
What's that one movie you don't get tired of watching?
Love & Basketball. It's a Hollywood romantic sports film produced by Spike Lee. I first watched it when I was a teen and I still do. I loved everything in the film. I guess also because I'm a sucker for love and it reminds me so much of when I used to play basketball and sports in high school. It's definitely one of the films that inspired me into acting.
Do you think Nigeria can have a female President just like other African countries given our male-dominated political scene and how do you think we can get more women to participate in politics?
We live in a world where change is constant. I do believe Nigeria can have a female President maybe in the future. It is a democratic nation after all and equal rights should be given to both genders that fit the position by merit.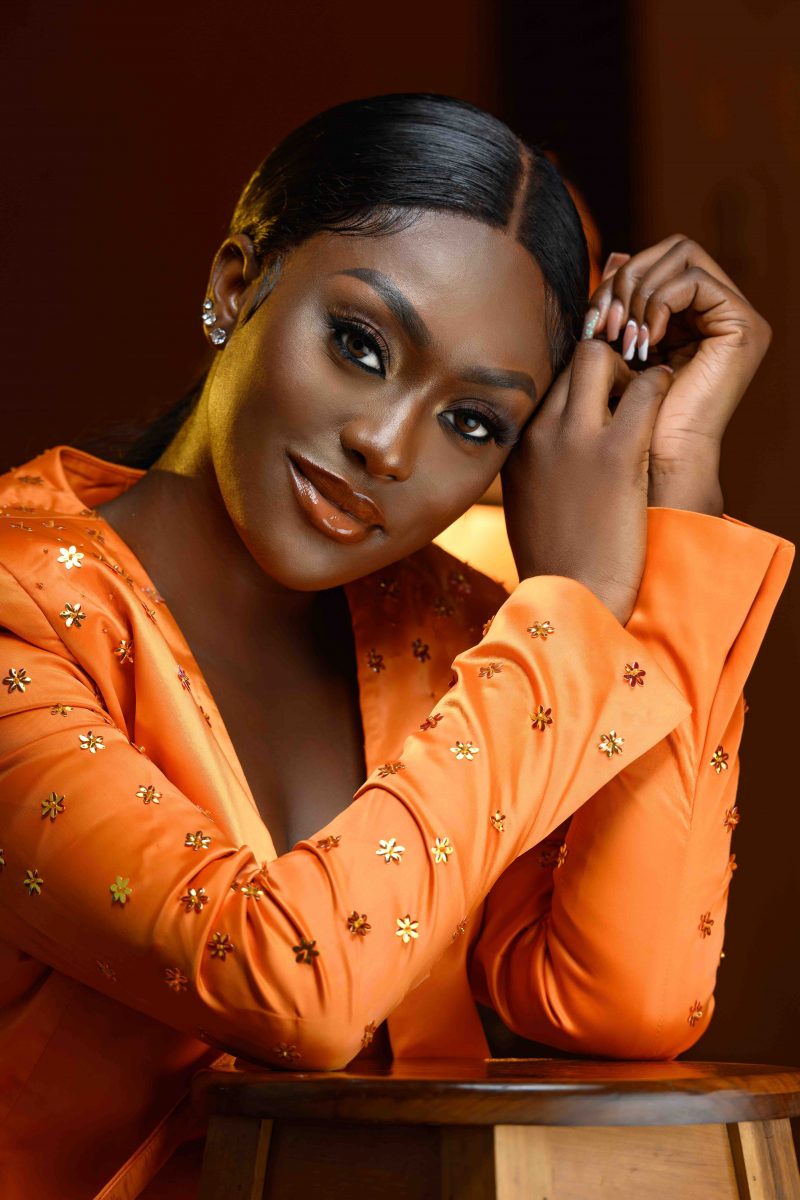 Tell us about your role in the much-anticipated film, "Devil in Agabada" by Chineylove Eze and what we should be expecting?
My role in 'Devil in Agabada' is truly one that I'm personally looking forward to. The reason so is because I got the call for the role at the last minute. I quickly read the story biography and script. And I was electrified with how different the script and the story was. My character role and the story was slightly challenging but I was ready to take on such a challenge.
She has a military background in fighting, so I had to get some professional stunt training in fighting. You will see me performing one or two cool stunts in the film. I'm also looking forward to that. What I want the viewers to expect is something different and unique from what they would expect me and others to bring out.
Who is your kind of man and would marry a man you are richer than?
If I were to get my real kind of man, I would have to mould him myself out from clay (laughter). My kind of man must be mature in reasoning, and understanding. God-loving and most importantly, supportive of my career choices. In the chance where I become a billionaire tomorrow, I could marry a man that I'm richer than. (Smile)
Which is more challenging for you, getting into character or getting your lines?
I would say both correlate with each other. When an actor gets and understands a character, the lines become effortless, you don't think about it too much. When an actor also gets the lines, it becomes effortless to bring the emotions of the character to life. So I need to have a balance.
Who is the one actor you dream about working with someday?
One of my favourites, Denzel Washington. Mr Washington is such a phenomenal actor. He makes acting look so natural and seamless.