Glamour, Neutral Colours, and Pearls. These best describe 2023's Met Gala. This year's exhibition, "Karl Lagerfeld: A Line of Beauty," celebrated the works of popular fashion designer Karl Lagerfeld, who contributed to the success of global fashion brands such as Chanel, Chloé, Fendi, and Balmain. Therefore, attendees were expected to wear outfits that paid homage to either the designer or his designs. 
Compared to previous editions of the Met Gala, this year's theme, although great, seemed pretty straightforward, generating several discussions online on how it would limit fashion designers, especially as Lagerfeld had a signature style and most of the collections he created featured pearls, bows, and tweeds. However, trust designers such as Versace, Thom Browne, and Valentino to provide a modern interpretation that takes the definition of the avant-garde to a whole new level. 
Whether it was Jeremey Pope's long cape to our very own superstars, Tems and Burna Boy, who made their Met Gala debut dressed in incredible outfits, the red carpet offered us dramatic style served on a glamorous platter.  
Here are the top five trends we spotted:
Floral Power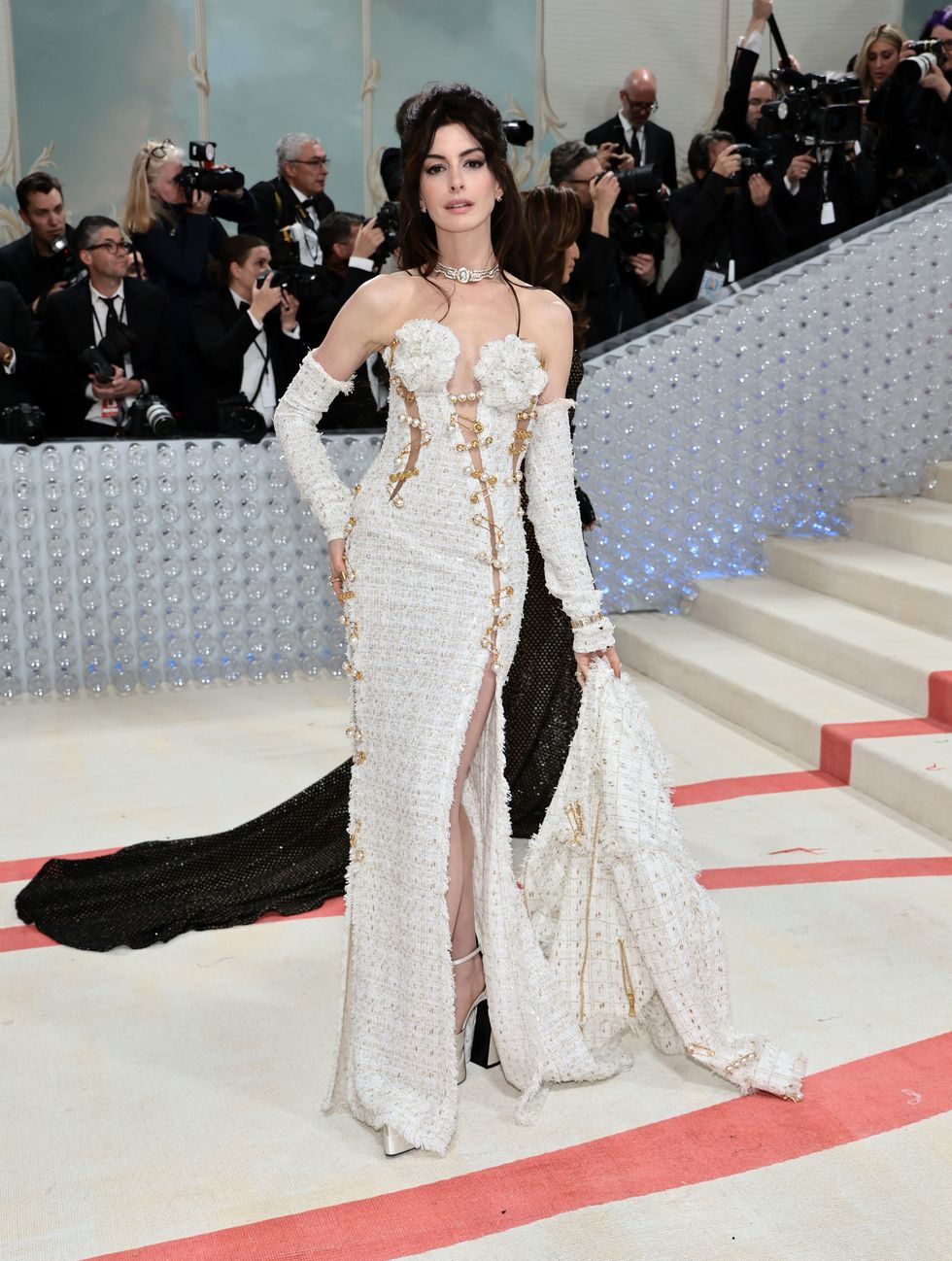 Several celebrities went down the route of paying homage to the femininity and beauty associated with Chanel via the camellia flower. The flower's design was a noticeable feature on the outfits of a few attendees, be it Rihanna's corsage-emblazoned Valentino cape or Bad Bunny's playful Jacquemus cape. And don't get us started on the two camellia-shaped flowers that hung on the bust of Anne Hathaway's Versace white tweed cut-out gown.
Cape fever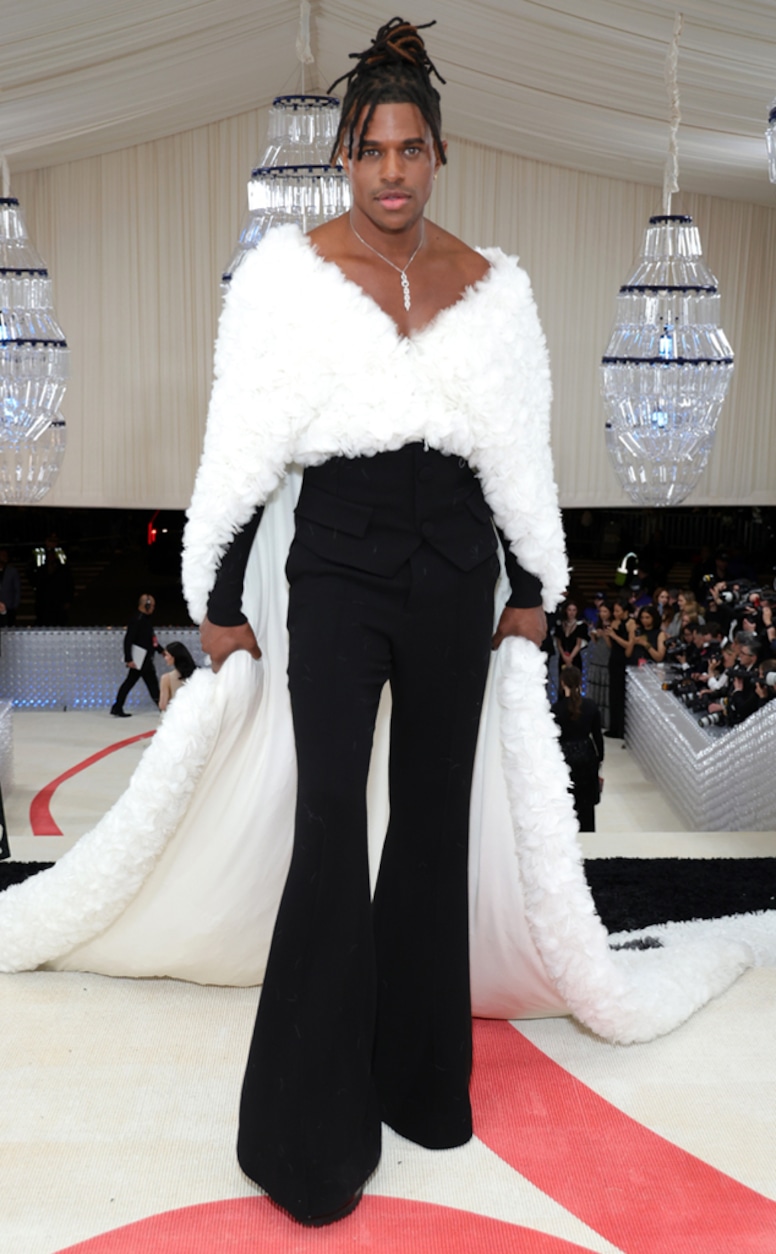 This trend had Jeremy Pope written all over it, as the actor turned heads in Balmain-designed pants and a top that had a long cape with a picture of Karl Lagerfeld on it. As a way of deviating from the norm of a cape on the back, model Kendal Jenner wore a casual Marc Jacobs body suit with long sleeves.
Multiverse of Karls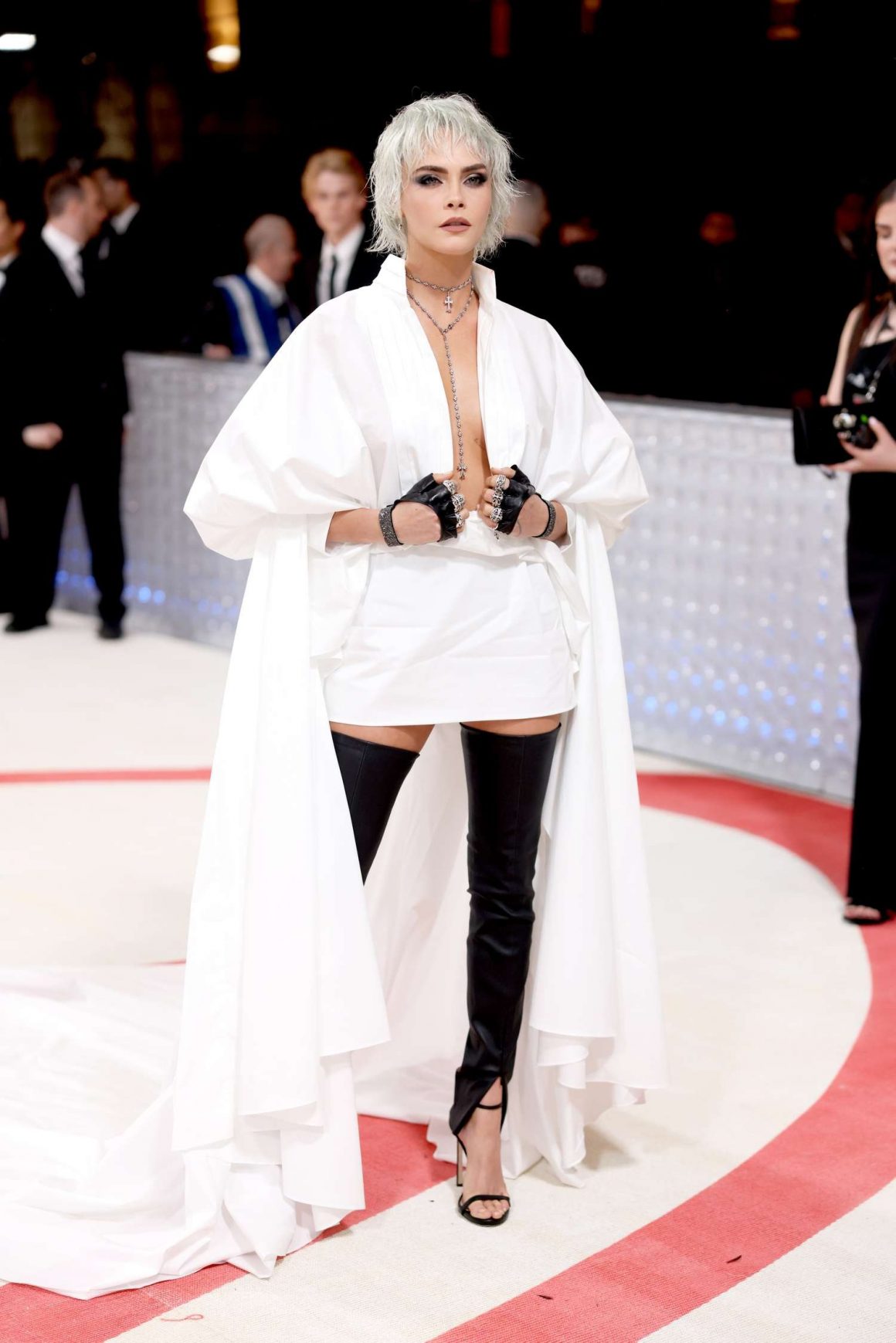 What better way to celebrate a fashion icon than to be him—at least in appearance? Model Cara Delevingne definitely channelled her inner Karl as she posed for the cameras. Her ensemble featured an oversized white shirt and grey wig, both a nod to Karl's hair and signature style of white shirts. Teyana Taylor also gave us a Karl moment as she sported a large pair of sunglasses, a blazer-skirt cut-out dress, and a black tie. 
Dear Choupette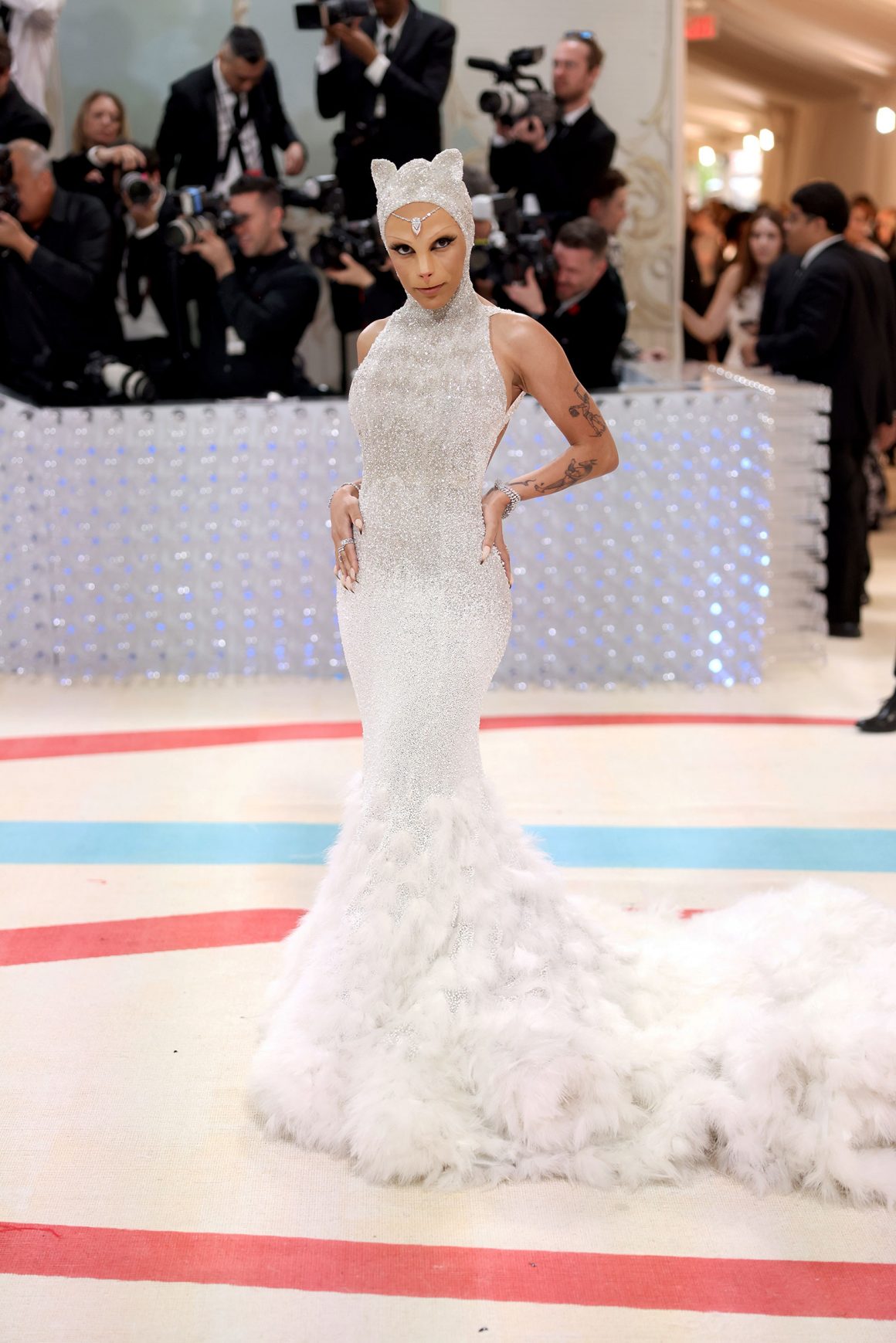 A few celebrities steered the theme in an interesting animalistic direction. Rather than go down the cliché route of dressing like Karl, Jared Leto wore a life-sized costume of the cat, and rapper Doja Cat went with a full cat prosthetic face and a silver fitted gown. When Karl was still alive, he had a pet cat named Choupette, whom he loved and adored. 
A Night of Pearls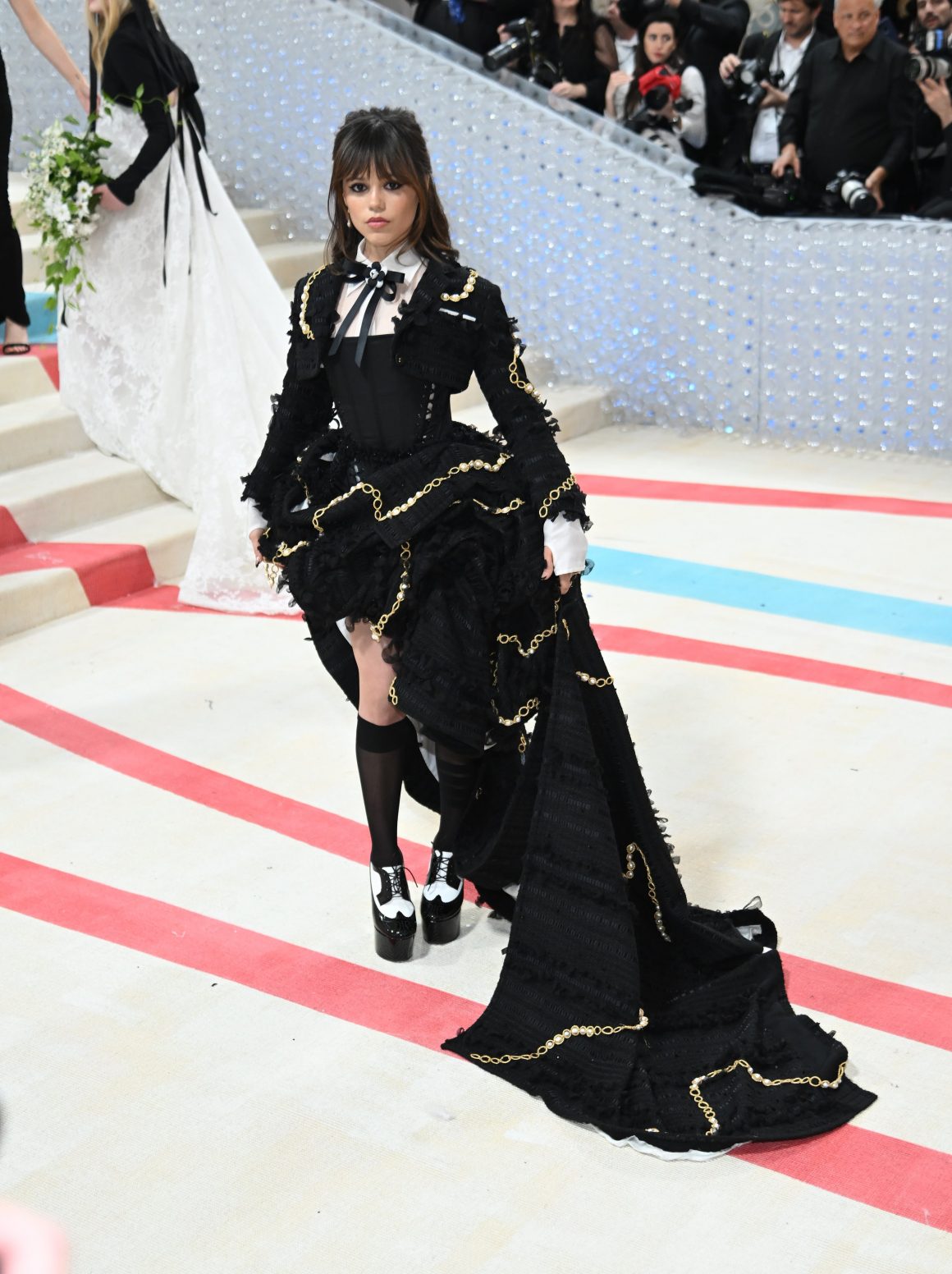 One thing that comes to mind when we think of Chanel is the luxurious pearl necklaces that have become a staple in the fashion brand's collection. Attendees, including the men, found a way to incorporate pearls into their outfits. Jenna Ortega, Conan Grey, Cardi B, Ava Max, Lizzo, and Serena Williams are a few celebrities who championed this trend.