Finally! The much anticipated 'Shanty Town' has graced our screens, and we are so grateful for it! Written by Xavier Ighorodje, produced by Ini Edo and directed by Dimeji Ajibola, the six-part mini-series debuted on Netflix on the 20th of January and its all-movie enthusiasts have been talking about since then!
'Shanty Town' follows the journey of a young woman deciding to 'get down with the dogs' in her quest for revenge and justice after she was torn away from her family when unknown gunmen invaded her village. While this is the central plot, so many other interesting characters, plots, and twists are inculcated into the series, making it even more exciting.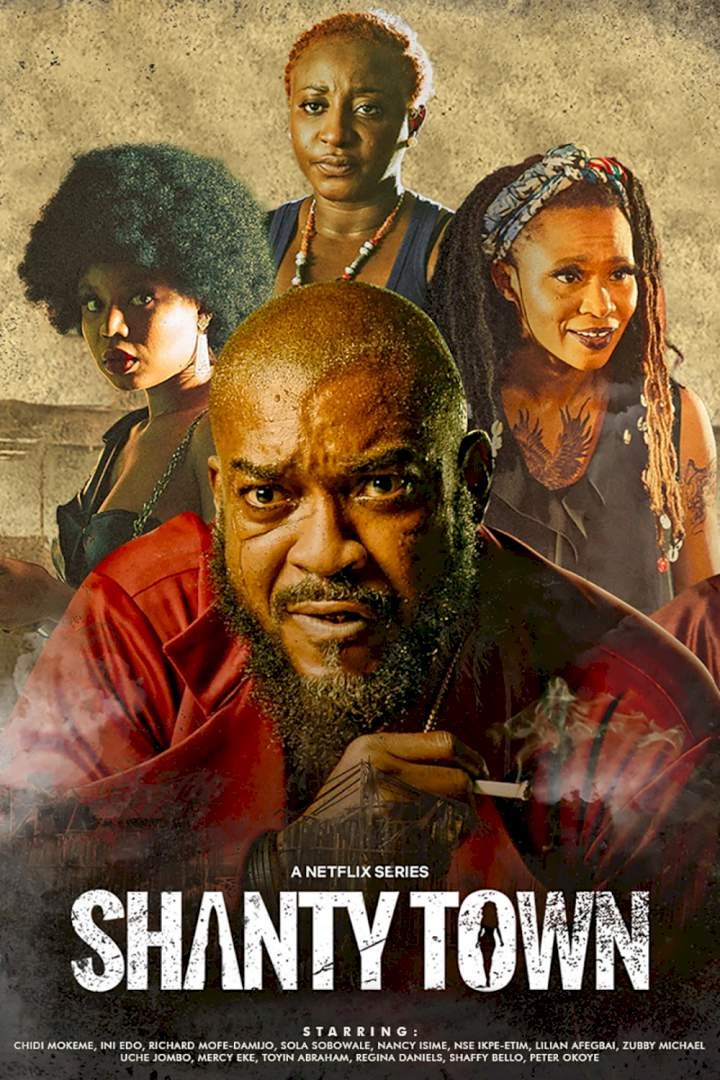 This action and suspense-packed sequence present a mashup of storylines (cliché for Hollywood, relatively daring for Nollywood), a firm plot, strong characters and impressive dialogues.
The movie saw renowned actor, Chidi Mokeme back in his full element, reminding us why we first fell in love with him. Ini Edo also made a major comeback and was simply phenomenal in her role. The stunning actress has remained present but not quite active. It was nice to see her give a mind-blowing performance in this series. Other note-worthy actors include Nse Ikpe-Etim, Richard Mofe-Damijo, Shaffy Bello, Nancy Isime, Sola Sobowale, Ali Nuhu, and many others. Aside from the cast line-up being very attractive, it is even more pleasing to us that these actors brought their all to their roles!
The fight scenes were impressive, worth replaying, and definitely one of the best we've seen in any Nollywood movie! Big ups to the trainers and stunt coordinators. Also, Ini, with the martial kicks and moves, was a delight, something we were lucky to experience multiple times. It is obvious a lot of work went into it.
The cinematography was also impressive, creative and detailed. The language switch, Ibibio, English, Pidgin, Yoruba and Igbo, was perfect, possibly one of the most diverse and the best use of languages in any Nigerian series. It was simply rich and refreshing to hear. The special effects were another high point; detailed, accurate and realistic. While we're at it, we also want to gush at Nse's makeup; it was simply stunning and very befitting!
Of course, no movie can be perfect, and this being no exception, we had a couple of minor dampeners here and there.
First, most of the sound effects/ADR (automated dialogue replacement) needed to be more accurate, especially in the fight scenes. Many times, the audio reaction of the actors during their fights were either not in tune with the video or obviously didn't belong to the actors on set, while some were simply a little inappropriate and didn't serve the purpose.
Secondly, grammatical blunders occurred one too many times amongst the actors and were annoyingly obvious especially because a lot of them were pronounced. Surely between the director and assistants, editors and assistants, and producers, someone ought to have noticed at least some of the errors and drawn attention to them. Then again, maybe they were too excited by all of the ongoing action and fine acting to care. Still, it's excusable if it happens once or twice but not multiple times throughout the movie! It would have been better to either reshoot the scene or, better still, engage ADR.
Thirdly, while we loved the fight scenes, a number of them dragged on for too long. It was almost like the director/producer just wanted to show off the work they put into training which we appreciate, but c'mon, move it along already; other things are happening elsewhere!
Lastly, 'Oh, the nudity!' We understand the message and how you would think it is necessary for realism, but keep it down, people! We don't want NBC breathing down our necks and threatening to ban Netflix.
If 'Shanty Town' makes it into the selection of movies for this year's African Movie Awards, it will be a really tough competition. If you are yet to see it, we highly recommend you do; there's something to keep you glued at the end of each episode, also from the looks of it, we might be getting a second season!