Mother, lawyer, author, literacy advocate, philanthropist, lifestyle expert and food maven; these are just a few of the many roles Helen Prest-Ajayi fulfils in her life.
Gaining widespread recognition after securing the prestigious Miss Nigeria crown in 1979, she later pursued higher education at King's College London and successfully attained a master's degree in law. Following a successful 20-year career as a lawyer, Helen decided to temporarily step back from her professional life to dedicate herself to raising her three daughters. It was during this time that she became aware of the challenges African children encounter when learning English. With unwavering dedication, she has become a prominent advocate for English literacy, recognising its importance as a tool for empowerment and social change. Through her various initiatives and programmes, Helen Prest-Ajayi has tirelessly worked towards bridging the language gap and equipping children with the necessary skills to succeed in today's globalised world. Beyond this, she is actively involved in charitable work and advocates for social causes that she deeply cares about.
During this open and honest interview, Helen discusses various aspects of her life, including her recently launched English literacy program – SmartStart – and reminisces about cherished moments with her late husband, Dr. Tosin Ajayi.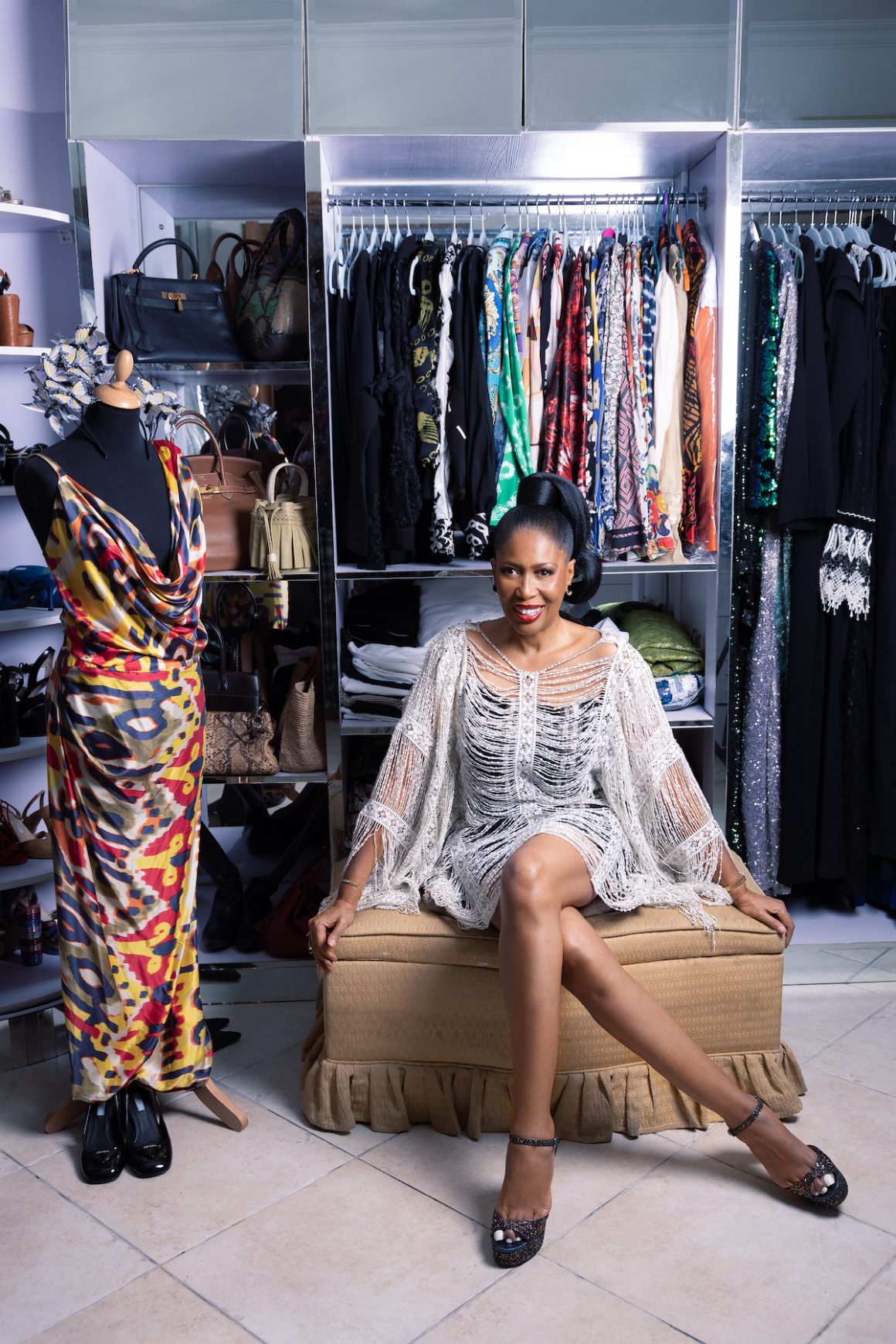 It's been 44 years since you won the Miss Nigeria Pageant. Given the time, why do you think people still want to know and ask you questions about that moment?
Honestly, I can't say I really know the answer to that question. I will say, however, that somehow, I think my winning must have touched on some national yearning. Nigeria had just changed to Democracy after many years of military rule. It was a new dawn for the country, and winning Miss Nigeria coincided with that vibrancy of hope. I was also a very different kind of Miss Nigeria, a law student and somebody for whom the pageant didn't mean that much. It was just a bit of fun for me, done in the spur of the moment. You also have to remember that at the time, Miss Nigeria was run by the Daily Times of Nigeria, a Government-owned newspaper, so it had a lot of clout. So, you can imagine a time when there was no social media and the biggest media in the country was running incessant articles about you. They wrote about everything I did, even when I graduated from Law school; it made the front page with a huge picture of me in my wig and gown, clutching my certificate. I was a celebrity supported by the biggest media organisation in Nigeria when people didn't really know the meaning of a modern celebrity. A modern celebrity is famous for just being. I was the first of that type in Nigeria. Now you see it everywhere. They are called influencers … and why are they famous? They have a personality, or should I say a persona, that captures the imagination. They have what you call the X factor, an unexplainable quality; people can't take their eyes off them.
Yes, but that was 44 years ago; celebrities come and go. Why do you think you have remained socially relevant 'till today?
That's a difficult one, but I do think a key component of this is because I genuinely like people. I am fascinated by what is going on in the world: innovation, technology, and creativity. I am deeply interested in my environment, support several social causes, and read a lot. I also have friends at every age and talk and socialise with people across generations. My children's friends are my friends. Of course, they have grown up with me through the eyes of their parents. One thing I get to hear a lot is oh!! My mum really loves you, or oh my gosh! I've been hearing about you since I was a child. This is always heartwarming to hear. So, for me, remaining relevant is all about engaging with people, being curious, understanding what's going on in the world around you and knowing that the world doesn't revolve around you. It's understanding that you've had your moment in the sun and allowing others to have their turn to shine, too. If you remember this, you will always be invited back to the party.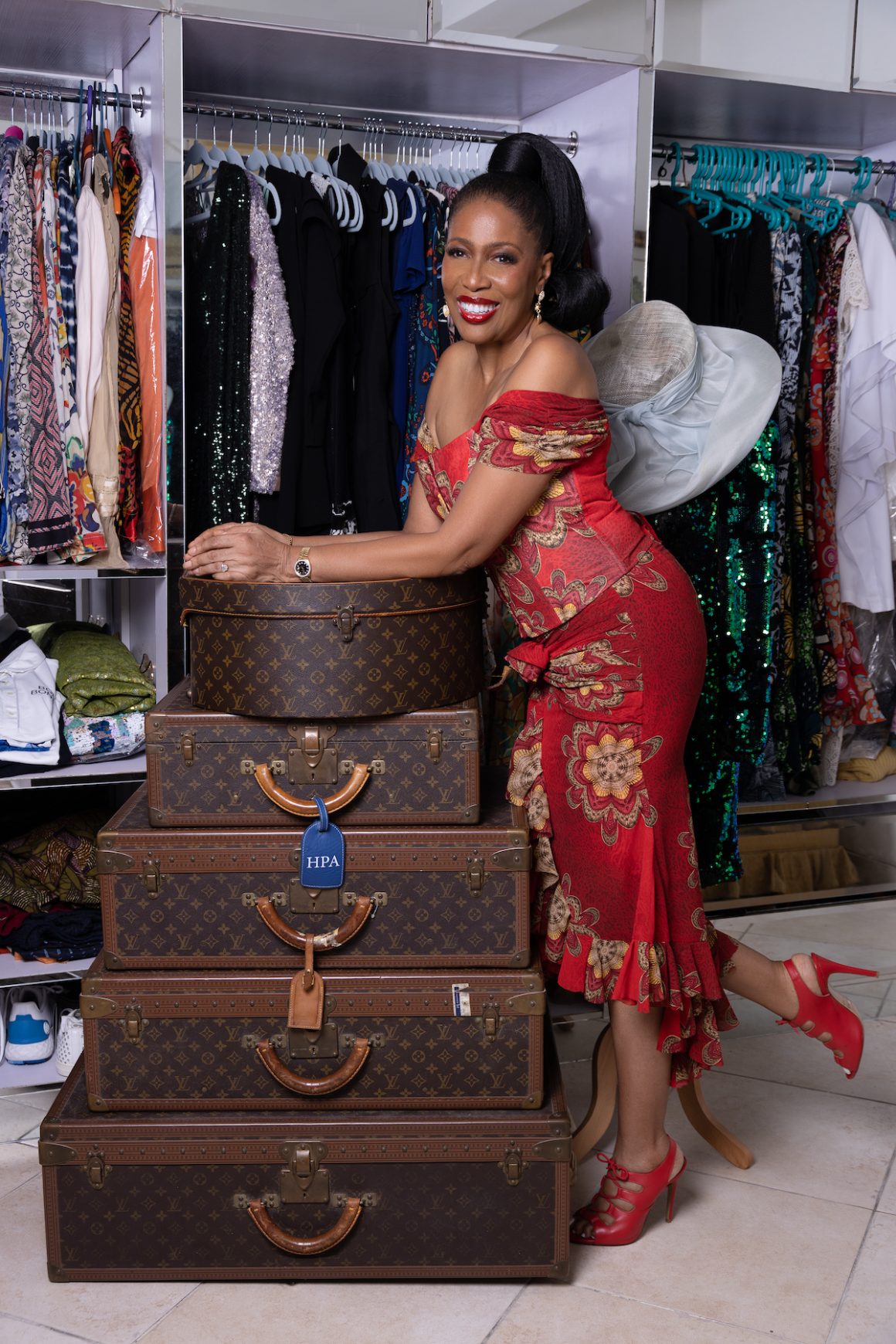 Given your experience as a former beauty pageant winner, what are your thoughts on the impact and relevance of beauty pageants in today's society?
Beauty pageants, like everything else, have to change with the times if they want to have the impact I had in my time. So many forces are competing for public attention; pageants, like everything else today, may need to change their formula to find their space. Are they relevant? They could be; it just depends on the approach. Any influencer can tell you for free that "relevance" is dependent on how you market it. 
Tell us about your book, "The Complete English Grammar Guide." What inspired you to write it?
Seeing young people struggling to communicate and express themselves properly in English made me sad because I saw that apart from the poor English, they were really brilliant. I thought to myself, it doesn't have to be this way. With a little tweak in the educational system and Government will, this could be a thing of the past. Not being in Government to influence the needed changes, I started the process from my own corner and wrote a book, as I thought it was that important and urgent. So I did. My book, The Complete English Grammar Guide, breaks down into easily digestible formats key complicated English grammar areas essential for good verbal and written communication. Another essential aspect the book deals with is the all-too-important area of how to pass exams. The book deconstructs important elements of examination papers and shows how to answer examination questions, how to write examination essays and recognise and address the important elements of English comprehension questions. In short, The Complete English Grammar Guide is an English grammar textbook that fulfils the modern expectations of young people. They just want to pass exams and communicate well so they can get on with the business of life, and they want to know how to do that quickly and easily.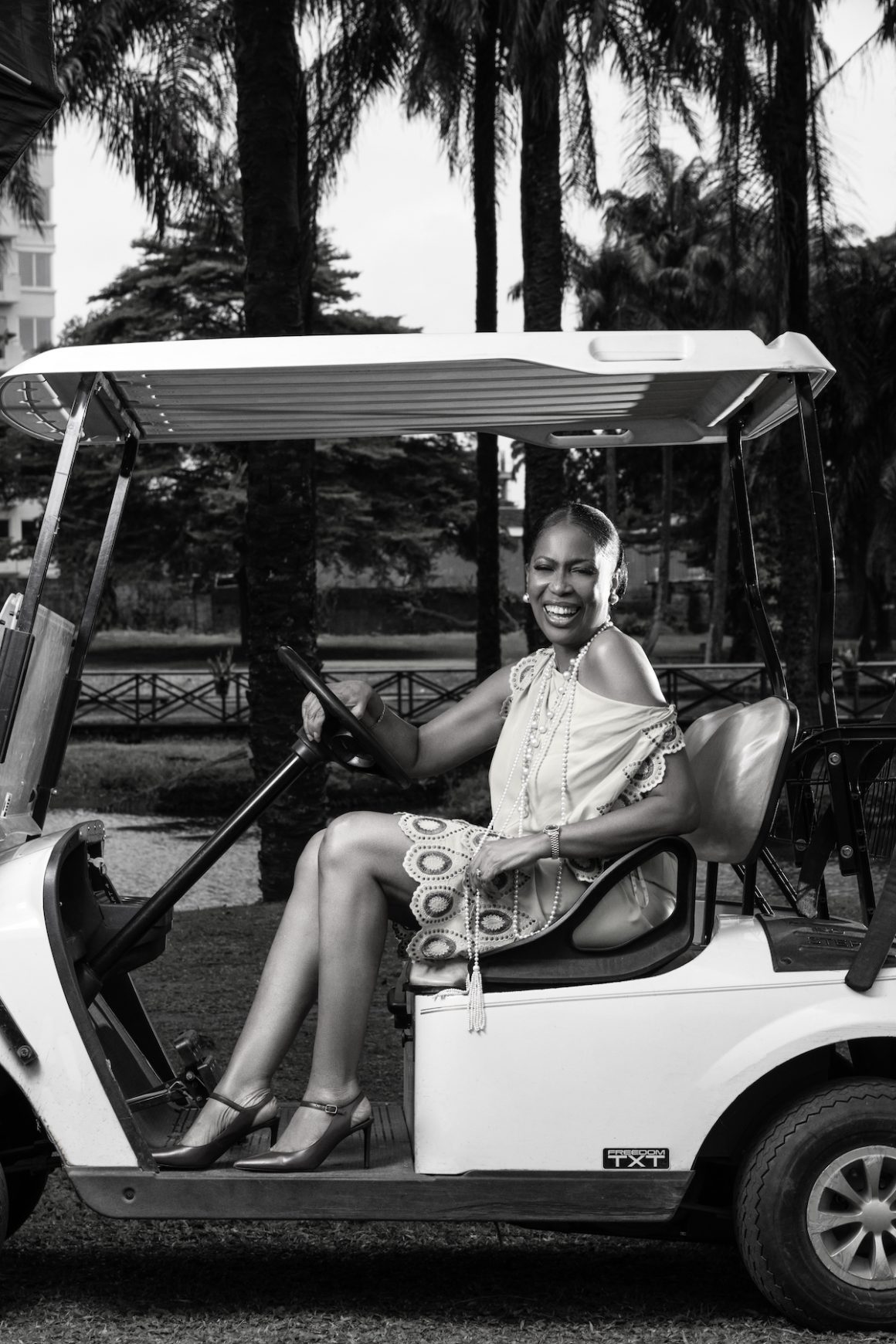 What do you see as the most significant challenges African children face in learning English, and how are you addressing these challenges?
I think our failure to recognise the impact that language transition has on the ability to acquire English is at the root of the so-called illiteracy numbers we see in our data. It's a catch-22 situation. In order to acquire an education, you have to learn English. Meanwhile, English is not your first language, and you haven't even had that much contact with English before you started school. So, this is a whole new world, a whole new language, and you are being taught as if English is your first language by a teacher who is not going slow enough to explain to you what basic words mean in your language. Of course, everything gets lost in translation. And that's how the majority of our children's educational journey begins.
Can you provide some more details about your English literacy program, SmartStart? How does it work, and what are its main objectives?
SmartStart, run by my daughter Tosan, addresses the challenges of language transition practically. As with my book The Complete English Grammar Guide (which, by the way, I am proud to say has been taken up by UBEC for school libraries in the 36 States of the Federation), I started in my own corner to attempt to look into the matter which I believed was negatively impacting our children's lives. We created lesson plans focused primarily on teaching the English language in detailed segments for non-native English speakers as a teaching aid for primary school teachers and interested parents of such pupils, which can be downloaded for schools and accessed through our SmartStart App. The SmartStart App has two login sections, one for teachers and parents and the other for students. Students have direct access to video tutorials, worksheets on exam techniques and essential English Grammar areas that are more than often misunderstood. With its focus on English proficiency not just for school but for life, the App also provides programs for people in the corporate world who need access to international opportunities that fluency in English provides. As the name suggests, the main objective is to give children and young people at whatever level a SmartStart.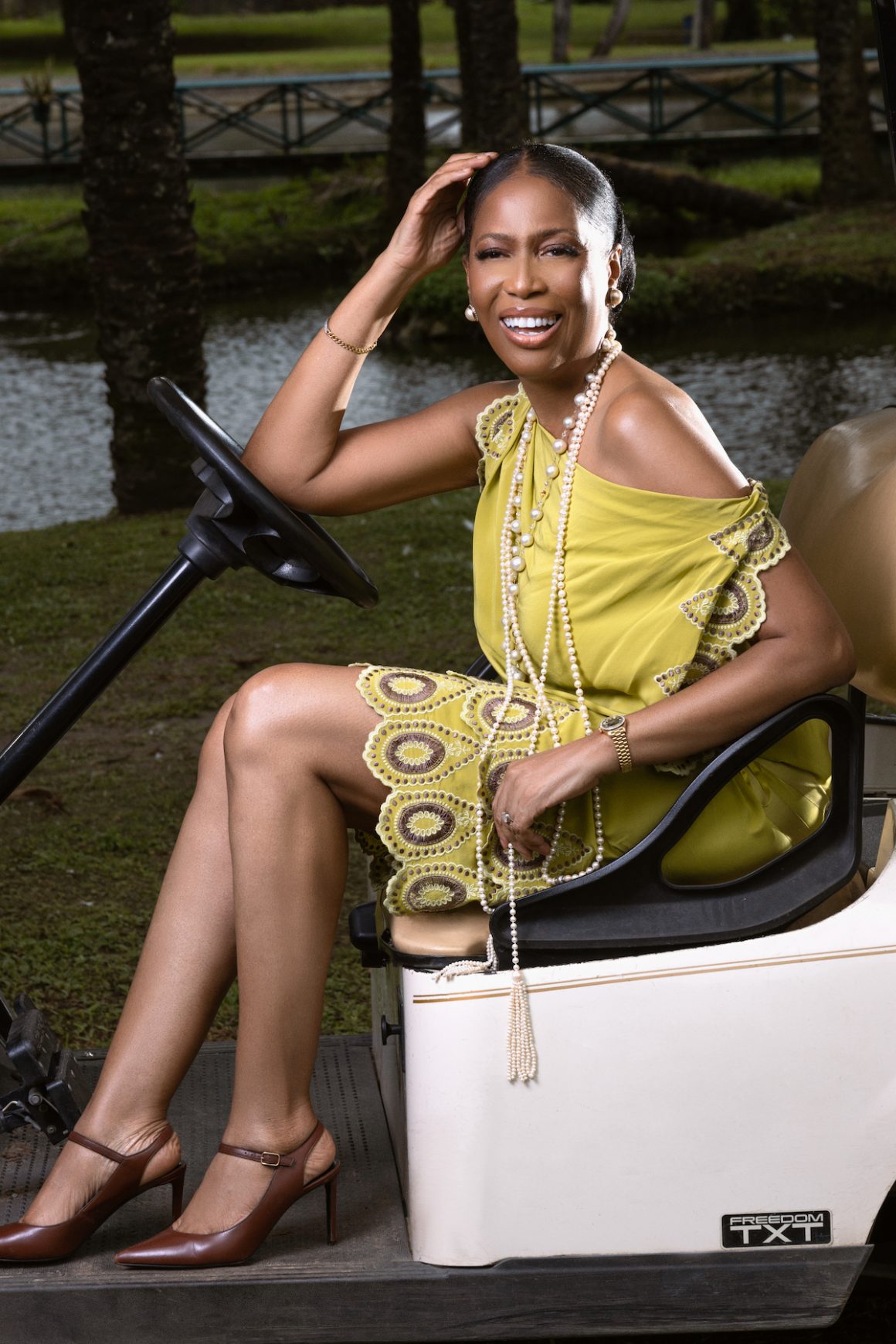 Are you currently working on any other goals or projects?
(Laugh), Am I not a Nigerian? A true-bred Nigerian will always have a million and one things going on at the same time. I am a non-executive director of two companies; I have my own educational company, so my hands are pretty full at the moment. Having said that, of course, once things are settled, my goal, God helping, is to fulfil my late husband's desire for his Africa Future Project, which was about funding and supporting innovators in health care and education to help the nation and Africa as a whole, solve some of its challenges on these issues. That is what he worked towards his whole life and where he wanted the bulk of his money to go, and by God's grace, that is what I am working towards to make happen.
Travel is often seen as a source of inspiration. How have your travel experiences influenced your work and perspective?
I have travelled my entire life from an early age, so I'm pretty chilled about travelling. I was lucky my parents had the means and were forward-thinking enough to ensure we travelled the world. I remember touring the U.S. by myself for the first time at the age of 16; some friends invited me, and my parents allowed me to go. Of course, the world was a very different place then, much safer than it is now. For me, travelling is education and inspiration. My children hated travelling with me when they were younger because I would insist we go to all the museums and historical sites. Now that they are older and understand the vast bank of knowledge they possess at their fingertips, they thank me for it. When you travel, you get to assess how important you are or how brilliant you are in the scheme of things. Seeing what others are doing and realising you need to step things up is humbling. Travel enables you to see how other people do things and how other countries solve the same challenges we're experiencing. After all, we are all the same human beings.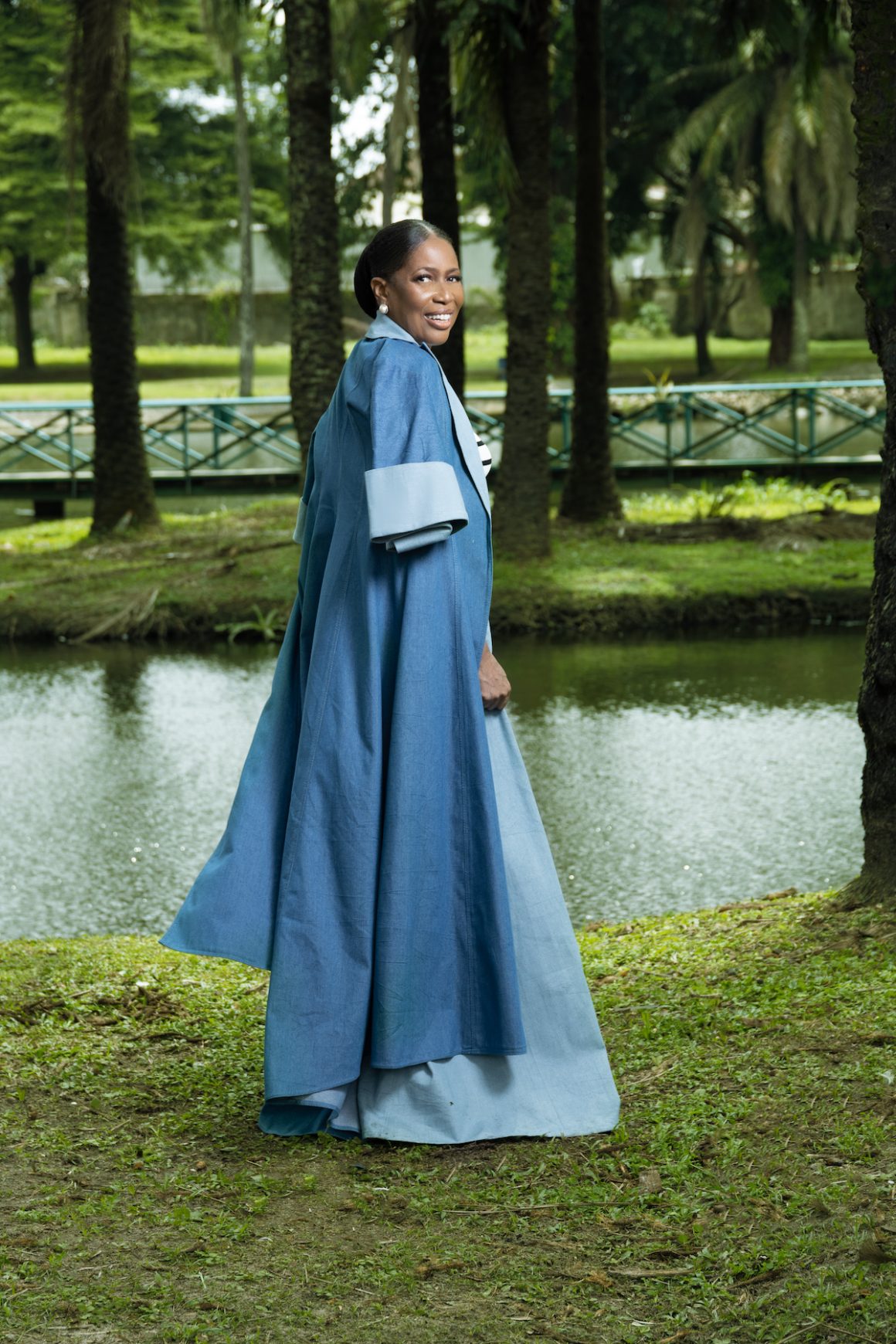 Are there any destinations that hold a special place in your heart, and if so, why?
I Love the Far East; I first travelled there 45 years ago, Japan, Singapore, Hong Kong, China, and Thailand, to be specific, and I have been going back since. I find the people fascinating; their creativity and work ethic is out of this world. When you go there and see what they're doing, you feel that you can do anything, and anything is possible. Very empowering.
Let's talk about your marriage to the late Dr. Tosin Ajayi, CEO of First Foundation Medical Company; what were the key values and experiences that defined your union? Any pleasant memories you would like to share?
How long do you have for this interview (laughter)? There are just so many. Twenty-five years is a long time, but one thing we shared that Doc valued in me, and I in him was his intellect. Dr Ajayi was a brain. His impact on the Nigerian Medical landscape was profound. He impacted Medicine and the Medical profession in Nigeria with everything he did. There is no medical Association in the country that did not benefit from his vast resources and knowledge in terms of guidance, lectures, sponsorships and endowments. When it comes to impact on government policies, he single-handedly fought for and introduced high-end technology through Sonography and Computed Tomography (CT) into Nigeria, equipping all the Teaching hospitals in Nigeria through a Federal programme. He spent his lifetime pioneering Information Technology, Health Reforms and capacity building in Healthcare, and it was to his credit Teleradiology was introduced in Nigeria in 2004. That was an exciting moment for both of us. As he was passionate about Medicine, I was passionate about education, and he encouraged me wholeheartedly. He helped me title my book, The Complete English Grammar Guide for Full Comprehension and Understanding. He also ensured that Professor E. Adenike Emeke Institute of Education, University of Ibadan, wrote a forward. My memories of him will always be evergreen: the jokes, his idiosyncrasies, how truly loving he was, how he adored our children and my friends and family, and how he was tolerant and forbearing when it came to my shortcomings. I never knew I snored until he passed away. My children slept in bed with me the day of the funeral and complained. I said they were lying, they taped me, and I heard for myself. It was a shock. Doc never complained, not one day. That realisation made me cry. I couldn't believe it. What I loved about him was that he was kind, generous and constant as the morning star. He was always with us, which is probably why we still talk about him in the present tense. What I loved about him most was that he was an intellectual giant, an assiduous go-getter who, through sheer determination and dedication to purpose, accomplished phenomenal feats in his lifetime. He wanted to change the landscape of Medicine in Africa; as his widow, by God's grace, I am determined to use the assets he had earmarked to fulfil his dream.
Dealing with the loss of a loved one is never easy. How did you cope with his death, and what do you miss the most about him?
I didn't think I would ever be able to smile, let alone laugh again. You see when you are not expecting someone to die and they do, it is a profound shock. He was never sick a day in our 25 years of marriage, so death was the last thing on my mind. Long convalescence, yes, and I was preparing for that, but not death. We were in the hospital for two months; the doctors even confirmed that he would go home soon, and we were all happy. In hindsight, I should have realised on the day before he passed when he suddenly hugged me and thanked me for giving him a beautiful life. I told him not to be so melodramatic; we have so many more years left, and now we have passed through this, we should take life a bit easier. He ignored me and kept thanking then asked that I call the children and all his friends on videophone so he could speak with them. If I had had more experience, I should have known then that that was the end. What I miss most about Doc is our long talks (he loved talking), reading together in bed in total loving and comforting silence, and him getting me coffee in the morning on the weekends. He would make it himself, and the look of satisfaction on his face (as if he had made a gourmet meal) always made me smile—such a kind, simple, loving gesture. I will always miss that.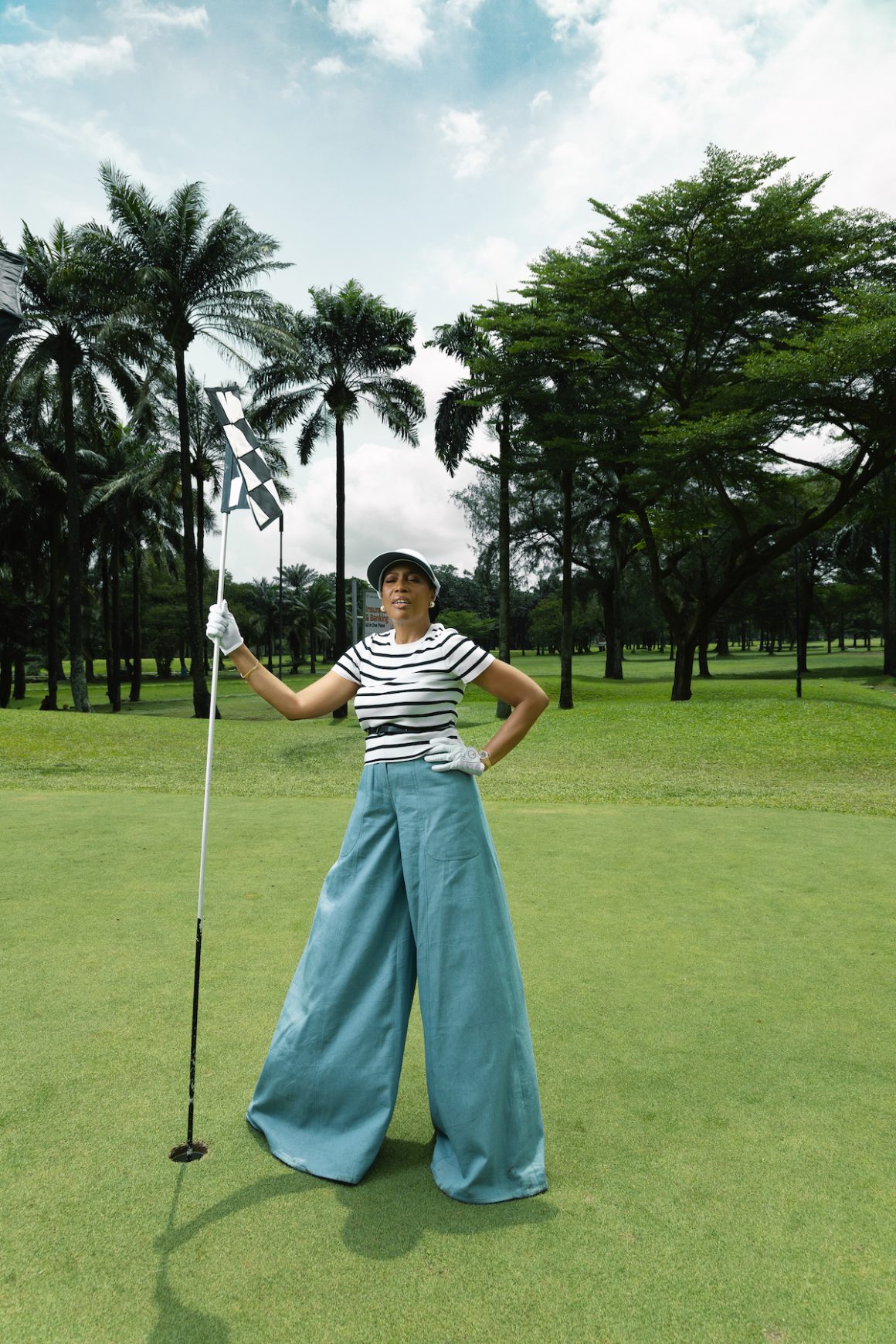 At the time of his passing, there were reports of controversy between you and his family from his previous marriage. I know you have never spoken about this before, but can we talk about that? What exactly happened?
It was a horrific experience too shocking to contemplate—totally barbaric behaviour. I feel bad because if my husband were alive, he would have been totally disappointed because I believe parents in their hearts believe they raise children with the right values, and this had not been exhibited. I haven't spoken publicly about my experiences because I didn't want to desecrate my husband's memory. Dr Tosin Ajayi was a dignified and honourable man, well respected in society. Mired in controversy is not how I want him to be remembered. I firmly believe that if you were not able to say terrible things about your father's wife in his lifetime, what gives you the courage to say it after your father's death? Why would you disrespect a choice your father made in his lifetime to your full knowledge? If you have 25 years to express a violent displeasure to your father, to his face, and you don't but rather played along, it is obvious that you were aware of the consequences if you did, and so you didn't. I have not responded in kind because I cannot go to the newspapers and start speaking badly about my husband's children or their mother. If I couldn't do that in his lifetime, why would I do that now? It is totally dishonourable and disrespectful to his memory. Why would I want the world to think badly about him? His only mistake was to die unexpectedly. Is that a crime to be vilified for? If I have to say one thing, I would like people to understand that if your primary goal is merely getting access to money and property, that is not a good enough reason to muddy a man's name and legacy. I have said it before and will say it again: there is more than enough for everyone. Even the greediest person should be satiated; why ruin a man's name? That is the part that makes me really upset and angry. As far as claiming marriage to a man who left 35 years ago, whom you have not been on speaking terms with or have barely set eyes on or lived together under the same roof for the same number of years, I will leave the public to decide if that is a good definition of marriage.
As far as giving women advice on how to prepare themselves for a situation such as this, Firstly, all I can say is that nothing can prepare you for a situation like this. Only God can lift you out of the miry pit. Trust in God, and please remember this verse: Isiah 41:13; "For I the Lord will hold your right hand, saying unto thee fear not. I will help you. He did it for me; he can do it for you if you ever find yourself in such a terrible situation. Secondly, get a good Lawyer! My lawyer, Abiodun J. Owonikoko SAN, proved exceptionally skilled and supportive, providing invaluable guidance during the most challenging times. I am immensely grateful to him.
What are your thoughts on how women should be protected after their husband's death? Are there specific initiatives or policies you advocate for in this regard?
Do I think we can and should improve on our policies? Yes! I believe women should be protected under the law the same way that all children born to a man have equal rights under the law. This was a dynamic resolution to a social injustice that reflects the way we live in Africa. We cannot close our eyes to the fact. Policies have also been put in place to protect men. Recognising that the "crime" of bigamy was counterproductive to our African lifestyle and a destabilising factor to men and society at large, it was expunged from the statute books, at least in Lagos State. In the same vein, we should find a way to protect women better. There are many scenarios: men leave women for various reasons and marry other women, sometimes in the full knowledge of the women, but they are helpless to do anything about it, or they marry unsuspecting women who have no knowledge of previous relationships until it's late, or they impregnate women. Whatever the case, there should be some measures to protect women. Whether it is a former wife or present wife, a woman who has no children, or a woman who has children, it would lead to less desperation and dastardly acts if we find an African solution to an African lifestyle issue. I can't really understand the logic if a man has been caring for his family up till the time of death. Do they stop being his family because he has passed away and, therefore, should not be cared for? How can anyone regard this as a man's logical and ordinary intention? When I think about how my life was thrown into turmoil after 25 years of marriage being looked after and cared for by my husband, I would hate to imagine how women with no education, little capability and no resources would cope.
Is it the aim to impoverish women and their children and make them destitute? Our laws should be made more fit for purpose. We cannot just follow precedents that do not reflect our African way of life. I am confident that President Bola Tinubu will look into this. He is a progressive in thought and action. He has remained steadfastly so from his activist days at NADECO until now. One only has to look at the progress of Lagos. We take it for granted. Yes, it may not be perfect, but it could have turned out a mess; one only has to look at the 35 other states in the Federation to see how easily that could be.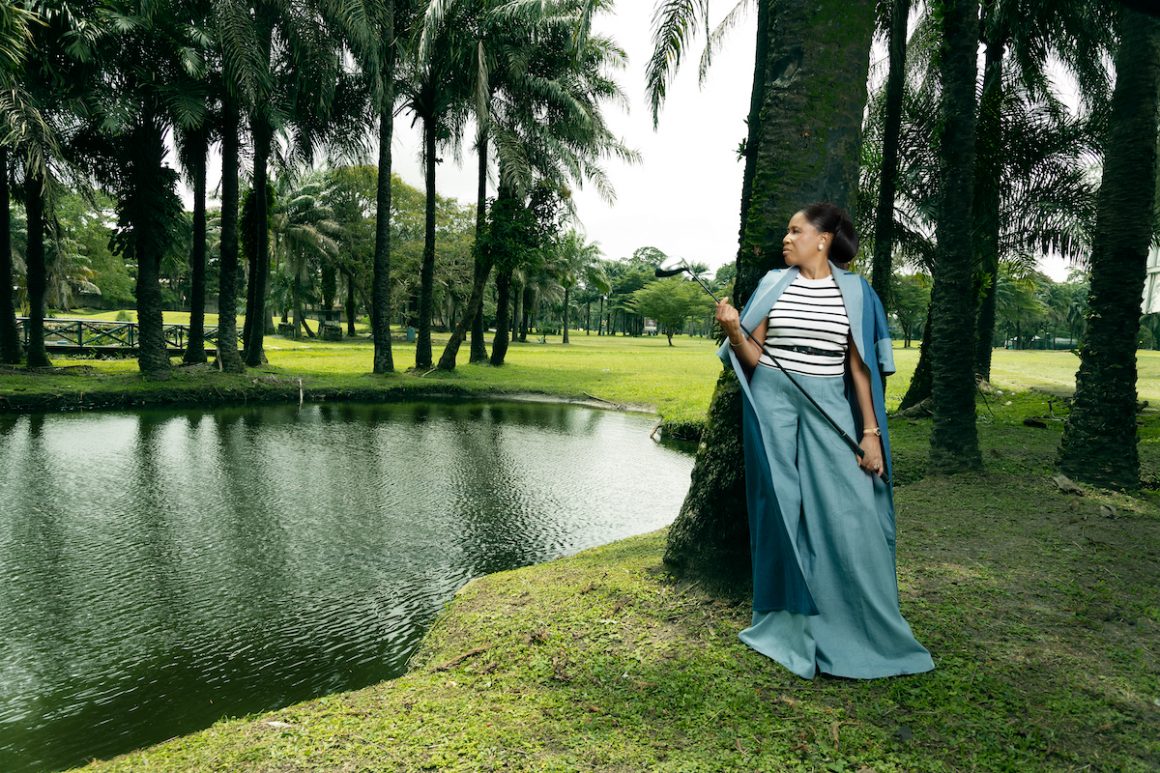 Golf seems to be a passion of yours. How did you become interested in the sport, and what role does it play in your life?
I took up golf when my husband passed away in honour of him. He had bought two sets of golf clubs that have been sitting in the corner of our study for about ten years. Every time we talked about starting to play, he would say next year, we will start golf. Every year was the next year, and sadly, the next year never came. So, I decided I would start and play for the both of us. Whenever I play and get frustrated, I laugh because I always hear his voice admonishing me, Helen, no, no, no, you're too impatient. I now play every day, and one thing I know is that it teaches you patience. I know he would have been proud of me.
As you reflect on your achievements and experiences, what are your thoughts on ageing and the wisdom that comes with it?
I have had, and still have, a multifaceted career. I have used my talents and capabilities as God directed me. One advice I always give to young people is that no experience is a waste. Try your hand at whatever your heart leads you to do. All the things I tried when I was younger are skills I am using now. For example, in 2002, I was very interested in the new field of information technology. I knew in my heart that it would be important in the future, so I learnt coding and used that knowledge to build websites and encourage people to take their business online. (laugh) In 2004, I even won the Success Digest Enterprise Award for IT-driven business. People didn't really understand how important it would be, and I looked like a crazy person. It was disheartening but look at the IT landscape today. As far as ageing is concerned, you are the age you are in your mind. Wisdom doesn't come with age; it comes with experience intertwined with knowledge. If there is one thing I am proud of, it is that I have remained true to myself, trying to live the life my creator intended for me.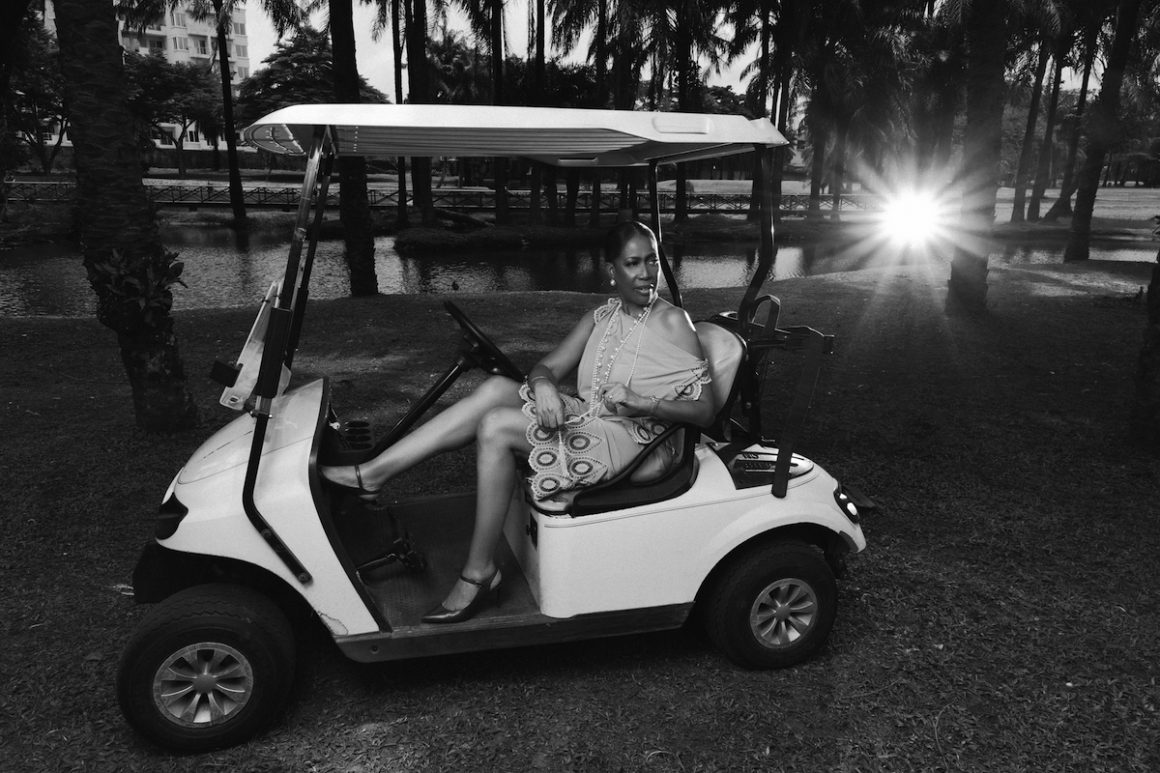 Credits
Styling and Creative Direction: Sisíhannah
Photography: Morgan Otagburuagu | Ginstar Studios
Makeup: Abiola Agbaje
Hairstyling: Daniel Angel
Outfit details
Denim Couture Look: DSA Lagos
White Sequin Dress: Maufechi
Red Corset Skirt Set & Accessories: 5th Bone