A new youth-focused creative campaign powered by African stars; Laolu NYC, Omotola Jalade-Ekeinede, Osas Ighodaro, Meji Alabi and other global stars was launched recently, themed 'Draw The Line' against malaria. Malaria is one of humanity's oldest and deadliest diseases. The campaign is inspiring Africa's youths to demand political action from their leaders to end malaria within a generation. The Creative Director, Laolu Senbanjo has used his art to create the Munndo, the world's first malaria universal language as a way to express their personal line through art to end malaria. This campaign supports the growing 'Zero Malaria Starts With Me' movement which was the theme for World Malaria day 2020, and showcases a lot of talent and inspiration from arts, to music, culture and fashion.
In this exclusive interview with STYLE CORRESPONDENT USIADE ISIOMA, Laolu NYC throws more light on the campaign, its creative artistic impact, the Muundo universal language, its goals, his experience and challenges and why we all must come together to fight this disease once and for all.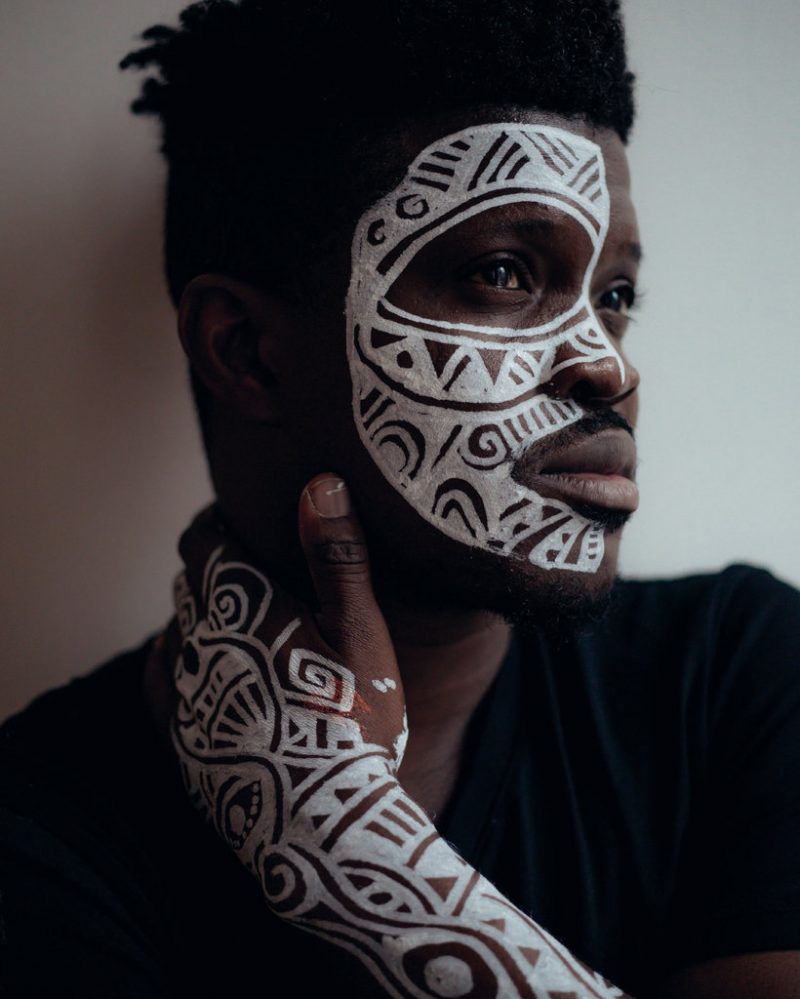 Laolu NYC is a brand that has moved Nigeria a few notches higher on the world map at least on the art scene from Beyoncé to Nike, Starbucks and everything in between. How has your art evolved to take on deeper meaning for socio-political causes, such as the #DrawTheLine campaign?
As a former human rights lawyer, fighting for justice, socio-political causes have always been a focus, and as I transitioned into the art world, I continued to express those passions through my art. I see the world through a lens of justice and strive to bring a voice to the oppressed and disenfranchised through all of my work, so partnering with allies, and joining campaigns like #DrawTheLine has helped amplify this message and use my talent to bring attention to greater issues.
The campaign reflects the incredible energy, talent, and cultural influence emanating from the African continent, from art, fashion, and music, to sport and entertainment, all brought to life through Meji's incredible film, inspiring young people to take charge of their lives and refusing to allow malaria to steal their futures. It's a real celebration of the generation that will end malaria, they are our heroes, and when they watch it, they should see themselves as these heroes, empowered to end malaria. They will end it because they have the will to do so. And they will do it united under one unified, global message. The lines are a visible declaration of this intention.
The campaign is inspiring young Africans to demand political action from their leaders to end malaria within a generation by drawing the line on the zeromalaria.org website. Tell us how that works.
The campaign asks people everywhere to visit zeromalaria.org and add their own personal line of Muundo art to a growing piece of crowd sourced artwork that will be shared with leaders at the Malaria and NTDs Summit on 24 June 2021.
Let's talk about the Muundo! A universal malaria language? Where did that come from and what inspired these lines after which the campaign is named?
Malaria is something that millions of people across Africa have to deal with. We know the amount of time malaria steals from our lives. That's why I'm honoured to be using my art, the Sacred Art of the Ori, to create the Muundo, the world's first malaria language as a fresh expression of our opportunity to end this disease. As Art Director for the campaign, I wanted to create an eye-catching visual representation of the actions that are needed to end malaria once and for all within a generation. There's a lot of symbolism in the art. On the website, look for a carefully crafted picture of a mosquito, and in the mosquito, you see an X in it, because we want to stop malaria. There's also the part where there is a triangle, we call it 'Aro meta'; in Yoruba, which is balance. This is important because we have to balance our efforts and energy so we fight malaria in the right way.
So, you're looking to bridge the space between youth engagement and political action with this campaign. Has this been done before and what challenges do you foresee along the way?
It has never been done like this before! Africa is a youthful continent with 74% of the population under 35 and the youth contingent are powerful agents of change, so this campaign represents a rallying cry for them to step up action in the fight against malaria which still claims the life of a child every two minutes. Greta Thunberg and other youth activists have shown that global youth-led activism can effectively demand change from political leaders, and it is critical that we too find ways to engage and mobilise African youth to drive forward policy progress on ending malaria. Research has shown that young people across Africa understand malaria's impact on their life opportunities and want to be more engaged in driving social change, but don't feel included, and don't feel there is a platform on which they can participate. Well, this is it!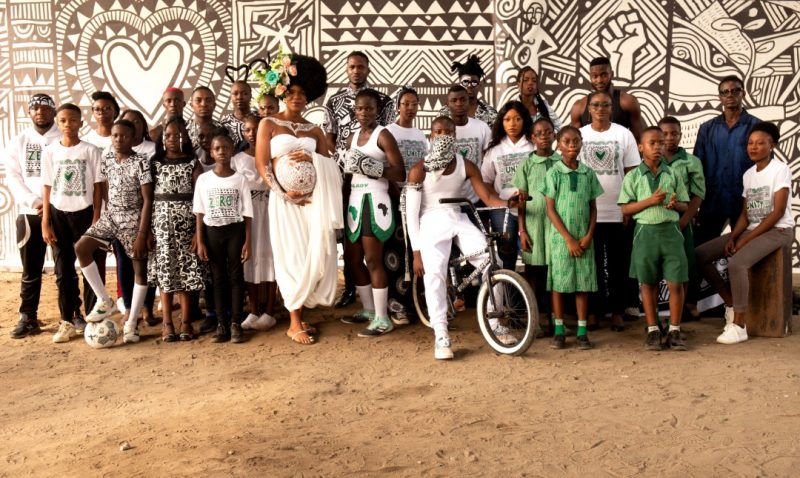 The campaign showcases a lot of talent and inspiration from arts, to music, culture and fashion. How was your experience working with the other Pan-African talents on the campaign?
It was inspiring to work with the other talents on the campaign. My Nigerian identity is so important to me as an artist, and working with others who share that same heritage while also working to end Malaria was a great experience. Working with Omotola, Siya, Eliud and the others on #DrawTheLine allowed me to experience such a diverse blend of talents and backgrounds coming together in this important fight, and it was uplifting to see my art blend with their talents in such unique ways as we created the campaign.
What are some of the demands the campaign will be making when the complete Muundo mural is presented to world leaders at the Kigali Malaria & NTDs summit in June and how do you plan to hold them accountable towards their commitments?
The whole campaign has been designed to encourage African leaders and donors, particularly within the Commonwealth, to take action to prioritise malaria during the COVID-19 pandemic and beyond. We really wanted to create a strong sense of public mandate to move ending malaria right up the political agenda and encourage governments to take urgent action.
Accountability within the global Zero Malaria Starts With Me conversation extends to prevention, testing, treatment and other factors. How is the campaign educating people about the individual roles they play in beating the epidemic?
The campaign is part of the pan-African Zero Malaria Starts with Me movement launched in 2018 within communities and countries across Africa, to mobilise and empower individuals to take ownership over the fight to end malaria. Since then, 19 countries have already launched the initiative, and the Draw The Line campaign now brings the crucial youth energy and focus to the grass-roots movement. Through house and village visits, as well as through social media and an original TV series, ZMSWM has not only created a community-based movement to increase awareness and ownership of anti-malaria interventions, it has also generated community champions supporting national End Malaria Funds to drive private sector investment and established parliamentary groups to advocate for greater action and resources to fight malaria.
What's your parting message to the younger generation about this campaign and their position in the drive for a more progressive Africa?
I hope the next generation will not have to experience malaria at all, period. Because, growing up in Nigeria, the amount of time it takes to treat malaria is no joke. No one should go through that, young people have to miss school when they have malaria, workers miss their jobs when they have malaria, I mean you end up missing everything because you can't do anything. Literally, you're bed-ridden. And many people don't survive. I want the next generation to be freed from this. I want it to be a malaria-free generation for them.
The distinctive look of your face and body art have come to be recognised as your personal signature. Why do you feel the need to express yourself this way and what does it mean to you?
So, the paint on my face is my identity. It tells a story of my ancestry and my Oriki. I go in that power and receive that affirmation. It is a sort of prayer. Every time I put the paint on, I'm saying a bold statement as to who I am. My Oriki is Omo Ijebu Ode, Ogbogbo Jale Jale, Omo Ani to 'oyinbo o ni Le, Omo aniwura, Omo ani Pepe. My surname is Senbanjo, which means together with the water, so sometimes you see waves in the art. You also see the crown, which stands for Adegboyega (my mother's maiden name). Depending on the day and my mood, I also paint a deity on my face. It could be Sango, Osun, or Oya. These are genderless deities. So, it could be any one of them. When I put the paint on, I go out into the world in my power, while representing my history and embodying my Oriki.
So, what next for Laolu NYC? Can we expect to see more social activism through your art?
Absolutely, I'm constantly creating and as long as there continues to be injustice, I will address it through art. In
addition to my work with #DrawTheLine and Malaria No More UK, I have upcoming partnerships with other organizations and brands. I recently created the album artwork for DANCE (RED) SAVE LIVES Vol. III, which will be launching next month and raising proceeds for (RED)'s efforts to mitigate the impact of COVID-19 on life saving HIV/AIDS programs in sub-Saharan Africa. I've also been back in the studio working on upcoming pieces that will debut soon that I can't wait to share more on. You can keep an eye out for my upcoming work at laolu.nyc