As a young lady, Sisi Abah Folawiyo's fashion style earned her a spot on Nigeria's fashion icons list. Her designs under her then fashion label Labanella created cultural conversations and were trend-worthy, appealing to high society women who patronised her in her prime and still seek her services to date.
A well-respected octogenarian with stern character and poise, she is the wife of the late businessman and philanthropist Baba Adinni, Chief Wahab Iyanda Folawiyo and mother to Segun Awolowo, a renowned legal practitioner and President of National Trade Promotion Organizations (TPOs) from ECOWAS member States. In this exclusive sit-down, she takes Azuka Ogujiuba down memory lane, talking about her early days as a fashion designer and her memorable marriage to the late Chief Folawiyo.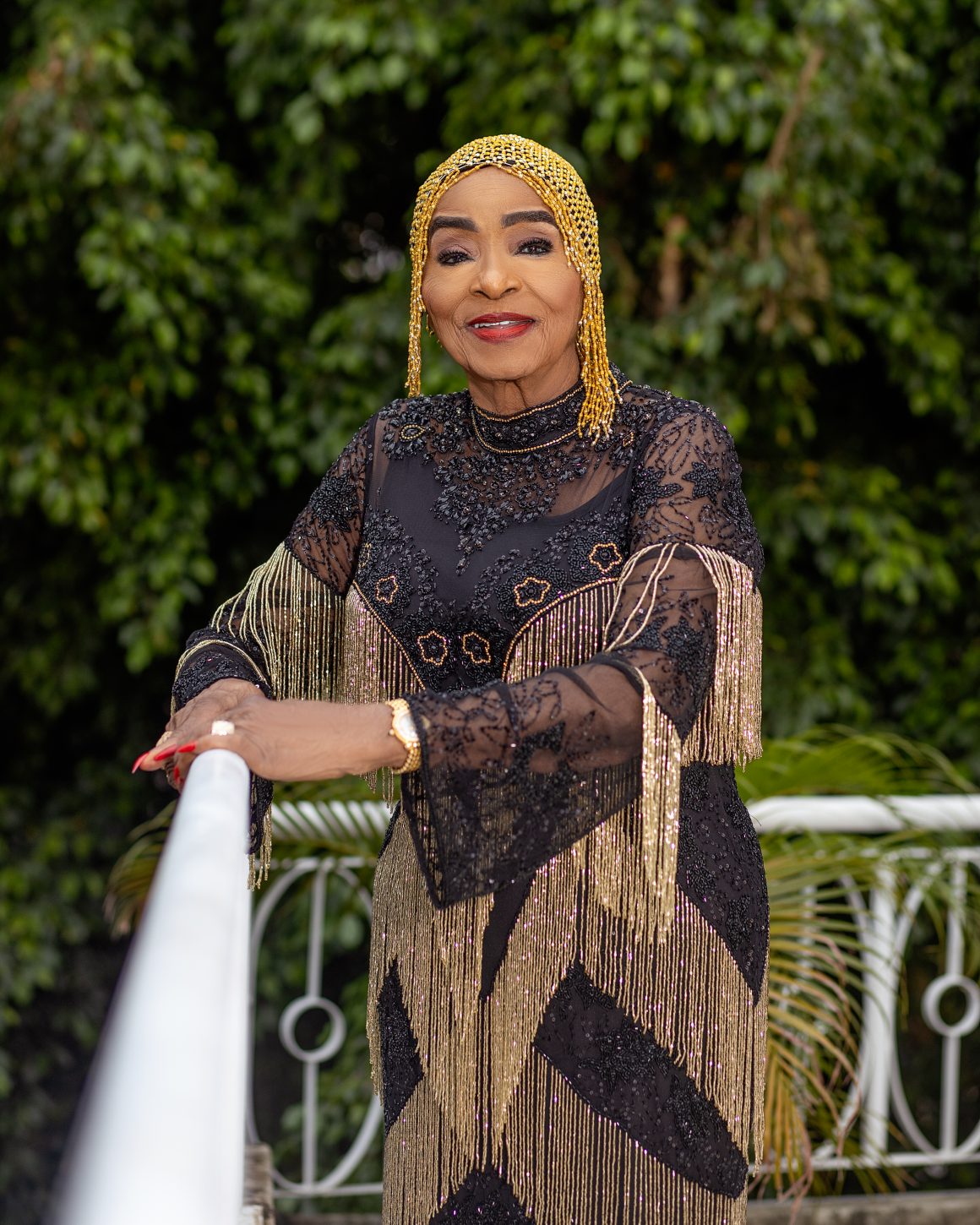 Congratulations on your 80th birthday, ma. I love the way you have embraced growing older. You are still very energetic and full of life.
You know, I have always been a sober person, even though I like fashion and going out to parties, but limited ones too. I started enjoying myself—more life after 60, being happy and loving what I do until I was 70. When I got to 70, I began to slow down a little because I have a friend who always loves to take me out—going to parties and everywhere. She is very energetic, and you know who that is, Florence Ita Giwa. She always calls me whenever there is a party. She always tells me lets go here, let's go there. Some I go with her, some I don't. So, I was a little bit reserved at 70, but at 75, I became more reserved, but I loved going out at the same time to some parties, not all parties, to enjoy myself. Now that I am 80, people see me and say I don't look 80. Me, I am very proud that I am 80. I have never hidden my age. I always tell people my age—I am very happy with it. So, this 80, I don't know what I will have—I think I will still be the same Abah as I have always been- fashionable, going out a little bit and not much anymore, that's life.
Talking about women and the stigma of growing older. What are your thoughts on that?
I don't know why women hide their age. I have so many friends that do that. Some of my friends are over 80, but they say they are 80, just as I am. Many of them cut down their ages; I don't know why. One should be very proud of one's age—very proud.
You were one of Nigeria's most respected and sought-after fashion designers during your younger days. What inspired your love for fashion?
As I always say, I love fashion. Fashion is inborn in me because my mother used to be a dress designer. Most of my family members were dress-makers, as we called them then. I got it from them, from my mum, especially because I always helped her out—cutting clothes and hemming. I didn't go to any fashion school; I was born with it—being a fashion designer. And I worked very hard. By 6;30 in the morning, I'm already in my factory then. I get there before all my workers get in, doing nothing but just cutting. I love cutting. I love to create a design from my head, not from sketching. I cut them straight, straight sewing. I work on the machine.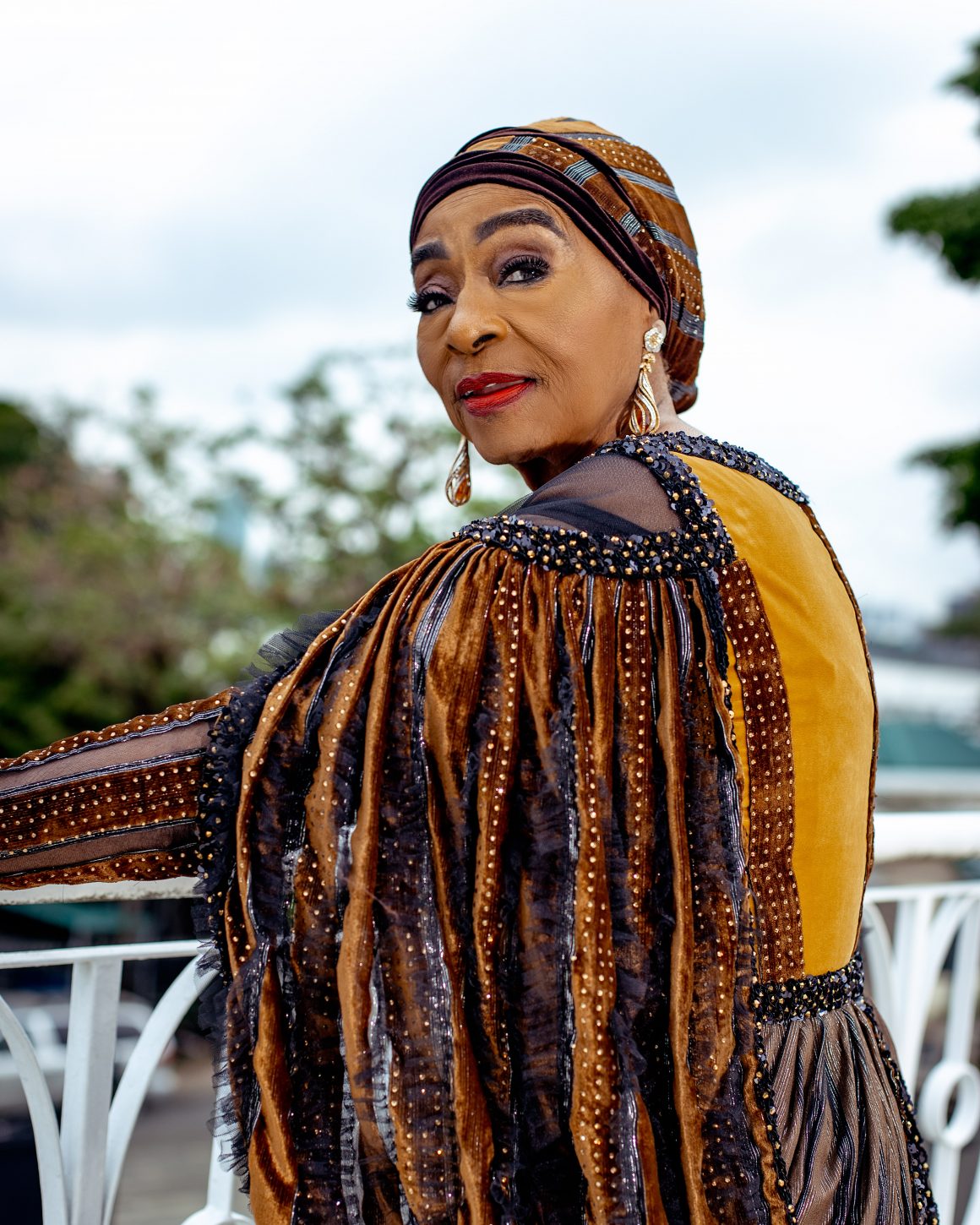 Interesting. I didn't know you actually could sew?
I can sew. I am always on the machine sewing. Up till now, I still sew. When I want to stitch something, I go to my workroom—I have a small workroom now in the house for about two workers and myself. Because some of my customers never let go.
What are your thoughts on the Nigerian fashion industry of today in comparison to your era?
The present fashion designers are doing very well. I was using only prints then, and people didn't buy them. I made prints, and I have continued making them till now. Obasanjo came in and banned the importation of foreign-made clothes and fabrics, and we stuck to prints and 'adire'. I can't even remember when I started using prints and 'adire', and now it's in vogue again. I am so happy that the young generation of designers have taken up to it and are doing beautiful designs with African print. I am very pleased with them. I know most of the younger designers, and they still make clothes for me. I go to them and patronise them even though I can make what they are making and even make it better, but I think patronising them is some encouragement.
With your wealth of experience, what advice do you have for younger fashion designers?
They should keep to what they are doing. Don't stop. Work hard because fashion designing is not easy work to do. They should take their designs abroad if they can. I know most of them are doing that now, but not many of them. I want the fashion designers in Nigeria to be at the same level as the designers in Italy when they do the fashion week. You know, it's a big thing. I want our designers to be there too, to show their designs to the world, because they are better than most designers abroad. Today's designers in Africa and Nigeria are unbelievable, fantastic, and working very hard.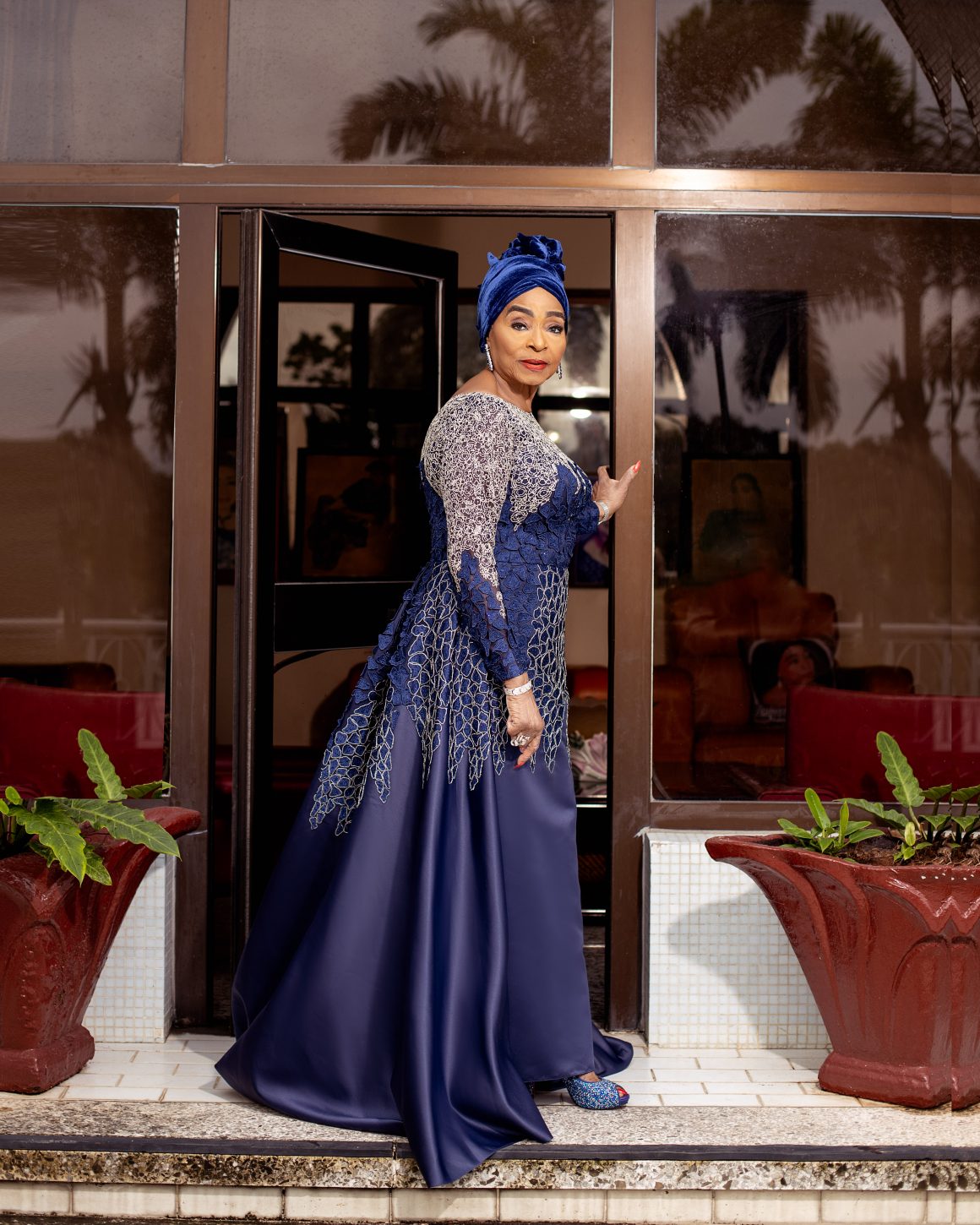 Some people also complain about them being very expensive too. Was it the same back then?
Well, when I was doing fashion, it was very inexpensive. I could sew for 5000, 10,000 naira at most. The most expensive thing I did in my factory then was about 15,000. And people would be wondering why it was that cheap. So, when these new designers—the young ones started, I was amazed how they could charge 200,000 to 350,000 to sew a dress. I would ask, 'what are they sewing?' is it not cut and sew again? What else are they doing to it that will make them charge so much? The charge is too much, and I'm afraid I have to disagree with them on that. Because for me, I want to dress everybody, from low to high. I want everybody to patronise me, so I keep to my standard price because some of the designers here, you can't even go to them to make a dress for you, it is too expensive. They don't charge me that much if I go to them because they respect me because of who I am. But I always tell them to go down on their prices. The more customers you have, the better for you
Fulfilment could have a different meaning for every individual. By your definition, are you fulfilled?
Yes, my dear, I am very fulfilled.
So if you had a chance to walk back in time and make some changes, you wouldn't?
I wouldn't change anything at all. I love the life I have lived. I am very happy with where and what I am today. I won many fashion awards across Africa—Ghana, Ivory Coast, and Nigeria, to mention a few. I was the first fashion designer to win awards in Nigeria and the continent of Africa.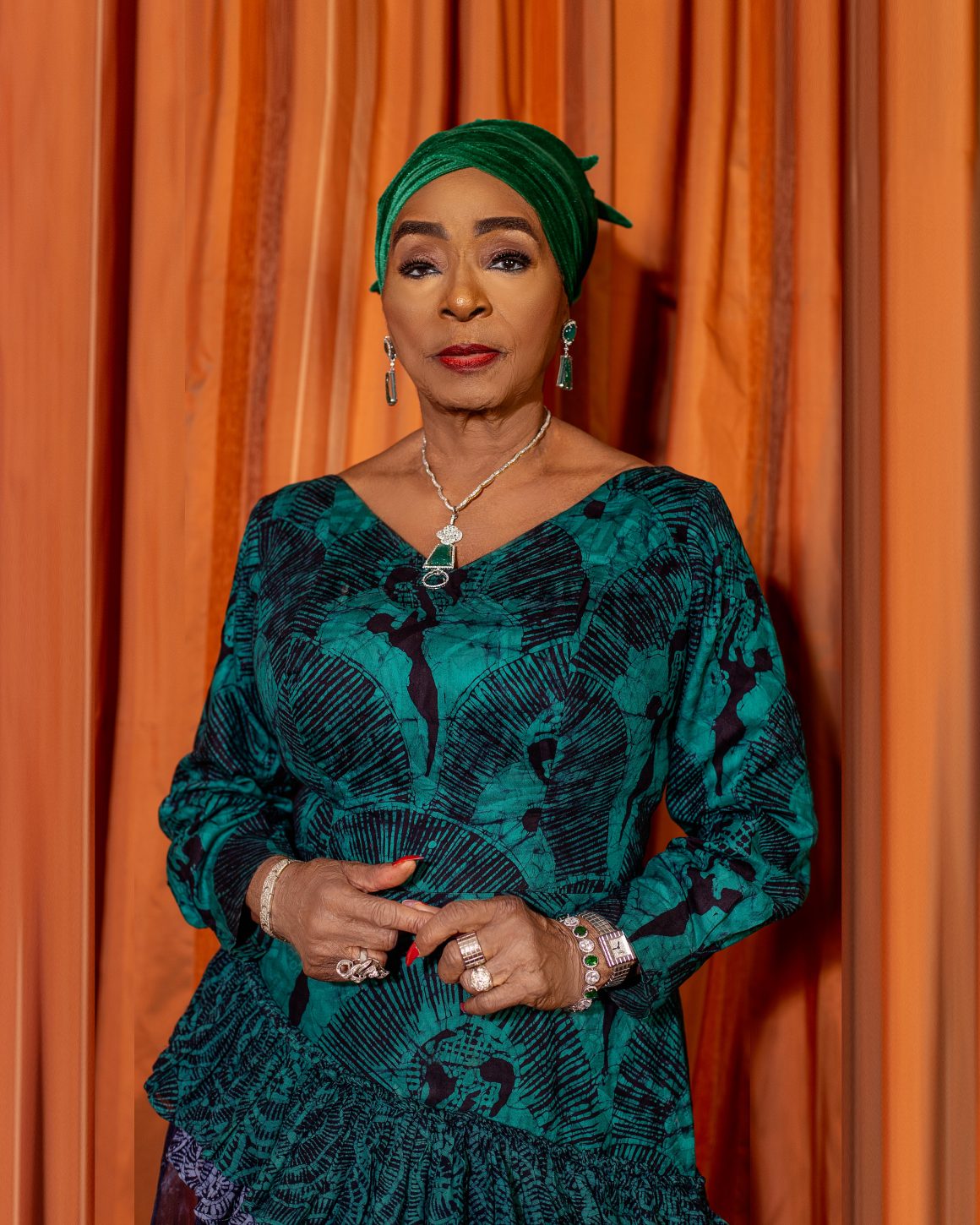 Let's talk about two of the men in your life. Your son's father, Olusegun Awolowo Snr, and your late husband, Alhaji Wahab Iyanda Folawiyo
I always wake up in the morning and think of my husband. When I see Segun, I see his father, so that one is there. For Chief Folawiyo, I never had any child for him, so I always think of him every day, every minute, because he was a nice man, looked after me, and adored me.
We were always together. He never let me go. We were always together at every minute of the day. There was no single favourite moment with him. Every time was a good time. He loved travelling. Every summertime, he would ask me where we were going this time. And wherever I chose is where we would go, and we would have a fantastic time. We would go to Dubai and stay at the most expensive hotel there. We'd been there five to six times before he died. The last time before he died, he asked me where we were going, and I told him we were going to Acapulco, even though I didn't know where that was. And he said okay, I would tell the children to book Acapulco for you. Anything I wanted, he did. So, the children are doing the same thing—I am well looked after by them. They all adore me because they know their daddy loved, adored, and respected me. So, the respect the daddy had for me; they also have it for me. I don't have any grudge toward his children, we are all together, and I am their stepmother, and they accepted me like that. They all love me.
What were his last words to you?
He said many things I can't even remember. A lot of good things. He was a kind man. He was a very kind and caring man. He really loved me, and I loved him too.
Was there ever a time you considered remarrying after he died?
Never! I will still have that memory of him till I die. I will never marry again. Where is the man I will marry who is better than my husband? No man can take his place, never! I don't want any, man. What would I even do with a man at this age? I've had the best man. No! I wish to remain with memories of his love and his care.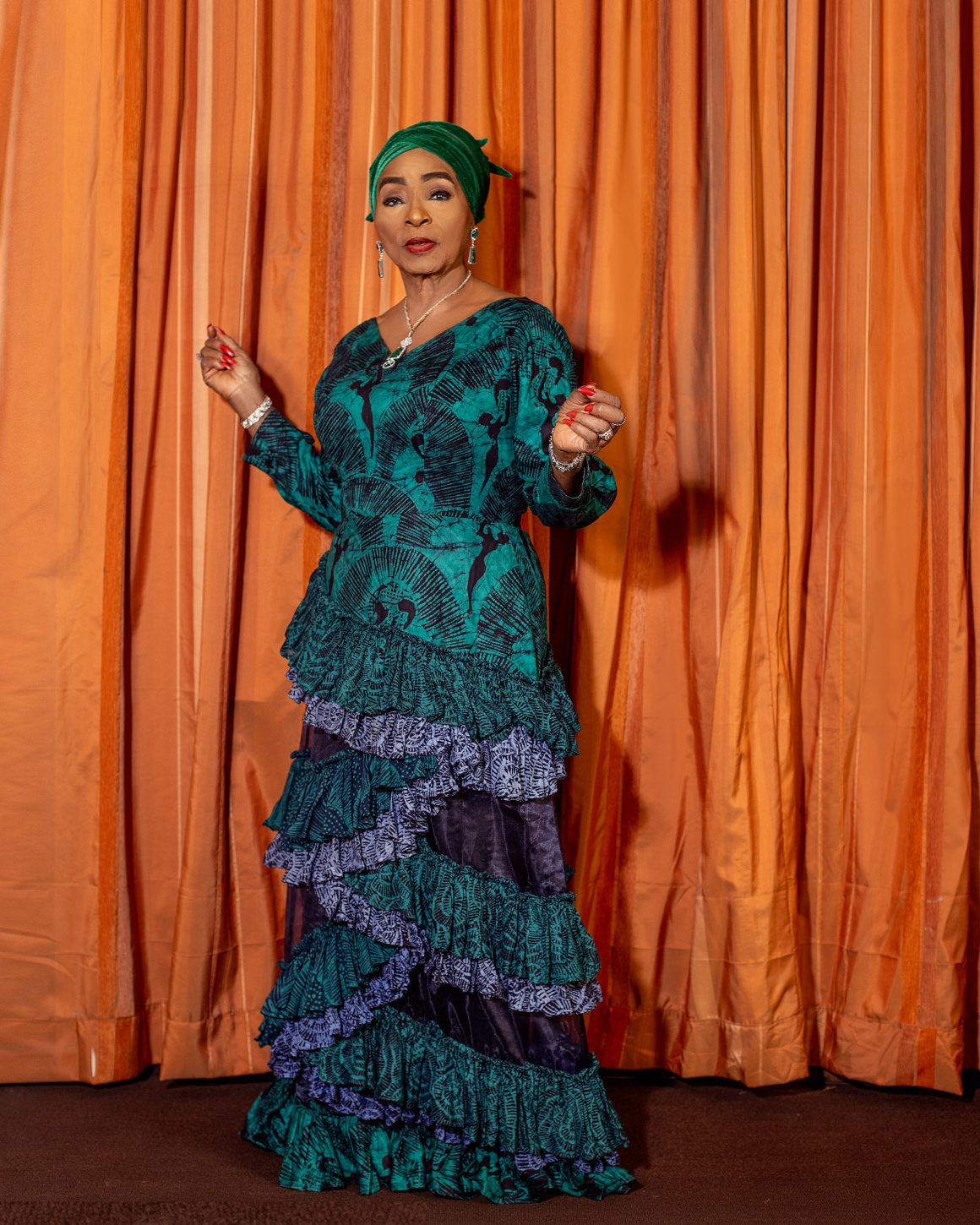 You have only one child. Did you at any point want more kids?
Well, I would have loved to have more, but since God gave me only one, I am very happy with him, and that one I have, is like having ten children. What ten children will do for me, only one boy is doing it for me. My stepchildren are very lovely too, I love them so much, and they love me too. We respect and love each other. They care about me so much, and I care about them too—they have been good to me. I also have three grandchildren. He gave me two girls and a boy. His wife is like the daughter I never had. We interact with each other very well, like I'm her mother. Segun is very lucky with his wife. I pray God keeps them for each other and me in good and sound health.
Let's go back to fashion and beauty. What's that one thing you can't leave the house without?
I would say my powder. I am not a heavy makeup person. I do my usual powder and lipstick –sometimes. I don't put on a lot of lipstick; of course, you know I am a Muslim. Sober dressing and sober makeup are what I like. I want people to see my face and not the makeup. See me first before the makeup.
Have you noticed a shift in today's fashion amongst younger girls and how it sometimes tilts towards nudity?
Yes, I have, and sorry to say, I don't like that at all. Some people love it, but I can't stand it. I want a lady to cover up herself—dress nicely. You don't have to expose your body before a man can admire you. Cover everything up, let the man admire you, and see what is under it after. I don't like that at all. It is not pleasant. The younger ones now do all sorts of things. I wonder where they got it from, maybe from abroad, I don't know, but I don't like it at all, like all this cosmetic surgery going on now.
When I developed eyebags, Florence told me to go for surgery—she even said she could take me there, but I said no. That's how God wants me to look and how I will look till I die. I will not do any cosmetic surgery on my body, my face, anywhere, no. I am natural from up to down, like you saw when I wore my clothes. I can take off my clothes in front of anybody. I don't care. I don't believe in all those things at all.
I think they need to stop all this rubbish they are doing. If their mothers didn't do that and are still pretty, I don't know where they got that from. It's ridiculous. I wouldn't say I like it.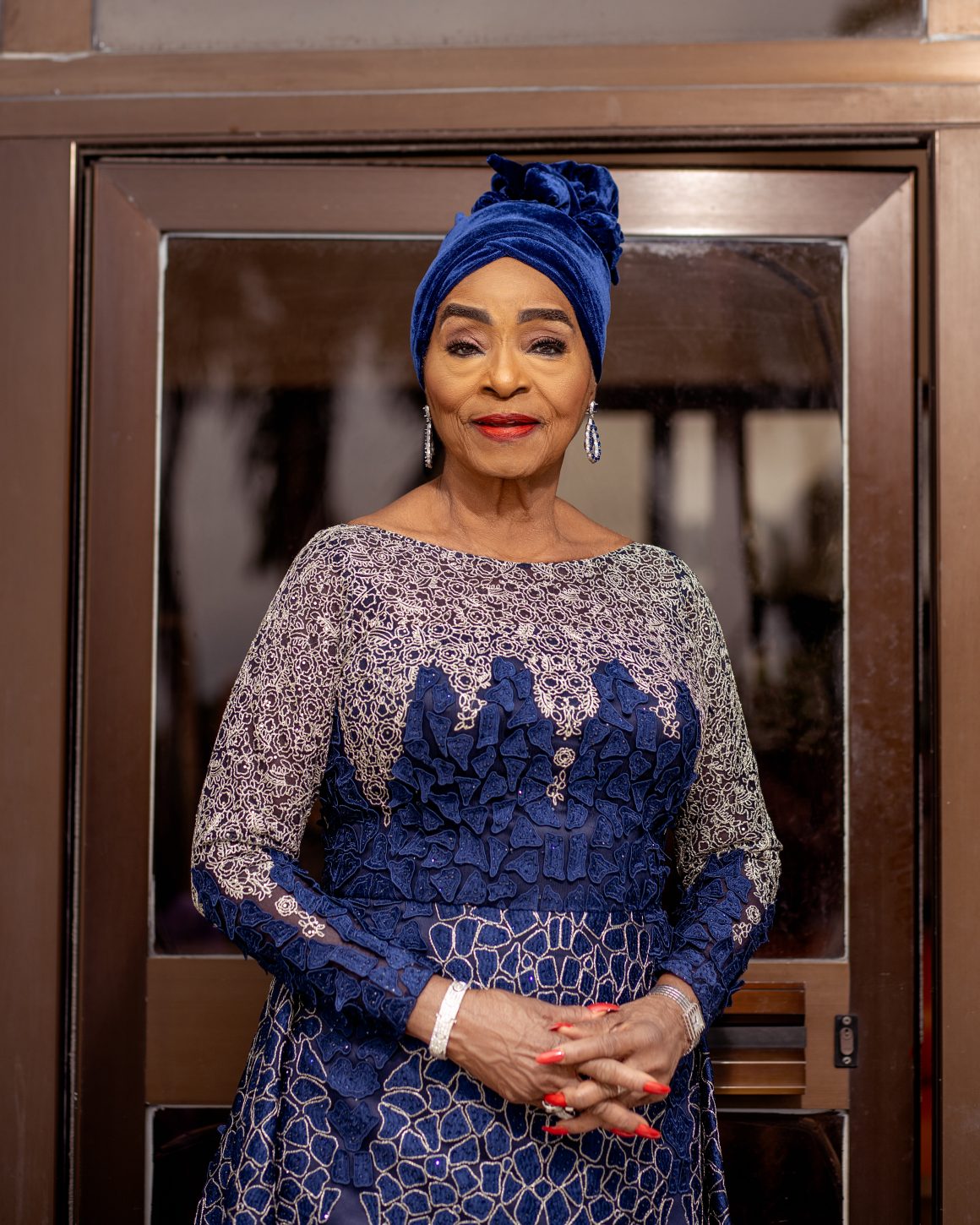 What legacy would you like to leave behind?
I want to be remembered as a kind person who loved people like herself and was nice to everybody around her. Someone that admired good things and never spoilt people. Some ladies like gossiping; when they see a lovely lady coming, they will not admire or compliment her. For me, when I see a lovely lady, I admire her. I admire her dress and ask who made it for her. So, that's the legacy I want to be remembered for – being kind to her friends and everyone.
Now that you are 80, what are your prayers and wishes for yourself?
I pray for good health, to live longer, and see my children's children. I have my only son, and he has given me three lovely grandchildren. One of them is married, so I am praying for her to have her child so I can see my great-grandchild before I die. But I am very happy because I have a good family who is very supportive.