Alpha Dia was discovered while working at a bar in Hamburg at the age of 22. When he started off his career, he didn't feel very confident about the way he looked and naturally his parents wanted him to pursue a degree in business administration. But he chose to follow his heart and entered the very unforgiving world of modeling and has since excelled in it. So much so that last year, he was listed on models.com's "Top 50 Male Models" list, a position every model aspires to be on. 
Alpha is a Senegalese model who has graced the catwalks for brands like Hugo Boss, Dolce & Gabbana, Prada, Calvin Klein, Kenzo, Fenty x Puma, Givenchy, and Versace, Fendi, Les Hommes, L'Oreal, Fila, Missoni, Kith, Balmain, Y-3 and Off White. He has also worked with high-end designers like Ann Demeulemeester, Christian Pellizzari, Roberto Cavalli, and Christian Dada, John Galliano, Paul Smith and Rick Owens. Not only that, Alpha has also been featured on the cover of several highly regarded magazines such as Numéro Homme, Document Journal, and MFF Magazine. He divides his between Senegal and Hamburg.
Día's calendar needless to say, is filled to the brim but he put his busy schedule on hold to partake in the recently concluded ARISE Fashion Week '30 UNDER 30' because it was something, he has always wanted to lend his name and face to!
Alpha came, saw and conquered leaving him with fond memories of his brief stay in Nigeria. He speaks to Style Correspondent, Isioma Usiade on his journey so far in the world of Fashion.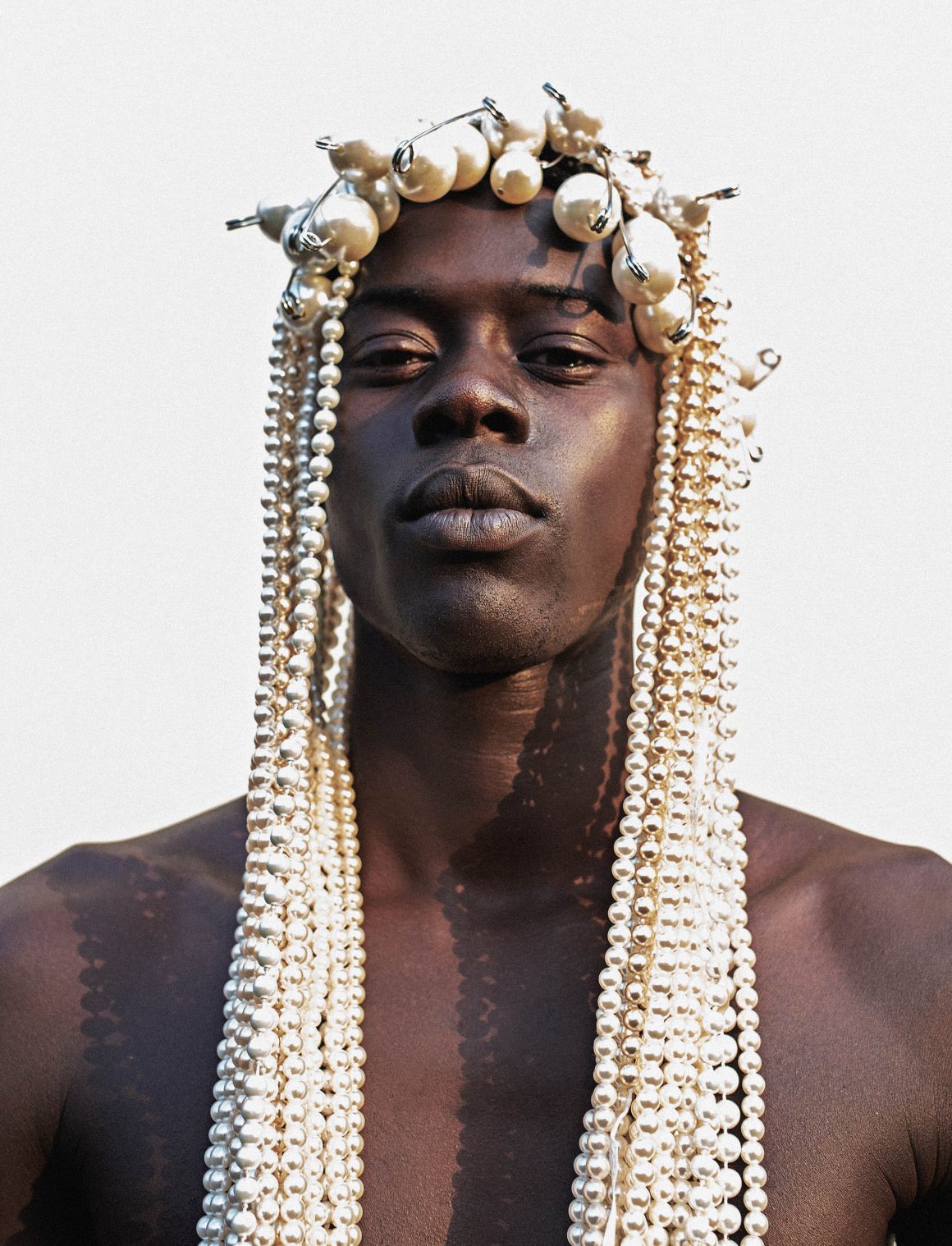 You are originally from Senegal but grew up in Germany. What was it like moving from Senegal to Germany so young, what challenges did you face and how did you overcome them to become the global success you are today?
I can remember well the exciting days before going to Germany. All my imagination was from the TV.  My first week there was super exciting, so many new things to experience, I loved it.  However, soon I started to miss home; my friends' family and the familiarity of things.  The warmth, sharing and caring that people gave me back home, I missed the most.  Germany was different to what I was used to especially because of the language. In Senegal, I never felt differently by the way I look or my language. Learning the language was definitely key for a better integration in Germany. Now I feel almost home and I now speak five languages; Wolof, French, German, Italian and Spanish. l am now a combo of both places. 

When you started modeling, was your family happy how about your plunge into this industry as African parents usually prefer their children study more conservative courses? 

African parents are super caring about their children, they want them to always be in a better position than they are. Growing up in Europe, I felt my parents were even more caring and dictating with me and my siblings.  Because understood the challenges we may face from not being German, growing up there left no room for failure.  Education was very important but so was our African culture, my parents always wanted me to know my culture and its values. The values they taught me was that with respect, hard work, and commitment, I can become everything I want to be.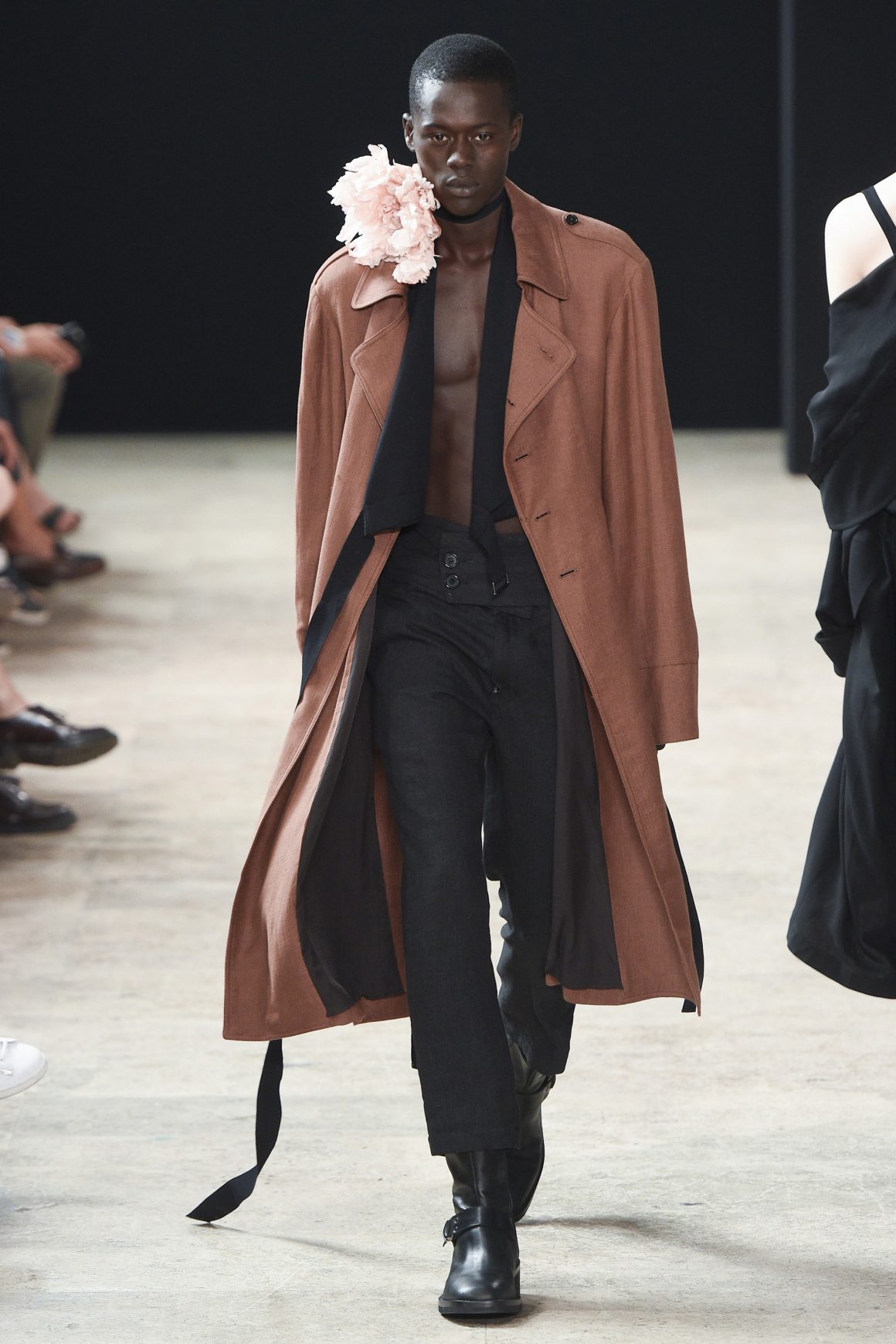 Where there any models who gave advise as your career grew or did you just learn the ropes along the way?

As I was not really into modeling and fashion, I didn't have any role models but when I started, I got to know many good role models; African models like The Cabral brothers, Adonis Bossso, and actor-model Djimon Hounsou, inspired me as they showed me how to be a professional and successful model. Modeling and posing was something I developed during test shoots and I think the job gets better with confidence. The more shooting, I did, l automatically become more confident and the results got better.

Have you kept the same agent, or have you had to change agents to enable you grow to the size you are today?

I have kept the same team, nothing has changed with my agency. It is really important for me to work with a professional team with good vision, people who know and understand me, so I can have blind trust they will represent and negotiate the best for me under my name.

Even though voted as the Top 50 by models.com, you are actually one of the top two black male models in the world of fashion. So, you must have seen and modeled for top global brands. What is your take on the collections showcased at the recently concluded ARISE Fashion Week 30 Under 30?

Thank you for the compliment! I still smile when I hear that, even 2,3,4 or 5 is crazy to me.
Firstly, very big congratulations to the organizers of ARISE, for successfully putting on such a great project during these most challenging times when other similar projects have struggled to happen. I am extremely proud to be have been part of such remarkable project especially in Africa.

The designers and creativity; I really was impressed by how much they have moved forward, away from the typical African prints to create new styles and prints; all art of fashion in Africa. The diversity of all 30 designers was impressive and there is still room for growth which is exciting. Normally, we only see the stereotypical, very similar work from designers from Africa, it's nice to see the expansion in their talent and designs. African fashion has a promising future, its growing, its modern and with a global outlook but with an African feel.
I like the variety and the fact that they showed interesting wearable ready to wear collections and you could imagine someone wearing the pieces in any country just as they were shown on the runway.

It has been said that you gave up two very lucrative jobs with global brands just to partake in the ARISE show. What were these jobs? Is ARISE something you have always wanted to do and if so why?

Since I started modeling, some of my biggest support from the continent came from Nigeria, so I have always wanted to visit. When Desiree (from ARISE) talked to me about the ARISE 30 UNDER 30 project, I instantly felt it was a number one priority for me to be involved with as this project supporting and promoting the next generation, the future of African fashion and its business.
It became a priority for me and my agents helped to ensure it was possible for me to do on my schedule; let's just say they couldn't try to hold me because of the fact that this would be forever be under my skin, a memorable moment in my career to use my success to work with my brothers and sisters in Africa. ARISE is giving huge to African talents so it makes me proud to have participated and walk for ARISE Fashion Week.

Your recent visit was your first time in Nigeria. What was the experience like for you from the people in general to the designers and models you met?

I traveled with my brother to Lagos; l couldn't make mama prouder than sharing those moments with the family. My brother and I had an amazing time in Lagos. We felt so confident and loved being home in Africa. l am really thankful to my colleagues, for the welcome and love they gave to me. It is sometimes crazy when some people see you as one of their role models and you meet them in person working in their territory on the same level and see how much they appreciate your time and your actions… it's very humbling and loving experience. The Designers were really nice and very involved, they wanted us to help them show their best. They were all so down to earth and really helpful to me.

Given the opportunity will you like to visit again?

Yes definitely, I need to come back for holidays. Lagos has a great 'pushing' energy I felt the same energy when I went to New York for the first time, it has so much to give. AFW was a total success for me I would love to come back especially without a pandemic. I only imagine the power.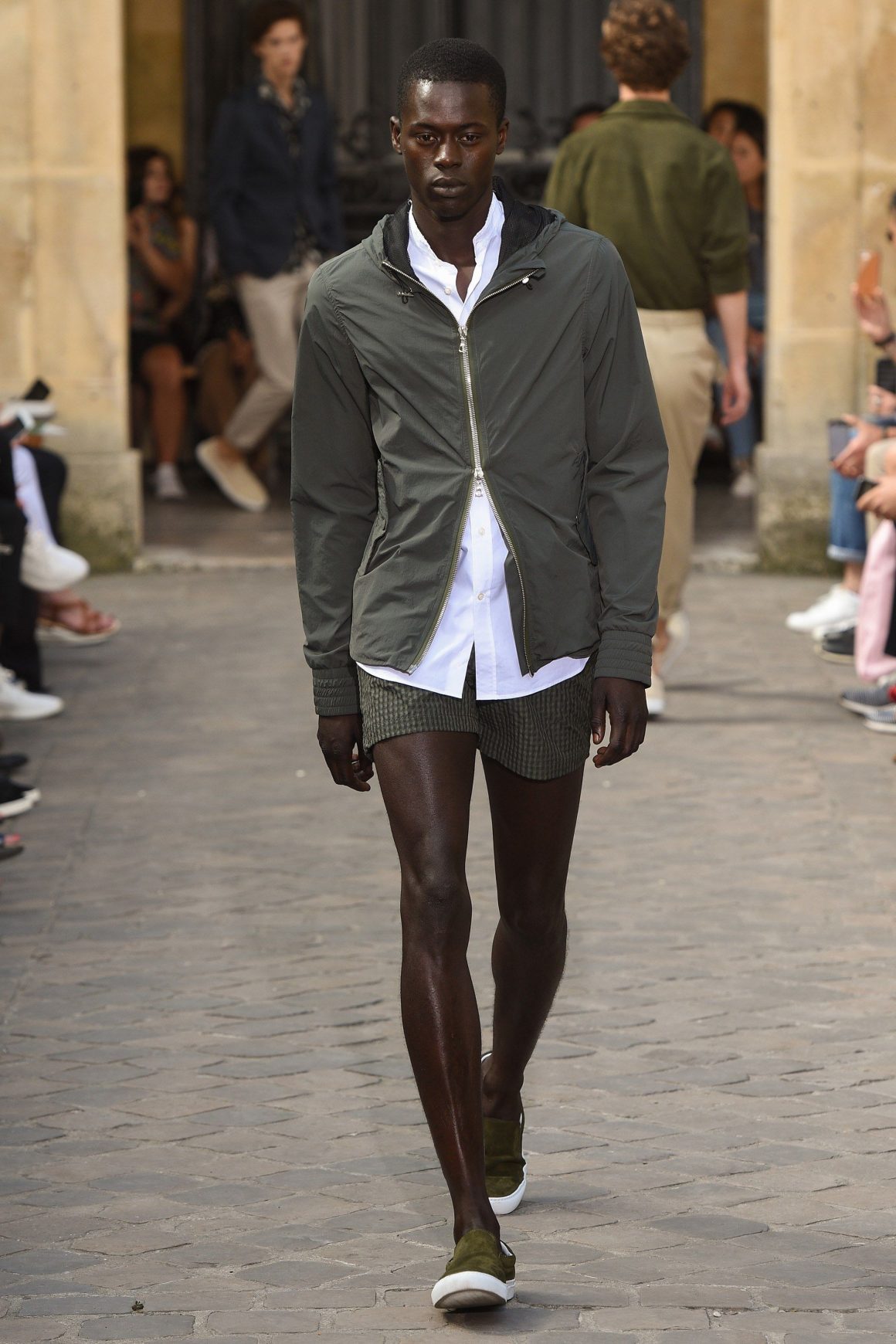 You were discovered quite late at the age of 22. But today at 28, you are one of the most sought-after male models in the world. What is your work schedule like on an average month?

I think I was lucky to have been able to successfully start at an age where I already knew myself more, it made it easier for me to navigate the job and take it seriously from day one.
Starting at 22 is not for everyone, but for me it worked, I was more ground as I knew more about how your daily behavior can affect your life and future. I like to succeed at what I do and always work hard to achieve my goal.
l have a very busy work schedule, in a month, I am lucky if get to spend the weekends at home, mostly I am always on the road. Even with the Corona lockdowns, I still managed to take more than 80 flights this year for work.
My schedule is dictated by my jobs, I am grateful to be in a position where I can still work around the world, so I have to be ready at any time to travel and show the best of my talent.

Why do you think most designers today are in love with you…what do you think your best selling point is?

I think it is a mix of many things; I think you see beauty in everybody that comes with energy that describe the person. When I come to castings, I always try to be myself having the same energy I give to people no matter of their status. I like people and I am grateful to work with amazing talent people, I believe everyone has something special to give.

We hear you are repairing schools in Senegal and your proceeds from AFW this year will enable you execute some of these repairs. Can you tell us more about your charity?

Yes I'm super excited about the outcome. We are giving the school in my hometown a completely new look to improve the environment for better learning condition. During the year, we are producing different projects that will encourage growth and sustainability in the Education sector amongst young street kids, helping them develop and use their talents successfully. In the long run our aim is to improve their and those of lives of their families.

How have you used your face to create more awareness about this cause you believe in?

My foundation bears my name as it keeps me accountable to its effectiveness. It is a young organization; however, we have been impactful with grassroots community driven causes which have direct result in the community. Our aim is to use my reach and successes in fashion to help build platforms of changes for local communities, bringing together international corporations and people who want to be involved with projects that have less red tape but are focused on direct person to person impact. We already collaborated with two international fashion companies on direct impact project for Senegal; Hugo Boss and COS. I'm really excited about the future.

Naomi Campbell is a legend in your industry and still commands great respect and attention from the fashion world. You also did a photoshoot together while you were here in Nigeria. What key things have you learnt from her to also enable you leave a lasting legacy as she has?

The shoot was two hot days in Lagos and I definitely take a lot from Naomi. She is absolutely amazing. Strong, confident and absolutely caring. She made sure that I felt good all the time and was blowing wind into my face when I was sweating. Her patience really surprised me, and we shot till midnight. I am inspired by her success in fashion and how she uses it to help others.

What do you think the ARISE brand has done for African designers over the years?
ARISE Fashion Week is an inspiring brand; it's shown it is dedicated to showing Africa at its best, supporting the growth of Africa's creative industries, giving them a platform to not only showcase and develop their business locally but also introducing them to the global stage.
A platform that is associated by the likes of Naomi and now Anna Wintour, will undoubtedly have an impact in the way the world views Africa and it's fashion industries.
An example is Kenneth Ize, his association with ARISE has helped him develop a homegrown brand that is now ready to go global.
I walked in Kenneth Ize in his first international fashion show in Paris last year, it's just so beautiful to see the growth of African brands like his. l am sure there will be many more successful fashion and business stories to come from ARISE.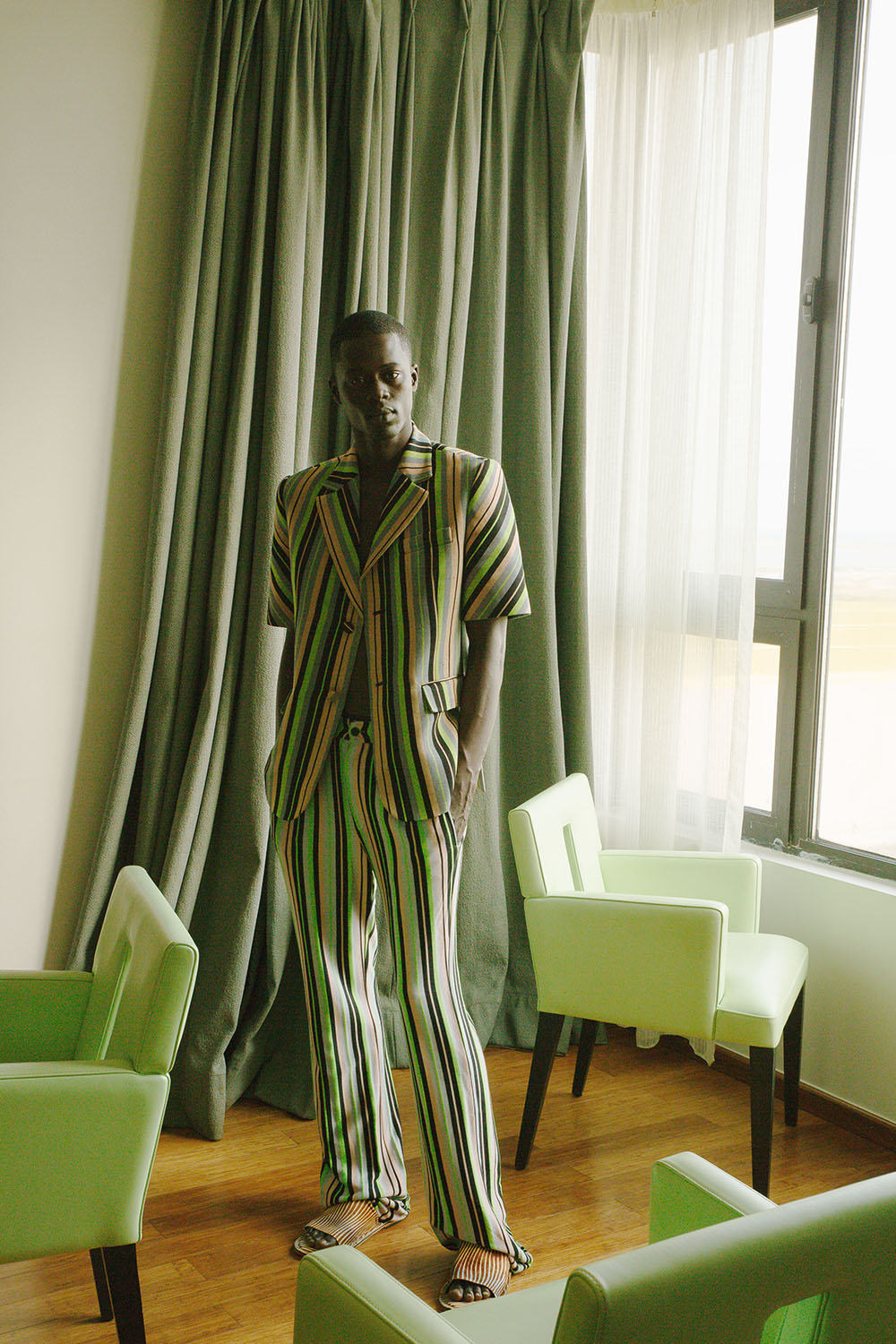 What advice will you give to upcoming models who want to be like you in a few years? What kind of challenges should they expect to face along the line and how best can they overcome these challenges?

It's really important to remain yourself and be patient with the process. Like with every job, you need time to grow and learn what the job requires. Fashion may look like fun but is a serious business, it's a trillion-dollar business globally, hiring hundreds of thousands of people. So, when you get booked for a job, you need to take it seriously and deliver your best work, when you fail to do this you will likely not get booked again…this is a fact. You need to be professional and try not to take things personally, fashion is great but it's a business first and foremost.

What are your future goals, in your career and life in general?

I have many goals, but one of my main goals is to continue to use my success in the fashion industry to help develop projects and businesses that encourage the growth of local community in Senegal and Africa as a whole. Bringing people together to make life a little easier for those in need whilst helping those in need to become more self-sufficient by developing new modern businesses.

In the future would you like to move back to Senegal, or live between Europe and Africa?

I would like to live in Senegal again one day and still be strongly connected to the west so I can have effective input in the country's growth. I really believe strongly in people in diaspora applying their knowledge and successes to help grow our homeland. Developing things back home and working for a better Africa is important, the diaspora plays an important role in Africa's future. Africa's capabilities are beyond, and I am confident that with the right partnerships and structures in place we will definitely get there.

What are the life lessons you have learnt from travelling the world and being one of the world's top models?

Wherever your success leads you, never forget where you come from. Make sure that you always fit in the same shoes at home. Your family are important to keep you grounded and protected, a family that cares for you for a lifetime are the biggest stars, no matter where you are in life, a loving family will always be by your side.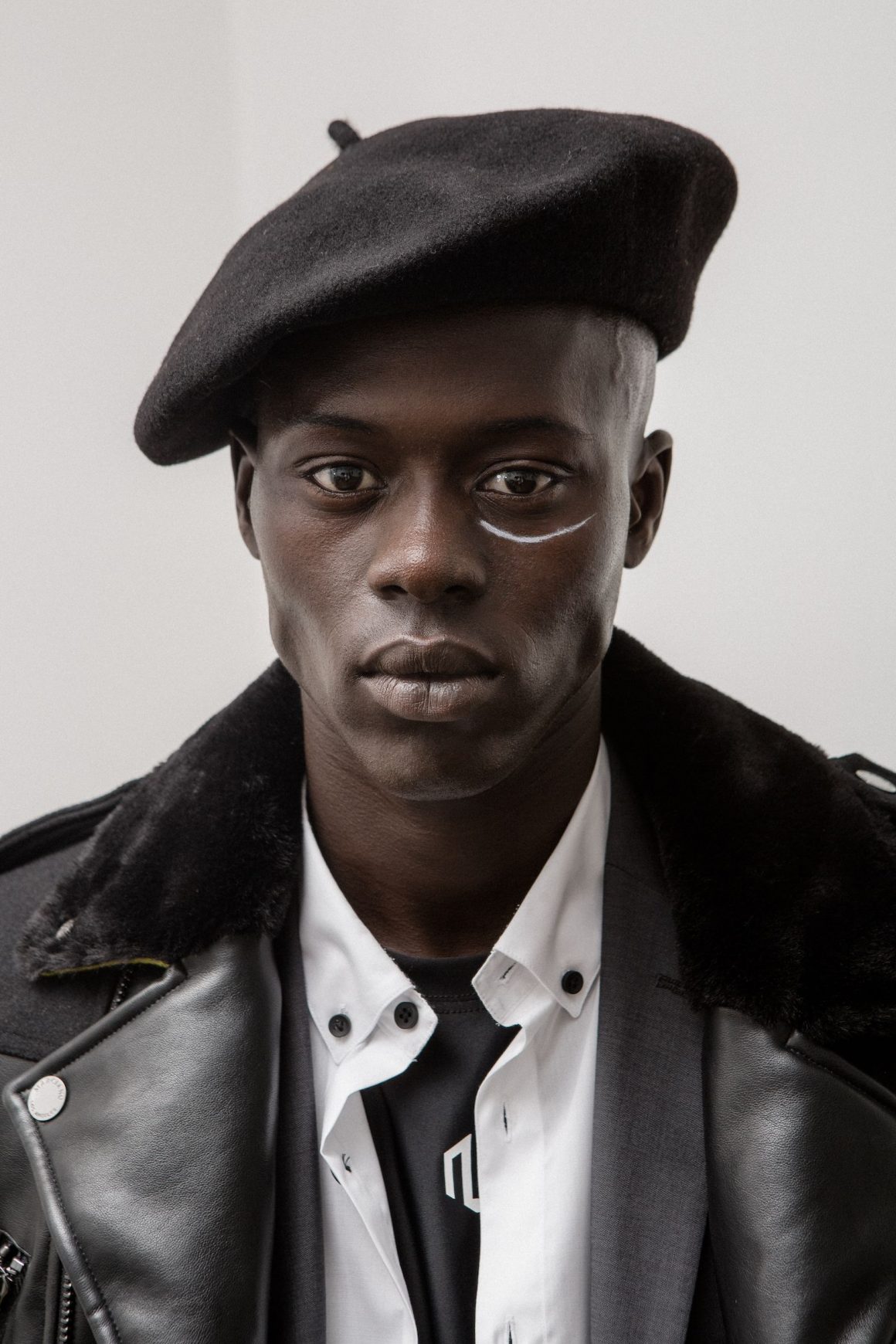 If you could be granted one wish or change one thing, what would it be?

The empathy of all of us. I think that's something we all need more of, especially in hard times like this. Empathy breads compassion and sincerity, we all need this.

What do you want people to know about you?

I work hard and enjoy my life; my family and friends are very important to me. I am simple person yet complex in my approach to life and I believe in love, honour and respect of all people.

When Editor of American Vogue, Anna Wintour gave her stamp of approval to the ARISE Fashion Week 30 Under 30, how did you feel about the impact of such an act for the fashion industry in Africa?

I think it's a good thing as it helps to bring attention to African talent and hopefully will opens doors. However, as Africans, we must also do our own supporting and promoting of each other, build relationships and businesses that don't comprise who we are as people. Ultimately it is up to us to do the work, global connections are good to have but we are responsible for the foundation we lay and work we put out there.
We as African must have a more united front so we can effectively benefit from the attention and help of people like Anna Wintour. I feel we are getting there, and I am excited for the future.

ALPHA DIA FONDATION
@alphadiafondation
ALPHA DIA Social media:
Instagram: @apha_dia_