*The Selection Committee for '30 Under 30' kicks off the search for AFRICA'S best new fashion talent.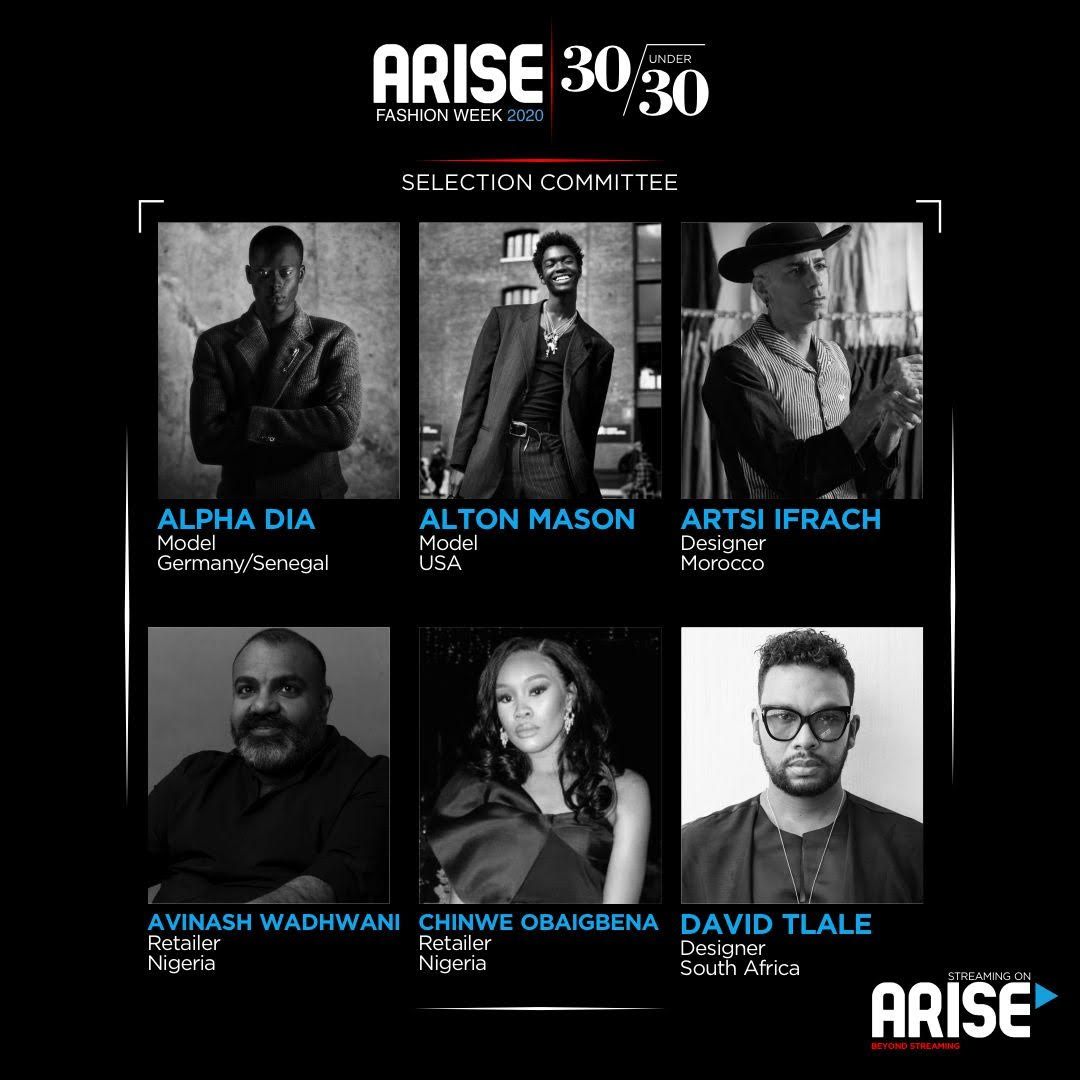 The 30 young and promising new designers ready to take on a post Covid – world are now being selected. They will be unveiled at ARISE FASHION WEEK 2020, at Lakowe Beach and Golf Resort, Lagos to a global audience.
Global media brand, ARISE, recently announced its plans to support and reward emerging talents in global fashion with a search for the next generation of fashion talent in a world-class event, titled – Arise Fashion Week 2020 – 30 under 30 – The New Stars – staged without audiences, but broadcast to worldwide viewership  on the new ARISEPLAY streaming service and other platforms.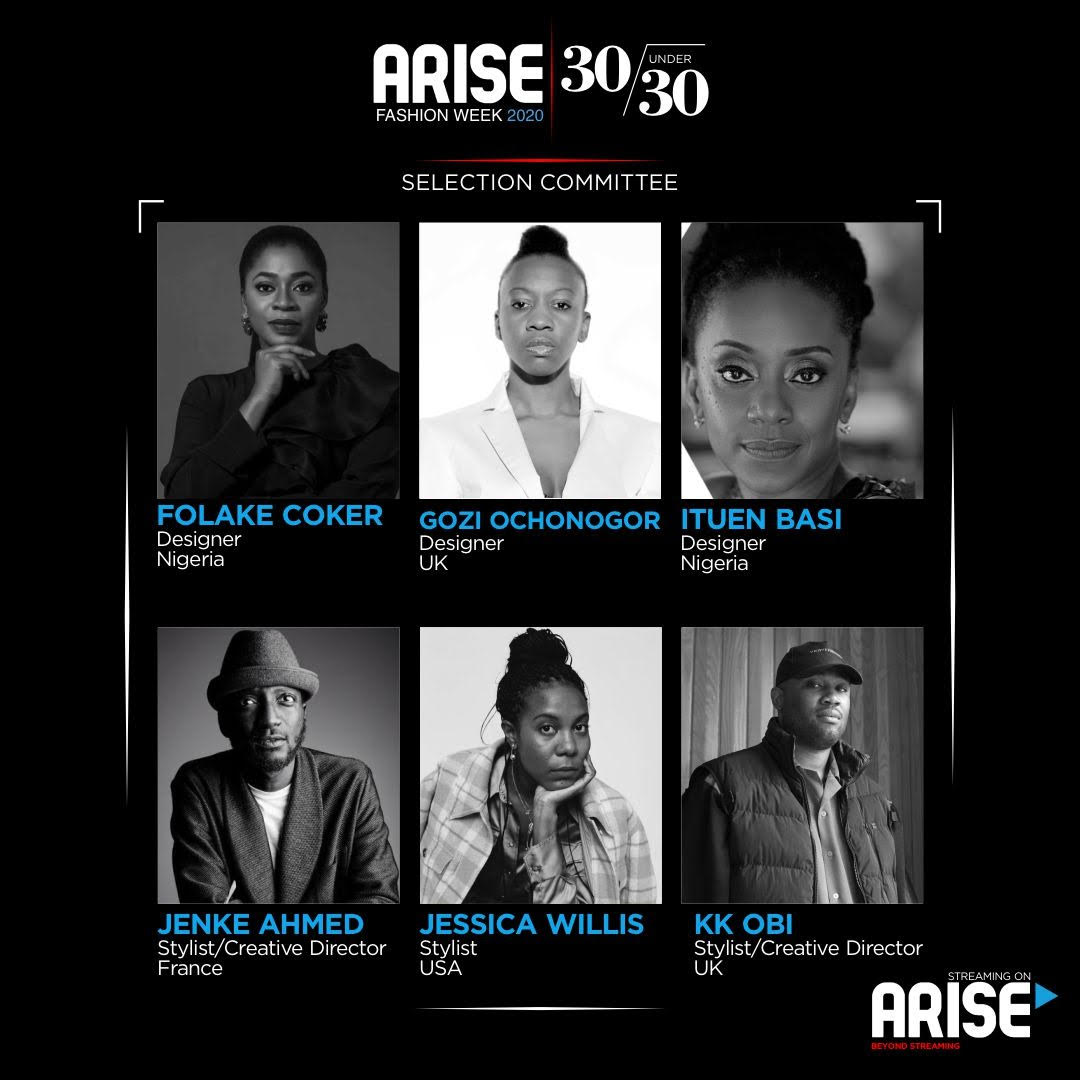 With  hundreds of applicants from all over the world, the ARISE Selection Committee will choose the most promising talent, who will compete for $500,000 USD in prize money in a format which combines the best elements of Idols, Big Brother and Fashion Extraordinary. The selected designers will commence their journey to becoming the luxury brands of tomorrow – ready to rival the greatest French and Italian fashion houses.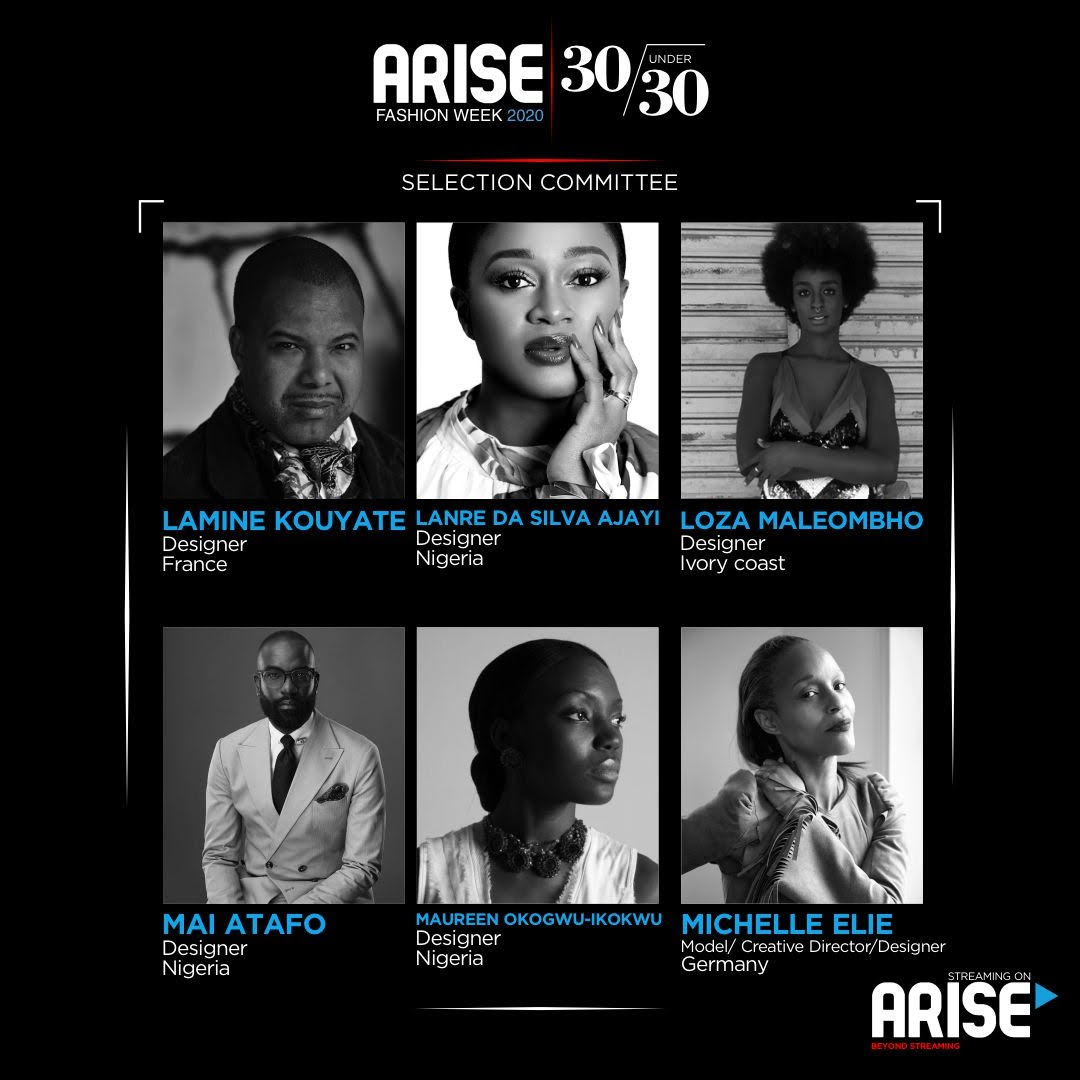 This initiative is a first of its kind on the African continent, with ARISE inviting key global fashion players to oversee the selection process. Their mandate will be to assess the contestant's distinctive aesthetics, design philosophy, overall creativity, and potential for the global fashion market. The 25 committee members listed will each select their preferred top 30 applicants. The 30 most recurring finalists will emerge as a consensus list and will then be announced on November 16th, 2020.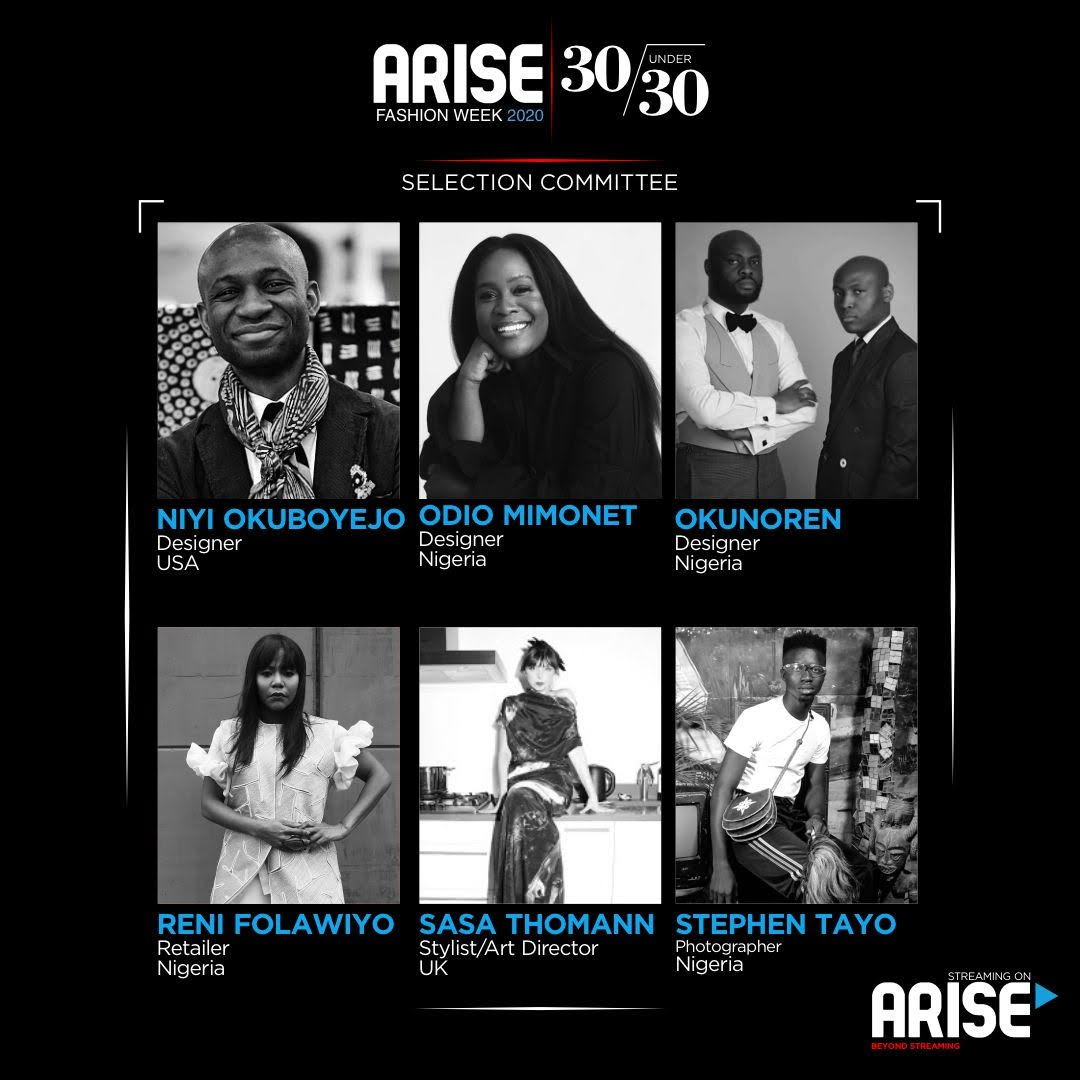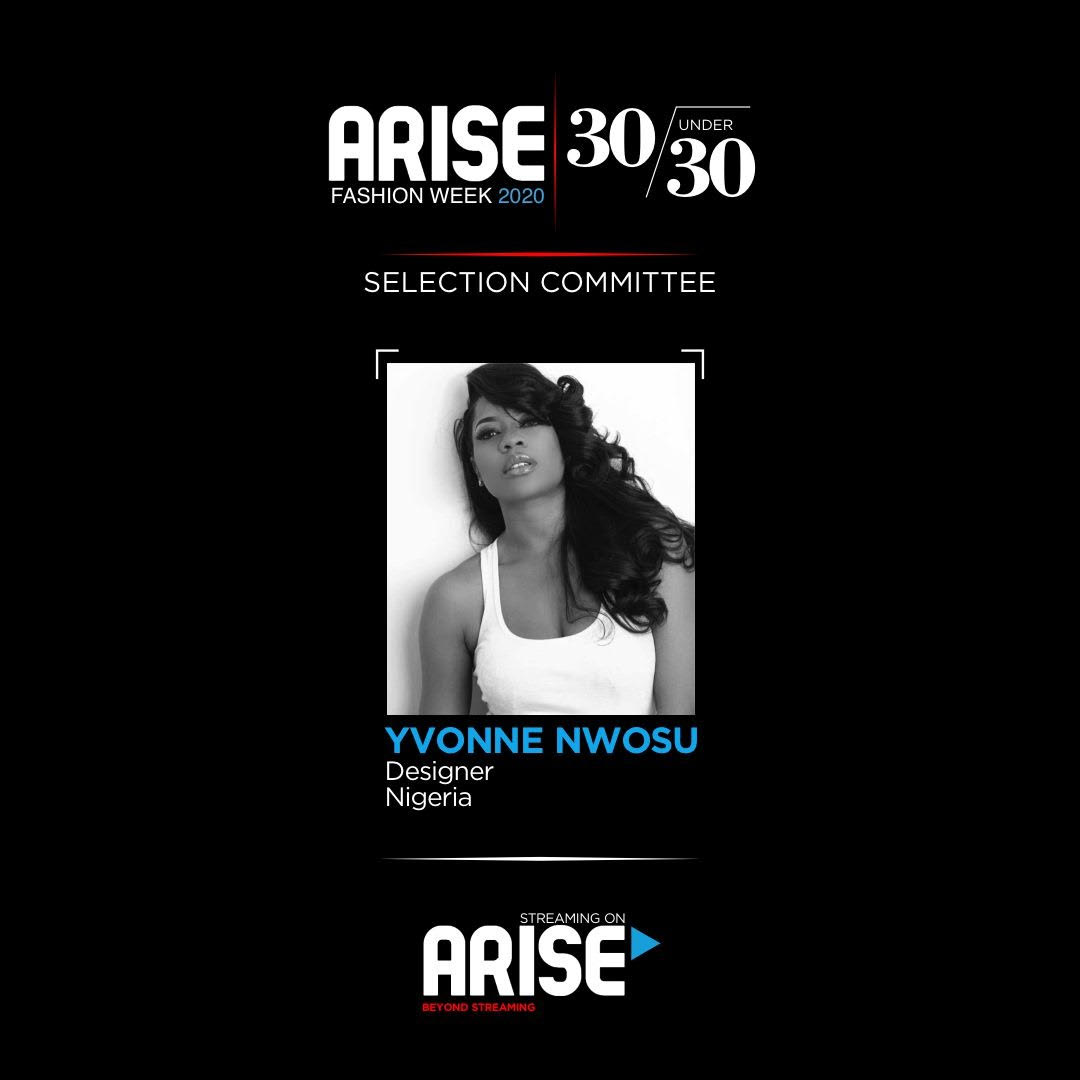 Find below the list of the selected committee members:
ALPHA DIA– Fashion Model
ALTON MASON– Fashion Model
AVINASH WADHWANI- Retailer (Founder of Temple Muse)
CHIOMA NNADI– Fashion Editor (US VOGUE)
CHINWE OBAIGBENA – Founder Complete Beauty
DAVID TLALE– Fashion Designer
ITUEN BASI- Fashion Designer
KK OBI- Stylist/Creative Director
JENKE AHMED TAILLY- Stylist/Creative Director
JESSICA WILLIS- Stylist
LANRE DA SILVA AJAYI- Fashion Designer
LOZA MALEOMBHO- Fashion Designer
MAI ATAFO- Fashion Designer
MAISON ARTC- Fashion Designer
MICHELLE ELLIE- Model/ Creative Director/Designer
NIYI OKUBOYEJO- Fashion Designer
ODIO MIMONET- Fashion Designer
OKUNOREN- Fashion Designer
RENI FOLAWIYO- Retailer (Founder of ALARA)
SASA THOMANN- Stylist/Art Director
STEPHEN TAYO- Photographer
SUNNY ROSE- Fashion Designer
TIFFANY AMBER- Fashion Designer
XULY BET- Fashion Designer
YVONE NWOSU- Fashion Designer
For information and Enquiries, Contact;
Konye Nwagbogor / Editor, thisdaystyle.ng; konye.nwabogor@thisdaylive.com;
Bolaji Animashuan / Line Producer, ARISE Fashion Week bolaji@arisefashionweek.world;
Sakina Renneye / Line Producer, ARISE PLAY sakina@arisefashionweek.world