The much-anticipated CBS sit down interview with Prince Harry and wife Meghan Markle with Oprah finally aired. Just like everyone watching, we were shocked by some of the bombshell revelations the couple made about being a member of the royal family.  The Duke and Duchess of Sussex spoke about their decision to step back as working royals, the parallels between their situation and what Princess Diana went through.
Below are the top revelations from this mind-blowing interview.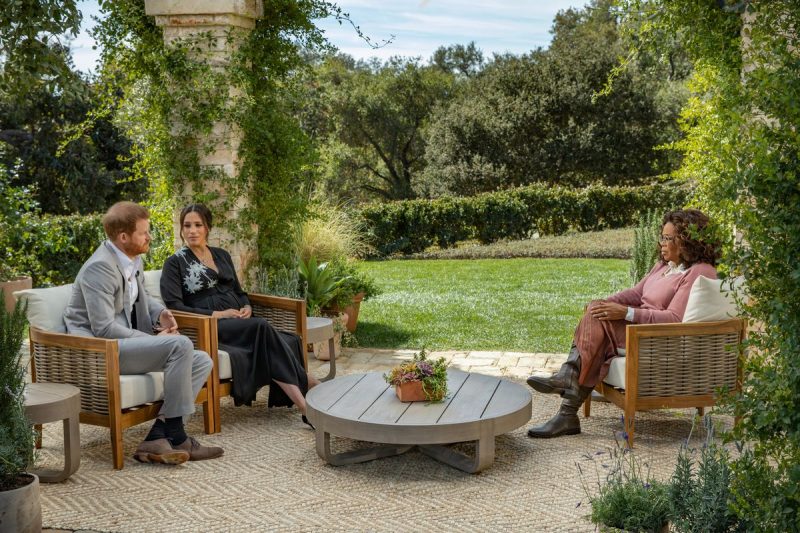 The couple had eloped.
Meghan disclosed to Oprah that Prince Harry and she had secretly gotten married at a private ceremony officiated by the Bishop of Canterbury in their backyard three days before their televised royal wedding in 2018. She said they both wanted to have a special moment for just the two of them.
Duchess Kate made Meghan cry the week of her wedding.
It was previously reported by severally tabloids that Meghan made Kate cry, but the opposite was the case. Kate and Meghan had gotten into a disagreement over the flower girls dresses. Meghan said, " it was a really hard week before the wedding. She was upset and apologized and brought flowers and wrote a note. I've forgiven her. What's hard to get over is that I was being blamed for something I didn't do but happened to me."
The Royal palace questioned Archie's Skin tone.
In the months Meghan was pregnant with Archie, the palace brought up the conversation and question of how dark Archie's Skin will be, and this was also in the midst of talks about him not being given a title or security. The coupe refused to name anyone involved in this discussion.
Meghan contemplated suicide.
Meghan told Oprah that the British media's harsh scrutiny seriously affected her mental health and that she had suicidal thoughts. She also mentioned it to a member of the royal institution and was told she couldn't seek help because it would reflect poorly on the royal family.
Meghan had to give up her keys, passport and driver's license.
Markle said at the time she contemplated suicide and had asked for help; she couldn't get it on her own because all her personal belongings like driver license, passport and keys were taken away from her.
Racism played a significant role in their exit from the UK.
Harry revealed that racism was primarily the reason they left the UK to move abroad.
Tyler Perry gave his LA home and security to the couple after they were stripped of their royal support.
After the couple exited their royal duties and the UK for Canada, their security was taken away on short notice, and their location was no longer safe. Tyler Perry was a pillar of support, offering them his LA home and security to keep them safe.
Harry only realized he was trapped in the royal family after he got married to Meghan.
Harry said to Oprah that marrying Markle made him realize he was trapped in the royal family. When Winfrey asked Harry whether he would have stepped down from royal duties if he had not met Meghan, he said he wouldn't have. "I wouldn't have been able to because I myself was trapped as well," he said. "I didn't see a way out." Harry said.
Diana won't have been happy about the exit.
When Oprah asked the couple how they think Harry's late mum Diana would view what's happened with her younger son and his wife, Harry replied:  "I think she would feel very angry with how this has panned out and also very sad. All she'd ever want is for us to be happy."
Harry and Meghan's made a gender reveal.
The couple also revealed that their second baby, due in summer, will be a girl. "Having a boy and then a girl: What more could you ask for?" said Harry