Forty-four years old 'Jagbajantis' crooner Sound Sultan recently lost his battle with cancer.
The singer passed away Sunday, July 11, 2021, his family announced in a statement.
"IT IS WITH HEAVY HEARTS THAT WE ANNOUNCE THE PASSING OF MULTITALENTED VETERAN SINGER, RAPPER, SONGWRITER OLANREWAJU FASASI A.K.A SOUND SULTAN," the statement said in part.
The release states that Sound Sultan died after "a hard-fought battle with Angioimmunoblastic T-cell Lymphoma". According to NORD's rarediseases.org, it is a rare form of non-Hodgkin lymphoma, which is a group of related malignancies (cancers) that affect the lymphatic system (lymphomas).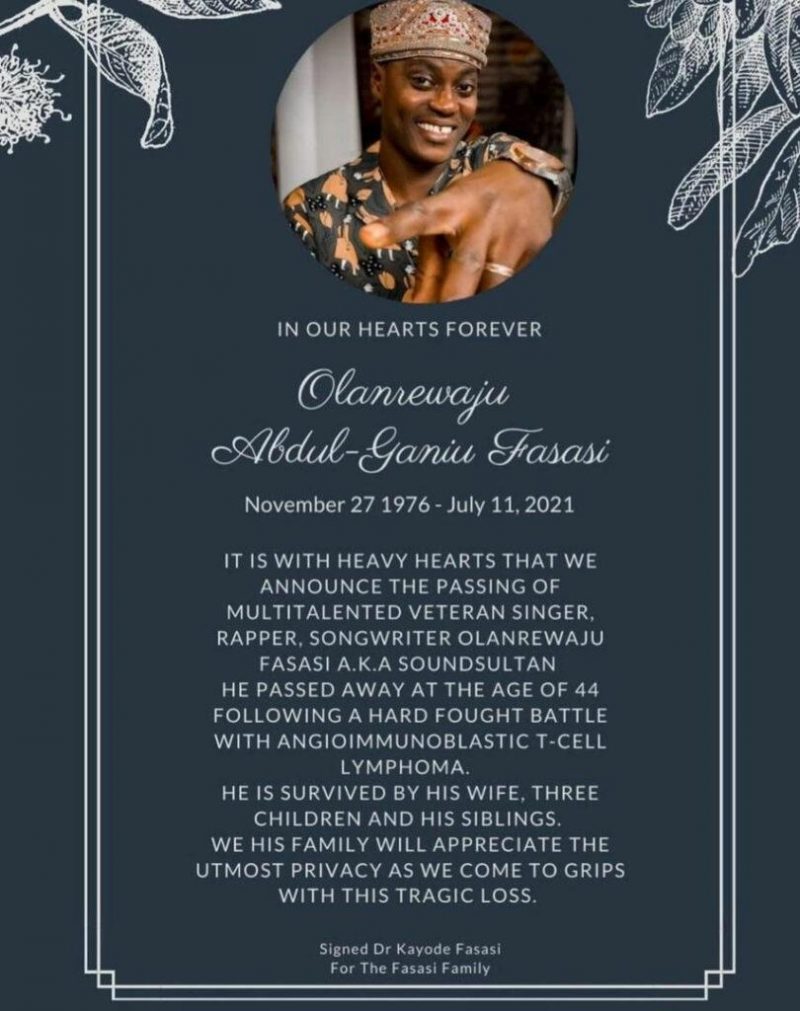 Born Olarenwaju Fasasi, Sound Sultan was a rapper, singer, songwriter, actor, comedian and basketball club co-owner. He started his career in the 90s when he hosted shows to raise money for studio sessions. He released his debut single "Jagbajantis" in 2000, which became an instant hit in Nigeria.
After independently releasing other singles and featuring in hit songs of other artists, he got signed up by Kennis Music, under which he released four albums. Sound Sultan began a working relationship with Wyclef Jean when featured alongside 2face Idibia and Faze on "Proud to be African" from Wyclef's Welcome to "Haiti: Creole 101 album.
In 2012, it was announced that Sound Sultan was made a UN Ambassador for Peace for his exemplary lifestyle and career. In 2015, he released the rap single "Remember" after a long absence from the music scene.
After the fallout of the African Basketball League, he joined forces with the organizers of the Continental Basketball League to become a team owner of Lagos City Stars (the 2017 champions) and a facilitator of the league entertainment.
In May 2021, Sound Sultan had reacted to news about his cancer diagnosis by saying, via Instagram, "I must not ignore the massive show of love. Thank you all. I will tell you my story myself; it will be true then, not false."
Sound Sultan is survived by his wife, three children and his siblings.
His family pleads with the public for privacy as they come to grips with the tragic loss. The statement was signed by Dr Kayode Fasasi on behalf of the Fasasi family.